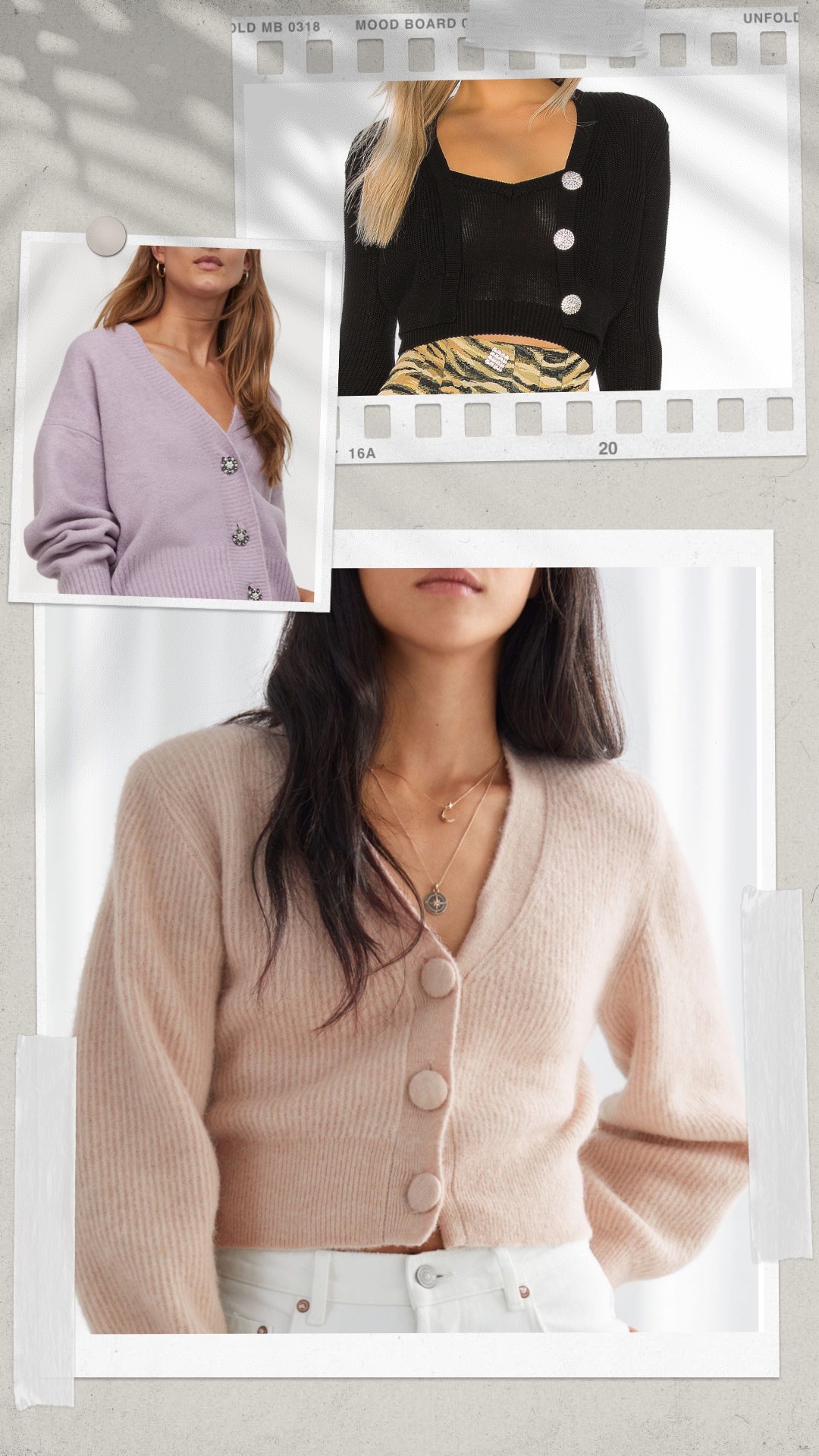 Getting through the cold weather without a solid assortment of sweaters is nearly impossible. Even if you own a stack of sweaters, adding trendy and more fashionable ones is always a plus point. Now is the perfect time to break the iteration of last year's sweater trends by upgrading your wardrobe. This year, there's a gamut of cute and snuggly sweaters to choose from. Not just this, all the sweaters have been adorned with unique buttons.
Ahead, we rounded up 21 sweaters that are making everyone fall in love with them. This massive sweater haul with a price range that'll meet everyone's budget will get everyone talking. These items are so soft and warm; you will never want to take them off (yes, they are that plush!) Go ahead and find yourself a sweater that will match all your style preferences.
Cardi Coat ($370)
Bring modern polish to your outfit with houndstooth patterned cardigan.
Rhinestone-button Cardigan ($29.99) 
The dropped shoulders and rhinestone buttons make this the perfect pick.
Cropped Cardigan ($462) $233 
The oversized buttons on the cropped cardigan will look great with skirts and pumps.
Padded Shoulder Alpaca Blend Cardigan ($99) 
Enhance the look of your favorite jeans and boots with this ultra-cute cardigan.
Baxter Cardigan ($135)
This deep neck sweater with tiny buttons will not disappoint you.
Bee Button Alpaca Blend Cardigan ($99)
The butterfly buttons on this black cardigan look so adorable.
Ribbed Cropped Cardigan Top ($59)
The cropped and slim fit of the cardigan makes it so unmissable.
Cardigan Set ($610) 
Give your leather skirt a wow look with this cardigan set.
Heart Button Alpaca Blend Cardigan ($99)
The heart shape buttons and powder blue color – what's not to like about this cardigan?
Fuzzy Crop Cardigan ($39) 
Think high-waist black denim, tall leather boots and a crossbody bag with this cardigan.
Elianna Cardigan ($148) 
Since neutral-toned clothes are in trend, this one is a must-have.
Crystal-button sleeveless cashmere cardigan ($345)
Pink embellished sweater that'll work with every bottomwear.
Etoile Koyle buttoned cotton-blend sweater ($345) 
Black buttons on the shoulder infuses a quirky look that you will love.
Long cardigan with bead buttons ($415)
If elegance is to be defined by a sweater, this is the one.
Dinosaur Button Knit Cardigan ($99)
The dinosaur buttons make this cardigan even more alluring.
Kira Cardigan ($149)
Get people around you take style notes with this cropped brown sweater.
Oversized crystal-flower wool cardigan ($1,195) 
Let the buttons create a fashion statement for you.
Polo Collar Button Up Sweater ($69)
Pink polo sweater that's trendy and cute at the same time.
Golden Thread Colorblock Alpaca Blend Cardigan ($365) 
The color block cardigan that will take your stylebook up a notch.
Anastasia Cropped Cardigan ($92) 
This plush, snuggly, and adorable cardigan with rose buttons is what style dreams are made of.
Crystal-Embellished Cable-Knit Cotton And Wool-Blend Cardigan ($475) 
The cable knit and dropped shoulders are everything your seasonal attire needs.
Up Next: 21 Uber-Cozy Oversized Sweaters You'll Want To Wear Throughout Fall