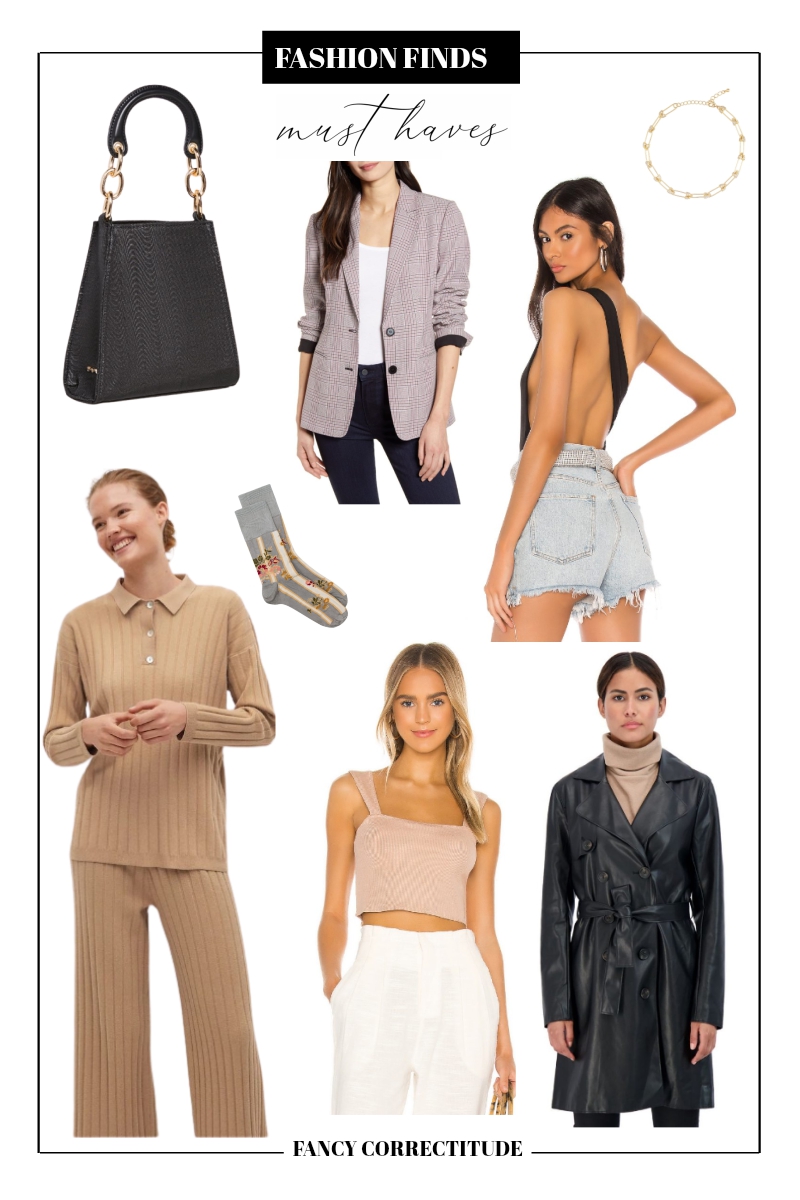 Now that we have stepped into October, it's time to take the Fall wardrobe's fashion quotient up a notch. And 2020 has been the year of reimagination when it comes to fashion. Since we are locked up within our homes since several months now, this month's stylebook calls for trends that are as practical as they are stylish. So, here is a list of 26 on-trend fashion finds under $100 that are basic wearable pieces, redesigned with a voguish spin. Whether it's a delicate necklace, chunky cardigan, or an elegant knit crop top – you'll find everything in this list. Ahead, discover a plethora of chic items that will elevate your Fall wardrobe to the next level.
The ReNew Teddy Bomber ($155) $78
Here comes the coziest layer of the season. Also, it looks undeniably chic, thanks to the crop relaxed fit.
Wool Sweater Vest ($49.99)
 The chunky knit and cropped fit of this vest is simply irresistible.
Bershka knitted busteir cami co-ord in taupe ($20)
The sweetheart neck and slim fit of the knit top will add an element of 'cuteness' to your ensemble.
Cavallari Safety Pin Necklace ($68)
This quirky safety pin necklace can be worn for every occasion.
Ribbed polo style sweater ($79.99)
If you thought polo sweater can't look dapper, have a look at this one. The ribbed fabric and dropped shoulders make this pick stylish.
Sammy Strap Back Bodysuit ($54)
Flaunt your fashion sense in this open back bodysuit featuring one-shoulder design.
Mango Platform Boot ($99.99)
The chunky sole and olive green hue of these boots will make it your Fall favorite.
Ribcage Straight Ankle Jeans ($98)
The go-to jeans for this season, thanks to its light wash color and straight fit.
Faux leather scrunchies ($13)
For all your Fall hairdos, you can count on these faux leather scrunchies.
Cashmere Polo Cardigan Sweater ($95)
Pair this polo cardigan with white twill pants and tan boots for that stylish look.
Button Up Cable Knit Cardigan ($99)
This cozy cable knit cardigan can be worn everywhere – from work to casual outings, thanks to its versatile allure.
New York City Pants ($89)
Enjoy chilly nights in these cozy flared knit pants.
Glow Up Mini Bucket Bag ($88)
This mini bucket bag is here to enhance the look of every outfit that's in your wardrobe with it's gold tone chain accent.
Baby Love Knit Tank ($44)
Looking for a cute knit tank top? Your search ends at this neutral toned top.
Gathered leather ballerina ($99.99)
Put your best foot forward with this square toe leather ballerina.
Air Tailwind 79 leather-trimmed shell and suede sneakers ($90)
Enjoy the cool laid back vibes of this leather trimmed shell sneaker.
Green Warped Wordmark Cap ($50)
From leather jackets to coats, this cap can be worn with every Fall staple.
Floral print ankle socks ($66)
This pair of floral socks is not only adorable but also feels quite comfortable.
Striped Ribbed Puff Sleeve T-Shirt ($17)
We still can't believe this puff sleeve tee is only for $17.
Chunky Chain Handbag ($79)
For all the minimalists out there, this chunky chain handbag is for you.
Faux Shearling-detail Jacket ($99)
This faux shearling detail leather jacket is so versatile that you can wear it with dresses, jeans, as well as overalls.
Sebby Collection Faux-Leather Trench Coat ($110) $76.99
Let the sleek look of this faux leather trench coat enhance your style quotient.
Knit strap top ($39.99)
Experience warmth during the cold days without sacrificing style with this knit strap top.
Long-sleeved Top ($9.99)
The unique neckline of this top makes it a stellar pick.
Plaid Blazer ($99)
Channel the boss lady dressing with this plaid blazer featuring slouchy sleeves.
Double baby-collar shirt ($59.99)
The oversized Peter Pan collars and relaxed fit of this shirt are so swoon-worthy.