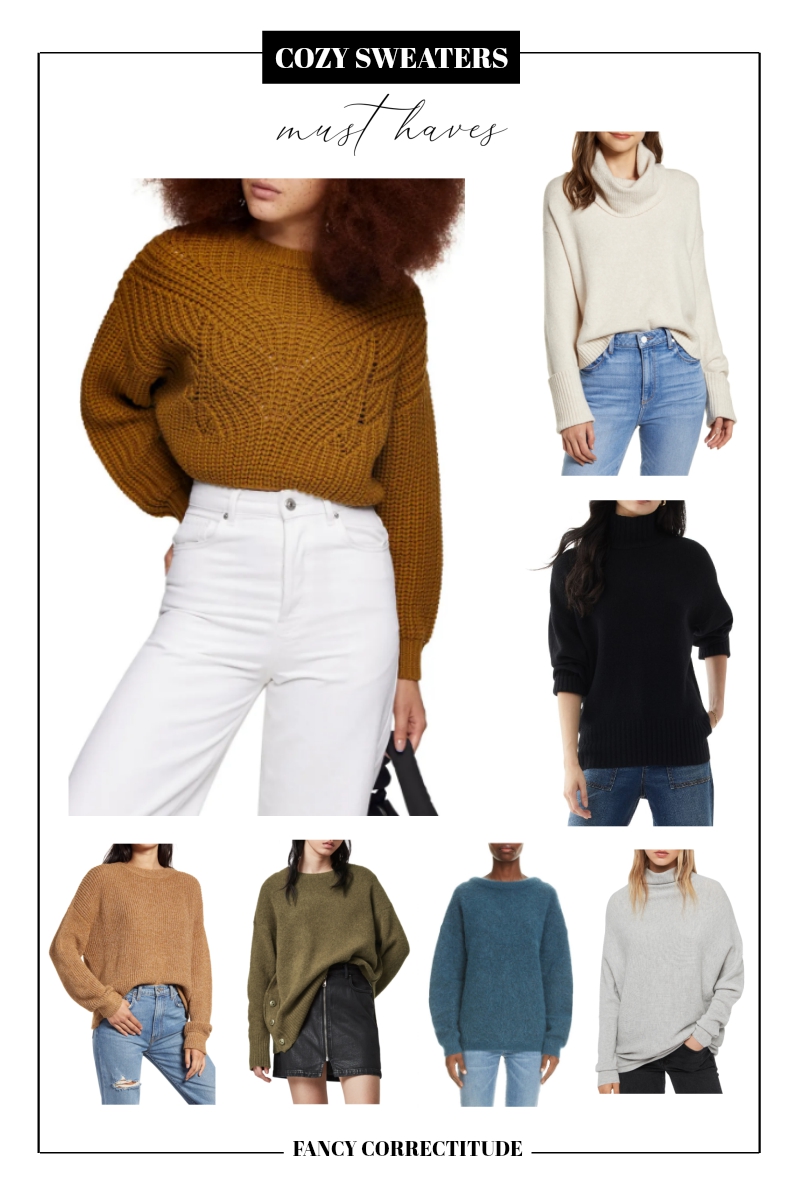 Sweaters are the hallmark of the fall season! From cute chunky knits to cozy ones, this year, sweaters are set to spell comfort and style. The brisk weather makes us want to be enveloped in an entire collection of knitwear. This year, the new trend in knitwear is oversized sweaters; and believe it or not, everyone will soon be wrapping themselves in this chic sweater style.
We call this trend 'cozy oversized sweaters' as it offers soft, snuggly, and stylish knitwear with an ultra-relaxed fit. From turtlenecks to cardigans to chunky knits, oversized sweaters will be dominating this season's fashion wardrobe. So, if you want to fill your Fall wardrobe with oversized sweaters, check out our list of gorgeous picks for the same.
Oversized Tunics
Oversized Wool-blend Sweater ($69.99)
Thanks to dropped shoulders and side slits, you'll be obsessed with this sweater.
Dramatic Moh Sweater ($340)
The puff sleeves and cozy knit fabric of the sweater makes it worth your love.
Oversized Wool Blend Sweater ($89)
This oversized sweater looks classy, chic, and feels warm.
Rufa Sweater ($228) $182.40
The slouchy dropped shoulders and side buttons make this pick a must-have in your Fall wardrobe.
Oversized Cardigans
Tiberine wool and cashmere-blend cardigan ($325)
Made of soft blend wool, this dark chocolate colored sweater is a great addition to your fall wardrobe.
Eclair Cardi ($128)
The color and sleeves of this sweater infuse cool laid-back vibes to any outfit.
Oversized Alpaca Blend Cardigan ($149)
Team this cardigan with straight leather pants and black booties for that head-turning look.
Oversized Turtlenecks
Ridley Funnel Neck Wool & Cashmere Sweater ($260) $208
This sweater is so versatile that you can wear it anytime, anywhere, with any outfit.
Draped wool turtleneck sweater ($385)
The unique draped silhouette and warm woolen material adds an unmissable element to this turtleneck sweater.
Voluminous Turtleneck Knit Jumper ($119)
The exaggerated and slouchy sleeves with voluminous turtleneck makes this sweater a must-have this season.
Women's Slouchy Turtleneck ($29)
This season, make fashion all about elegance with this black turtleneck.
Cowl Neck Sweater ($69)
This cowl neck sweater with ribbed cuffs and long sleeves is your go-to staple for fall.
Black Oversized Sweater 
My Only Sunshine Sweater ($108)
A chunky knit in black, this one will be trending the most throughout the season.
Wide Sleeve Turtleneck ($88)
Pair this with skinny blue jeans and monster sneakers for a cool look.
Ottoman Slouchy Tunic ($148)
No doubt, this sweater is the ultimate definition of cozy oversized sweaters.
Easy Street Tunic ($128)
The tunic length pullover with side vents and slouchy silhouette will give your outerwear collection a chic spin.
Oversized Chunky Knit
Butterfly Super Crop Sweater ($58)
This chunky sweater in cropped silhouette and tan color isn't going out of trend anytime soon.
Oasis Tunic ($168)
This sweater in pistachio color and dropped shoulders exude a quirky look.
Oversized ribbed wool-blend sweater ($430) $215
A classy grey sweater with balloon sleeves that will work for you regardless of where you are.
chunky knit cardigan ($687) $516
This chunky cardigan with brown buttons and ribbed cuffs has cute written all over it.
Imagine Crewneck Sweater ($59)
Think distressed boyfriend jeans, white sneakers and this sweater for your Fall ensemble. Cute, isn't it?