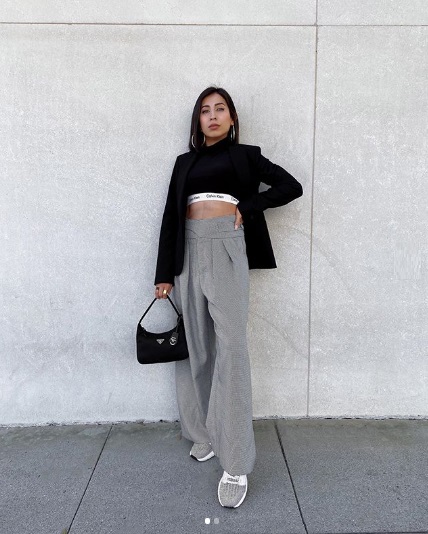 One of the perks of relaxed suiting in trend is that wide-leg pants are also having a massive moment in the fashion world. If you are looking for a just-as-cool alternative to skinny jeans and trousers, wide-leg pants are the answer. The extra flowy and loose fit is proving to be as comfortable as joggers. With 2020's fashion idea being all about comfort with style, wide-leg pants are all the rage. Reviving back from the 70s, aren't these pants to live for?
The fashion people on Instagram are also embracing this trend in a full-blown manner. So, we rounded up a range of Insta IT girls-approved style imagery as inspiration. If you're up for recreating their looks, you will come across undeniably cool picks. Now, take a peek at the outfits listed below and reintroduce this vintage trend to your wardrobe.
Wide Leg Twill Trousers ($89) 
The sharply tailored silhouette amplifies the casual as well as a formal appeal.
NW Wide Leg Pants ($52) 
The rich black tone and high-waist fit brings a modern edge to these pants.
The Santon Trousers ($895) $358
These pants will add an adorable touch to your Fall look.
Wide-Leg Suit Pants ($34.99)
Bring a contemporary twist to your Fall ensembles with these gray pants.
Aida Stitch Detail Wide Leg Trousers ($55) $36.85 
Team a dad blazer and square-toe heels with these pants.
Wide-cut Pants ($59.99)
The feminine elegance of these pants make them so unmissable.
Dress Pants ($39.99)
The classy and elegant look of the pants will keep you ahead in the fashion game.
Wide Leg Crepe Trousers ($80) 
Elevate the look of these pants by pairing them with cropped pastel blue sweater and white stilettoes.
Cullen Pant ($216)
The silky and flowy look of these pants has got us starry-eyed.
James Trousers ($349)
These neutral-toned pants can be teamed with any outfit.
Cuffed Wide Leg Trousers ($75) 
Give your outfit an ultra-sophisticated look with these pants.
Sophie Pleated Wool-Flannel Wide-Leg Pants ($450)
Ash gray colored pants that are here to magnify your fashion quotient.
Street Relaxed Pants in Cream ($40)
These cream-toned pants will be a great addition for your outerwear.
Taylah Wide Leg Pants ($99) $59.40 
Prep yourself for stunning compliments by opting for these pants.
Pleated High Loose Pants ($98)
The rough and utilitarian look makes these pants a mandatory pick.
Up Next: 16 sweatpants so stylish, they'll end up enriching your Fall wardrobe