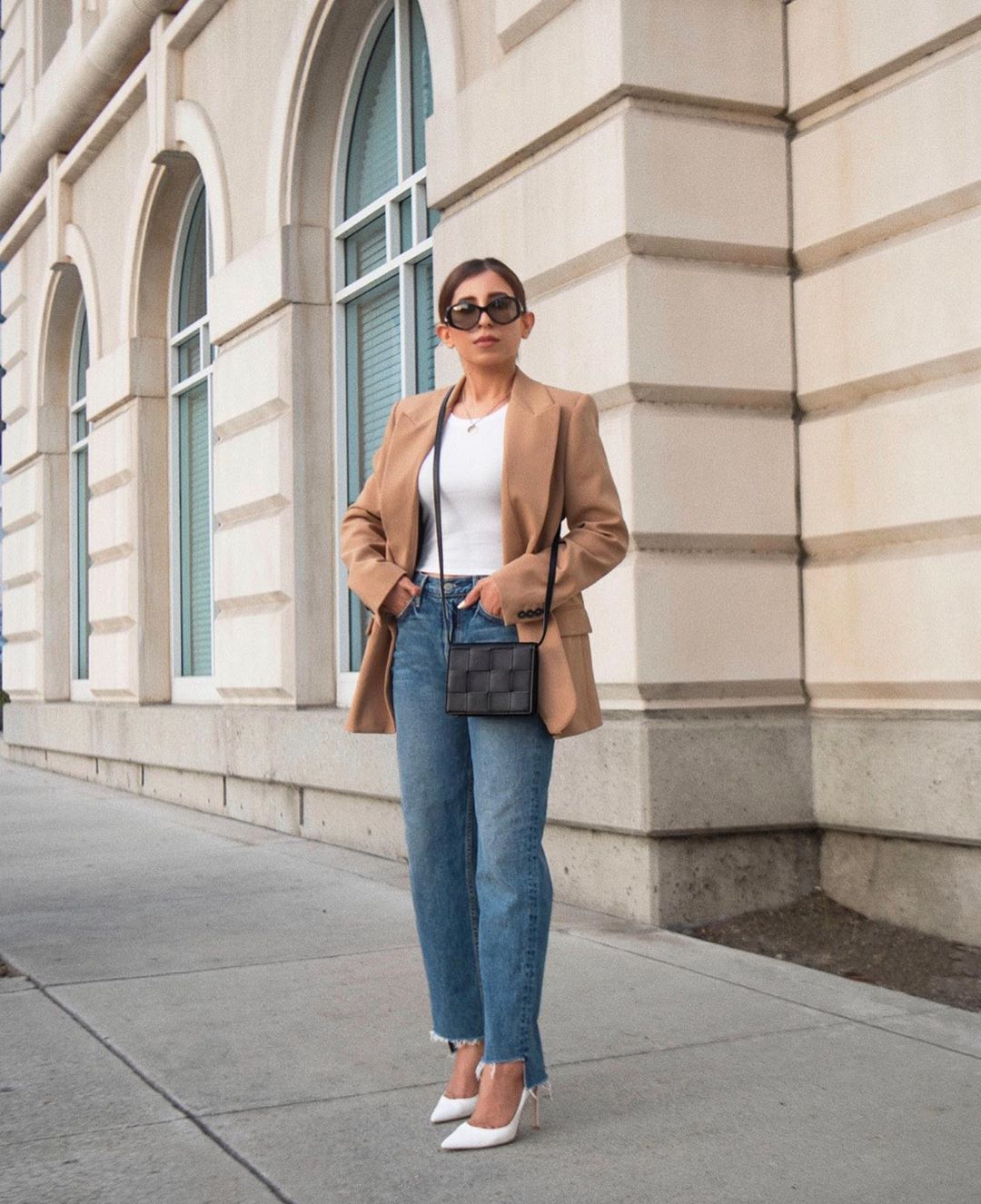 There's a list of things we'll always want more; pumpkin spiced lattes, throwback pictures of Brad and Jennifer, and of course, new outfit ideas. Even if it's meant for zoom calls or weekend social distant activities, gates are always open for new outfit ideas. With October finally being here, we are in full swing to try this season's trendy outfits.
So, here's a list of outfit ideas that will lead the fashion game this fall. This season, there's a plethora of options to play with; chic outerwear, pleated dresses, and what not! Below we have included eleven outfits ideas that are trending and taking over our Instagram feeds too. Scroll down to see how you can style them through the season.
1. Denim on Denim
This trend is ruling the street style, as well as our Instagram feeds. You can take this trend up a level by mix-matching different dyed denim. Also, because denim never goes out of style, you can rely on this outfit idea.
Embroidered logo denim jacket ($1,265)
Raquel cropped high-rise flared jeans ($340)
2. Slay With Plaid
No matter what, plaid will always be a part of trending fall outfit ideas. You can pair it with a tee and denim, pants and a blouse, or just a chic dress. Not just this, you can also wear plaid outfits to office as well as for your off-duty plans.
Blazer ($695) $486.50
High Waist Tapered Pants ($325)
3. Chic& Cozy Loungewear
Even when you're just lounging around at home or headed for grocery shopping, do it in style! Wear white on white loungewear, and we bet you'll be in love with the minimalist vibes of this look. All you need are matching off-white color hoodie and joggers.
Janie Hoodie ($275)
Nolan Pants ($275)
4. Monochrome mood
Hop on to the chic and sleek look of the season. The monochrome dressing will be one of the trendiest outfit ideas that'll be seen everywhere. You can take it up a notch by pairing a black slouchy sweater with a flowy midi dress.
Bisana Sweater in Black ($350)
Bar silk-satin midi skirt ($250)
5. Fall Appropriate Dress
This look is everything you need for the season. The autumnal tan color of the dress and chunky golden necklace exudes sheer chicness. You can wear this to different occasions and it'll always blend in effortlessly.
Gold Chain Necklace ($395)
Lena topstitched cotton-blend midi dress ($490)
6. White Monotoned Dressing
Time to infuse a neat outfit idea in your stylebook. This outfit idea is the perfect choice for minimalists. The sophisticated look will kick away the faux pas. This all-white mono-toned outfit will look great in a shearling coat, pants, and sneakers.
Robin Wool Flare Trousers ($200)
Patrice Faux Shearling and Suede Coat ($500)
7. Jumpsuit and Trench
Jumpsuits will continue to dominate the fall wardrobe, but this season you can amplify its look by teaming it with a neutral-toned coat. Go for a longline coat, and there's no doubt you'll get endless jaw-dropping looks around you.
London Long Pressed Wool Trench Coat ($875)
Standard Cotton Jumpsuit ($178)
8. Boss Lady Look
This power dressing will bring out the boss lady look. This sharply tailored suiting looks chic and is also versatile. You can wear it with sneakers or try mismatched suiting. Be all experimental as you want with this outfit.
Lanois double-breasted wool-blend blazer ($3,550)
Drama Split Sati Crepe Pants ($138)
9. Knit Dress
When in a hurry to look for the perfect outfit, go for knit dresses. They are timeless, versatile, and always manages to turn heads with its charm.
Emmy Dress ($495)
Minasia rust fine-knit midi dress ($‌240)
10. Double Sweater Power
Almost every fashion enthusiast loves this grandpa outfit trend. Picture yourself in this double sweater with tapered pants and cute sneakers, chic, right? There's no way this outfit will disappoint you.
Seamless Cashmere Turtleneck ($395)
Oceyo pleated woven tapered pants ($630)
11. Pleated Dressing
Time to replace your boring dresses with this elegant pleated one. It gives a relaxed laid back vibe with Birkenstocks. To magnify it a little further, wrap a neutral-toned sweater on the shoulders.
Leather Waistband Dress ($1,790)
Arizona Soft Footbed Sandal ($134.95)