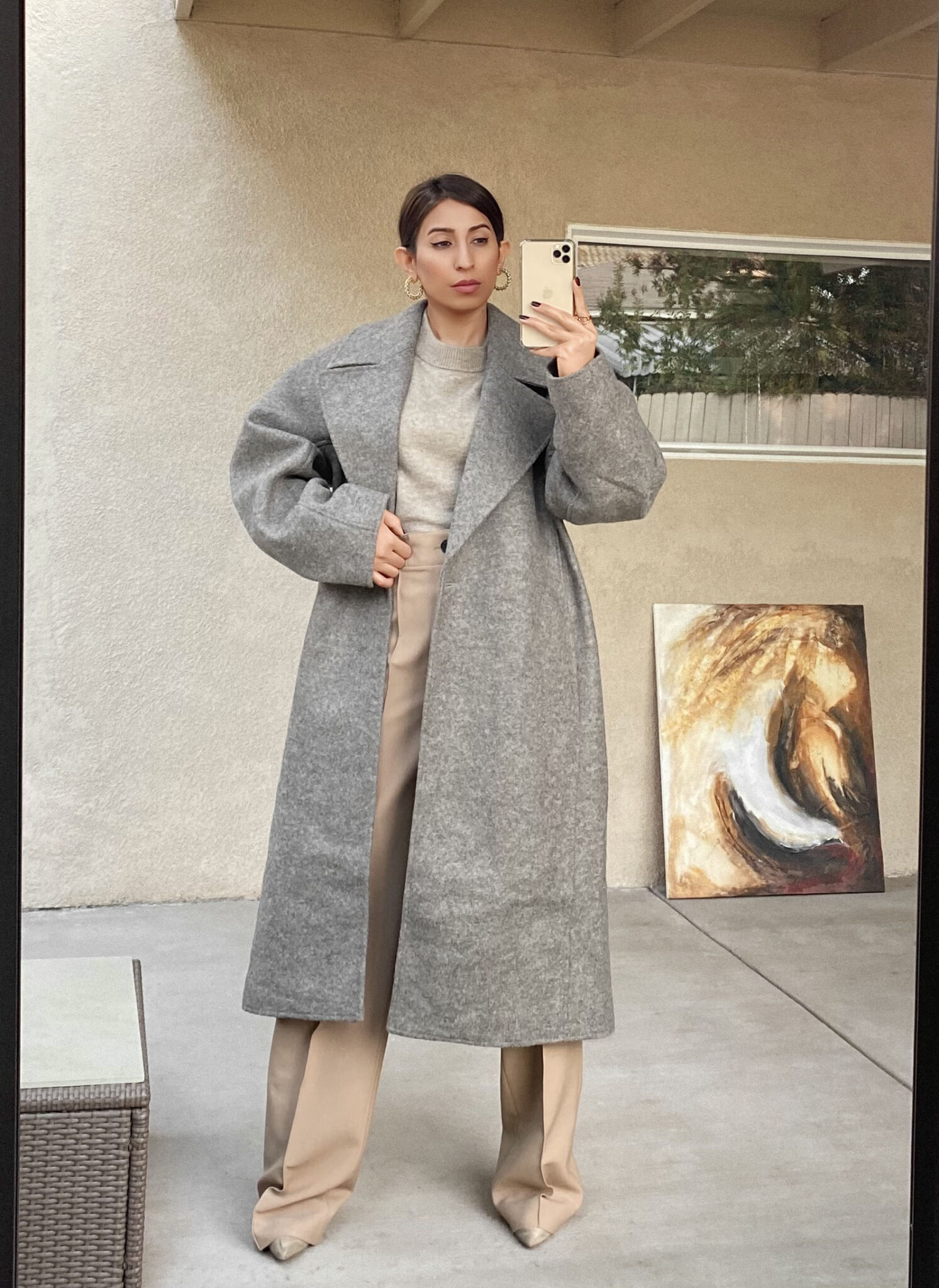 You start the new year in full swing, ready to conquer what's to come. A new spirit and a whole lot of enthusiasm fill your heart. But you need to have a suit of armor to take on the world. An iron-clad wardrobe will help you pick out amazing outfits every single day, and when you look good, you feel good—one of our favorite feel-good items in the wardrobe is outerwear. Coats and jackets are unparalleled when it comes to elevating an outfit. No other piece can do it quite so effortlessly. It may just be one layer, but it adds a ton of style. They can single-handedly transform a basic outfit. Take an all-white look, for example, a simple white tee and chic white trousers—add a sleek, longline white coat for a sophisticated look. Team it with a quilted puffer jacket for a hip, street style outfit, or pair it with a leather jacket for an edgy vibe. One outfit but three different looks, all thanks to outerwear! If you're looking for some versatile outerwear pieces, then check out these 21 options that we've picked out.
Wool Blend Bouclé Coat ($228.00) $91.20
This wool blend boucle coat is perfect to keep warm but also looks sophisticated because of its flap collar and structured fit.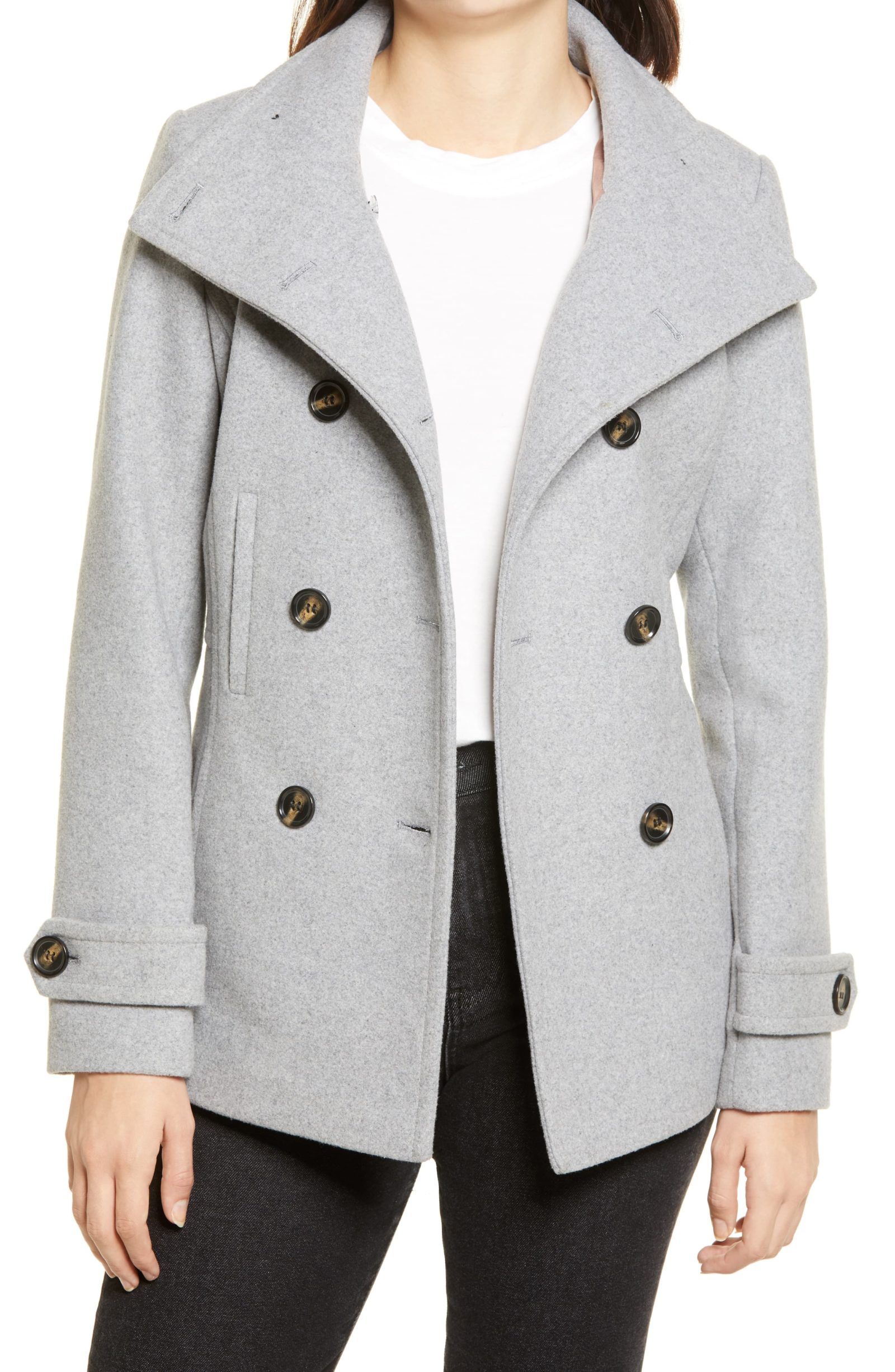 Double Breasted Peacoat ($58.00) $37.90
This neutral-toned peacoat is a must-buy addition to your coat closet. Its light grey color makes it really versatile to pair with anything from sweats to dresses.
Long Hooded Teddy Coat ($69.00)
Wrap yourself in this furry teddy coat with a longline cut and comfy fit. It has a colored, knitted hood that makes you look as good as you feel.
Frieda Faux Fur Trim Jacket ($125.00) $62.50
Trendy jacket with puffed channel quilting that gives you maximum comfort while looking edgy. It has a front-zip jacket and features an uber-cool faux-fur-trimmed hood.
Brooke Double Breasted Long Coat ($135.00)
A timeless appeal and a beautifully streamlined silhouette make this long-line, double-breasted coat a must-have. It can instantly turn any basic outfit into a stylish ensemble.
Feel insanely comfortable in this warm, oversized cardi with an irresistible fuzzy texture and an open front. It has a longline structure and gives you an effortless vibe.
Nantucket Fleece Half Zip Pullover ($98.00)
You'll want to live in this half-zip pullover that's made with soft plush fleece that gives you all the warmth and comfort you'll need.
Stand Collar Wool Car Coat ($1,049.00) $524.50–$529.90
This contemporary car coat is cut from rich Italian wool in a refreshed A-line silhouette that is both cozy and stylish.
Fortune Long Wrap Coat ($75.00) $45.00
This beautifully classic style coat has a comfy and relaxed fit but still gives the body a flattering shape with its tie-waist.
Gotham 550 Fill Power Down Hooded Parka ($249.00)
This pillowy-soft quilted parka has a cozy touch that will help you stay stylish in the winter.
Amazing Cozy Wrap Jacket ($89.00)
Cozy wrap jacket that's a great option to quickly throw on for a quick errand or to pop into the gym.
Faux Leather Puffer Jacket ($55.00)
This puffer jacket has a modern feel and a trendy appeal – thanks to its eye-catching faux leather and short fit.
A classy and cozy blazer that will look perfect when layered over any outfit and gives you a streamlined look.
Westborough Insulated Quilted Jacket ($139.00) $104.25
Brave the season in this insulated dry, warm, and comfortable insulated quilted jacket.
Caldwell Double Breasted Blazer ($158.00) $63.20
Ace your meetings in style and finesse with this double-breasted blazer in classic black. Pair it sleek trousers and some heels to complete the look.
Check Teddy Faux Fur Coat ($210.00) $124.90
This coat has a neutral-toned windowpane plaid that amplifies the snazzy appeal. It's adorably soft and cozy and has a long line silhouette with faux fur.
Quinn Belted Faux Leather Quilted Jacket ($135.00)
Show up and look the best in this eye-catching quilted jacket that's made with glossy faux leather and accentuated with a waist-cinching belt.
Faux Shearling Jacket ($168.00)
Cuddly and soft faux shearling jacket that's ready for Instagram and will perfectly match with anything in your closet.
Puffer Coat with Faux Shearling Lined Hood ($139.00) $99.90
A classic black puffer coat is a must-have and this faux shearling-lined hood elevates any look to transform it into a stylish but functional ensemble.
Reversible Quilted Long Jacket ($179.00) $71.60
We love this reversible quilted jacket. It's practical and chic – which is our favorite combo.
Leather Moto Jacket ($398.00) $259.90
Black leather jackets are so yesterday. Change up your style with this striking chocolate colored moto jacket.
Up Next: 18 Parkas From Nordstrom, H&M & Shopbop That Are Basically Made For Compliments