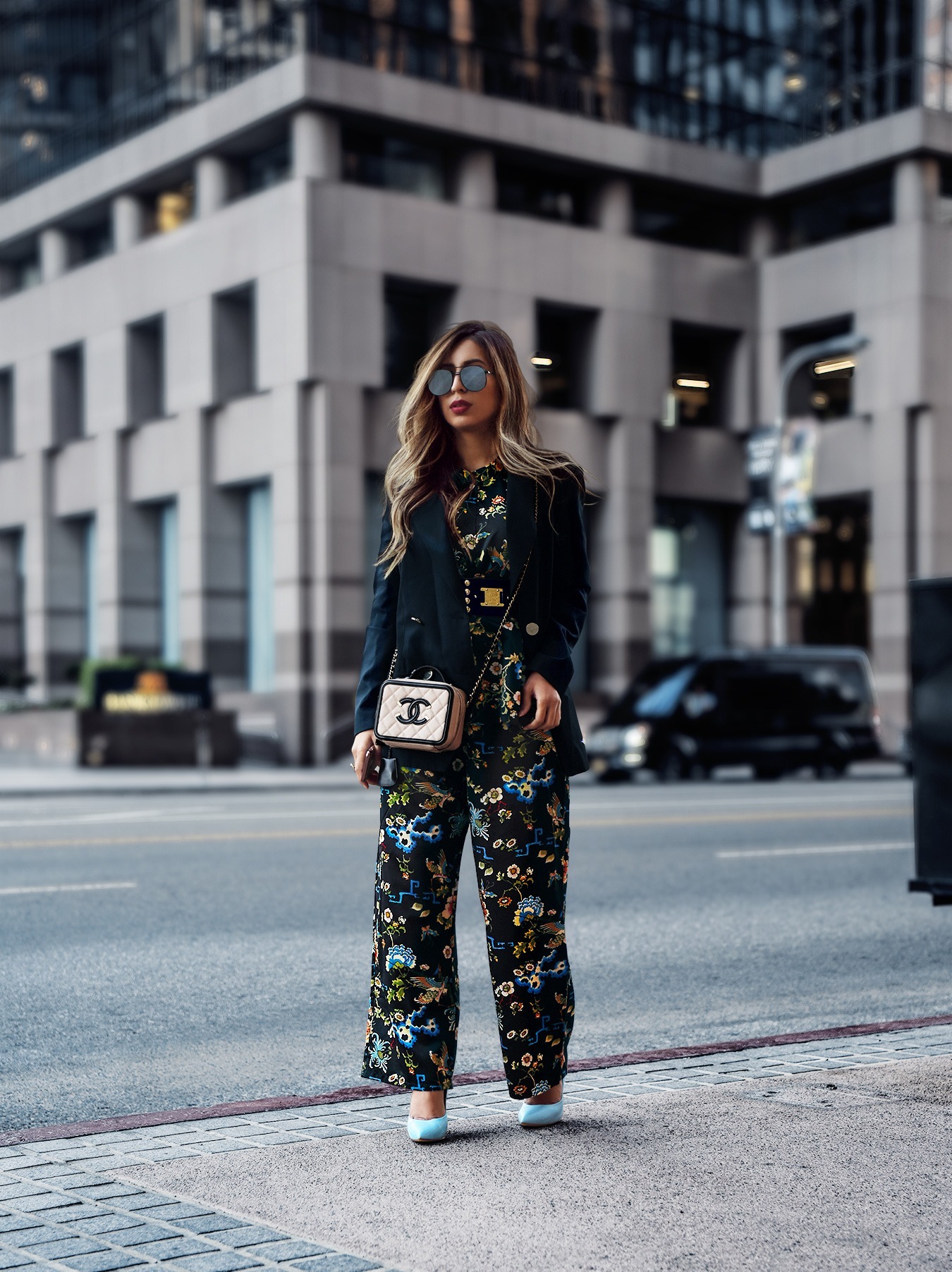 A promising sign for fashion (and us fashionistas) are trends that are getting more and more comfortable. The natural step forward from athleisure is the pajama inspired clothing trend (that's showing no signs of fading any time soon). Many, understandably, still find it a little outside their comfort zone to wear pajamas in public. With some smart styling, however, anyone can pull off the pajama trend and not look like they just rolled out of bed. Here are 5 ways to pull this trend off-
 Matching sets
Spotted at all the stylish fashion scenes, pajama co-ordinates are high in demand and is a fun way to break out of the regular wear. Printed co-ordinates need to be handled carefully. They can look too much (especially when they run the length of your body) if they're left unchecked by a more stable piece. I used a blazer & a corset belt to balance it out. It gave it more structure and added a touch of sophistication. I choose a floral print because it screams Spring and what better time to wear it, right!
EXPRESS piped  collar jacket | EXPRESS piped pajama pants
OFF-WHITE pajama shirt | OFF-WHITE pants
Silk Robes
Besides being so much more comfortable than traditional jackets, silk robes strike the ideal balance of sexy and sophisticated. Their low necklines and versatility, make's them perfect for layering.
 Slip Dresses
The slip dress is a serious day-or-night alternative to the LBD. It's equally effective solo and layered. You pair it with sneakers and you are ready for a model off-duty look.
Trousers or/Shirt
If you're still not ready to go all-in with a full pajama outfit, a single pajama piece can work in the context of a stylish look too. Try styling pajama trousers with a jacket or blazer or a pajama shirt with a pair of jeans and high heels.  This way you are not going full force but still trying something different and fun.
GUCCI chain print pajama shirt
 Corsets
Corsets are perhaps the sexiest option of the pajama trend – which has them worn over the outfit. They can lend more shape & structure to your look, and can even have the same visual function as a corset belt. Corset belt is another trend that is in vogue right now.  I added a corset belt to give more structure to the co-ordinates.
Which one is you favorite way?
Thanks for stopping by