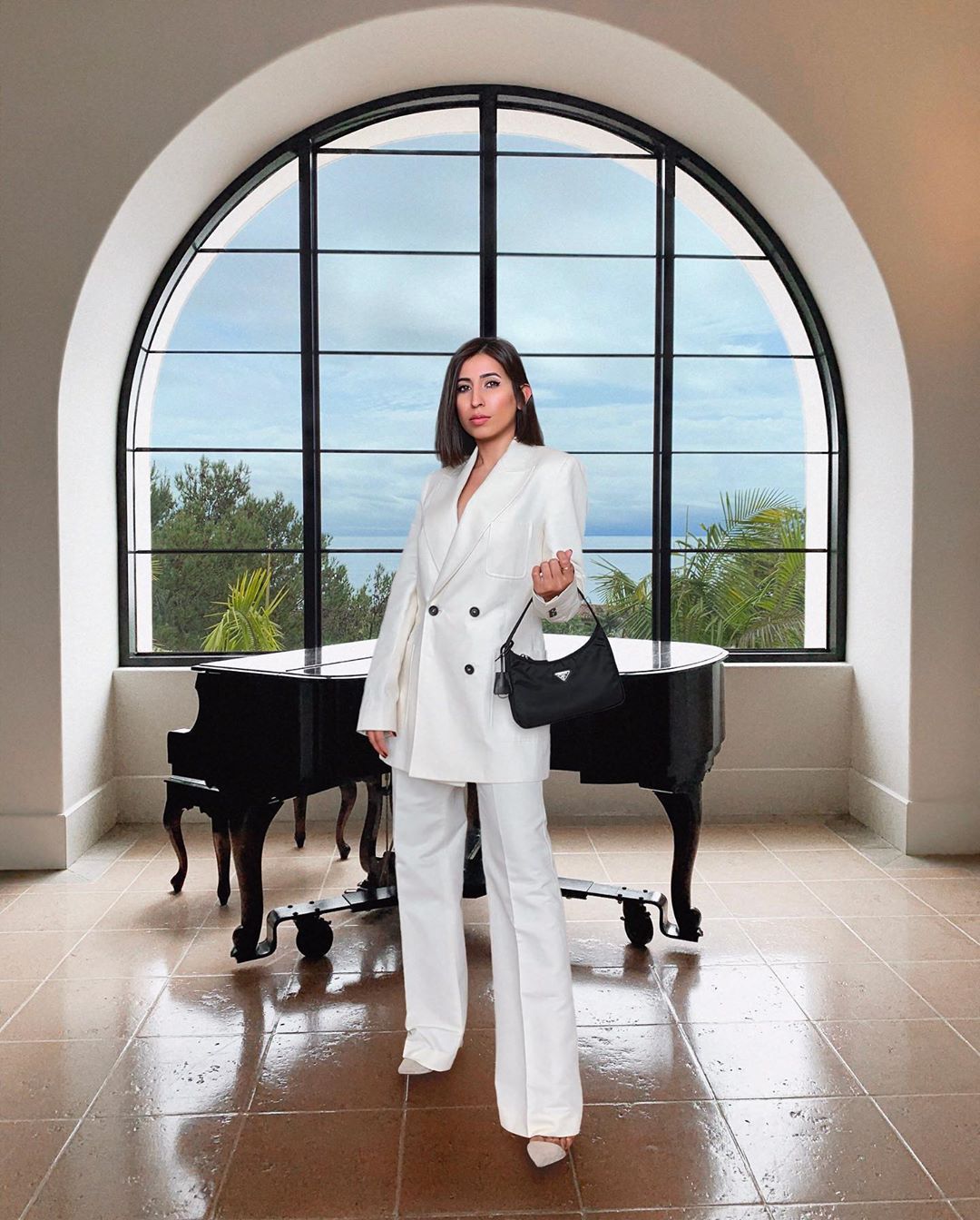 Nothing exudes sheer elegance and luxury like a white winter outfit does. This neutral hue is becoming the go-to for almost every fashionable set in the shades of eggshell, creamy, and titanium. However, the rules for wearing white in winter are way too different from the ones for wearing it in summer. This season calls for staying away from breezy white dresses and linen tops if you want to embrace the chilled out snow-loving side. This winter fashion game is all about layering, experimenting with different white shades, and adding a luxe touch to your lookbook.
So, here's a new way of styling white, and Instagram's IT girls are nailing it. To help you get started, we combed the most stunning and whimsical white winter outfits that are relatively easy to emulate. These stunning looks will be the new go-to staples for your winter wardrobe. Excited? Thought so! Keep scrolling to infuse this calming hue in your attires.
Whenever in doubt, pair a white shacket with black leather shoes for a classy yet snazzy look.
Twill Shirt Jacket ($35)
Dark-colored coats and vibrant dresses have had their fair share of fame. It's time for a monotoned look by wearing a white coat over a matching colored dress.
Hunter Coat ($699)
In love with the head-to-toe white look? Slip into a white chunky sweater, pleated skirt, and rubber boots.
Refined Stitch Waterproof Chelsea Boot ($175)
Add an adorable feminine touch to your boss lady look by wearing white suiting.
Crepe Blazer ($85) $42.50
Embrace 2020's indoor activities comfortably with cute white sweatpants.
Sam Sweatpants ($59)
Be pretty in a white off-shoulder dress. To take it up a notch, pair it with knee-high boots.
Mariel Off-The-Shoulder Ribbed-Knit Midi Dress ($660)
Enhance the bougie fashion with belted blazer, white pleated skirt, and ankle boots.
Sabine Pleated Midi Skirt ($395) $237
Remember that strawberry shortcake cartoon? Emulate the cuteness with a pink sweater and white denim.
Daphne High Rise Stovepipe Jeans ($198)
If you live in that part of the world where it doesn't freeze in winter, a romantic white top and slip midi skirt are your new bestfriends.
Mireille Midi Skirt ($250)
Take elegance to the next level by adorning yourself in white sweater, pants, and long, snuggly scarf.
Pointy Bow Pocket Scarf ($88) 
Looking for something functional yet stylish? Utility jumpsuit is a total winner in this department.
Cotton Utility Jumpsuit ($49.99)
If you're a fan of minimalism, a simple turtleneck sweater and wide leg pants would do great!
Cable Balloon Sleeve Raglan Sweater ($45)
Another head-to-toe white look you can't resist. The kitten heels, handbag, and the long coat, what's not to like?
Calf-length Coat ($79.99)
Drop style notes everwhere you go in flowy wide leg pants teamed with red handbag for a pop of color.
Pintuck Wide Leg Pant ($74.95)
If your weekend plan is to binge-watch all day long, do it in cute comfy white shorts.
Crew Neck Sweater & Shorts Two-Piece In Cream ($40) $32
A white denim jeans is everything you need to complete your winter collection.
Slim Straight Leg Ankle Jeans ($109) $44.98–$65.40
Take over the fashion game this season with cable knit sweater, satin pants, and contrast seaming boots.
Cable-Knit Sweater ($35)
Add fashion values to your looks by adding a white slip dress to your cart. To make it winter proof, pair it with a cardigan.
Silk Colby Dress ($395) $277
Matching white knit sets can never let you down, we bet on it!
Chunky Ribbed Midi Skirt in Recycled Blend ($44)
For days when you're short of classy clothes, a ribbed white dress will have your back.
Long Sleeve Ribbed Turtleneck Sweater Dress ($119) 
Up Next: 7 F/W 2020 Runway Styles That Are As Practical As They Are Chic