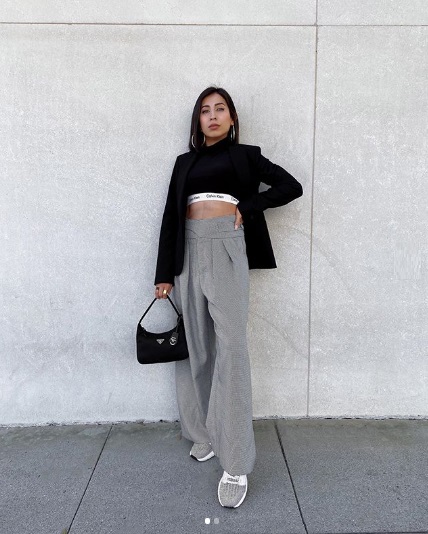 You'd be straight-up lying if you say that you aren't thrilled to try this season's new trends. While every one of us was grappling with the current pandemic, French women amplified their basic Fall pieces' fashion quotient. French fashionistas have a knack for styling basic pieces in the most remarkable ways. This year, your favorite Parisian fashion bloggers turned a dire situation into a hopeful one with trendy and timeless Fall basics.
While you must be occupied shopping for the season, we decided to do a quick rundown on the French-approved staples that are worth the investment. Because really, these are the pieces that will ultimately build the French-inspired wardrobe that you've been dreaming about. Ahead, you will find leather blazers, cute casual jewelry, and much more! Keep reading for some sartorial inspiration.
1. Trench Coat
A trench coat has a versatile allure that can be teamed with any outfit. It adds an instant stylish touch to the look. So, next time when you head out, don't forget to carry a classy beige trench coat!
Water Repellent Trench Coat ($180) $99.90
Kensington Trench Coat with Detachable Hood ($990)
2. Casual Jewelry 
All Instagram IT girls can be seen donning this jewelry trend. Here we are talking about chunky gold-toned chains and hoop earrings.
Rafaella Chain Necklace ($150)
Baby Amalfi Tube Hoop Earrings ($45)
3. Baguette Bag
This handy bag is too comfy to carry. Not just this, it goes with every attire – be it a dress, a coat, or a sweater and denim!
Chain baguette bag ($39.99)
Rachel Bag ($420)
4. Leather Blazer 
Want to infuse instant elegance to your look? All you need is leather blazer and voila!
Menswear Vegan Leather Blazer ($149.95)
+ Net Sustain Brooke Leather Blazer ($350)
5. Chunky Boots 
For the zillionth time, yes, chunky boots are in trend this season, and now even the French fashionistas are totally approving it. So, what are you waiting for?
Cayla Waterproof Chelsea Boot ($170) $99.90
Toni Lug Sole Platform Boots ($450)
6. Cashmere Sweater 
Keep yourself warm and stylish by curling up in a cashmere sweater. If you ask us, a neutral-toned one will go great!
Cashmere Turtleneck Sweater ($98)
Pull À Col Roulé en Cachemire ($395)
7. Dark Wash Jeans 
From casual outings to work hours to parties, a pair of dark wash jeans with straight leg fit won't let you down!
Wide leg high waist jeans ($79.99)
London Cropped High-Rise Straight-Leg Jeans ($265)
Up Next: 16 Fall Fashion Items On Sale From Nordstrom That Are Selling Out Fast