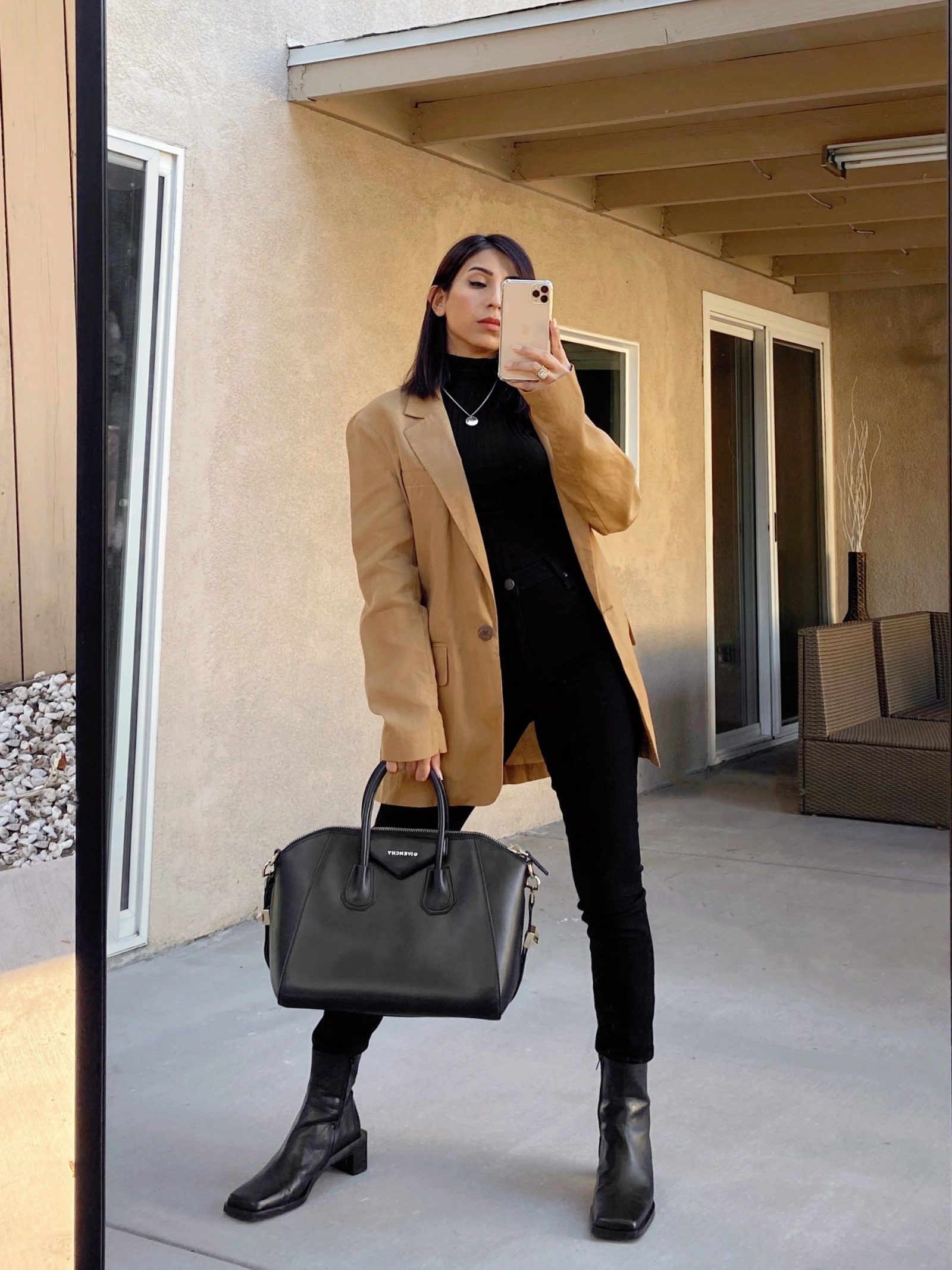 Imagine if denim never existed; the fashion world would seem so incomplete. After all, it is one clothing item that works for every season and with every outfit. It's the perfect match for all your coats, jackets, and sweaters too (also, for days when you are too lazy to try new outfits). And among denim, black jeans are universally loved! There's a stream of Instagram fashion girls who are dropping cues on how to style black jeans most charmingly.
Ahead, you will find the best outfit inspirations that are dominating everyone's Instagram feed. In this denim-adoring post, you will discover certain outfit combinations that will never go out of style. Give your boring trousers a miss this season with the outfit inspirations for black jeans listed below.
Snake print knee-high boots will do wonders for dressing to impress from the waist up with jeans and making them look luxe. To elevate it more, don't forget to wear a beige coat.
High Waist Skinny Jeans ($128) $76.80
If you want the chicest-looking outfit, you must opt for a tube bustier top, team it with your straight black jeans and knife crepe boots.
Kick Flare High Ankle Jeans ($34.99)
A black belted leather blazer with black jeans is an opulent combination that anyone can pull off.
Nina High Waist Pull-On Flare Jeans ($195)
Add a pop of color to the classic black denim with neon or lime green flip-flops.
London Jeans ($299) $209.30
Padded shoulders are trending big right now, and they will look so much more stunning with a pair of jeans!
Ribcage Boot Jeans ($98)
Black square-toe boots with jeans are everything you need if you want a head-turning look.
Stretch Mom Jeans ($89.95) $59.98
A classy failproof look that every fashion lover needs. A slim fit white bodysuit, comfortably chic loafers, and that eye-catching pair of black jeans!
Balloon High-Rise Tapered Jeans ($180)
A cable knit sweater with subtle detailing is sure to look jaw-dropping!
High-Waisted Mom Jeans ($59)
This season, make your outfit look elegant by wearing an oversized white shirt. Tuck it in for a messy yet effortless look.
Julia High Cigarette Jeans ($128) $38.40
Opt for an oversized black blazer, a black sweater with a white shirt underneath, and white sneakers. Now prep yourself for endless compliments.
Dad Jeans ($98)
Pair two timeless clothing pieces for a failproof look – a turtleneck sweater and a pair of black jeans.
Tomboy Straight Jeans in Lunar Wash ($128)
Up Next: Top 10 denim picks from the Nordstrom Anniversary Sale | All under $100