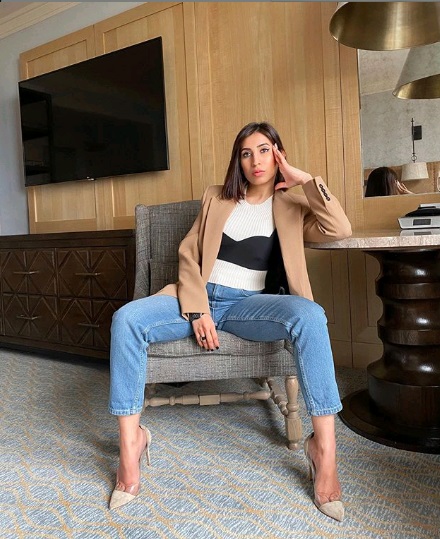 Denim is undoubtedly a wardrobe staple, no matter what time of the year it is. And styling denim ain't that of a deal too! Style a pair of denim or skinny jeans for women with a simple tee, a formal shirt, a hoodie, a cute top, a jacket – it goes well with all. Accept it or not, we might not have another favorite piece of clothing, but we all have that one favorite denim piece, which is our go-to pair on any given day. And if we were told to dress up and leave for a surprise outing in an hour, we'd pick denim, because it's that comfortable and compatible anywhere!
Visit a physical store or an online store, and you'd find piles of denim, but how do you find the right pair that fits you well, is comfortable and meets your requirements. That can be quite a task. But hey there, we've done it for you. We've listed 15 best-selling denim from Nordstrom that are comfortable, designed to fit most body types, and of course, loved by everyone.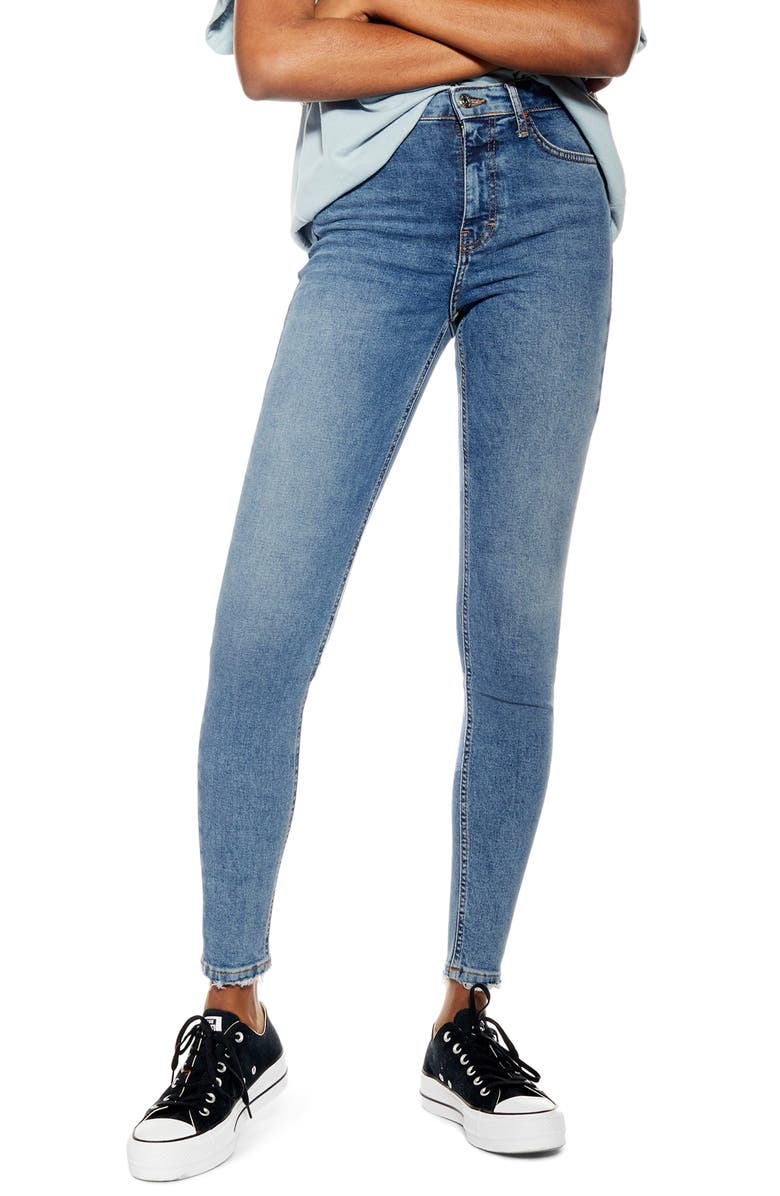 TOPSHOP Jamie Fray Hem High Waist Skinny Jeans ($70) $52.50 – $70
This super casual denim is the ultimate soft and comfy pair. It has a slightly frayed hemline and light wash, giving it a cool and laid-back look perfect for a regular day out.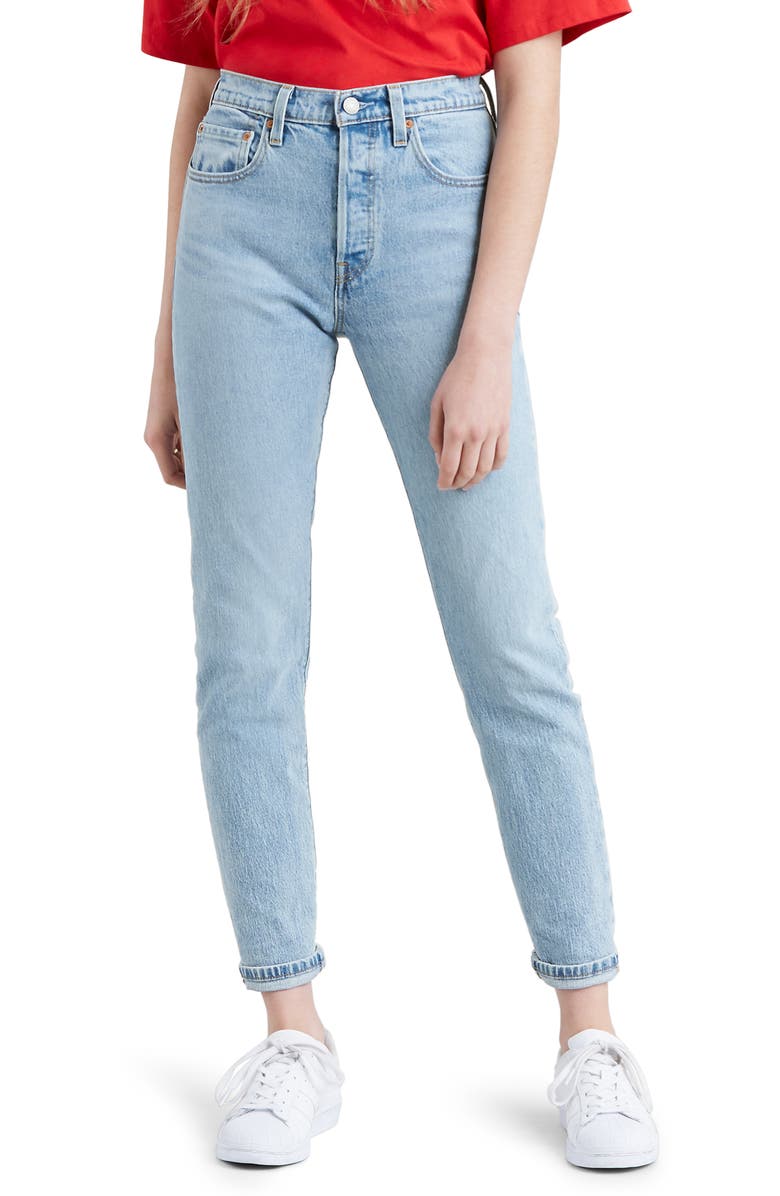 LEVI'S® 501® Skinny Jeans ($98)
Levi's most famous and best-selling pair of jeans, Levi's 501 is undoubtedly one of the most wonderful pairs out there. Its light blue wash, straight front zip, and folded hemline are classic yet cool and trendy.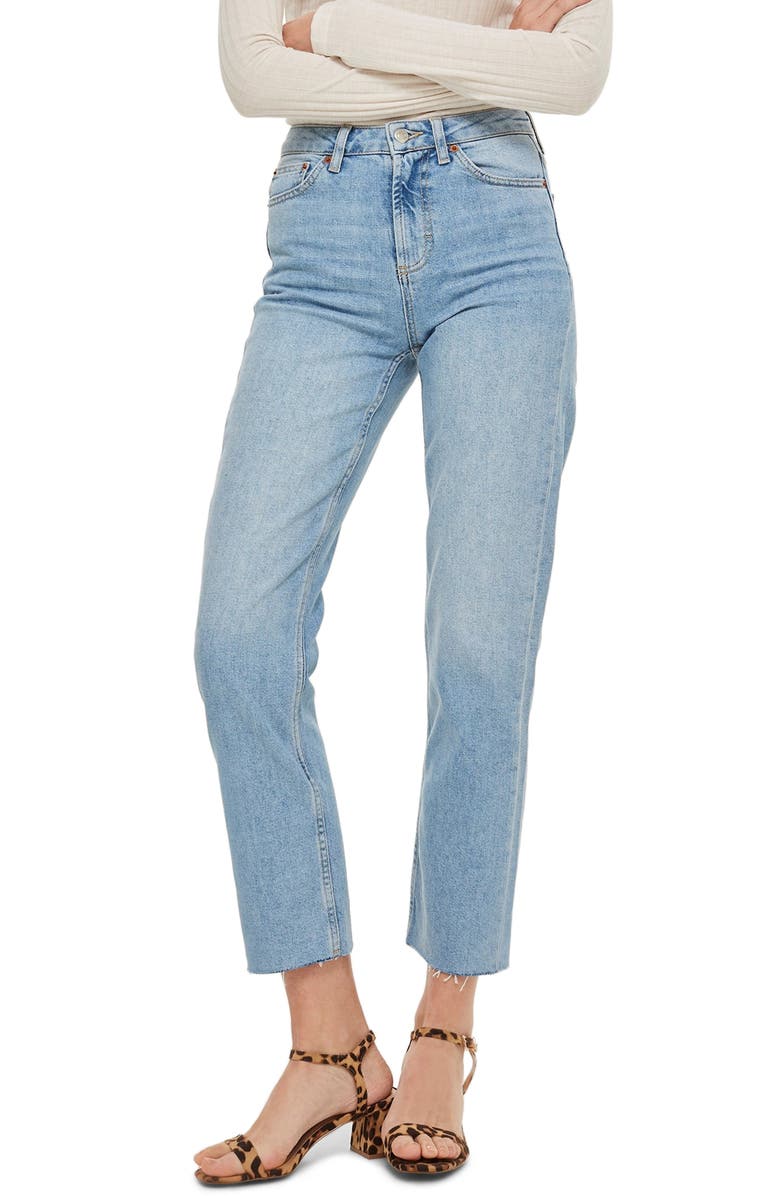 TOPSHOP Raw Hem Crop Straight Leg Jeans ($75) $56.25 – $75
This high-waist straight leg jeans with a crop hemline and slight frays at the edges is yet another comfy pair of denim. The high waist sits well to give a desired fit while loose design towards the bottom gives enough room for easy movement.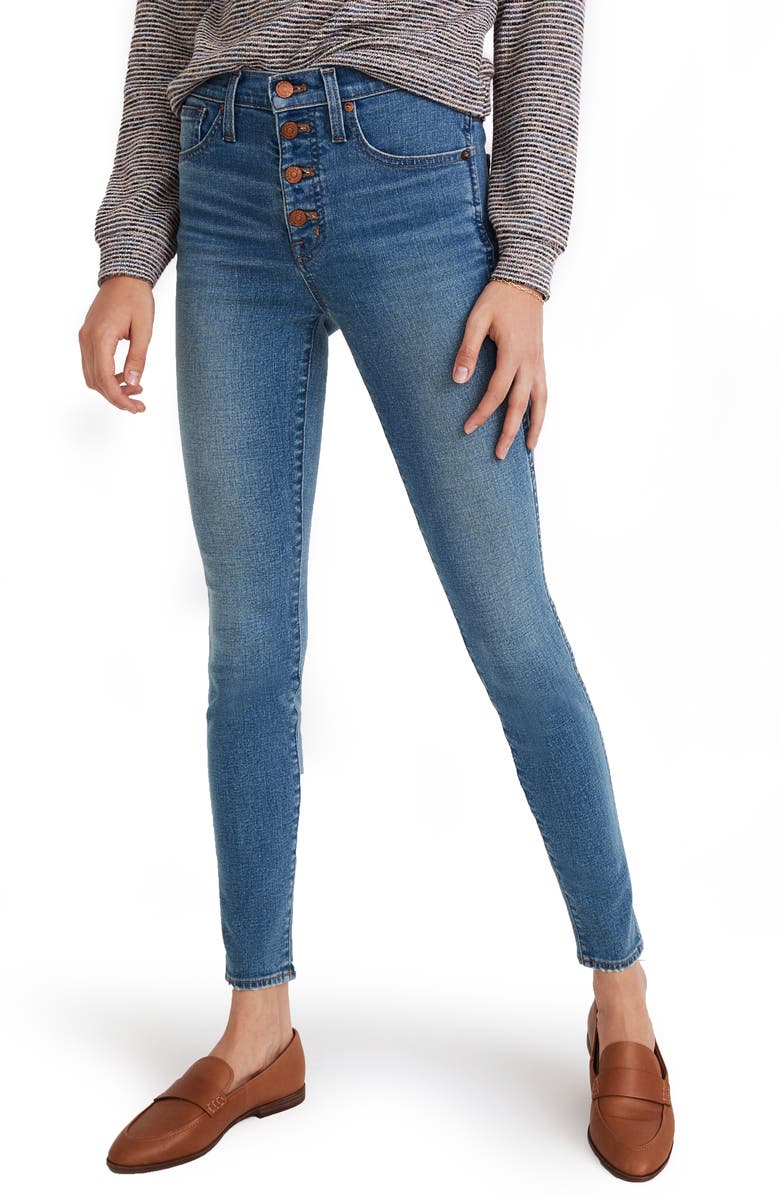 MADEWELL Button Front High Waist Skinny Jeans ($135) $67.50
A unique blend of fabrics gives this piece a soft, cozy, and comfortable feel and texture. Its skinny design fits just right to showcase the curves of your legs.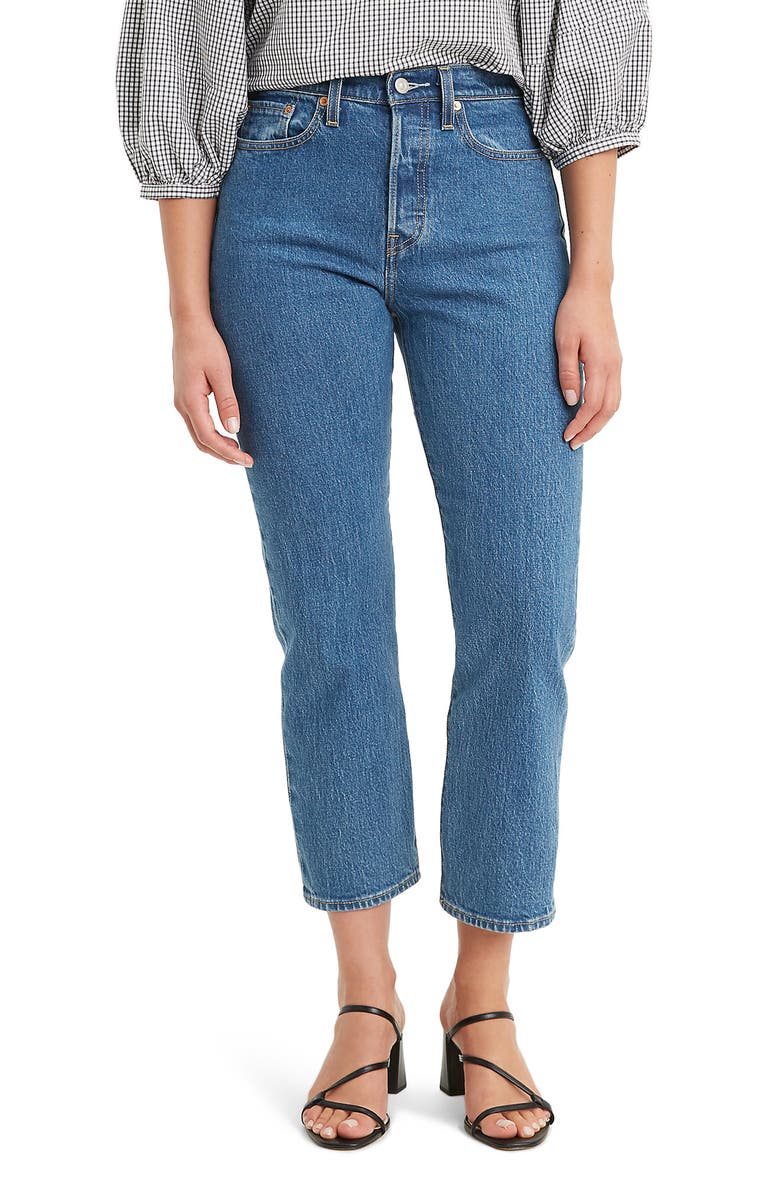 LEVI'S® The Wedgie High Waist Straight Leg Jeans ($98) $49
This straight-leg, cropped ankle-length jeans is inspired by the classic Levi's denim. It has a perfect fit at the hip to make it look shapely and cool.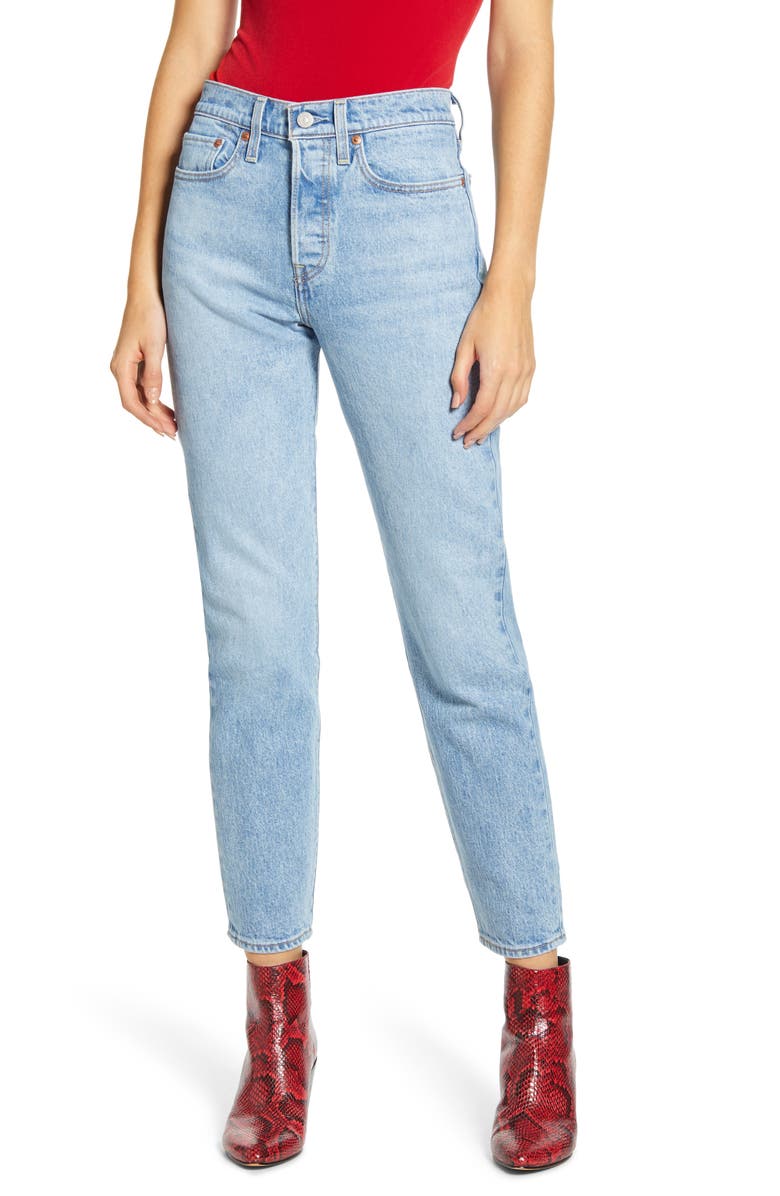 LEVI'S® Wedgie Icon Fit High Waist Jeans ($98)
This classic pair from Levi's with a high waist and light wash, and cropped ankle fits just right, not too skinny, not too loose, to avoid any kind of irritation or discomfort. The fade effect makes it cool and classy.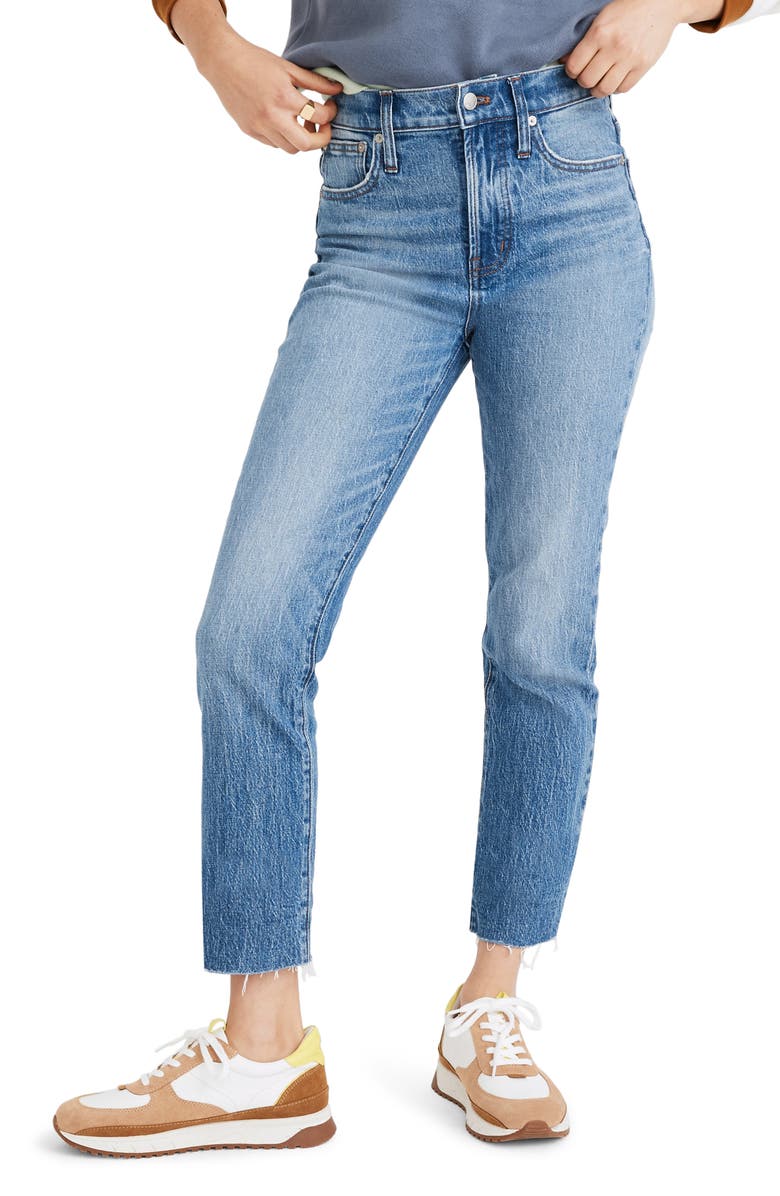 MADEWELL The Perfect Vintage Raw Hem Jeans ($128)
This pair has a sleek and slim silhouette, which highlights the curves of the hips. The contoured wash gives it a unique and distinct look. It has a raw and frayed hemline which gives it a cool and casual silhouette.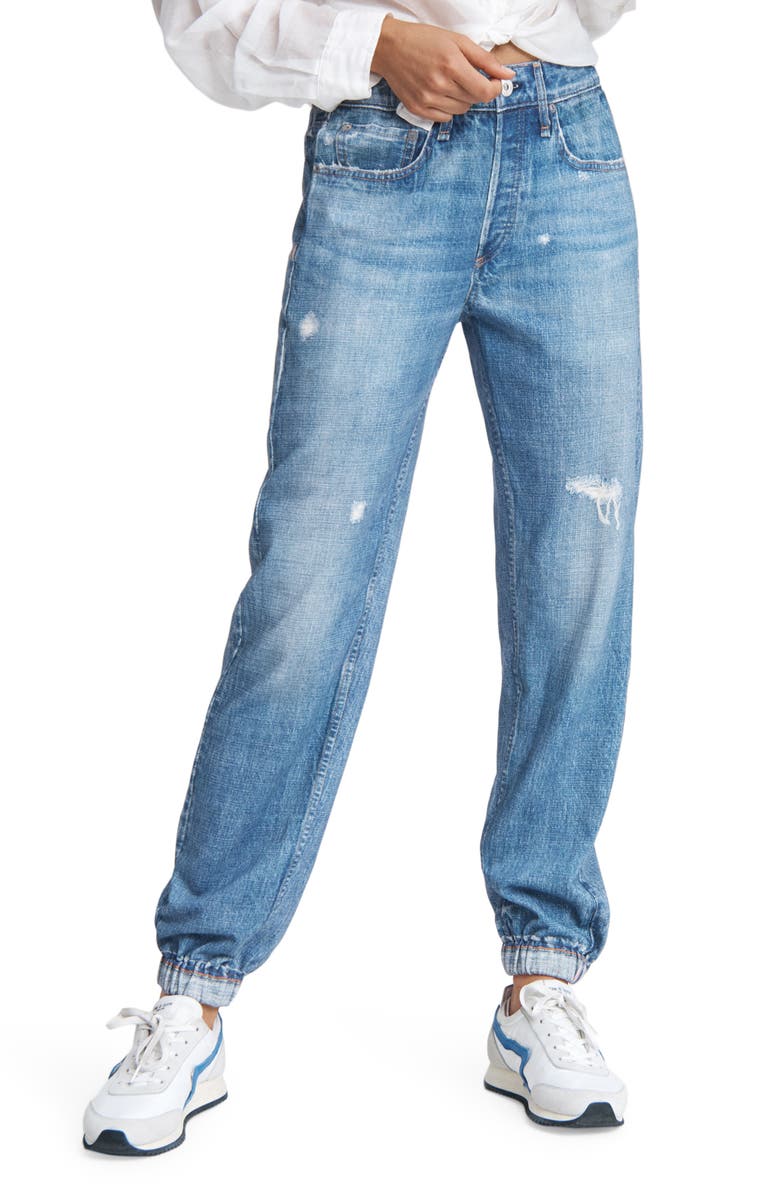 RAG & BONE Miramar Faux Jeans Joggers ($225)
A pair of jeans with the goodness of joggers. How amazing is that! It's actually hard to decide if it's a jogger or jeans. It is made of 100% cotton, featuring a blended denim wash with an an elastic waist and cuffs at the ankle. We leave the choice to you, call it whatever you like!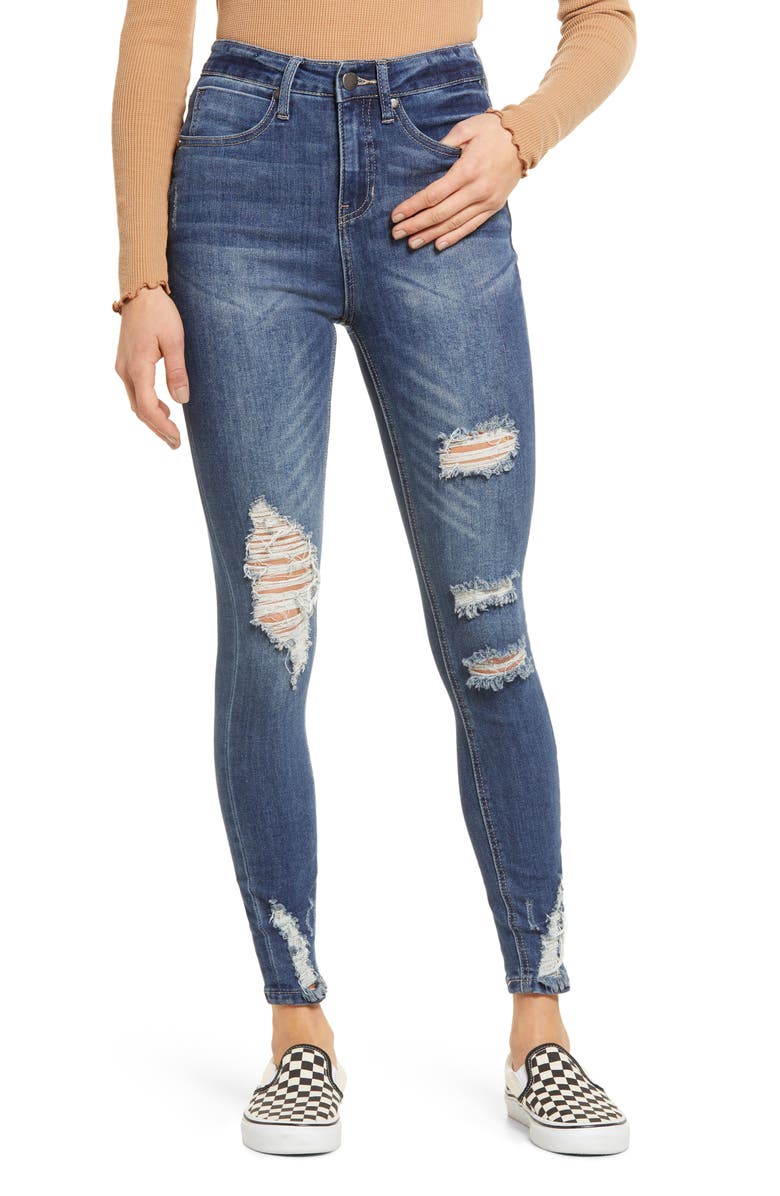 BP. Ripped High Waist Skinny Jeans ($39)
If you're a fan of ripped jeans, then you'll love this pair at first sight. It has random rips from top to bottom, giving it an exciting and funky vibe. Its skin-fit design makes the rips stand out and makes a statement effortlessly.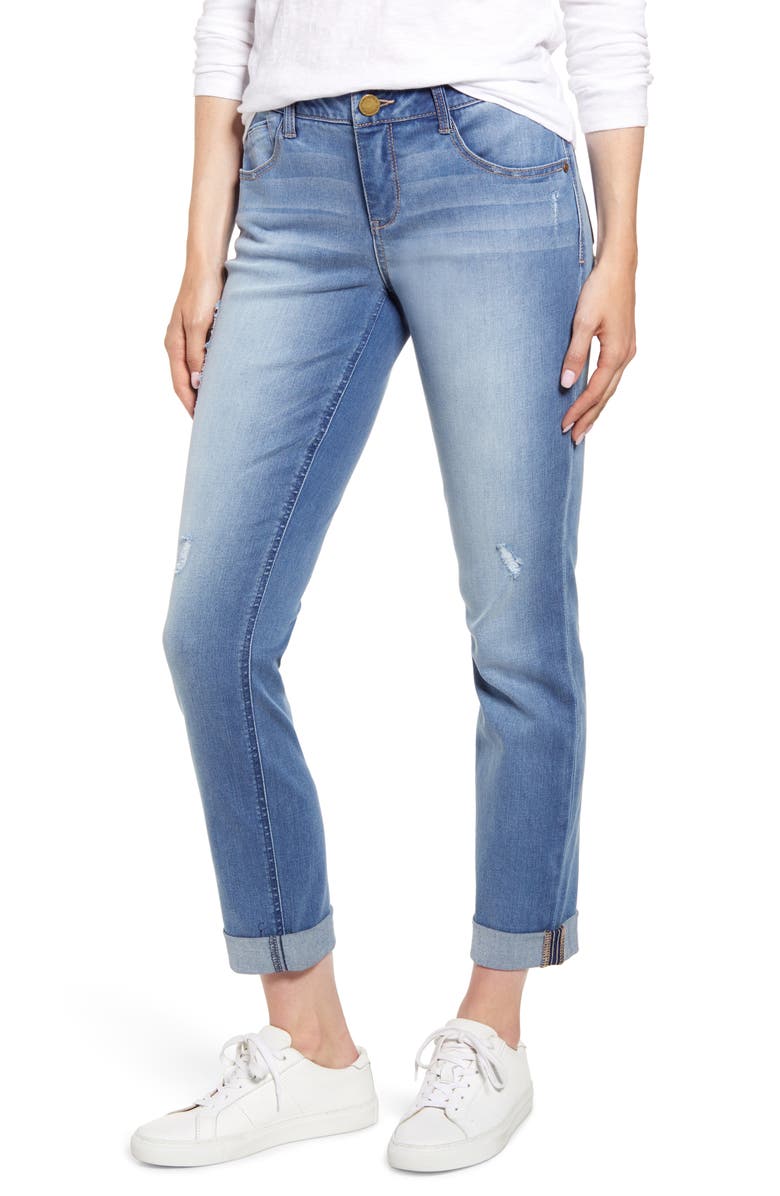 WIT & WISDOM Girlfriend Jeans ($78)
This pair of jeans with a light wash, folded ankle length hemline, little distress marks and a tight-loose fit is the perfect balance of comfy and chic.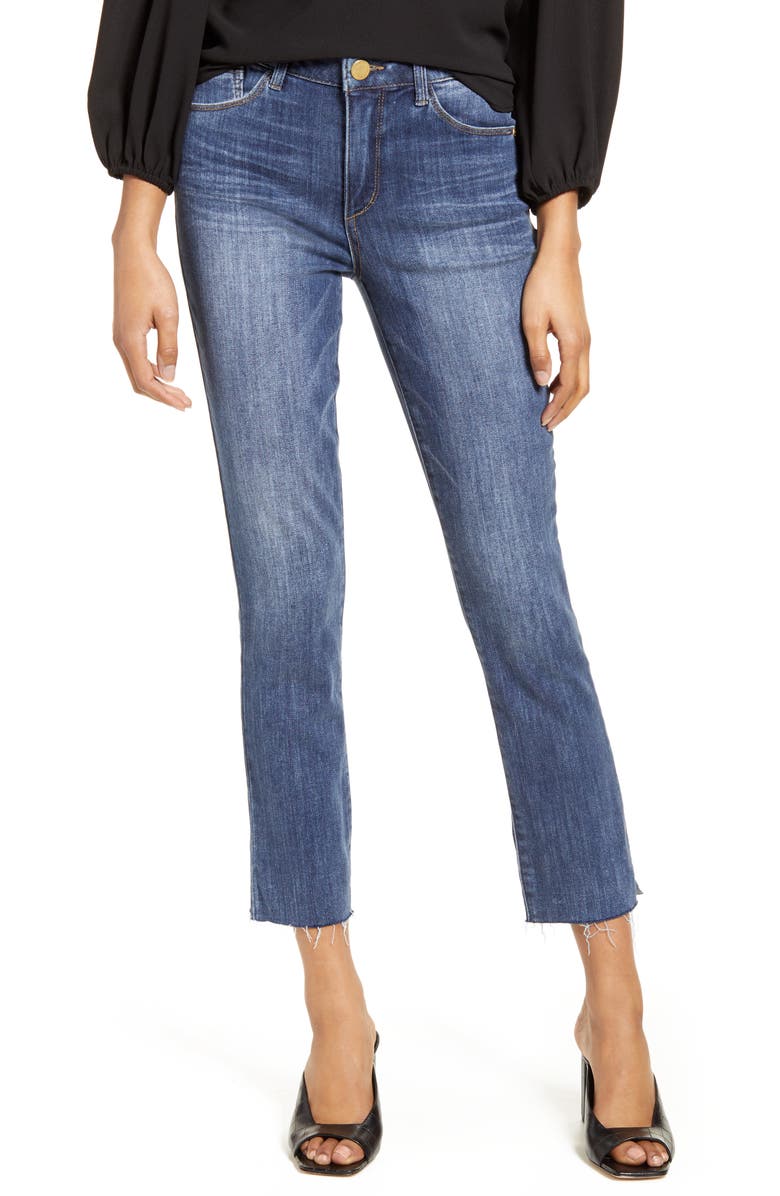 WIT & WISDOM Ab-Solution High Waist Raw Hem Skinny Crop Jeans ($78)
A vintage vibe denim jeans with a dark-light wash, high waist, and a cropped hemline with shreds. It's a perfect outfit for a casual day out or a semi-formal outing.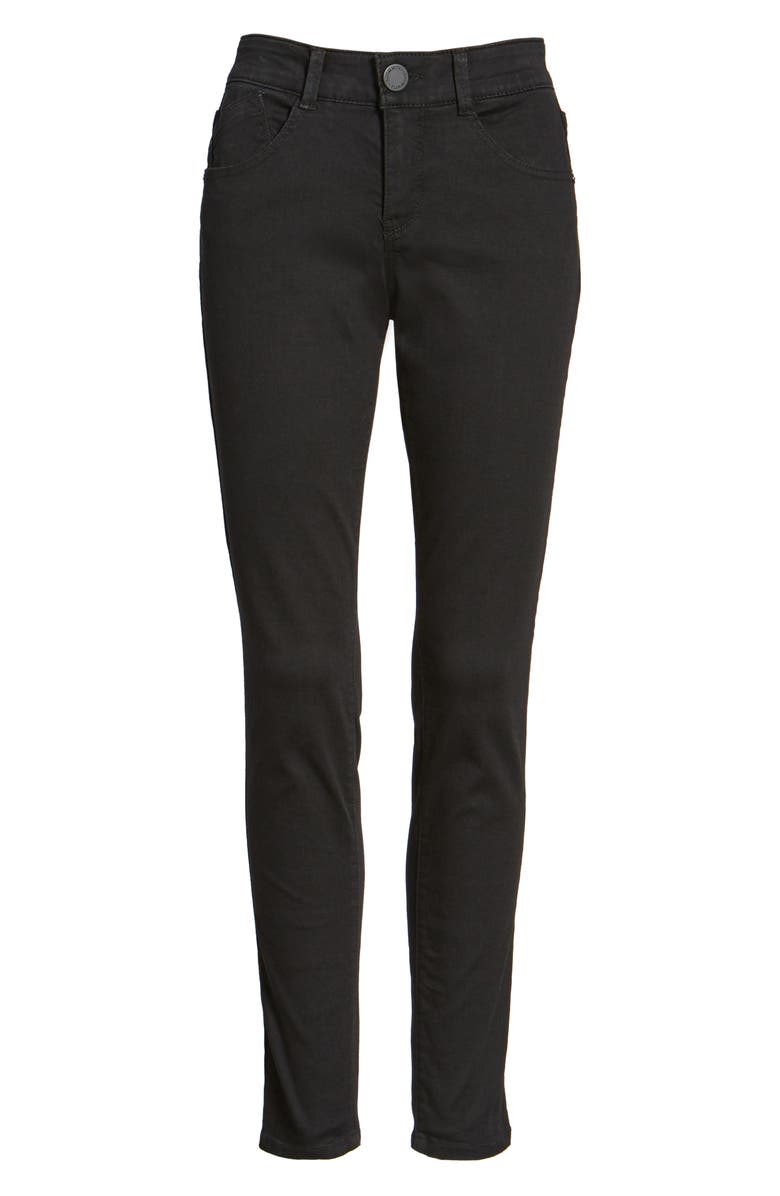 WIT & WISDOM Ab-Solution Stretch Skinny Jeans ($68) $40.80
All being said and done, black denim is a must-have! This bestseller from Nordstrom is the perfect black denim. It has a sleek and skinny fit made of soft comfortable fabric, making it easy-going yet classy.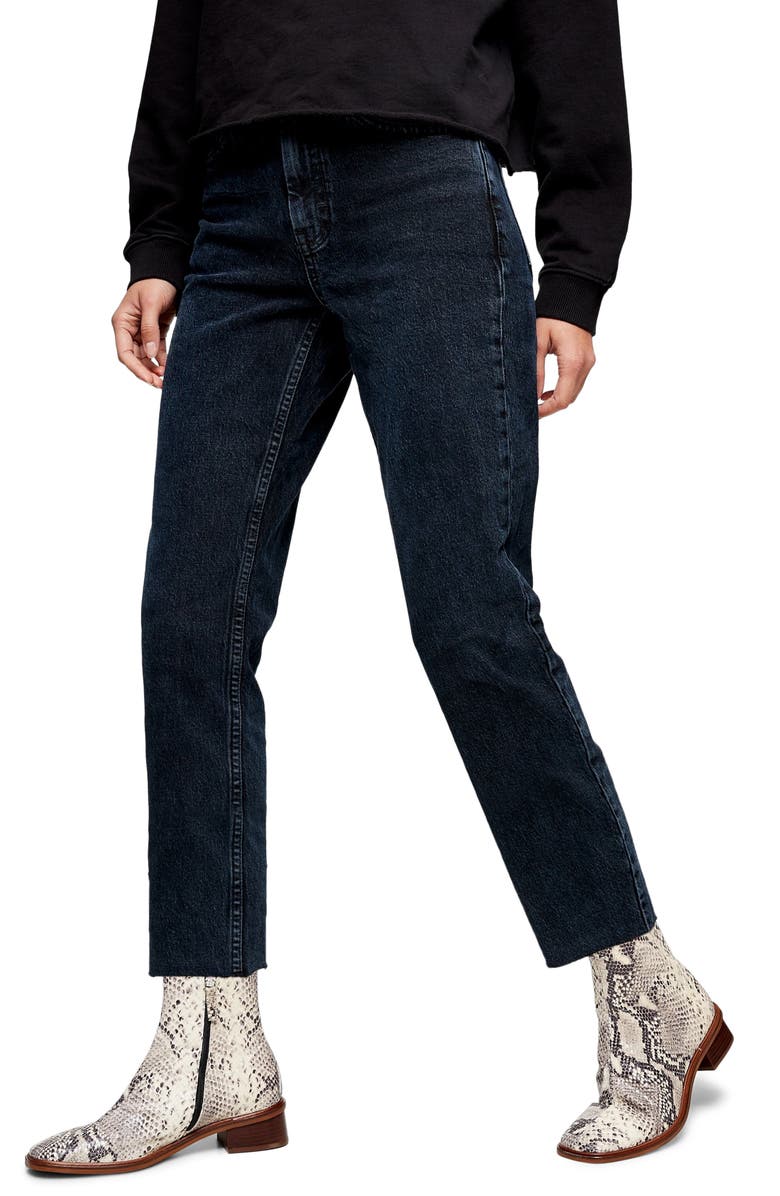 TOPSHOP Raw Hem Crop Straight Leg Jeans ($75) $37.50
This straight-leg denim from Topshop is the perfect blend of cowboy look and a cool casual look. It has a dark black-blue wash with slightly stretchy fabric and a lightly frayed hemline.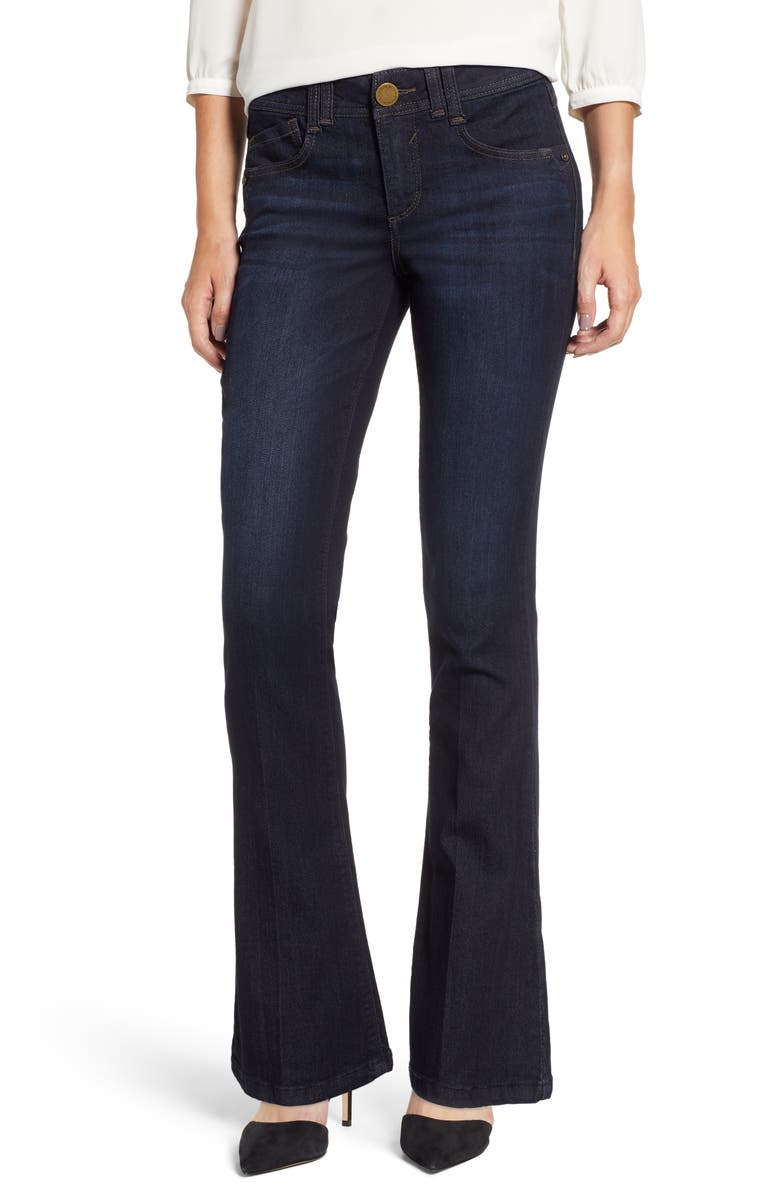 WIT & WISDOM Ab-Solution Itty Bitty Bootcut Jeans ($68)
For those who still crave 90s fashion, this pair could be your favorite. It has a tight fit at the thighs and a boot-leg style towards the bottom, giving it a classic retro vibe.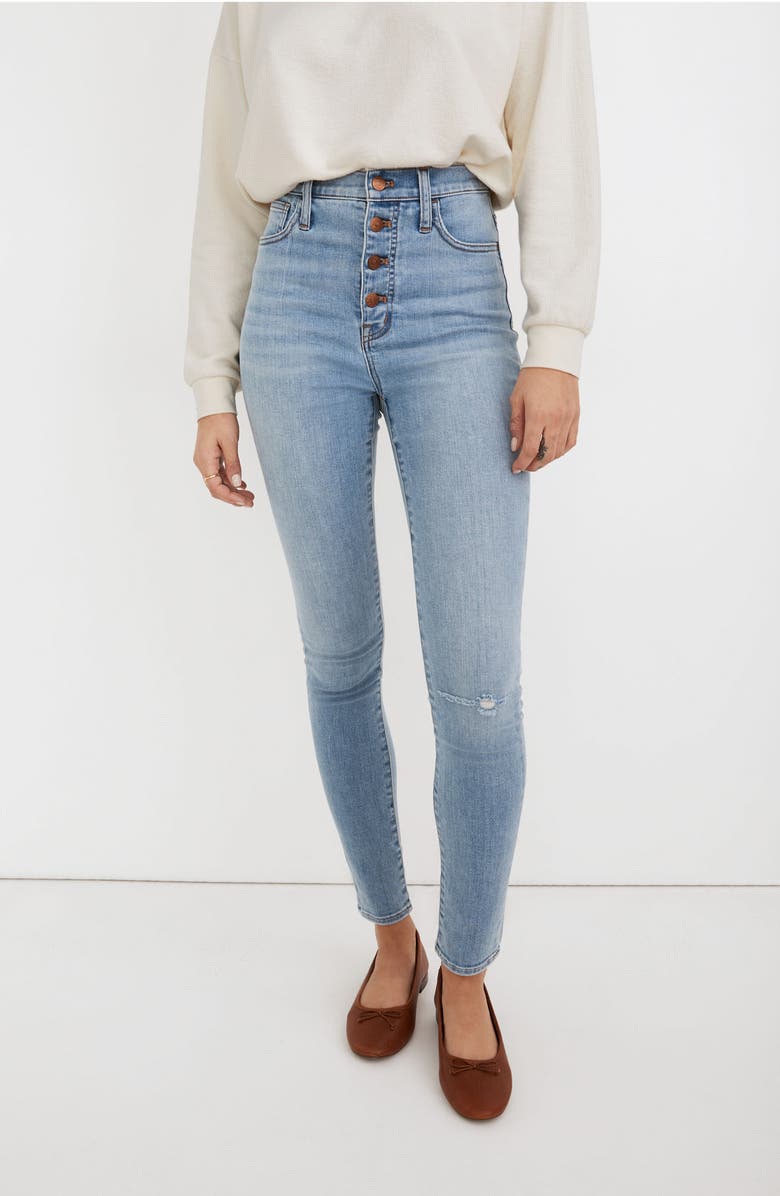 MADEWELL 11-Inch Roadtripper High Waist Button Front Skinny Jeans ($79.50) $56.99
This pair of skin-fit high-waist jeans is sexy and chic. Its soft and breathable fabric can be worn all day long with ease.
Up Next: Time to ditch the basics and upgrade your wardrobe with these tres chic items from Nordstrom