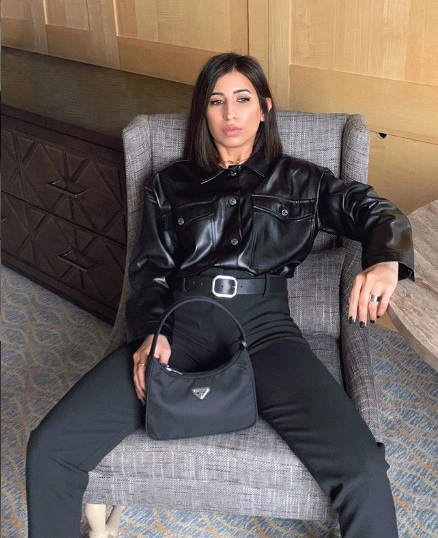 Apart from coats and boots, leather is another quintessential Fall/winter wardrobe staple. Not just a classy leather jacket or boots would define this season's fashion, other pieces like leather shirts, blazers, dresses, and pants are also in line. This season and the coming month is laden with butter-soft vegan leather pieces that are unique and appropriate. This trend is here to keep you fashionable and sustainable at the same time. Whether it's sharply tailored, neutral-toned, or has intricately detailed, the vegan leather trend is making a big statement. 
So, to let you keep up with this sustainable fashion here's a smattering of vegan leather pieces that will pique your interest. Just take a quick stroll through these items as they are likely to sell out before you even hit the "add to cart" button. Prep your wardrobe with the luxurious touch you have been looking for.
Faux Patent Leather Trench Coat ($149) $89.40 
You'll want to commit to this trench coat's color and silhouette.
The Nightingale Faux Leather Blazer ($98) 
This tan-brown blazer with thick buttons can be worn for formal and casual outings too.
Epoch Heel ($158) $111
The manmade sole and feminine look of this sandal is what makes it a stellar pick.
Jared Ankle Strap Sandal ($149.95) $59.98 
The thin straps and neutral color will make any outfit top-notch.
Vegan Leather Pleated Carrot Leg Pant ($98) 
Let the skinny jeans miss you by replacing them with these slouchy leather pants.
Molly Butter Faux Leather Dress ($79) 
Add extra swish to your Fall look by opting for this chocolatey brown leather dress.
Faux Leather Pants ($29.99)
The fit and sleek look of these pants will give you a luxurious appeal.
PU Shirt ($99)
Give style notes to people around in this leather shirt.
Faux Leather Jacket ($69.99)
The clinched waist of the jacket makes it unconventional.
Back to Business Faux Leather Tote ($56) 
The soft and subtle leather of this bag is a must-have.
PU Blazer ($139) 
Drop fashion bombs by wearing this lustrous black leather blazer..
Faux Leather Skirt ($34.99)
Exude elegance anywhere you go by adding this skirt in your cart.
Faux Leather Jacket ($98) $39.98–$58.80
Classic leather jacket with a feminine touch.
Shoulder Bag ($17.99)
Add a flair to your Fall ensembles by teaming this earthy-brown bag.
Up Next: 17 Chicest Pieces At Nordstrom That Will Transform Your Fall Wardrobe