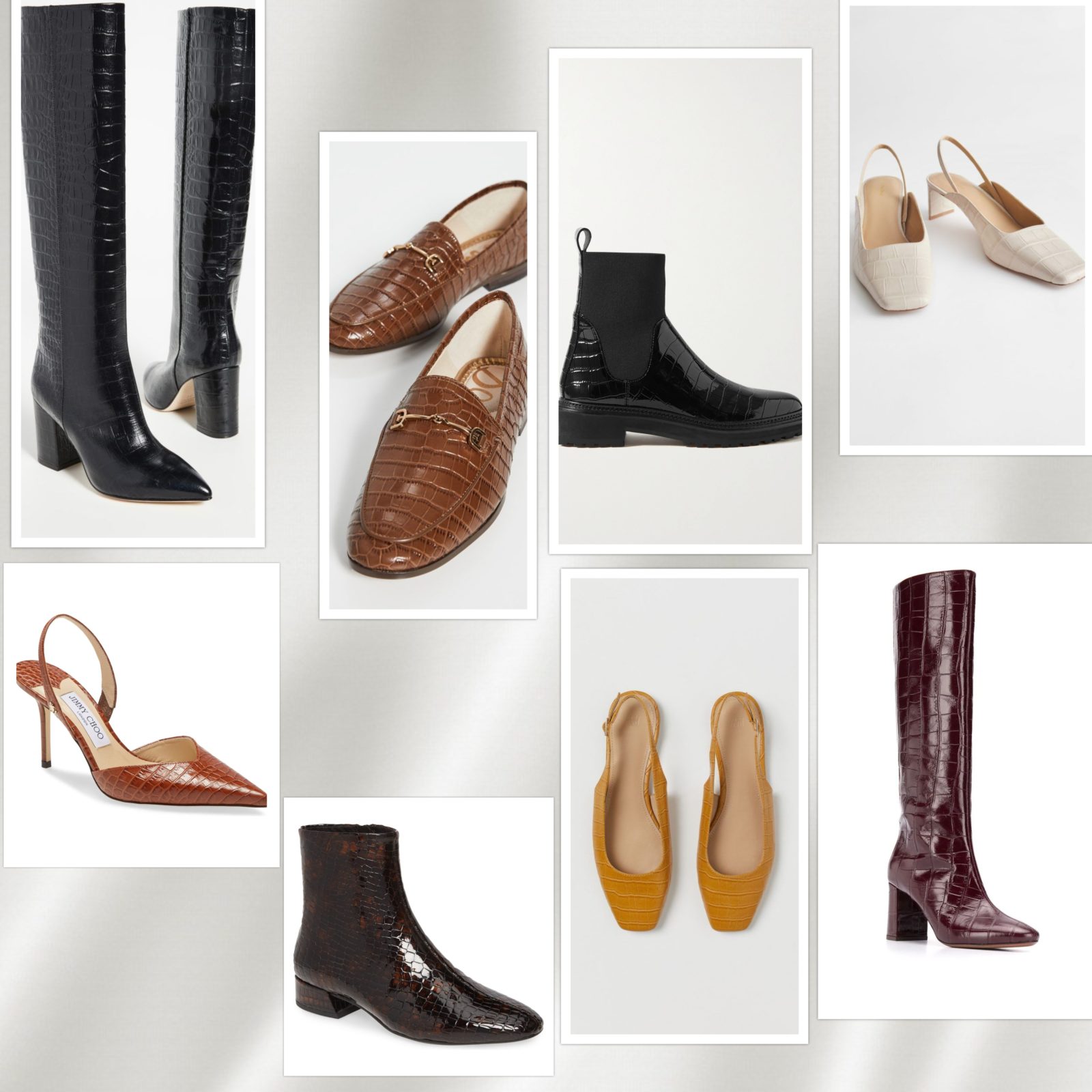 They say we can never have too many shoes, so we prefer keeping our shoe collection small yet chic. An itsy-bitsy yet versatile collection of shoes is so much better than splurging on an endless list of shoes. Having said that, when we talk about versatile and elegant shoes, faux croc shoes are the first thing that comes to our minds. They can instantly add an opulent touch to any outfit. So, for days when you want your outfit to look expensive without drilling holes in your pockets, faux croc shoes will always have your back.
From runway to street style and now to our Instagram feed, this shoe trend is everywhere and everyone's favorite. Go through your favorite Instagram's IT girl's profile, and we bet you'll find a pair of faux croc shoes. From boots to sandals to loafers, this shoe trend is taking over the fashion world by storm. Curious to explore chic faux croc shoes? Well, it's just a scroll away!
Sandals
Conley Sandal ($59.95)
The thin straps and color of this sandal is the reason why it'll sell out fast.
Tribute Nu Pieds crocodile-effect leather slides ($645)
Here's a shoutout to your new favorite staple, credit goes to its sleek look.
Croc-effect glossed-leather sandals ($640)
This Italian sandal will work with every outfit, the glossy leather and color makes it so versatile.
Lonnie Croc Embossed Sandal ($138.95) $83.37
Enhance your casual outfits' style quotient with this pair of sandals.
Wraparound crocodile-effect leather sandals ($730)
Pair this with a white breezy dress and straw brim sling bag.
Ankle Boots 
Joyce Bootie ($159.95)
Give your fall wardrobe an elegant twist with these booties.
Bridget croc-effect patent-leather Chelsea boots ($395)
From leather jacket to long shearling coat, this pair of patent leather boots will work great with any outfit.
Block-heeled Ankle Boots ($34.99)
With the luster and sleek look, this pair of boots will give you every reason to be obsessed with it.
Heels 
Thandi Embossed Slingback Pump ($695)
Think neutral slinky dress with this slingback pump. Can you hear people whispering "wow"? Because we can!
Square Toe Croc Kitten Heel Mules ($129)
This one is an unconventional pair and still manages to turn heads with its minimalist and elegant look.
Jive Croc Embossed Slip On Sandal ($119.95)
The combination of both thick and thin straps with neutral tones will compliment your Fall ensemble.
Promenade slingback crocodile-effect leather pumps ($890) $445 
if you ask us, this is one of our favorite faux croc shoes. Just look at the unique heel, slingback design, and gold toned embellishment at the front!
Slingbacks ($24.99)
Be it the color, design, or just the croc affect, but this pick will surely steal hearts!
Loafers
Cap Toe Loafer ($370–$375)
A dark toned pleated skirt, turtle neck, and cap toe loafers. Well, that's what we call a chic look.
Chain loafers ($79.99)
This one is here to take your formal look up a notch.
Gommini crocodile-effect leather loafers ($495)
The blend of tan brown color, croc affect, and pebbled-rubber sole will make you the focal point anywhere you go.
Loraine Loafers ($140)
This loafer featuring real like croc-affect and embellishment at the front is a great addition to your footwear collection.
Knee High Boots 
Knee-length croc effect boots ($568)
This fall we are amplifying the chicness of our outfits with these boots.
Wally Boots ($550)
Make your clothes look more polished by pairing them with this pair of boots featuring an elegant texture.
Mock Croco Boots ($795)
Wear a pair of chic trouser, top it with a cropped cardigan and these boots for a jaw-dropping look.