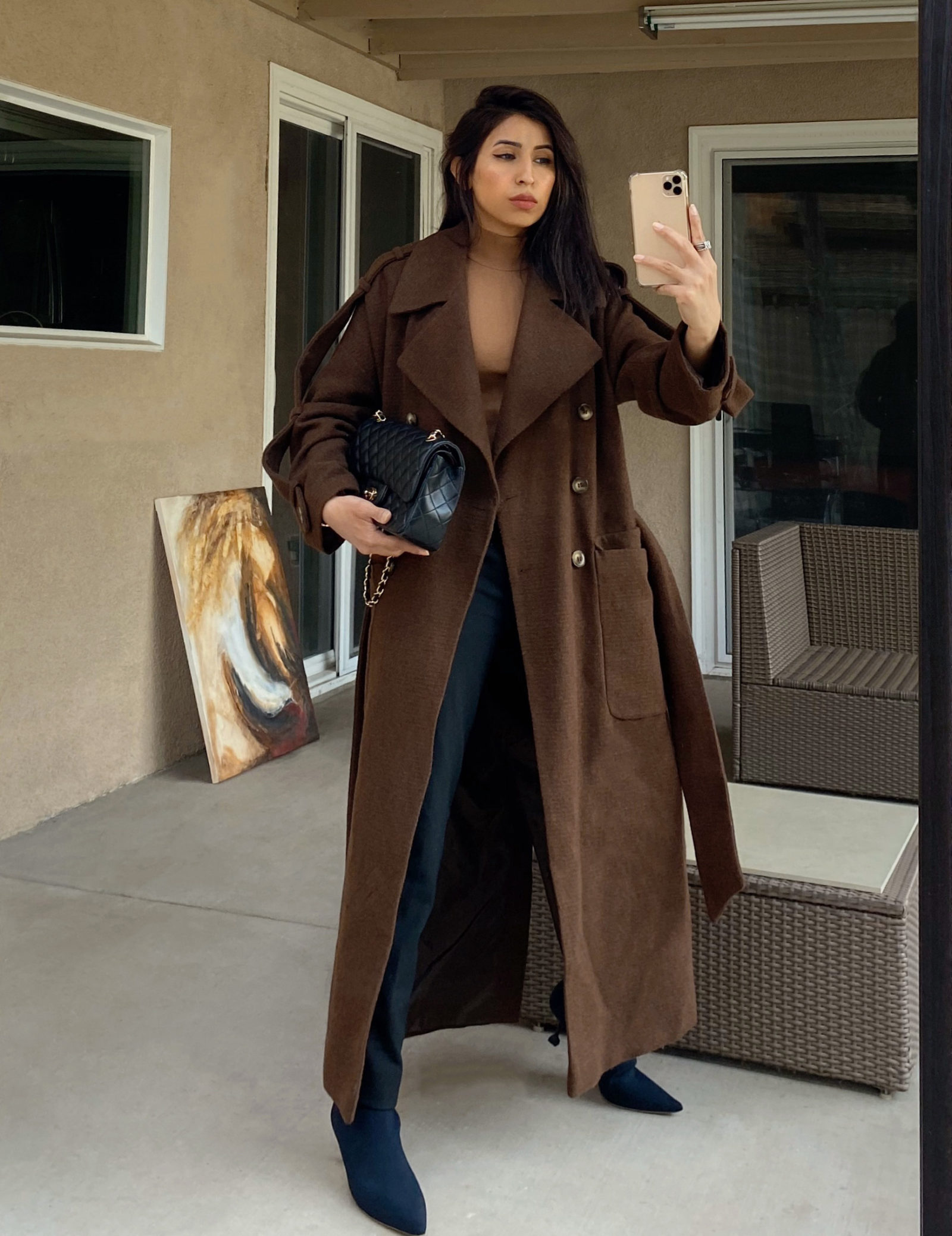 It's that time of the year when ritzy-glitzy holidays are in full swing. Fall is the perfect season for fashionistas because there are so many events to dress up for, starting from Halloween, and ending with New Year's Eve. And the best part about this season's fashion is the coats, which are so classy; they'll upgrade your outerwear game effortlessly. Believe it or not, but you only need an elegant coat for a noteworthy wardrobe.
Here are the season's 25 top-selling fall coats, jackets and blazers that will turn your ordinary outfit from 0 to 100 every single time. Are you ready to slay this season with jaw-dropping looks? Keep scrolling for style notes and consider shopping the picks that win you over.
Slick Wool Blend Wrap Coat ($450) $299.90
The thick wool and blush pink color of this coat is so adorable.
Lana Double-Breasted Checked Wool-Blend Coat ($935)
Let your Fall look be all about vintage sass with this checked coat.
Heritage Check Notch Collar Coat ($179)
A sleek and stylish coat for those days when you feel too lazy to dress up.
Clement Check Wool Jacket ($575)
This double-breasted check wool jacket with puff sleeves will give your wardrobe a modern spin.
Houndstooth Oversize Double Face Coat ($299) $169.90
Can't get enough of houndstooth? All you need is this oversized coat!
Fay Jacket ($530)
This quirky jacket with green faux fur trim will make heads turn.
Arin Bouclé Trench Coat ($150)
Time to bid goodbye to cold days with this warm and classy trench coat.
Wool Coat ($199.99)
This charcoal gray coat will work great with all your dresses.
Plaid Trench Coat ($179) $125.30
This plaid trench coat offers a sharply tailored silhouette that makes it so unmissable.
Recycled Ripstop Quilt Coat ($425)
This quilted coat is warm and recycled – so flaunt your style this season without worrying about your carbon footprint!
Double Breasted Wool Blend Coat ($335) $199.90
The neat and sophisticated look of this coat is everything your wardrobe needs.
Madewell Larsen Blazer In Herringbone ($175)
Pair it with black turtleneck and white tee for that exquisite look!
Lynne Teddy Coat ($119)
This teddy coat is cozy and ultra-cute.
Relaxed Single Breasted Coat ($279)
Single breasted coats are in full swing this season.
Two-Button Double Breasted Blazer Coat ($109) $76.30
The opulent structure and elegant silhouette of the coat is swoon-worthy.
Maisie Coat ($950)
This puffer coat adorned in olive green color will magnify the style potion of your look.
Leopard Print Maxi Coat ($190)
Be as sassy as you like in this leopard print maxi coat.
Annecy Wool and Cashmere-Blend Coat ($1100)
The cropped sleeves and oversized collars add an unconventional touch to this coat.
Plaid Fringe Hem Wool Blend Jacket ($640) $448
The fringes on this jacket make it so unique that you can't afford to miss it.
Wool-Blend Coat ($149)
When it comes to pulling off a chic casual look, you can count on this ash gray coat.
Puffer Jacket ($95)
The color and cropped design of this jacket is so adorable, isn't it?
Knee-Length Coat ($59.99)
Since neutral-toned coats are having a massive moment in the fashion world, this knee-length coat is a must-have.
Faux Fur Hooded Jacket ($490) $343
Not a fan of cold weather? This faux fur jacket will help you brave through the season with style.
Goose Elmwood Parka ($1195)
The utilitarian look and cool vibe of the parka makes it a stellar pick.
Faux Patent Leather Trench Coat ($149) $89.40
Obsessed with leather? Get your hands on this leather trench coat that is the definition of luxe clothing!