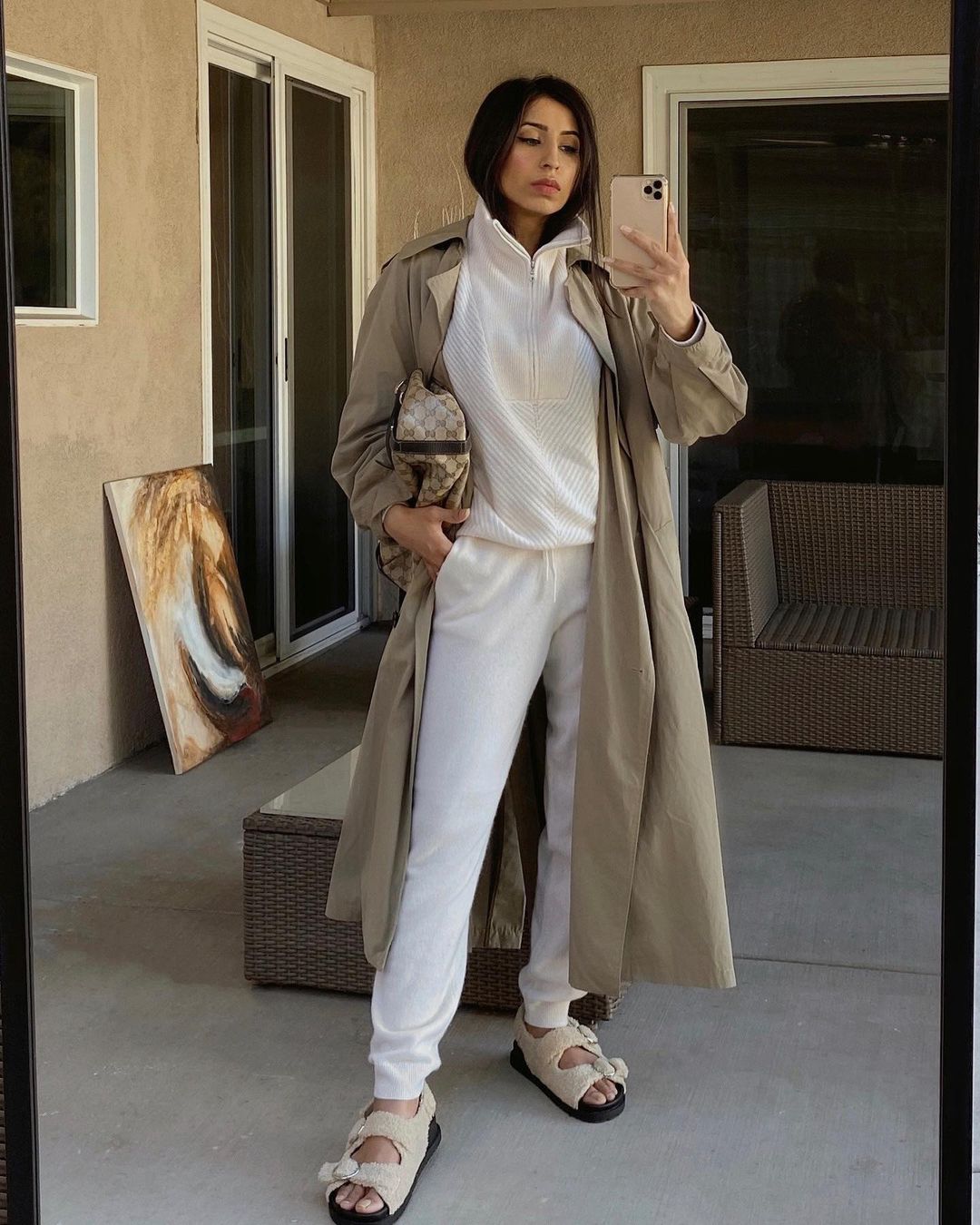 Raise your hands if your whole life seems to be revolving around Zoom meetings, Netflix binge-watching, and venting about the pandemic. For all these three things, there's one thing that everyone needs, a wardrobe of super comfortable outfits that looks stylish even when you're just lounging or working from home. A new season is here – so it's time to add the seasonal update to your wardrobe. By now, we are sure that you're feeling loungewear fatigue, which is why we combed the best looks and comfortable outfits. Hints: unconventional sweaters, embellished PJs, and much more.
To cope with the current scenario in the most fashionable way, you can count on these comfortable outfits. They are practical and quite effortless to wear. If you're not one of those rare humans who still put on a pair of jeans everyday while working from home, these items are the perfect option.
1. Unique Sweaters
Unique and chic sweaters are the first to top the list. Thanks to their one-of-a-kind designs. You can go for cutouts, unconventional necklines, and much more.
V-Back Turtleneck Sweater ($64.95)
Melon Long Sleeve Bodysuit ($98)
Fitted Asymmetric Button Up Knit Cardigan ($59)
2. Shearling Slippers
Shearling slippers are the prime contenders of comfy outfits for the season. They are warm and cute too.
Faux Shearling Slipper ($67.95)
Faux Fur Clog ($39.99)
Buckle Faux-Fur Sandals ($79.99)
3. Embellished And Detailed PJs
Toss and replace your cute summer home PJ shorts with these embellished PJs. Thanks to their color, little details, and designs, they are must-haves for your wardrobe.
Natalie Pant in Lilac Gardenia ($78)
Feather Trimmed Beige Top ($25)
Sally Lace Trim French Terry Short Hoodie Pajamas ($78)
4. Ribbed Knit Dresses
If giving up on summer dresses was a tough task, cheer up, because ribbed knit dresses are here to make you forget summertime nostalgia. The slim fit and eye-catching hues of these dresses are adorable.
Simona Long Sleeve Rib Sweater Dress ($138)
Ribbed Dress ($39.99)
Long Sleeve Sweater Dress ($79)
5. Sweatpants
These easy-going pants full of fashion quotient are leading 'work-from-home' fashion game. You can workout, sleep, and just lounge around in these.
Mini Swoosh High Waisted Wide Leg Sweatpants ($60)
Cozy Cool Lounge Pants ($78)
Slouch Utlilty Jogger ($58)
6. Sweater Vests
Since we are reliving the grandpa trends, this trend is also dominating the style world. There's a tweak in sweater vests, they are now available in chunky cable knits.
Turtleneck knit Gillet ($59.99)
Cable-knit Sweater Vest ($29.99)
Mixed Media Cable Knit Sweater ($75)
7. Knit Coords
If there are clothes that can easily define cuteness, that would be matching knits. These knit sets are perfect for bundling up in cold nights.
Cozy Knit Tank ($52)
Ribbed Midi Skirt ($49.99)
High-Waisted Sweater and Ribbed Pants Lounge Set ($90) $40.50
8. Nap Dresses
The combination of breezy and stylish nap dresses is next in the list. They are lightweight, flowy, and worth the attention.
Embroidered Cotton Dress ($59.99) $20.99
Mini Short Sleeve Smock Dress in Check ($42) $35.70
The Tiered Cotton Dress ($78)
Up Next: 15 Fashion Pieces That Are Big On French Fashion Scene