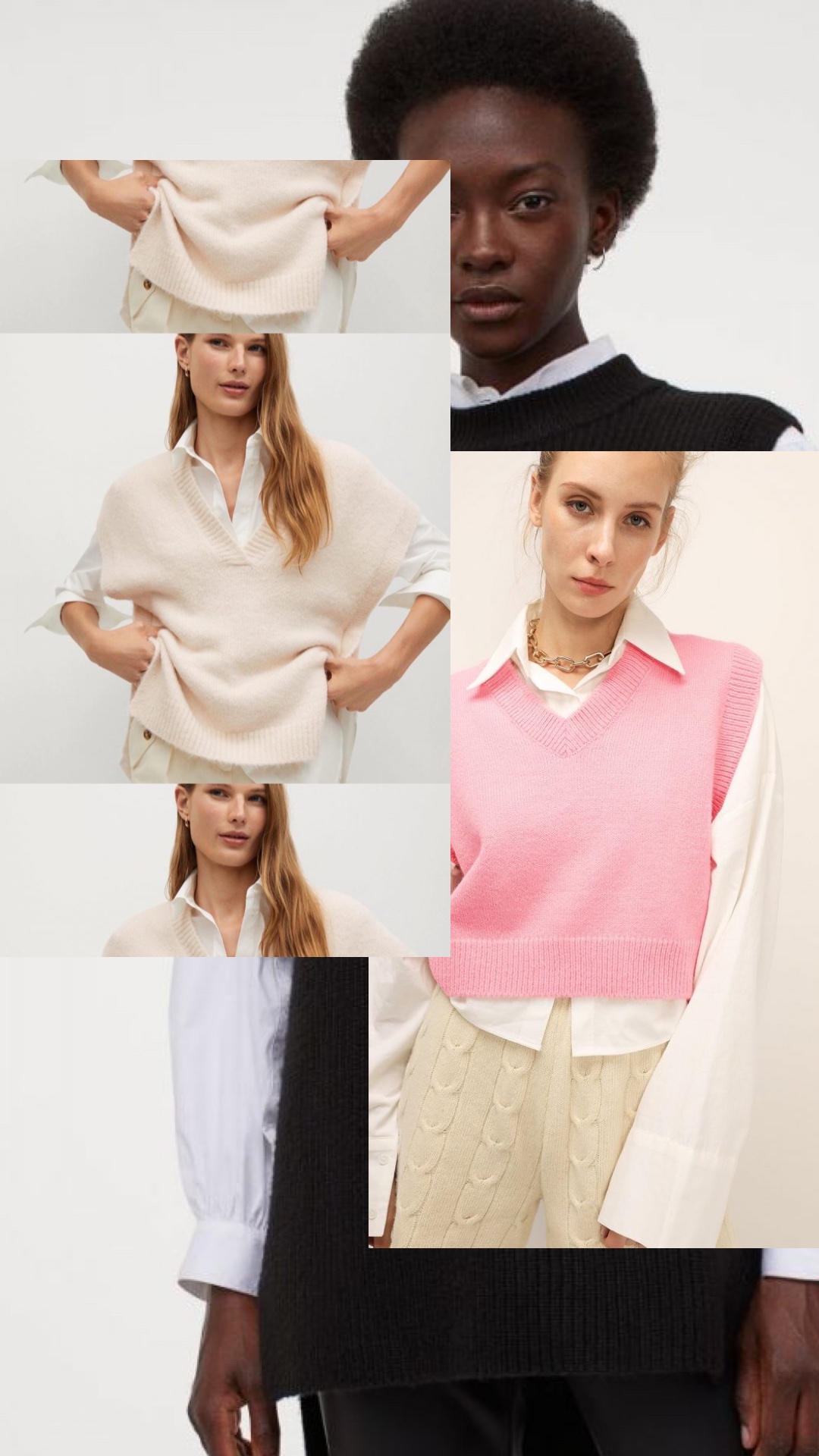 If you're a fan of retro trends, we have good news for you, sweater vests have been revived! Yes, the famous clothing item that was worn by Chandler Bing in the TV show Friends is making a comeback all the way from the 90s. Even our grandparents were obsessed with sweater vests (welcome to the nostalgic fashion era, ladies!). Designers like Prada, Lacoste, and Dior brought back the trend on F/W 2020 runway shows.
Now many famous brands are embracing this aesthetically pleasing trend. We are talking about oversized, colorful, cable knit vests. So, if you want to relive the major fashion moments of the 90s, start with knit vests. Keep scrolling to elevate your outfits with a dash of vintage vibe.
Ribbed wool sweater ($464.53)
Wear it over a white shirt with crisp collars for an elegant look.
Oversize Poplin Shirt ($68)
The voluminous sleeves and oversized fit makes it a failproof pick.
Hannah Knee High Boot ($548)
Let the smooth leather and sleek design of these boots do the talking.
Cotton Sweater Vest ($325)
Add this versatile sweater with ribbed accent striping to elevate the style potion of your wardrobe.
Crewneck T-Shirt ($12) $8.40
A classy white tee that is irresistibly charming and flexible enough to be worn for different occasions.
Mom High Ankle Jeans ($29.99)
Pair these jeans with quilted pumps and enhance your entire look.
V-neck Knit Gillet ($59.99)
From lounging at home to lunch with friends to work, this one can be worn everywhere.
90's Mid Rise Loose Fit Jeans ($178)
Looking for the perfect grunge jeans? Think we found it!
Lucas Cable Vest ($230)
This cable-knit sweater vest with classic V-neckline exudes an adorable look.
Dobby Classic Shirt ($69) $48.30
This lightweight shirt offers a relaxed fitting that you will fall in love with.
Ab-Solution High Waist Ankle Skinny Jeans ($78)
This gray skinny jeans will look super stylish with chunky cardigan.
Rib-knit Sweater Vest ($29.99)
The oversized fit of this pick is worth the attention.
Creased Pants ($29.99)
Take your bottom wear collection up a notch with these black pants.
Lior Loafer ($129.95–$149.95)
Your quest for perfect footwear ends with this loafer featuring front embellishment.
Maisie Alpaca & Cotton Blend Sweater Vest ($225)
Made up of warming alpaca and soft cotton, this vest is ultra-cozy.
Fitted Jersey Skirt ($12.99)
This plaid skirt has such plush vibe, isn't it?
Silk & Mesh Sheer Paneled Shirt ($325) $97
Love the sassy look? Team this mesh shirt with leather pants.
Turtle Neck Knit Vest ($282)
Create a black monotoned look by wearing this turtleneck knit vest over a black leather dress.
Faux Leather Dress ($34.99)
Time for some head-turning looks with faux leather dress offering puff sleeves.
Bios Bag ($305)
The slouchy pouch design of the bag is everything you need to accessorize your Fall outfits.
Cropped Knit Vest Regular price ($71.90)
This cropped pink vest has cute written all over it.
Puff Sleeve Organic Cotton High/Low Wrap Dress ($285)
Get that cute and stylish vibe you have always dreamt of with this wrap dress.