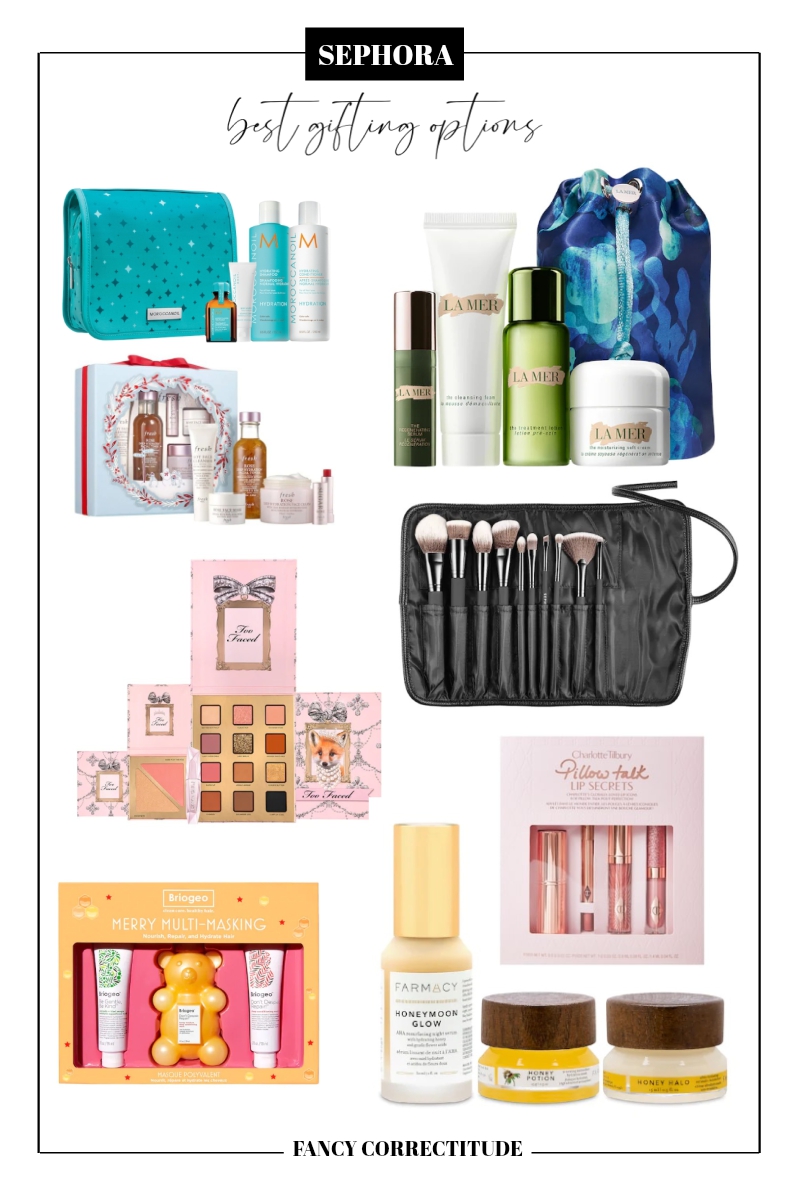 Sephora is the one-stop destination not just for your beauty needs but also for holiday shopping. Sephora holiday sale is here, and if you're a dedicated shopper, call in sick, stay at home, and focus entirely on shopping. If you need top-notch giftable value sets for your loved ones or want to pamper yourself by buying yourself gifts, the Sephora holiday sale has your back. The sale is offering skincare essentials, beauty staples, and heart-melting gift-worthy sets at unbelievable prices.
There's a little something for everyone in every budget. You will find sets that will fill your cart with holiday goodness. So, here are some products from the sale that are running out of stock really, really fast. To make your holiday season even more loveable and memorable for yourself as well as your loved ones with beauty, makeup, and skincare gifts, keep scrolling!
Glowy the Night Kit ($146) $98
Get rid of sticky pollutants and dead skin with this glowing skincare set.
Merry Multi-Masking Kit ft. Don't Despair Repair Deep Conditioning Hair Mask ($54) $36
Healthy, lustrous, and dense hair is no longer a dream with this multi-masking set.
Christmas Snuggles & Melted Kisses Liquid Lipstick Set ($48) $25 
Level up your beauty cellar with this liquid lipstick set.
Let's Glow Outside Bronze and Glow Set ($98) $42
For your beauty lover best-friends, this makeup set is the perfect choice.
Twinkle Twinkle Hydration Set ($65) $49
From curly to straight to wavy, this set is a savior for every hair type!
Wild Extravaganza Set ($92) $62 
Make your loved one super happy this Brazilian skincare set.
Rose Hydration Skincare Set ($97) $65
Bid goodbye to flakey, dry skin with this hydration skincare set.
Holiday Hair Fix Kit ($84) $60 
Achieving divalicious hair isn't a tricky task if you have this hair kit.
Here for the Party Mini Face Set ($79) $39
Make your party look noteworthy with this mini makeup setup.
Pillow Talk Lip Secrets Lip Set ($71) $45 
Gift this to any friend of yours and we bet she'll fall in love with it.
Holiday Perfume Sampler Set ($124) $68 
The perfect perfume sampler set that no one can resist owning.
Miracle Moments Collection ($217) $160 
Renew your skin with this collection of cleansing and moisturizing products.
Lip Injection Extreme Plump & Tasty Trio Set ($48) $25
Give your lips a plumpy and fuller touch with this set.
Enchanted Beauty Makeup Set ($155) $36
Adorn yourself in this unmissable makeup set.
Pure & Glowing Trio ($104) $72 
Let your loved ones be happy with soft and glowing skin by gifting them this.
Sugar Lip Moisturizing Trio ($37) $25 
Pamper and moisturize your lips with this lip care trio.
All That FAB ($127) $49 
Gift smooth, radiant, and hydrated skin to your loved ones with the five-piece-skincare set.
Mini Rouge Pur Couture Lipstick Set ($76) $50 
These unmissable lipstick set from Yves Saint Laurent makes for the perfect gift.
Ready To Roll Brush Set ($195) $72 
Take your makeup skills to the next level with this brush set.
House of Gold ($85) $60 
Heal dry winter skin with this set that nourishes it to the fullest.
Up Next: Shop The Sephora VIB Sale Favorites At 15% Off – Sale Begins On November 3rd