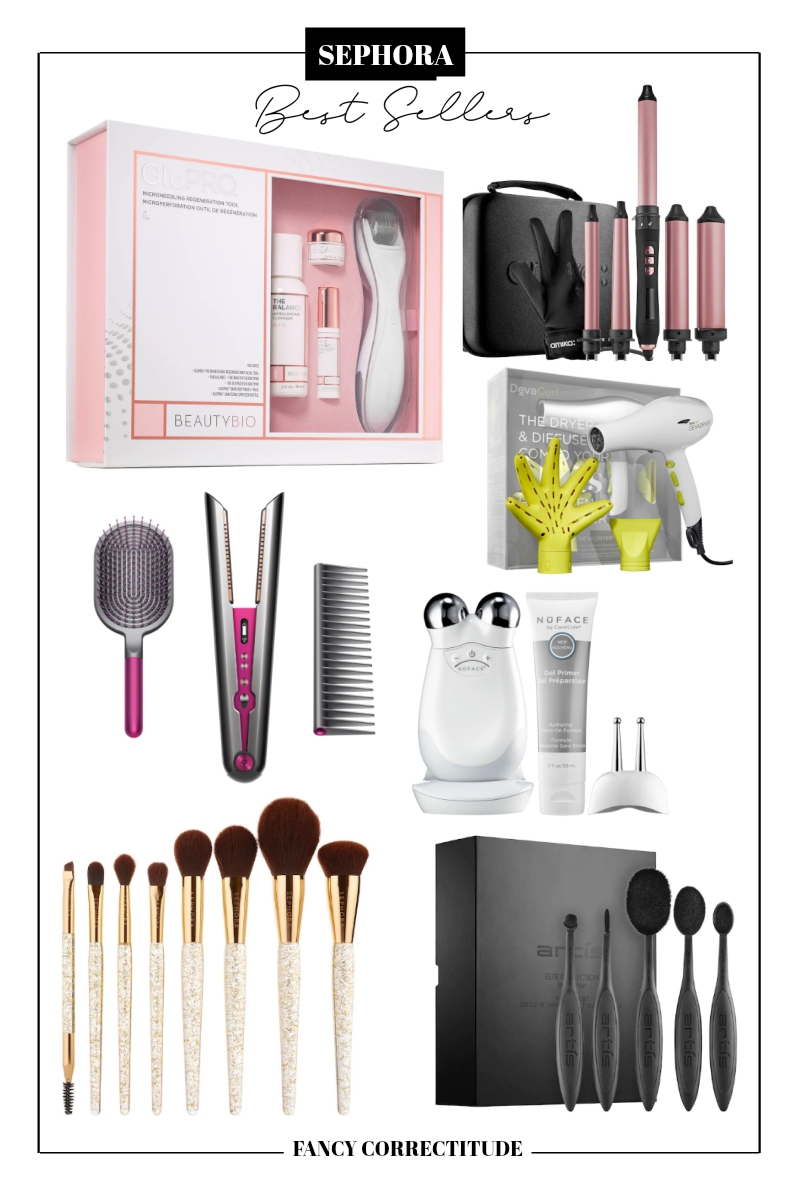 There's nothing wrong with grabbing an early gift, and Sephora's sale is the best place to do that. Every year, Sephora sale brings exciting new products that are perfect for gifting, and we are thrilled about it all. So, make some space in your beauty cabinet and your gift-list because the Sephora sale is back with gigantic beauty tools' deals.
Everyone will definitely find something they need and in every price range. Be it a makeup brush set, hairdryer, and any other beauty item under the sun; there's no shortage of great finds. Before you fall into the rabbit hole and scroll endlessly for the retailer's on-sale products, have a look at our recommendation list below. Let the holiday season be all about beauty. Keep scrolling and get the best beauty tools on sale before they sell out!
New York Minute Hair Blow Dryer Brush Set ($150) $99
Get bouncy and flaunt-worthy hair with this haircare set.
Bright and Beaming 8 Piece Brush Set ($92) $49
Get on-fleek makeup with this brush set.
DevaDryer & Devafuser Dryer & Diffuser Combo For All Curl Kind ($159) $99
Let your stunning hairstyle do the talking by opting for this combo.
Rocket To Flawless Blend & Cleanse Sponge Set ($78) $49 
Every beauty blogger is eyeing this impeccable sponge set.
Hanging Organizer ($35) $21
Hanging organizer to keep your makeup and essentials in one place.
GloPRO® Microneedling Facial Regeneration Tool ($234) $199 
Treat your skin right with this regeneration tool set.
Jack of All Curls Hair Wand Curler Set ($250) $150 
Remember Taylor Swift's famous curly hair? Well, you can have the same with this curler set.
Elite Collection Black Set ($175) 
Blend your makeup with ease with this set.
GLO Lit™ Teeth Whitening Vials 7 Pack + Lip Care ($71) $49 
Strengthen your smile game with this teeth whitening pack.
Dermaplaning Starter Set ($142) $85
An exfoliation kit that will give you baby-soft-skin.
Corrale™ Hair Straightener Limited Edition Gift Set ($565) $499 
No need for hair appointments, hair dressing is easy-peasy with this set.
Trinity + Eye and Lip Enhancer Attachment Bundle ($474) $429
Facial-toning kit that will redefine your lips, eyes, and brows.
Makeup Sponge+Liquid Cleanser Set ($33) $22 
Applying and removing makeup won't be tiring task when you have this set.
Ready To Roll Brush Set ($195) $72 
An ultra-soft brush set that you can't resist owning.
Supersonic™ Hair Dryer Limited Edition Gift Set ($465) $399 
This gift set is perfect for this holiday season. Also, works for every hair type.
Up Next: Shop The Sephora VIB Sale Favorites At 15% Off – Sale Begins On November 3rd