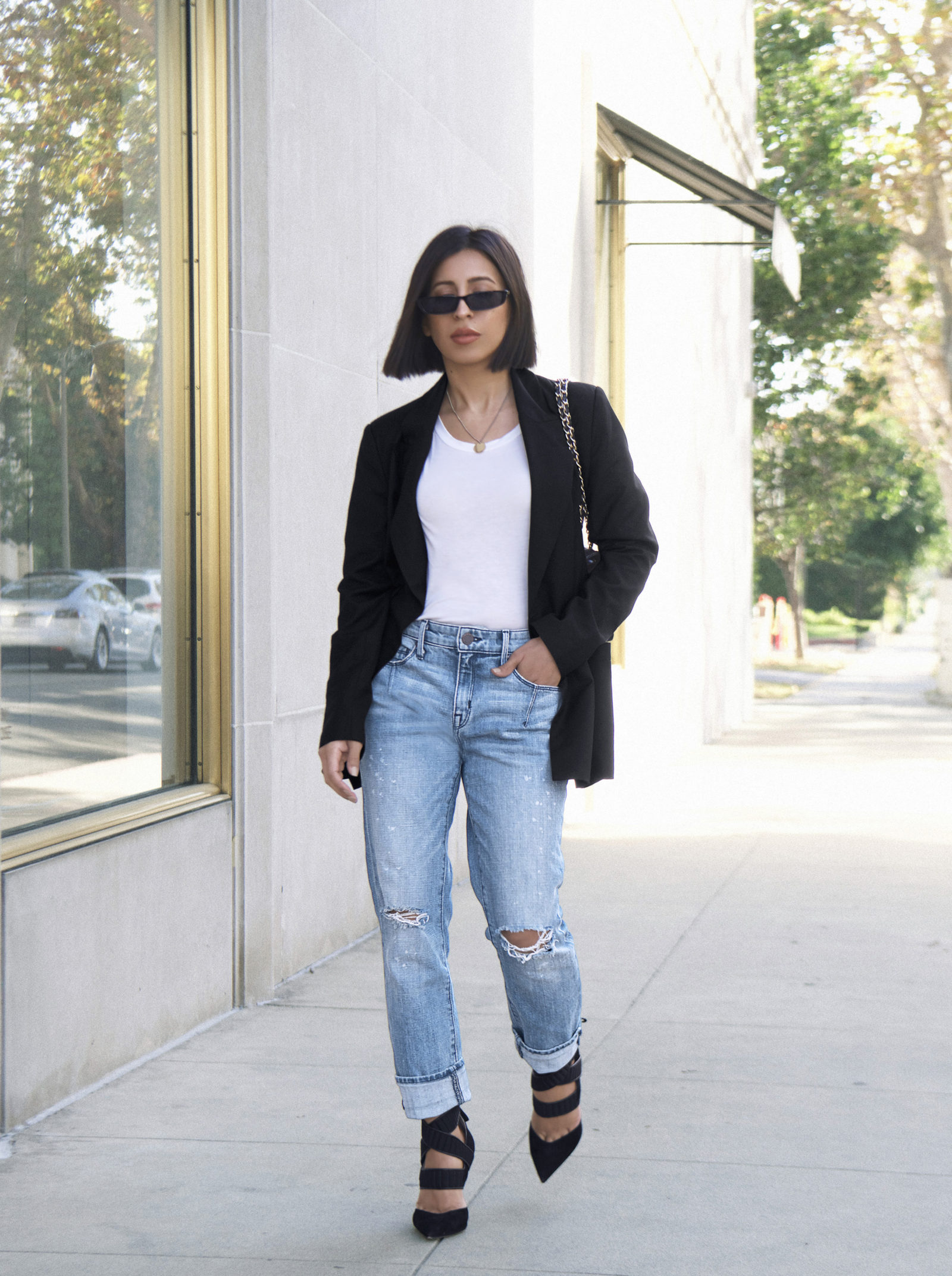 Winter is coming and every fashion lover's quest for updating the wardrobe begins now. This year, the winter trends offer real-life clothes that are practical, easy to carry, and utterly stylish too. The perfect example is the evolution of hoodies, ripped jeans, and shackets (yes, you got the hint, these are the trends that are taking over Instagram). So, if you think you've already exhausted your knits and other cold-weather outfits, it's time to revitalize and amp up your wardrobe.
Thankfully, you don't have to break the bank to add the extra oomph to your look. Here's a gamut of clothing items, each under $100. With special detailings and subtle colors, these finds will take your style deprived days into new heights of chic! So, keep scrolling to know how you can jazz up your Fall/winter wardrobe.
1. Ripped Jeans 
Take the fashion quotient up a notch by adding ripped jeans into your wardrobe. They are versatile and cool enough to be worn with all outfits. Be it a sweater, hoodie, blazer, or shirt, you can count on ripped jeans.
High-Waisted Slim Straight Jeans ($64)
Ripped Dad Jeans ($80) 
2. Shackets
If your shirts and jackets already feel average according to the seasonal trends, but you are obsessed with them, why don't you go for shackets?
Ally Shirt Jacket ($69) 
Curve Scuba Shacket In Stone ($76) 
3. Leather Trench Coat
Since leather and trench coats are never going out of style, why not combine them together and create the most captivating trend?
Faux-Leather Belted Trench Coat In Brown ($71) 
Faux Patent Leather Trench Coat ($149) $89.40 
4. Practical Jumpsuits
Jumpsuits are good, but utility jumpsuits are the best, they can be teamed with boots (and every other type of footwear!) to elevate the fashion quotient.
Cotton Twill Jumpsuit ($39.99)
Stretch Cotton Utility Jumpsuit ($98) 
5. Quilted Coats
This one is the perfect trend for winter! Quilted coats will not only keep you stylish but warm too. They are elegant enough to wow people every time you wear it.
Multi Quilt Packable Hooded Puffer Coat ($139) $89.90 
Quilted Coat ($79.99)
6. Zip Up Sweaters
Take a break from sweaters with obvious designs and make some space for zip-up sweaters. The easy-gong look of these sweaters keeps them fashion-forward.
Emily Half Zip Sweater ($97)
Zip-Up Sweater ($80)
7. Chunky Loafers
Tired of wearing high-heels? Time to add chunky loafers to your closet.
 Chunky-Soled Loafers ($34.99)
Maybell Platform Loafer ($99.95) 
8. Lug Sole Boots
Be it Fall or Winter, this trend is always season-appropriate. They keep your feet warm and also enhance the look of your outfits. So, no matter what year you step in, this trend will always be valid.
High Profile Boots ($69.99)
Hallsey Platform Chelsea Boot ($139.95) $97.30
9. Hoodies 
From Kylie Jenner to Emily Ratjkowski, everyone is obsessed with this trend. Thanks to its comfy feel and cool look.
Mini Swoosh Oversized Hoodie ($65)
Half Zip Fleece Hoodie ($55) $33
10. Puddle Boots 
Other shoe trend that's gaining momentum in the fashion universe is waterproof rain boots that are chunky and timeless too. You will find them working for all your outfits, literally!
Chevonne Chelsea Waterproof Rain Boot ($60)
Original Play Waterproof Rain Bootie ($95) 
Up Next: Trend Forecast: Sweater Vests Are Super In For Winter & How To Style Them