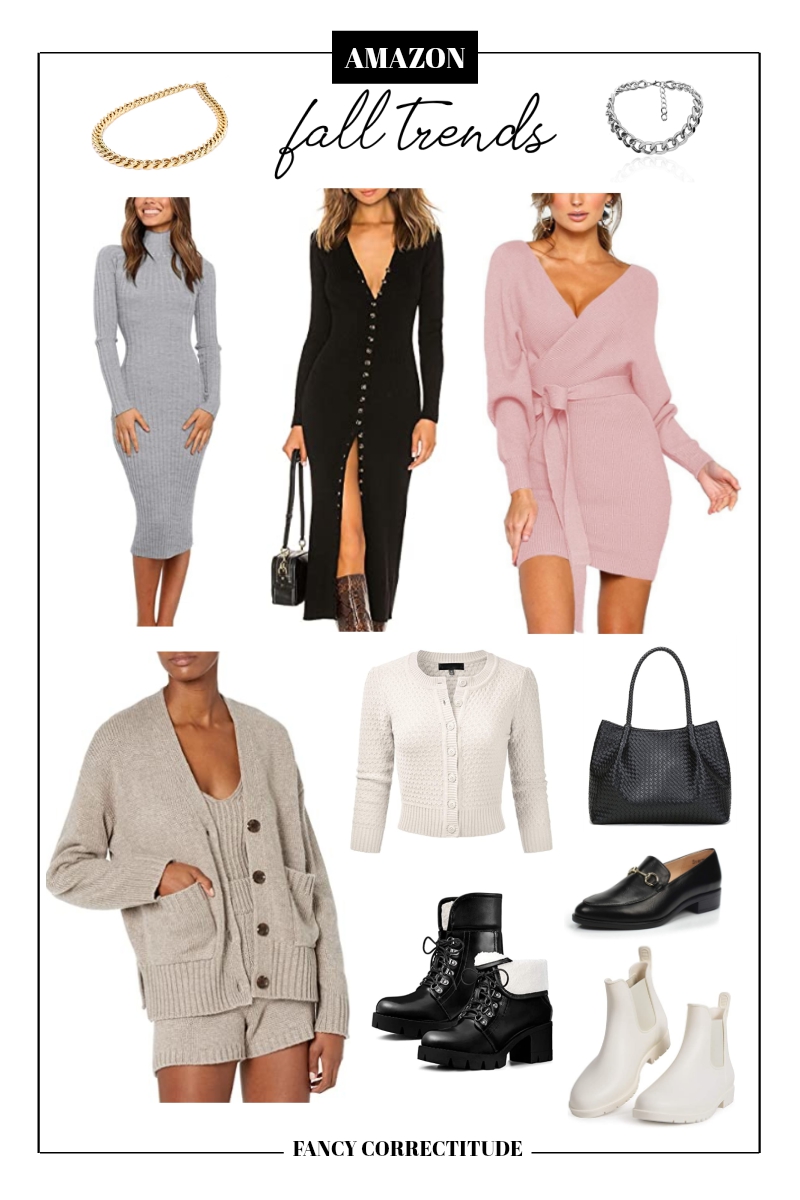 We have now finally entered October, and everyone's in full-blown cozy mode when it comes to fashion. So, of course, every fashion enthusiast is revamping the Fall wardrobe with more and more cozy fashion finds. We know you are craving some snug wearable pieces right now. That's why we have a list of the 7 most coveted Fall trends – and fashion finds from Amazon corresponding to these trends. And do you know the best thing about this list? All the items listed below are priced under $50! 
Be it the grandma's cardigan, chunky chain chokers, or men-inspired footwear, these fashion finds under $50 on Amazon are everything you need for the season. So, get ready to tackle your fashion woes with this affordable, sophisticated, and Fall-appropriate list.
1. Grandma Cardigan
This fall trend is coming from our grandma's closet and to be honest, we are thrilled to try it. The chunky knit and vintage look of these cardigans enhances the autumnal goodness in a heartbeat. So, to put it briefly, grandma fashion is here to stay – thanks to these cardigans.
2. Chunky Chain Choker
There's a new jewelry trend that's taking over the fashion world by storm. It's chunky chain chokers we are talking about! The quirky look of this jewelry trend can actually be worn with every outfit in your wardrobe. Especially if your fashion taste is all about maximalism, this one's for you!
3. Sweater Vest
Here come's another trend straight out from our grandma's stylebook. Influencers love this trend. The slouchy fit of sweater vests and their snuggly fabric makes it worth adding in your wardrobe. You can pair it with a shirt, over another sweater, or wear it on its own as well.
4. Men-inspired Footwear
Not just grandma fashion, this Fall, we are also taking style cues from men's fashion trends as well. First, it was the coats, and now, it's the footwear collection. These shoes infuse a boss-lady look and can be worn to office as well as for a casual outing. Yes, that's how versatile this trend is!
5. Textured Bags 
Yes, supple, soft bags have their own charm – but there is something about textured bags that hits differently. They have an unconventionally chic look and look great with any kind of ensemble.
6. Ribbed Knit Dress
What's a fall wardrobe without a ribbed knit dress? Even the most popular Instagram IT girls are obsessed with ribbed knit dresses! They are warm, stylish, and satiate our sartorial craving for dresses in Fall.
7. Chunky Boots
Believe it or not, but soon, chunky boots will be seen everywhere. This boot trend will redefine Fall styling for many years. Not only this, they are so versatile that you can wear them with any outfit and they'll surely add an element of elegance to it.