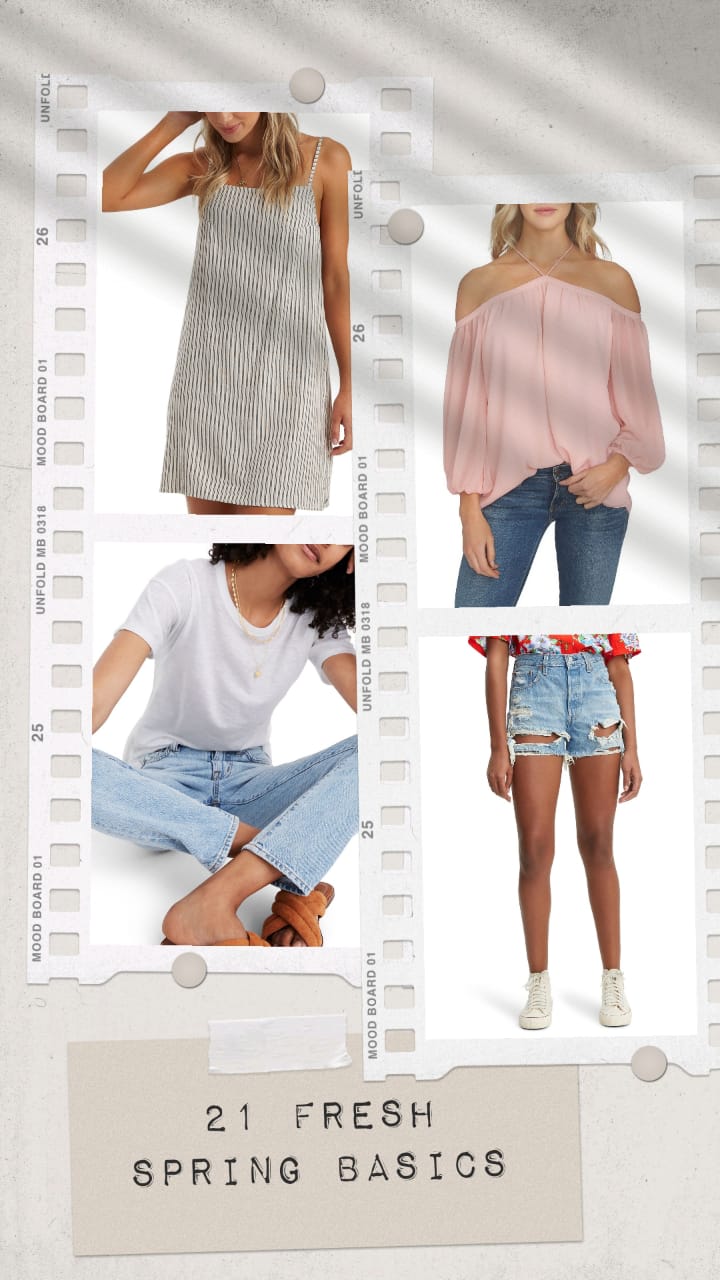 It is that time of the year when we start stowing our sweaters away until fall arrives again and, till then, fill our wardrobes with fresh spring basics. With thousands of arrivals every week, it's tricky to maintain a track of the chicest ones. And that's when you turn to your favorite shopping destination, Nordstrom. Among thousands of stylish spring basics, we have picked the best 21 ones for your fashion obsession.
So, go ahead and give your wardrobe the fresh spring spin with our edit of selection listed below. From cool denim shorts to swirl-worthy dresses to easy-going tees, ahead, there is a plethora of picks waiting for your attention. Now don't wait up and satiate your obsession for seasonal shopping with these classy yet edgy 21 clothing items listed below.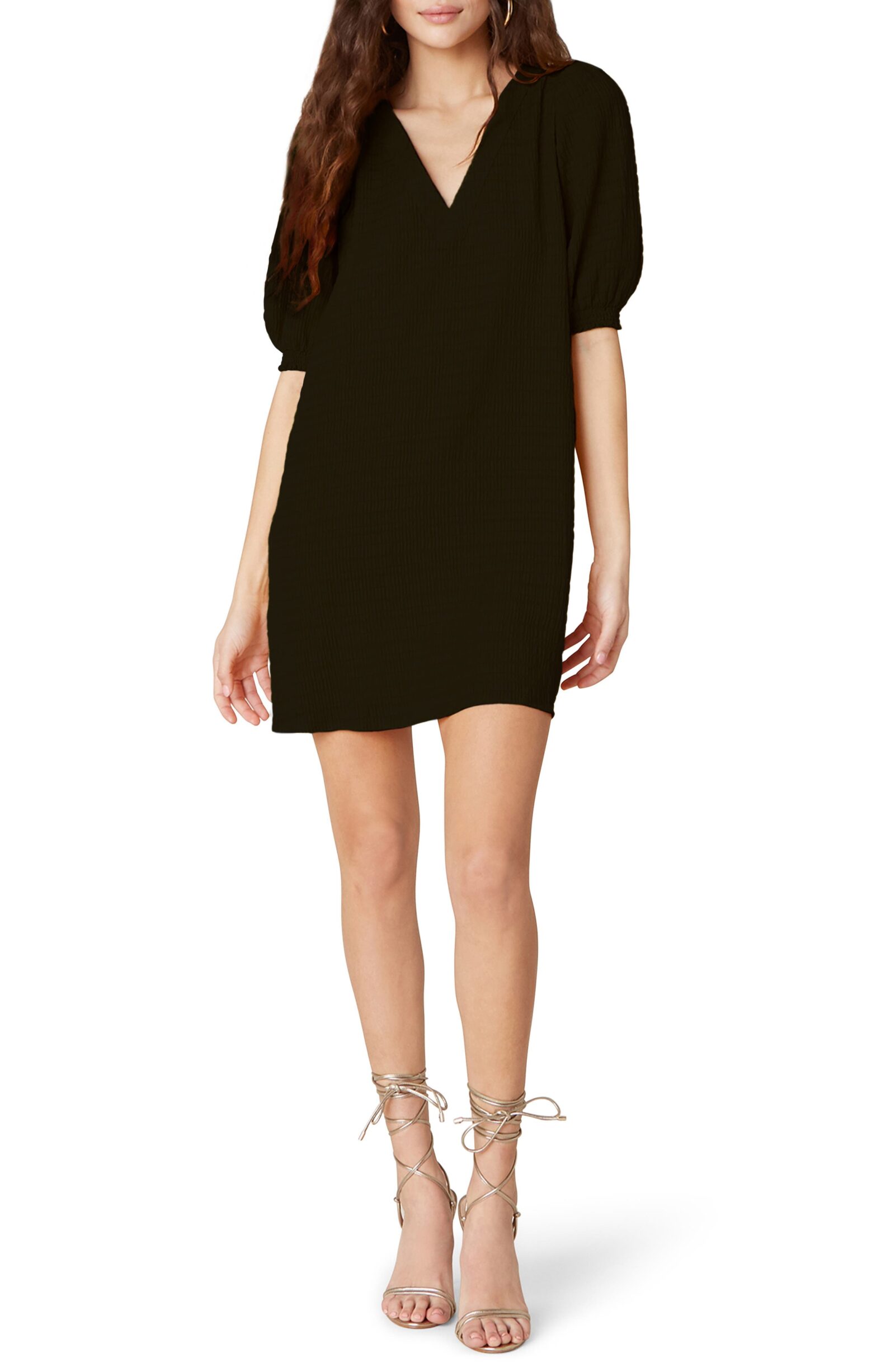 BB Dakota Fields of Gold Shift Dress ($69)
Stay ahead of the fashion game this year by wearing this chic and easy-going black dress. The flattering silhouette and effortlessly cool look make it perfect for casual wear.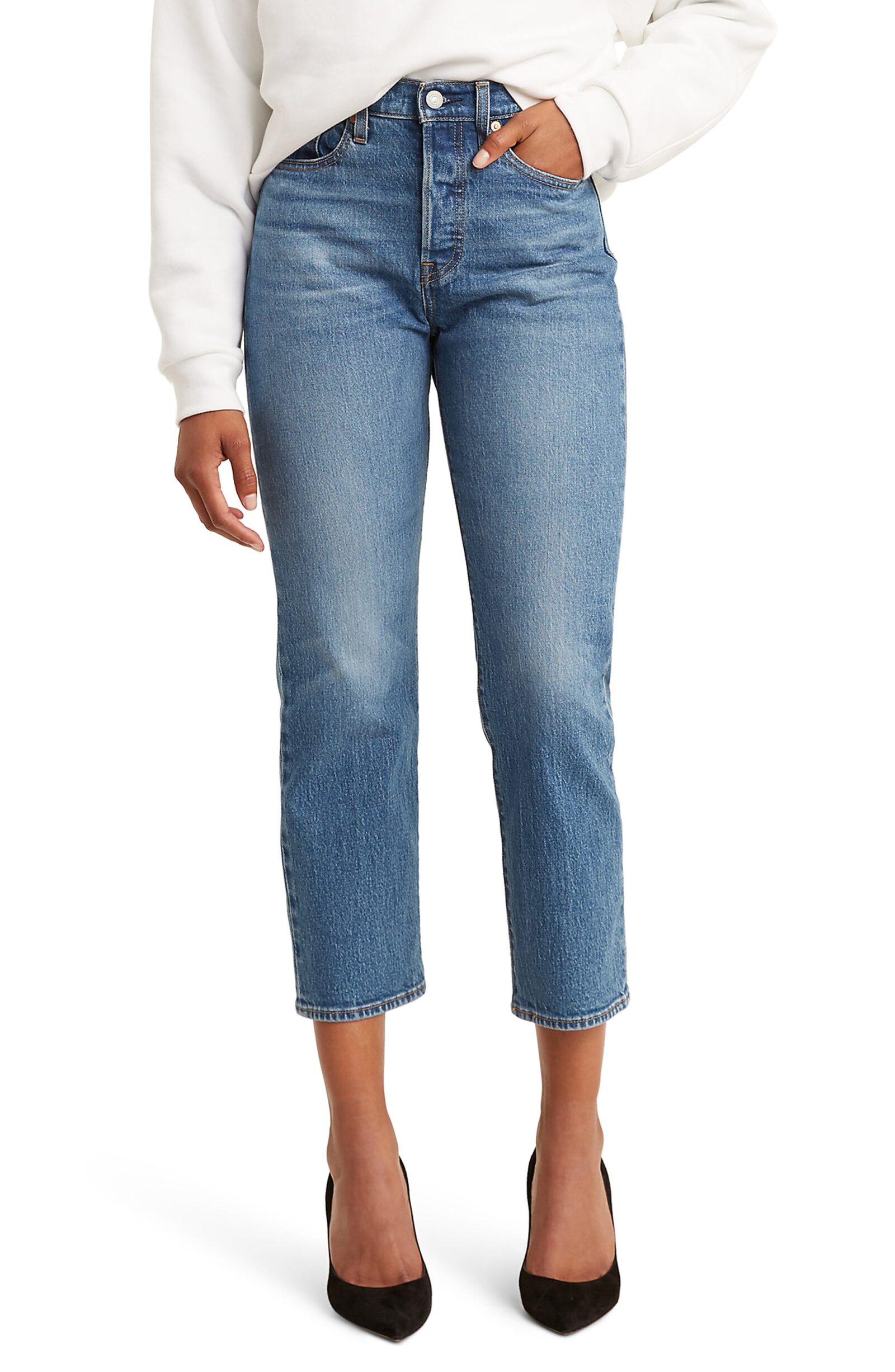 Levi's Wedgie High Waist Crop Straight Leg Jeans ($98)
Time to give an instant boost to your outfit with these cool denim jeans will probably never go out of trend. The cropped ankles and straight-leg silhouette will easily redefine your style.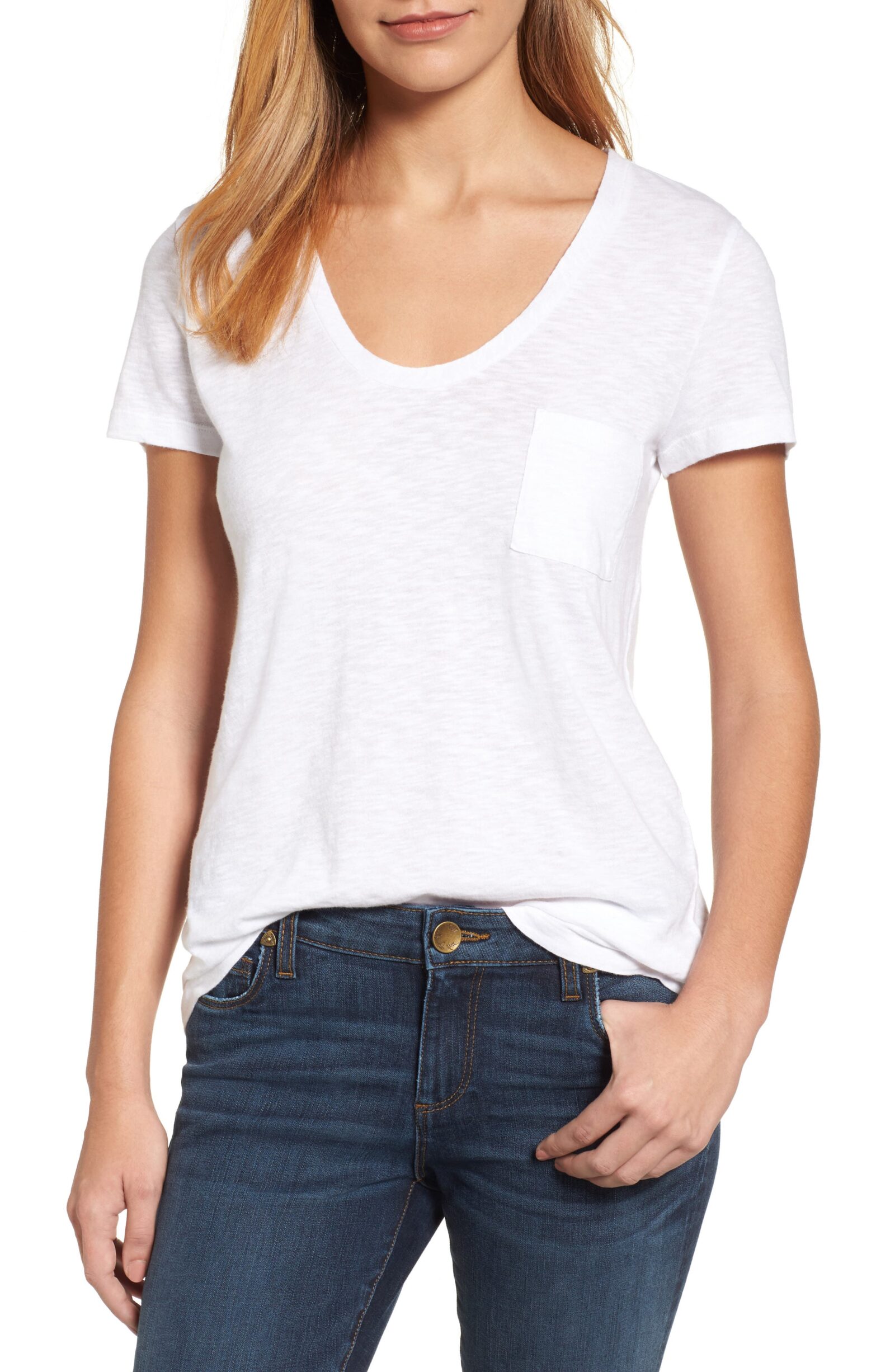 Caslon Rounded V-Neck T-Shirt ($19) 
Transform the entire essence of your outfit with this classy white tee that's beyond perfect for spring and summer wardrobe. The easy-going fit and versatile look makes it the prime contender for your seasonal wardrobe.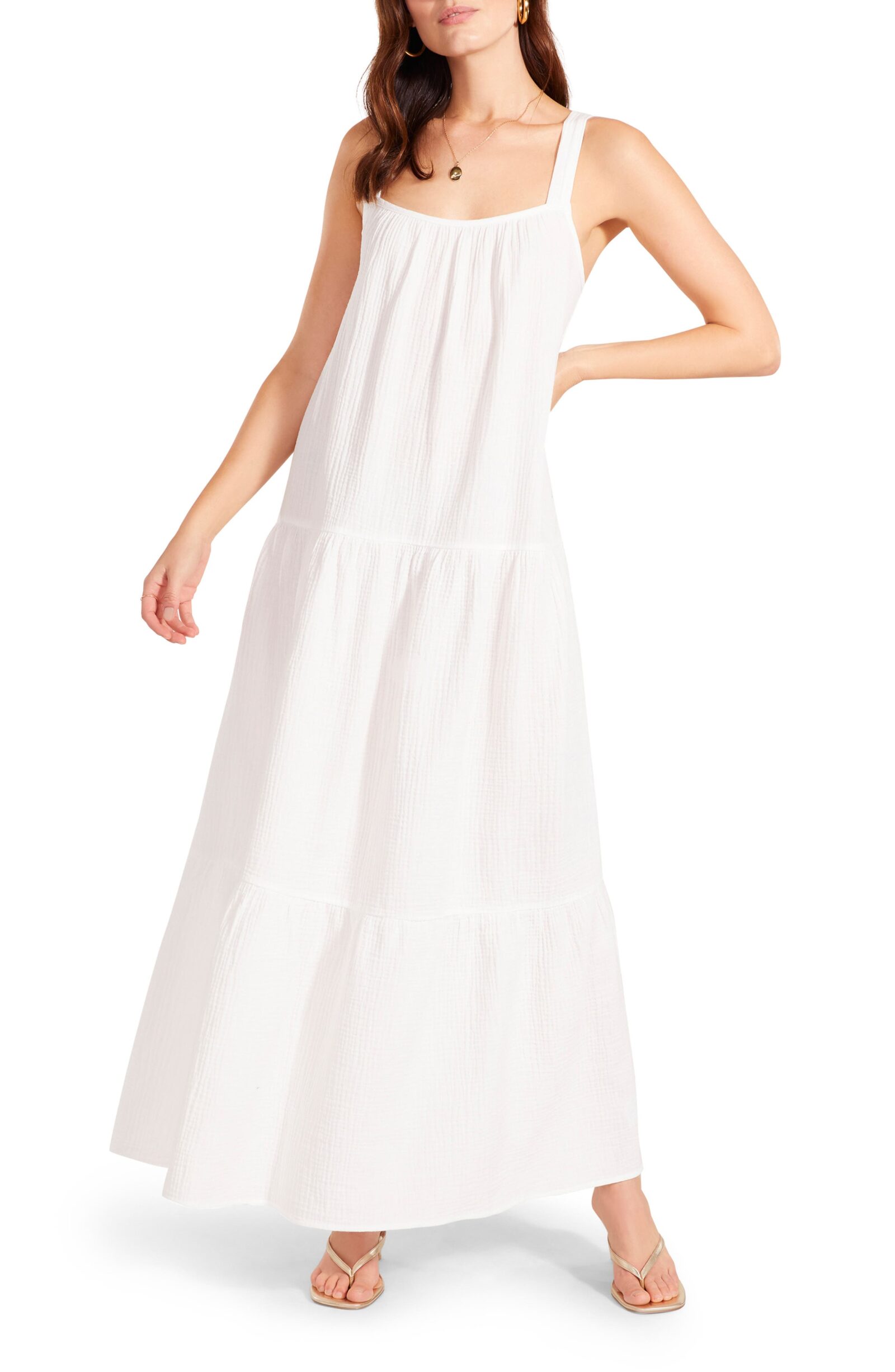 BB Dakota Arianna Sleeveless Tiered Cotton Maxi Dress ($39)
Step outdoors and experience spring in its full glory in this breezy dress. The flowy silhouette will make you swirl in this dress all day long.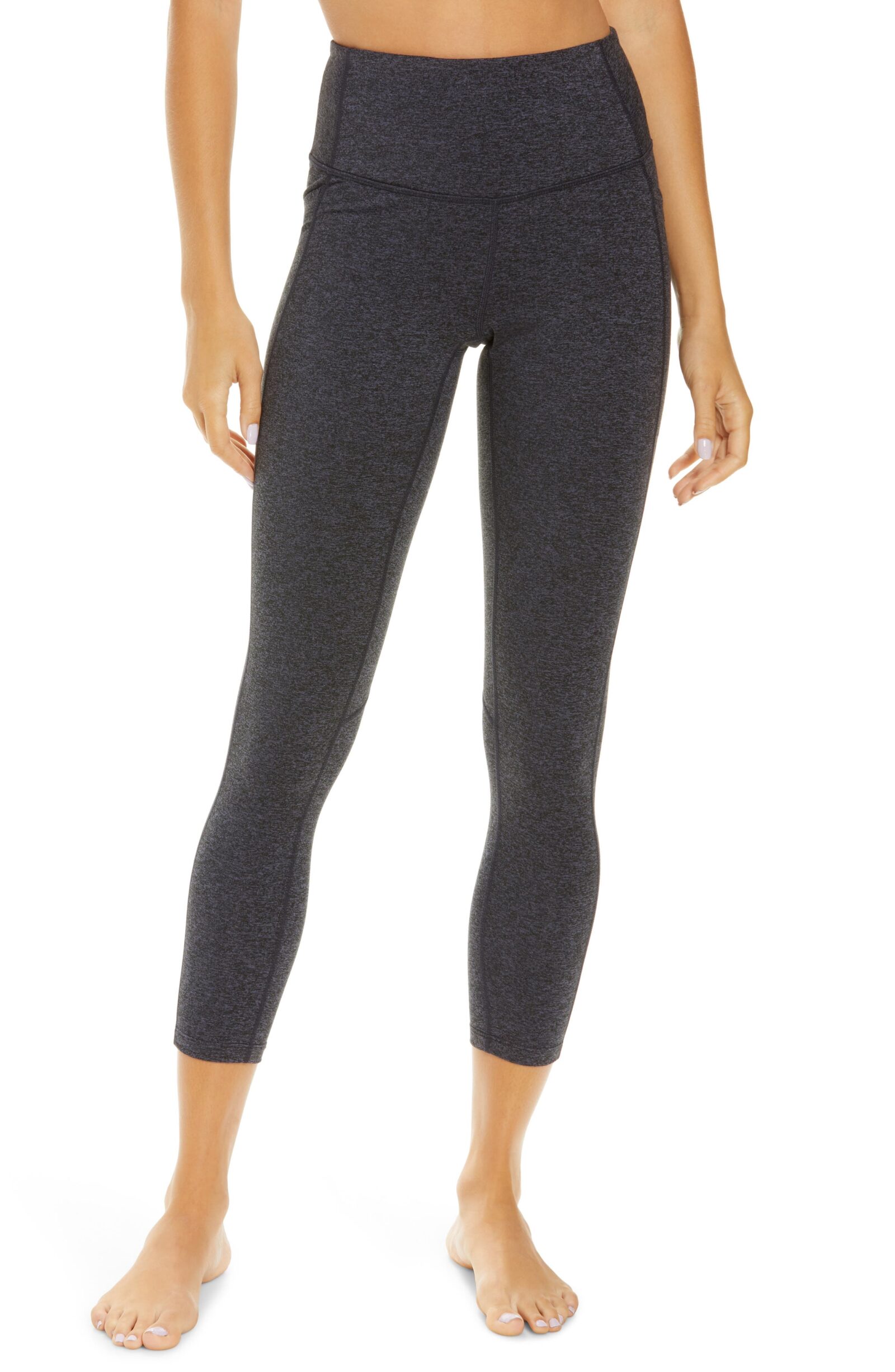 Zella Live In High Waist Pocket 7/8 Legging ($59) $39.53
Be it for lounging around, working out in the gym, or just running errands, you can always count on these high-waist leggings. The cropped fit makes it all the more covetable.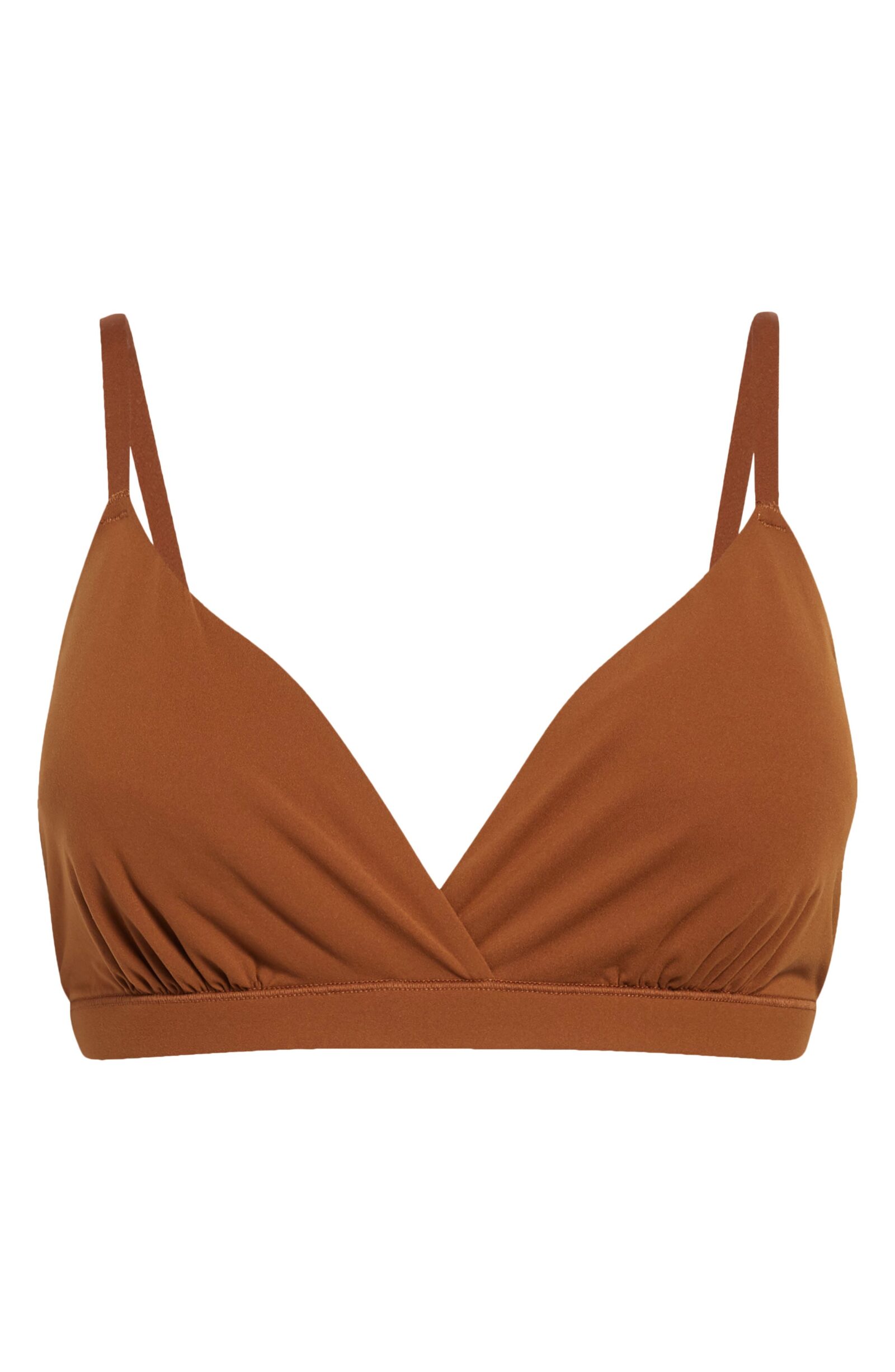 Skims Fits Everybody Lifting Triangle Bralette ($32)
This bralette has chic written all over it. The earthy brown hue of this bralette will look incredibly stunning when teamed with high-waist wide-leg white trousers.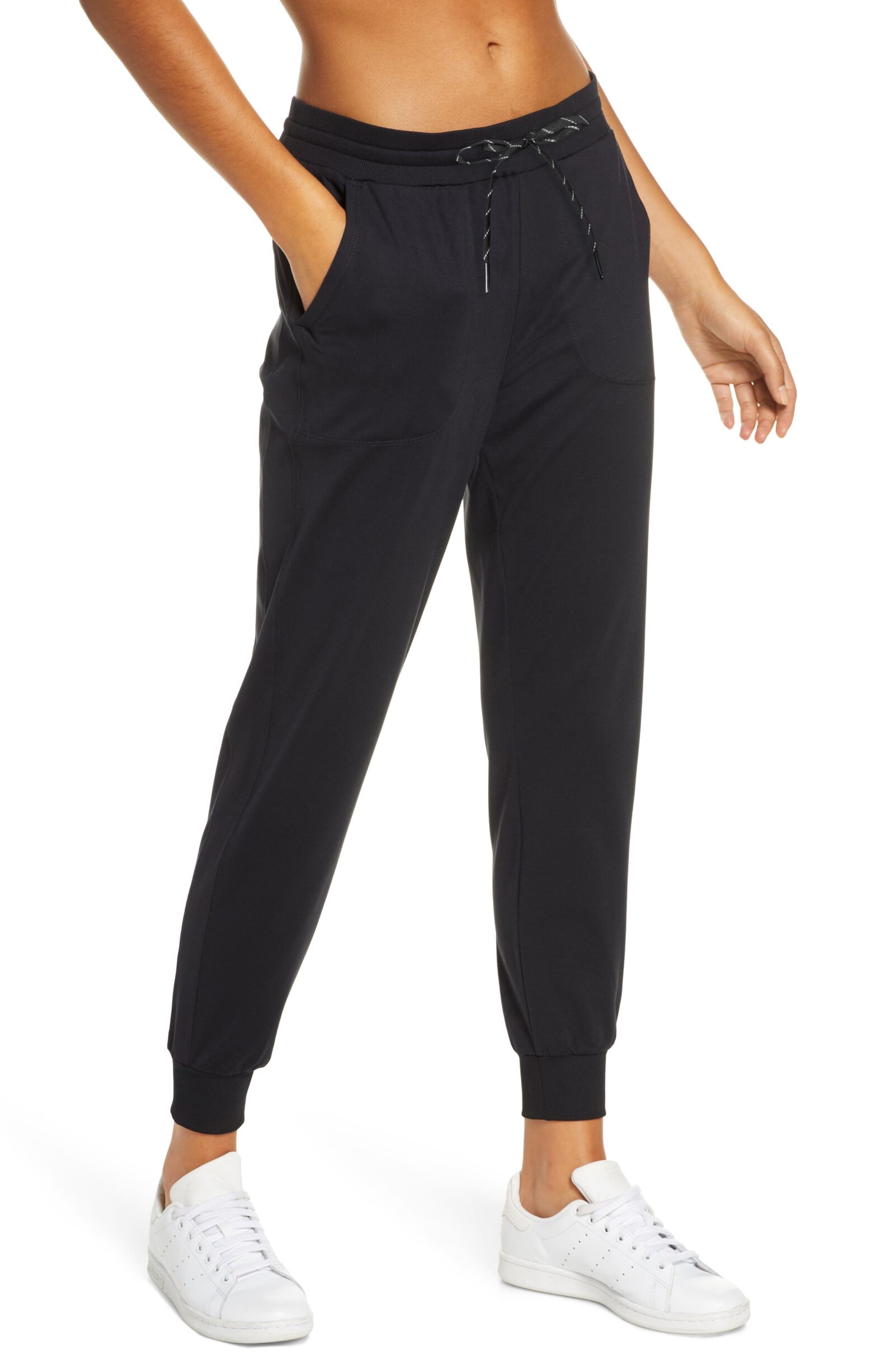 Zella Live In Jogger Pants ($59)
These comfy and cute jogger pants are here to make dressing easy and fun for you. The relaxed-fitting and timeless charm will never let you down.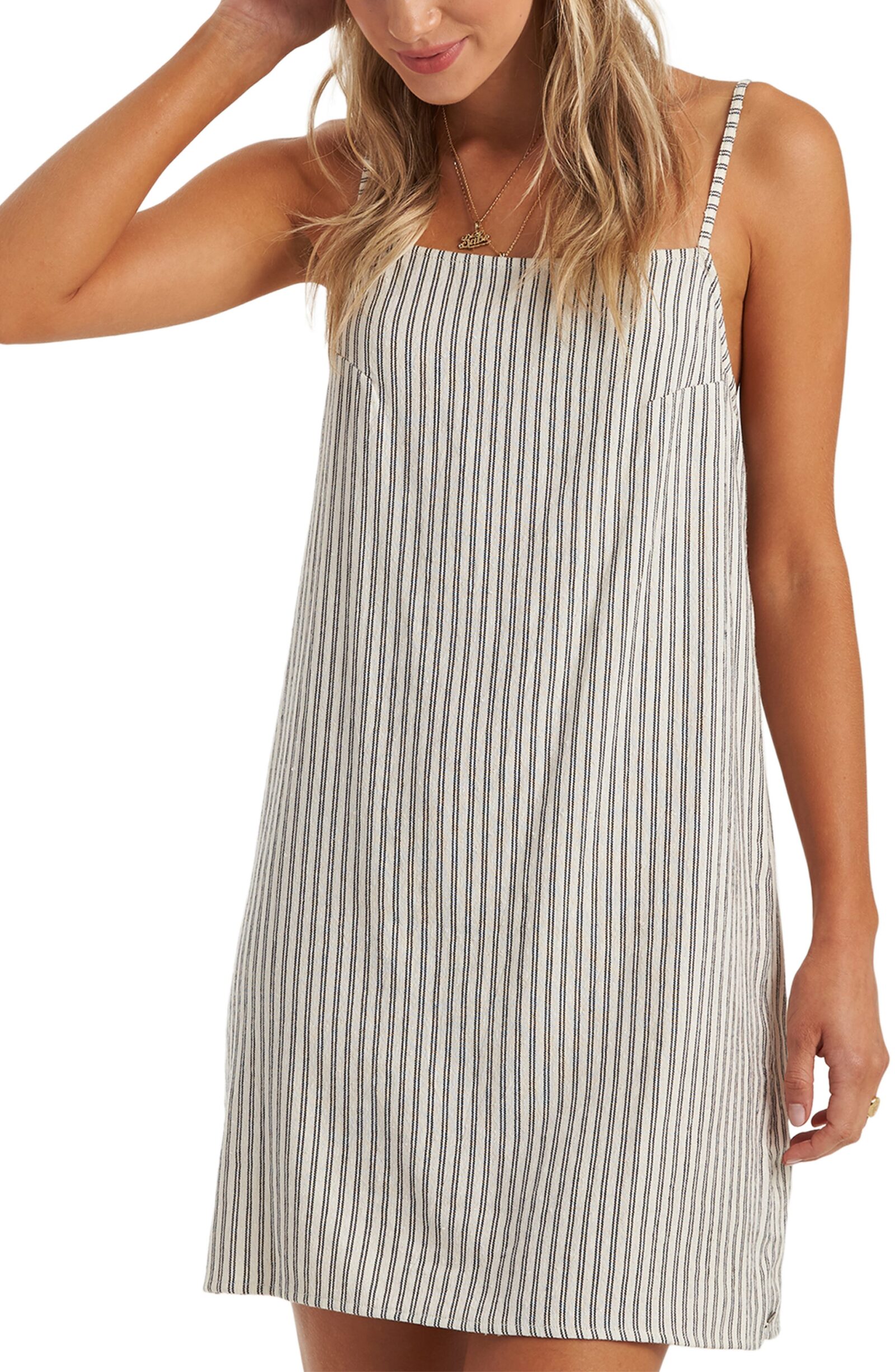 Billabong Daydreamer Yarn Dye Stripe Sundress ($45.95) $20.68
The easeful silhouette and stripes on the dress make up for your new core staple. The loose fit and casually chic touch will help you pull your spring look to perfection.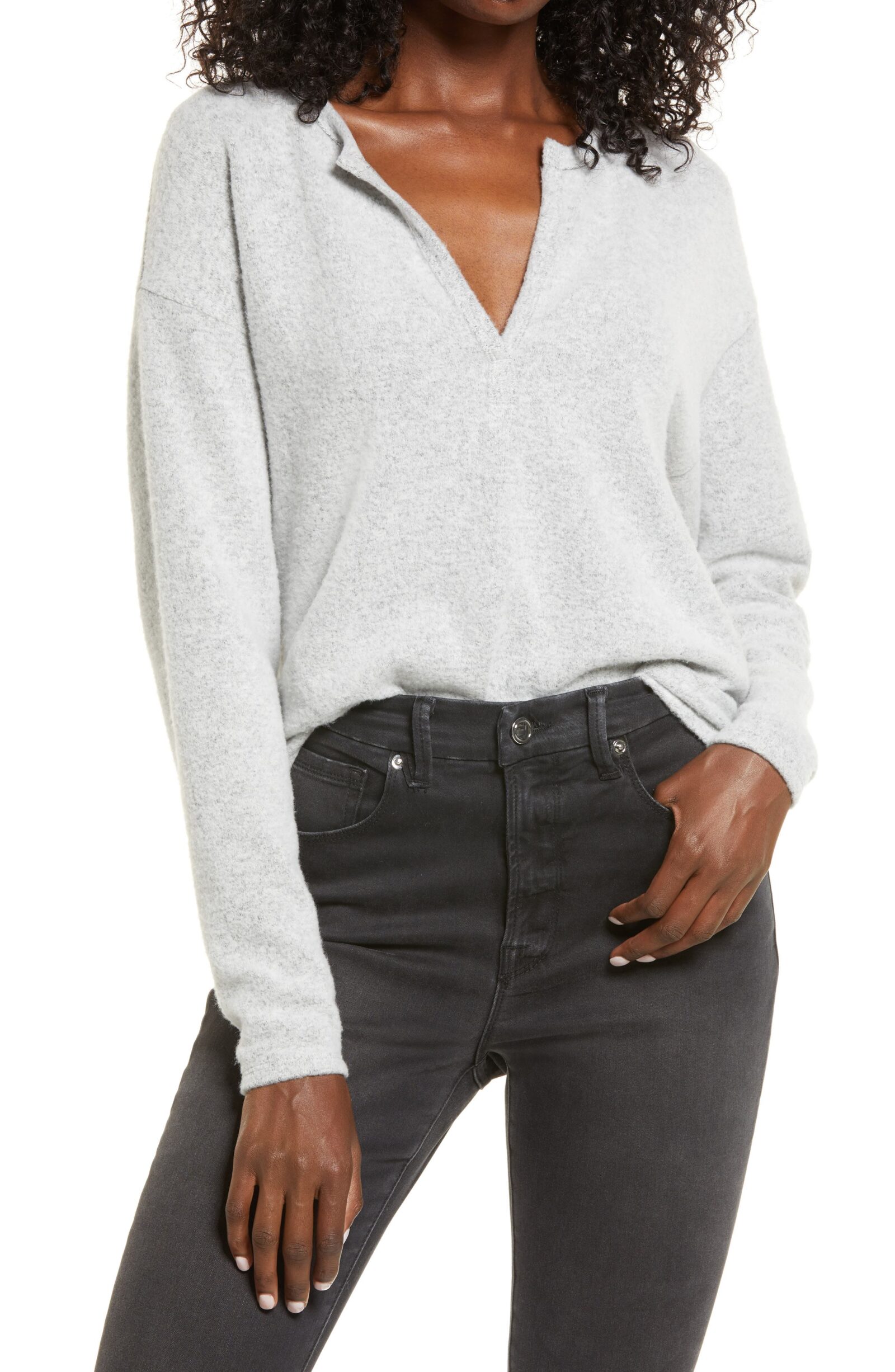 Socialite V-Neck Top ($39) $15.98
For nippy spring evenings, you can always count on this V-neck top. The subtle greyish hue and relaxed fitting will give your outfit a laid-back look.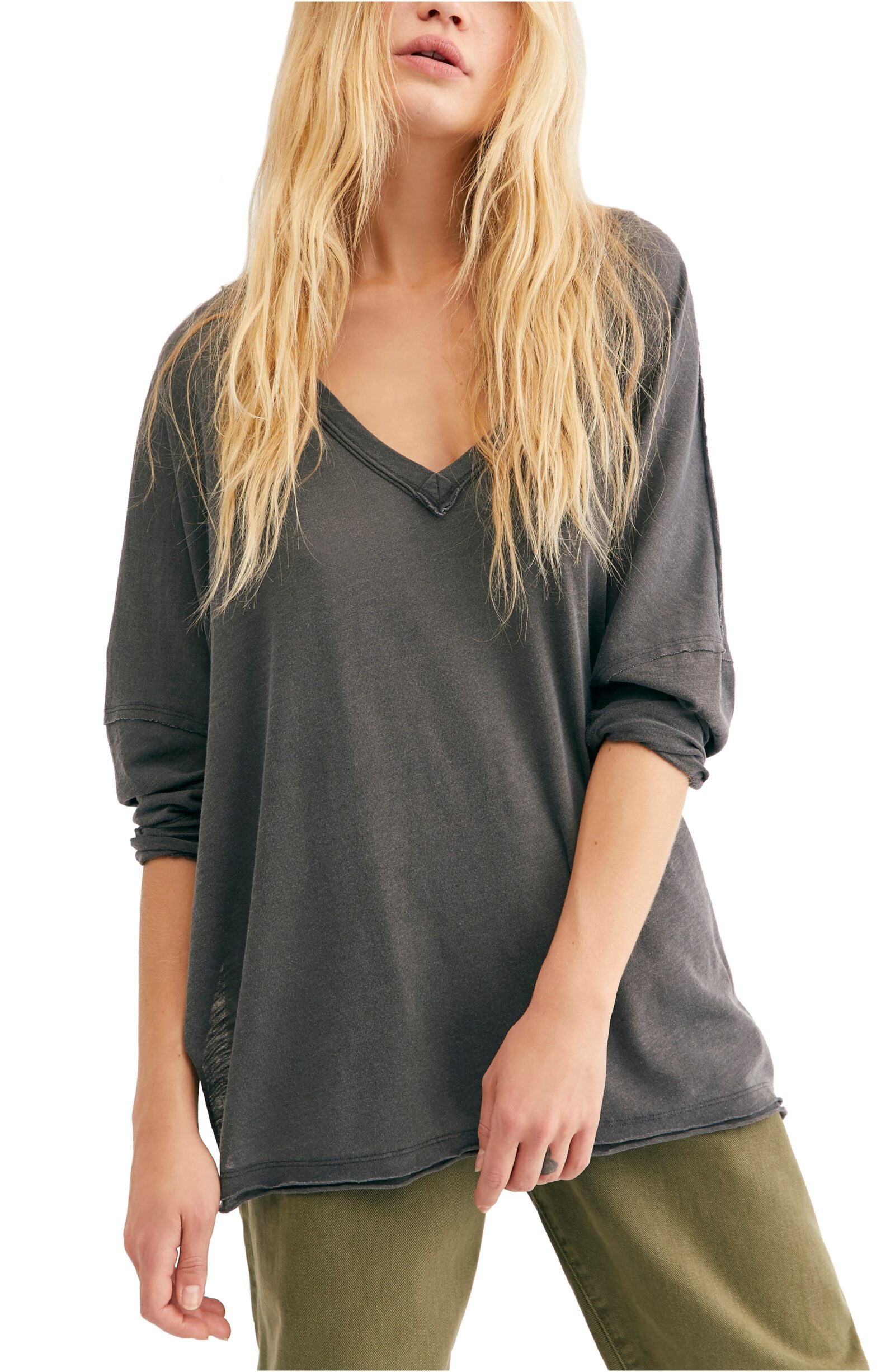 Free People On My Mind V-Neck Shirt ($38)
If you're running out of trend and looking for a cool, versatile t-shirt, this is the one that you need. The stylish V-neck will never exit the style circuit, and we just love the overall look of this number.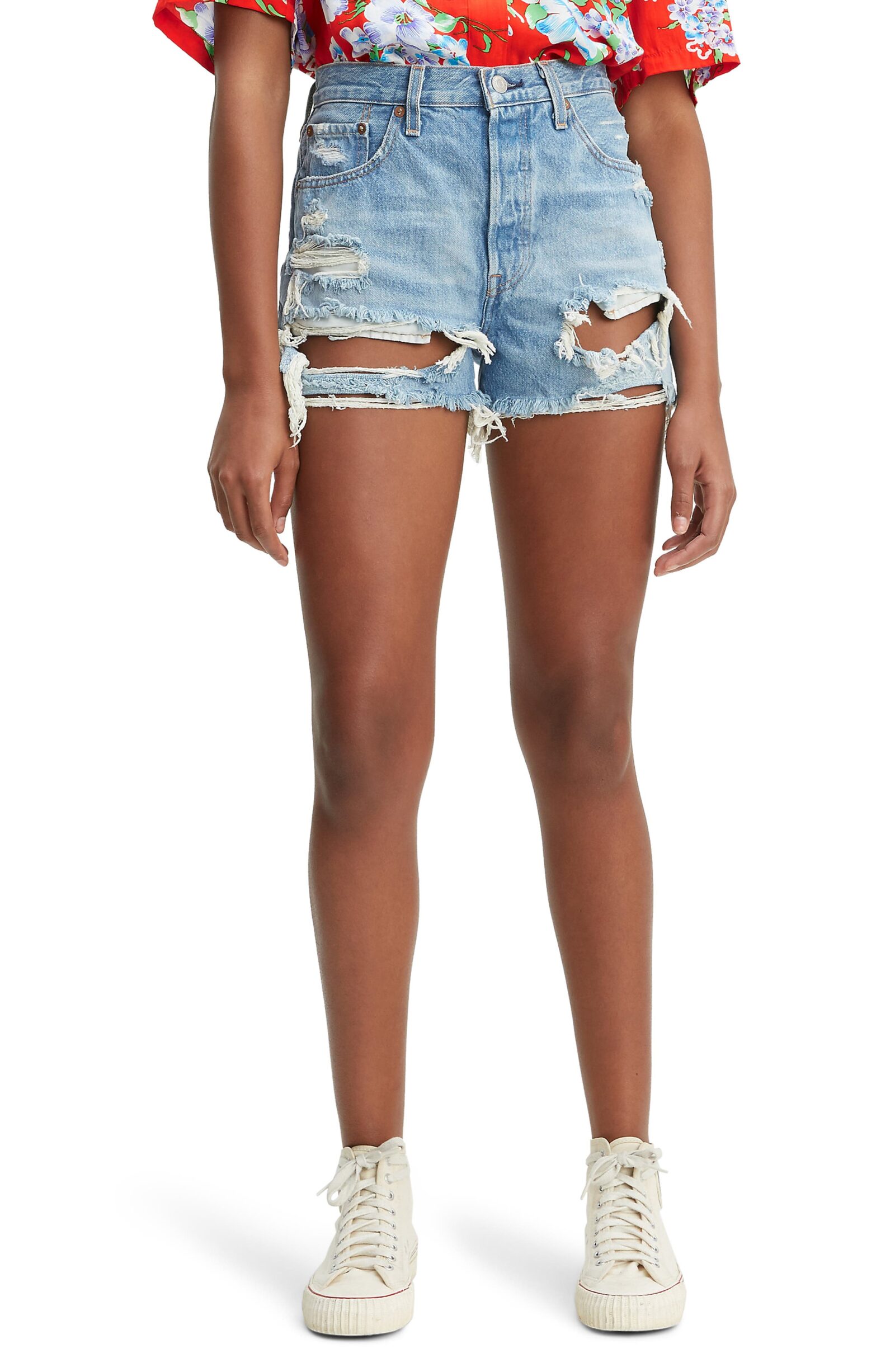 Levi's 501® High Waist Ripped Cutoff Denim Shorts ($69.50)
The distressed details and light blue color of these shorts are too chic to pass on. You can wear these with literally any kind of top and t-shirt.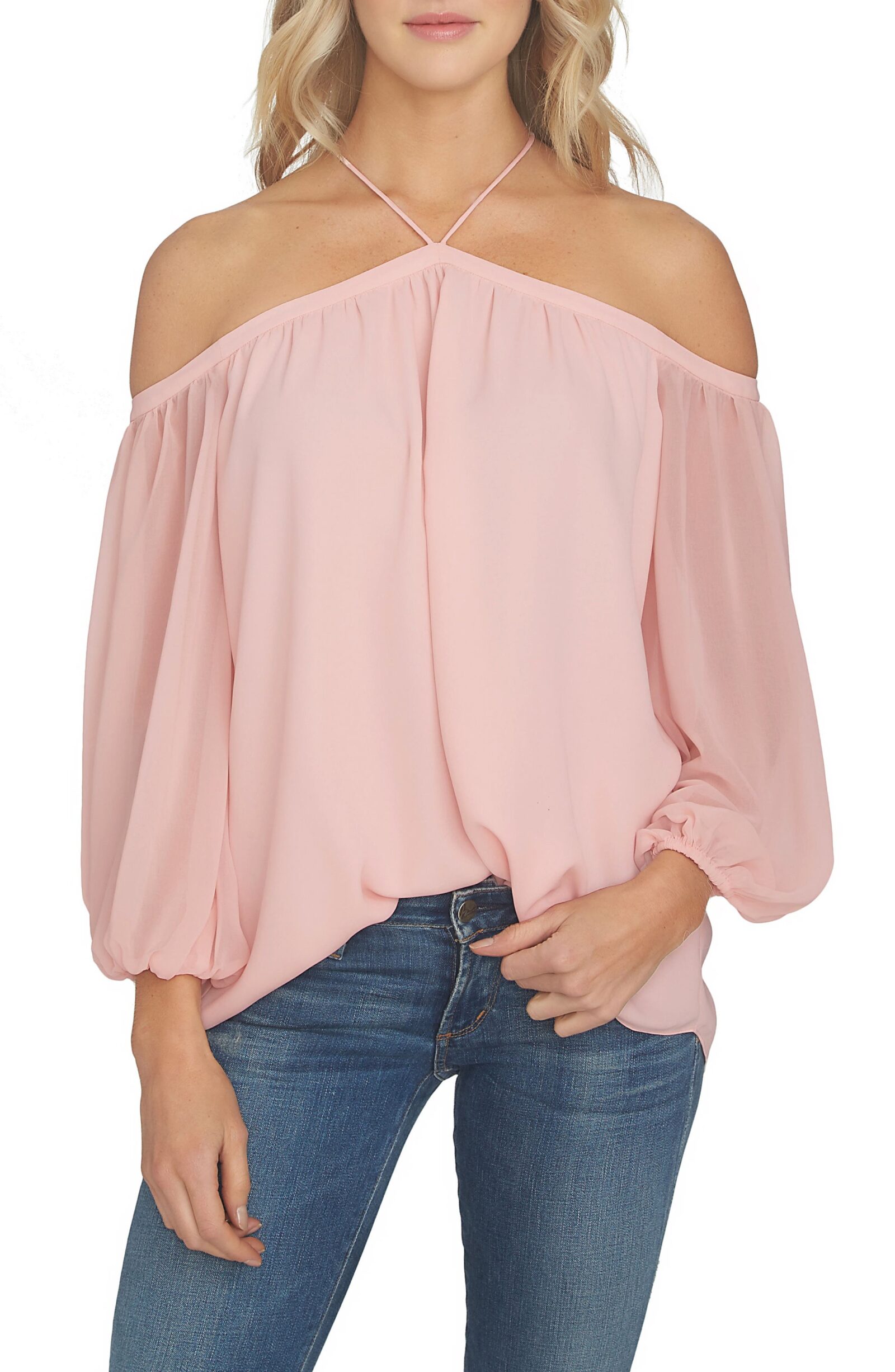 1.State Off the Shoulder Sheer Chiffon Blouse ($79) $47.40
You can never be fed up with the feminine allure of this off-shoulder top. The sheer chiffon fabric of this blouse and blush pink hue will give you an ultra-adorable look.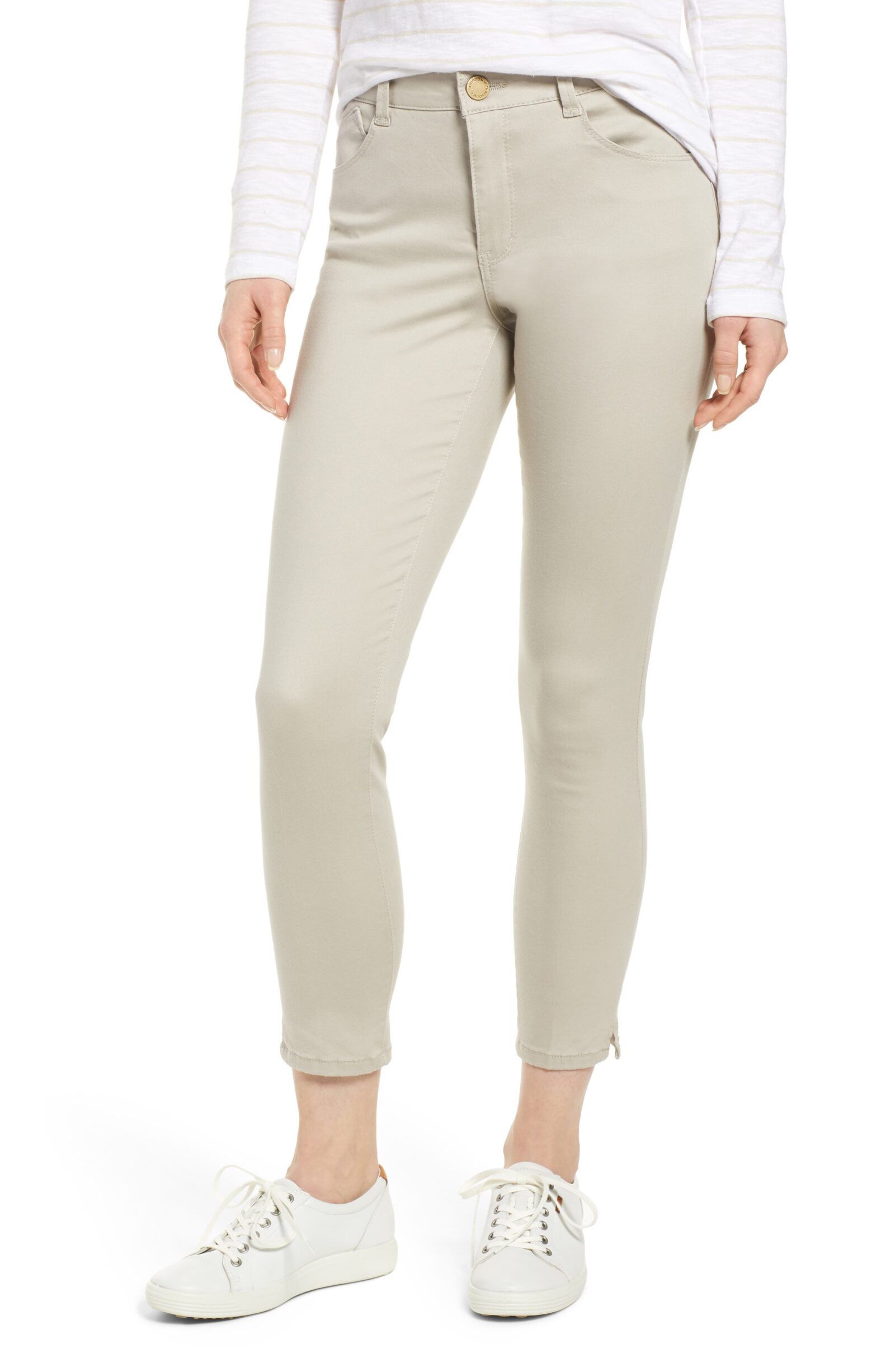 Wit & Wisdom Ab-Solution High Waist Ankle Skinny Pants ($68)
These skinny pants are so elegant that you'll be obsessed with them. The subtle, neutral hue and body-accentuating fit of these pants are here to ensure that you never face any fashion faux pas.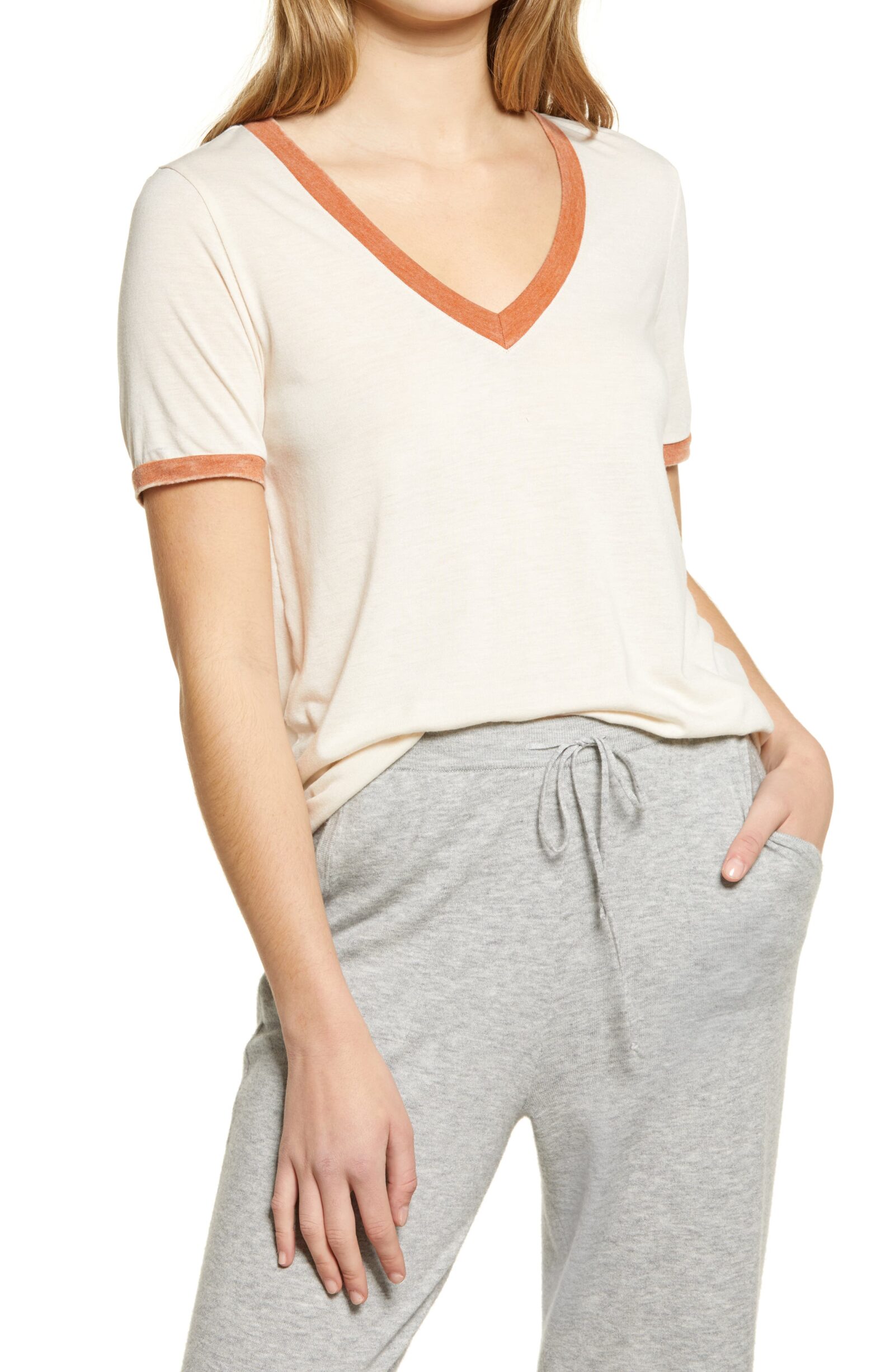 Treasure & Bond Ringer V-Neck T-Shirt ($39)
For days when you can't decide what to wear, you can always rely on this cool yet swanky-looking tee. The contrast neckline and creamy shade of the tee create a quirky look.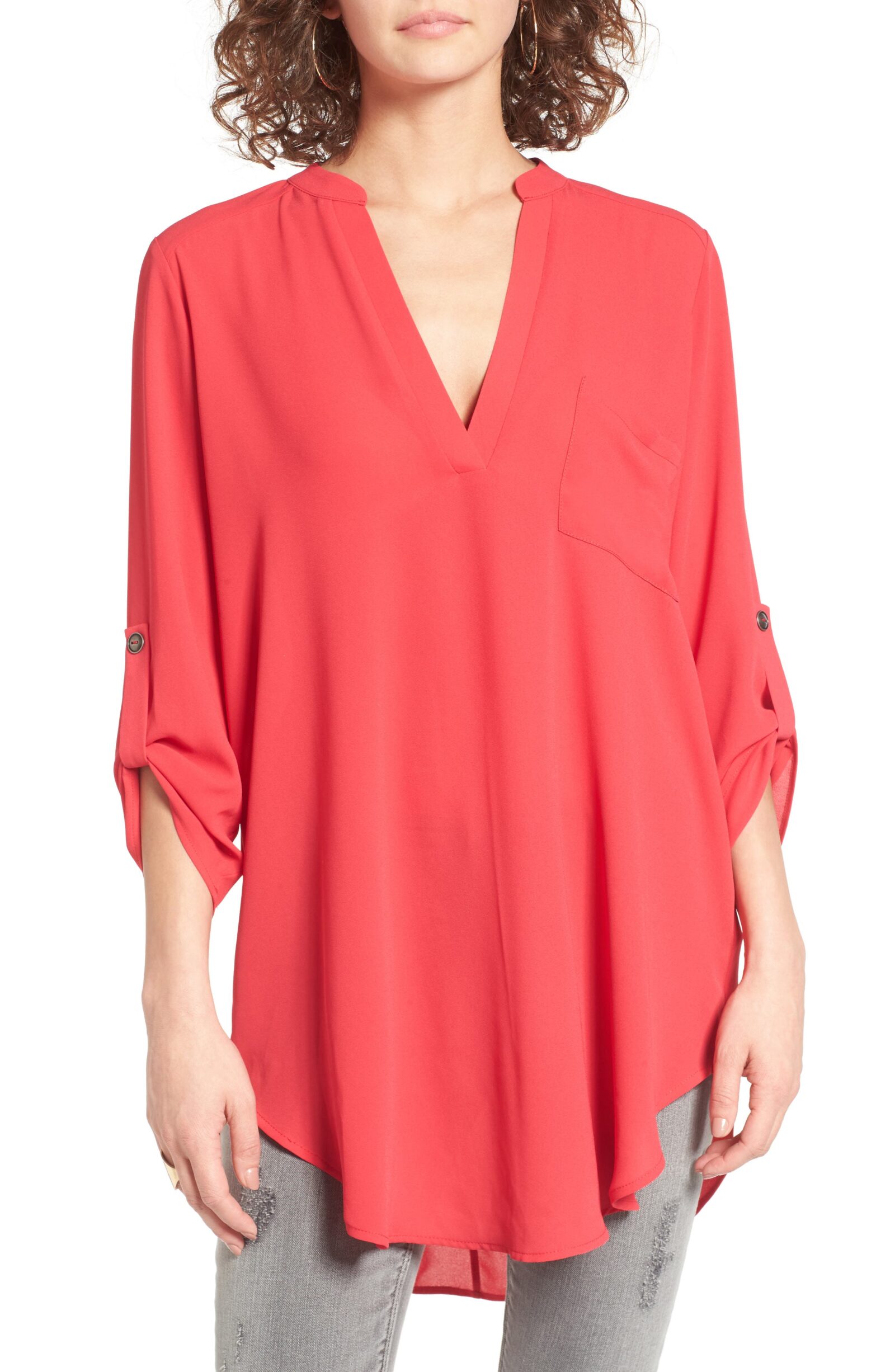 All In Favor Perfect Roll Tab Sleeve Tunic ($42) $18.90
The flowy and relaxed silhouette of this tunic top will always put you ahead in the fashion world. Even the heart-stealing red color is worth falling in love with.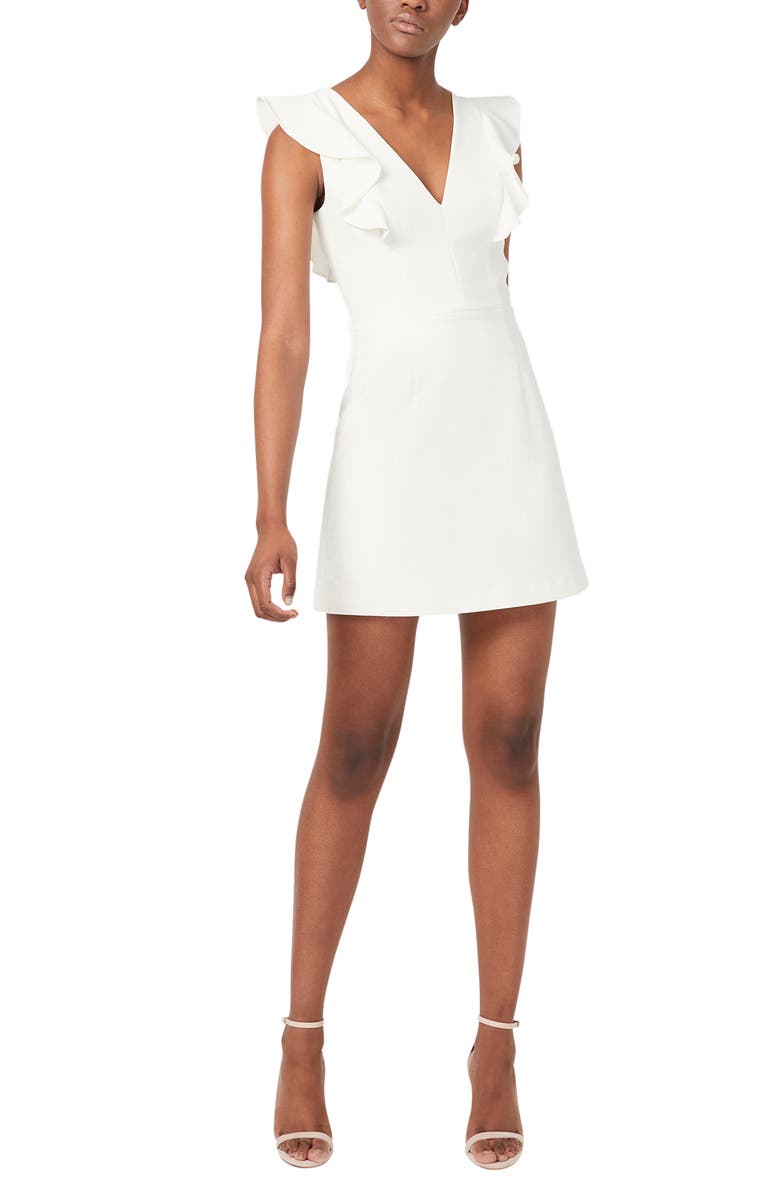 French Connection Whisper Ruffle Minidress ($148) $88
Rock the spring and summer in the most sophisticated yet stylish way by opting for this ruffled minidress. The body-hugging fit and a pristine white color are undoubtedly swoon-worthy!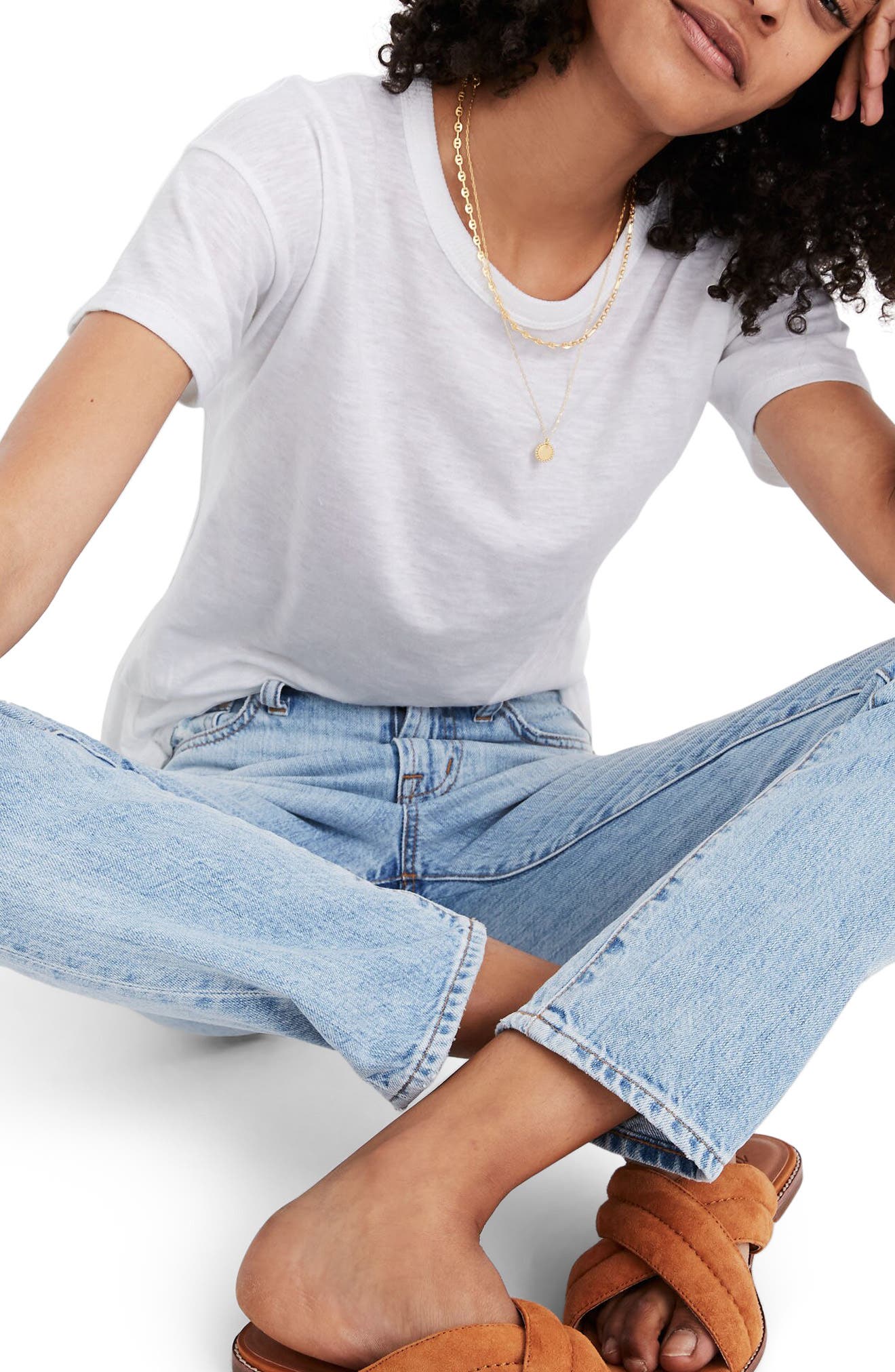 Madewell Whisper Cotton Crewneck T-Shirt ($19.50)
This classy and cute tee is here to make dressing super easy for you. The lightweight fabric and irresistible allure of this tee will make you daydream about it.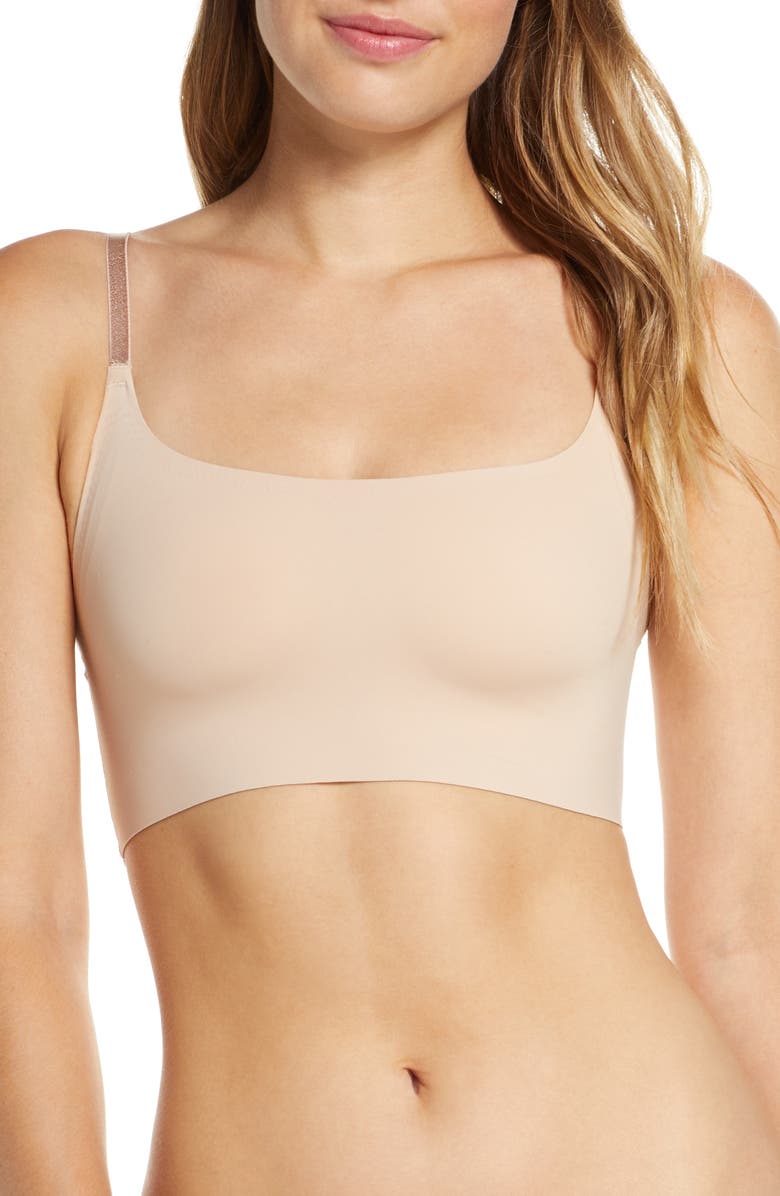 True & Co True Body Scoop Neck Bralette ($44) $35.20
This comfy bralette is everything that a fashion girl needs in her wardrobe. The seamless and soft fabric will make it your new favorite.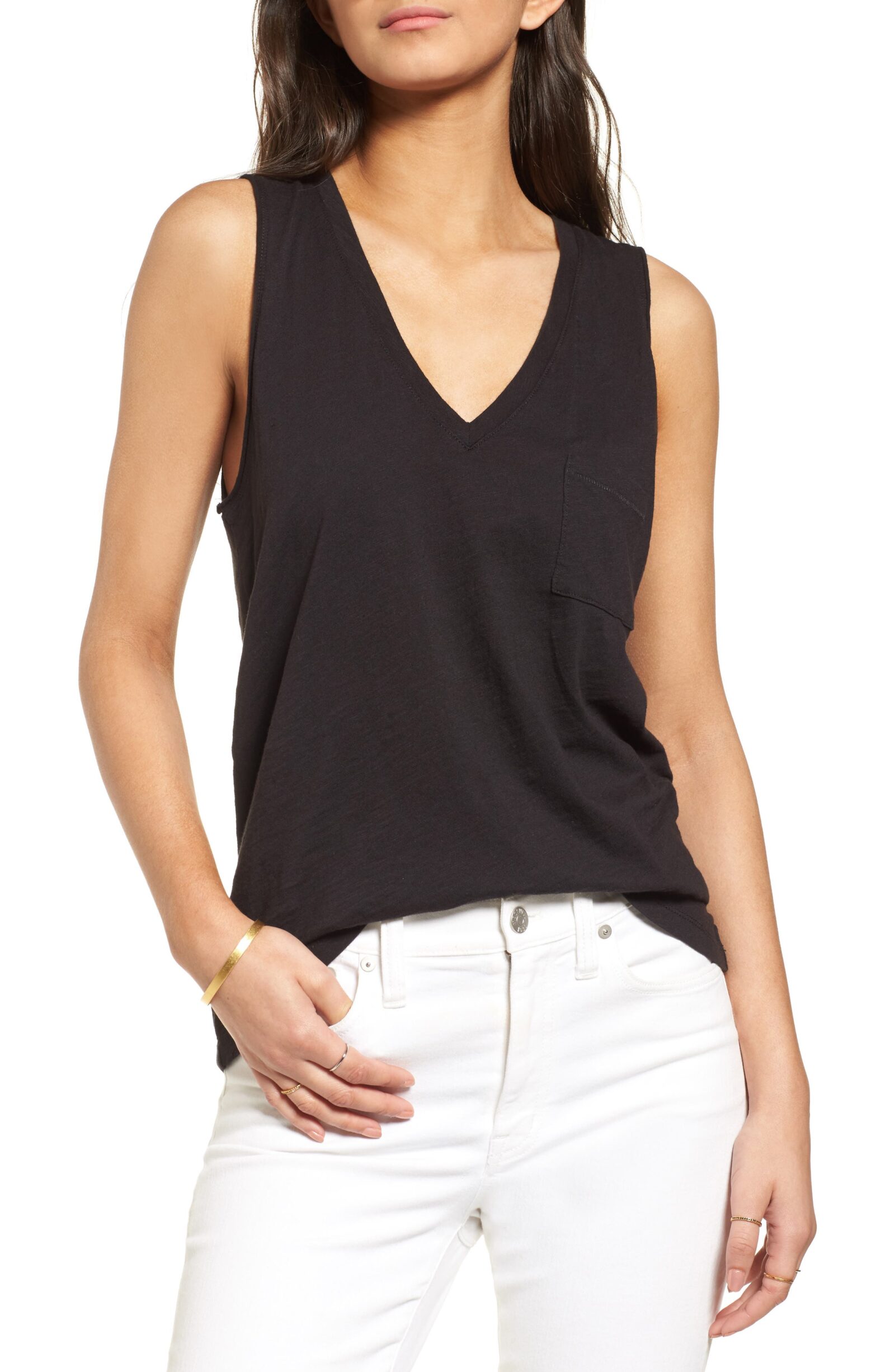 Madewell Whisper Cotton V-Neck Tank ($18.50)
This cotton V-neck tank top is exactly the core staple that you've been looking for all this time. The cool and laid-back look of this top is perfect for spring.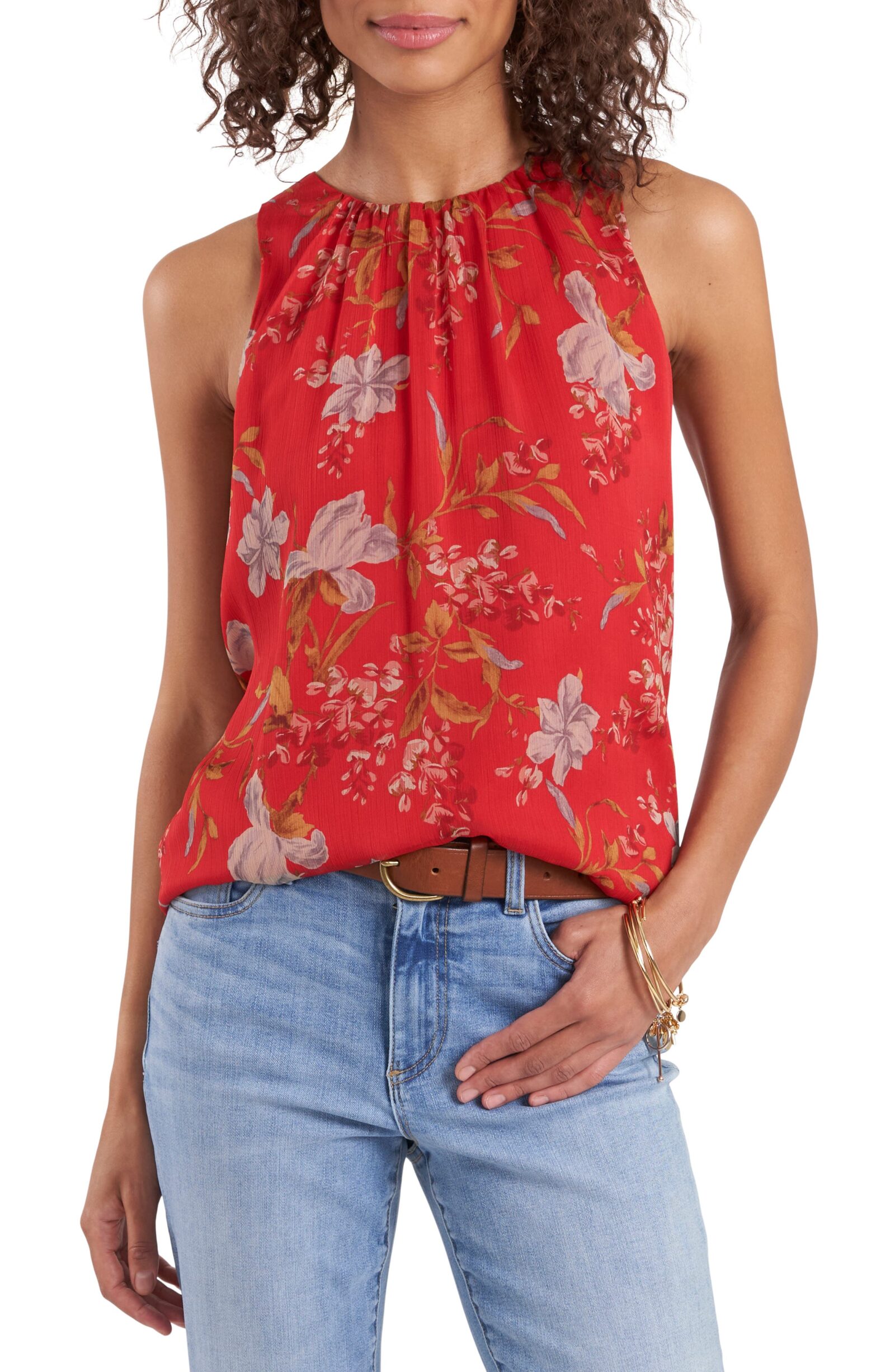 Vince Camuto Sleeveless Printed Blouse ($99)
Your spring fashion shopping is incomplete without this floral print blouse. The eye-catching red color and detailed floral print will adorn you in the chicest way.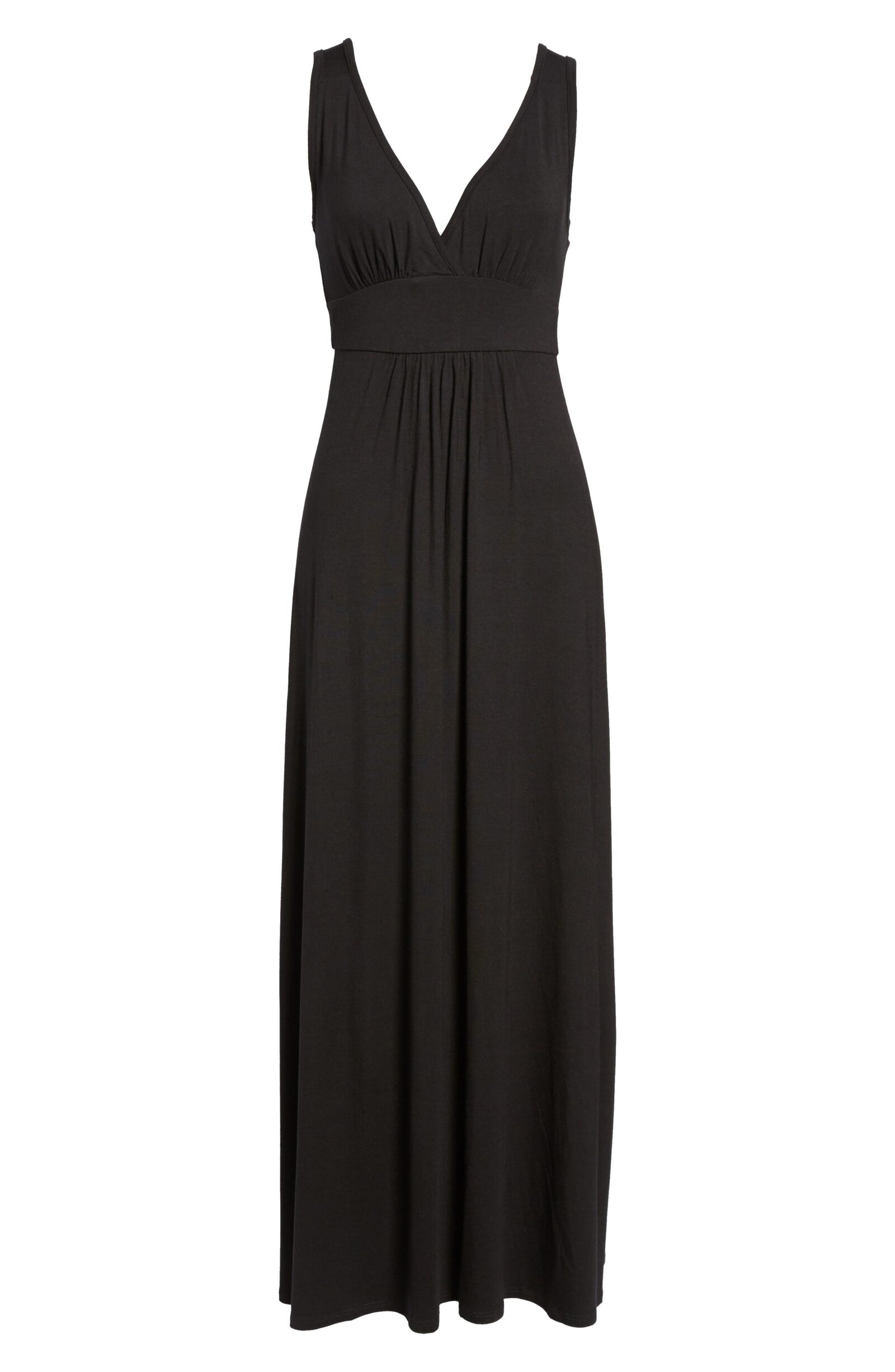 Loveappella V-Neck Jersey Maxi Dress ($68) $47.60
Time to drop fashion goals anywhere you're heading to by opting for this maxi dress. It's so stunning; you won't be able to stop yourself from swirling in this dress.
Up Next: Treat yourself with these prettiest everyday lingerie sets