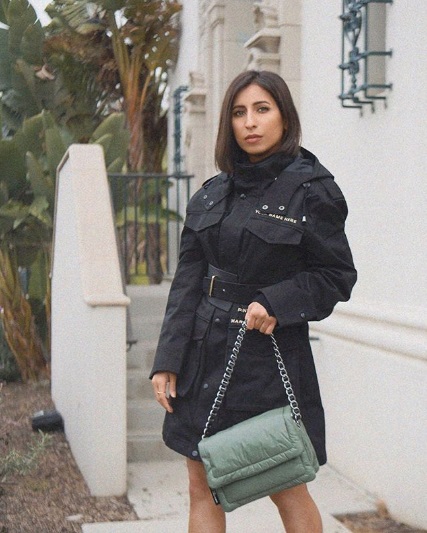 Fashion trends will come and go, but coats are forever; they never leave the fashion world. Of course, every season, coats come up with the new trends and reimagined styles; that's what we live for! So, now when we finally are enjoying pumpkin spice latte and leaf-crunching, it's time when we also meet new coat trends.
Here are some of the best coat trends that dominated the Fall/Autumn 2020 runways, and now they'll rule our wardrobes. From puffer to cape-silhouette to shearling, these coat trends will instantly make your fall and winter outfits look expensive. These noteworthy trends can be integrated into daily life as well as for occasional outings. Keep scrolling to infuse the newness in your wardrobe.
1. Anoraks
This season stay rain-checked and stylish at the same with this trend. The trend is chic, practical, and can be incorporated quite easily. From raincoats to anoraks to parkas, this coat trend is a blend of comfort and style.
Lightweight parka in washed gray ($56)
Logo waterproof anorak ($445) $223
2. Windbreaker Layering
This trend offers a sporty look that exudes chicness. This trend is perfect for days when it's not so cold outside. Windbreakers give a street style edge and add a quirky touch to your wardrobe. Louis Vuitton opened their show with colorful and chic windbreakers.
Cropped windbreaker ($506) $253
Autumn Short Windbreaker ($139)
3. Shearling Coats
Time to snug up in these cozy, plush, and stylish coats. This year, shearling coats will be seen everywhere, just like they were seen everywhere on the runway. These soft shaggy coats can transform any drab outfit into an opulent one.
Leah faux-shearling coat ($514) $308
Long Faux Shearling Shacket ($79.99)
Soft Skills Faux Shearling Coat ($108) $64.80
4. Puffer
This trend will surely rule our winter wardrobes. They are warm, look utterly stylish, and also have a reimagined touch. You can wear it with jeans or distressed skirts and it'll add an expensive touch.
Long Puffer Jacket ($59.99)
Lightweight Down Coat ($99)
Funnel neck feather coat ($129.99)
5. Cape-like Coats
Capes have been part of everyone's fall wardrobe, but this year there's a new twist, and it's cape coat. This trend is practical, and also can work wonderfully for both fall or winter. Be it in neutral tones or vibrant ones; cape coats will always manage to look sophisticated.
formal check cape coat ($111) $72.15
Stella Cape ($299) $129.99
6. Grey Tones 
This season, fashion is revolving around grey-ashy hues. After all, this universally flattering color can never go wrong. You can pair it with vibrant dresses, neutral cardigans, classy blue jeans, or you can also pull a head-to-toe grey hued look.
Tie Belt Coat ($59.99)
Charcoal Gray Boucle Trench ($150)
7. Wrapped Blanket 
This trend is everything we all have been looking for. So, for days when you don't feel like overdoing, just wrap up a shawl over your outfit, put on red lipstick, make a bun, and voila! This can add an elegant touch to any bland outfit.
The Walker Plaid Wrap ($118)
Ribbed-trim wool-blend shawl ($365)
8. Quilted Coats 
Quilted coats are on their way to make your fall and winter all about style with comfort. Made of plush and shiny fabric with a waist belt, they look cute and are also insulating.
Quilted Jacket ($49.99)
Quilted maxi puffer coat ($119) $77.35
Boxy Quilted Jacket ($129) 
9. Upgraded Trench 
Trench coats have been present in our wardrobes for long enough, and now they have started to look a little dull. So, to kill the monotony, you can count on upgraded trench coats. They have a reimagined style and a quirky vibe. From plaid combination to cutouts, these trench coats will surely give you new fashion ideas.
Back to Mac Oversized Plus Trench Coat ($140) $75
Fashion Union trench coat in plaid ($119)