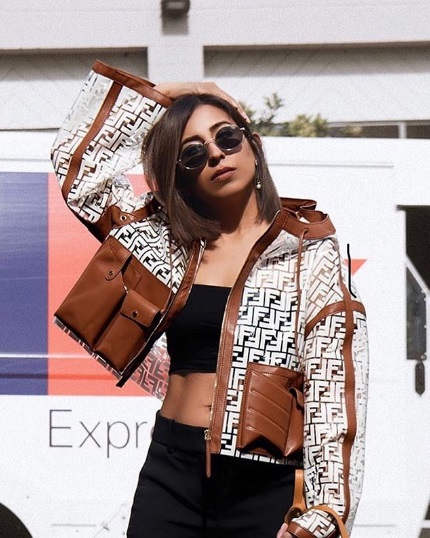 Among snuggly sweaters, shearling slippers, and knit shirts, hoodies are the clothing item that'll be the constant favorite for every fashion girl. Also, now that we have completely accepted that 2021's fashion mantra that is 'comfort with style', it's evident that hoodies are not going out of trend anytime soon. They look cute; they're cozy, comfy, and everything your winter wardrobe needs right now. With all this in mind, we dug deep and picked the most voguish 21 hoodies from Nordstrom and H&M.
Your favorite retailers provide ultra-adorable hoodies at such a reasonable price; you won't feel the need to shop them from anywhere else. So, below you'll find unique, cute, and trendy hoodies. Now you won't mind splurging on these hoodies, thanks to their pocket-friendly price tags. If you're in the same boat, just like other fashion people, hoodies are everything you're looking for!
Asala Hoodie ($98) 
This soft and loopy hoodie will ensure that you don't struggle with cold weather.
Hoodie ($17.99)
The subtle pink color of this hoodie makes it so cute.
Hoodie ($35) $14.97
This hoodie by BP. only speaks comfort, so why not grab it?
Balloon-sleeved Hoodie ($24.99)
The balloon sleeves and relaxed fit of this hoodie exudes a cool look.
Fink Tie Dye Hoodie ($68) $38.90 
Master the cool look by wearing this tie-dye hoodie.
Oversized Hoodie ($34.99)
Slay like Ariana Grande in this oversized hoodie.
All Good In The Hoodie ($56) 
The cropped silhouette and balloon sleeves add a swanky touch to it.
Fleece Hoodie ($69) $34.50 
Stay warm and stay stylish in this black fleece hoodie.
Printed Hoodie ($34.99)
The cute pastel tones of the hoodie are just so unmissable.
Cara Twist Front Hoodie ($59) $35.40 
Add a spin to you wardrobe with this front twist hoodie.
Faux Shearling Hoodie ($29.99)
You can't resist curling up once you wear this soft hoodie.
Velour Women's Hoodie ($68) 
The smooth and silky feel of this hoodie makes it so modish.
Oversized Cotton Hoodie ($34.99)
Now you don't have to steal you boyfriend's hoodies, this one is good enough!
Plush Corduroy Hoodie ($79) 
If you are a fan of dark toned corduroy, this hoodie is meant for you.
Fleece Hoodie ($29.99)
Since neutral tones are not going out of trend anytime soon, adding this in your cart is a smart choice.
Tie Dye Hooded Sweatshirt ($59) 
The light-toned hooded sweatshirt is just too good to ignore.
Fine-knit Hoodie ($34.99)
The relaxed fit of the hoodie undoubtedly deserves a place in your wardrobe.
Sportswear Fleece Hoodie ($65) 
The laid-back vibe of the hoodie will work great on you.
Cotton-blend Hoodie ($19.99)
Soft cotton hoodie that will look super chic with skinny black jeans.
Boat House Pullover Hoodie ($48) 
The ash gray color, the oversized silhouette, and the sleeves, what's not to like?
Hoodie ($17.99)
The graphic and colors of this hoodie makes it look so stellar.