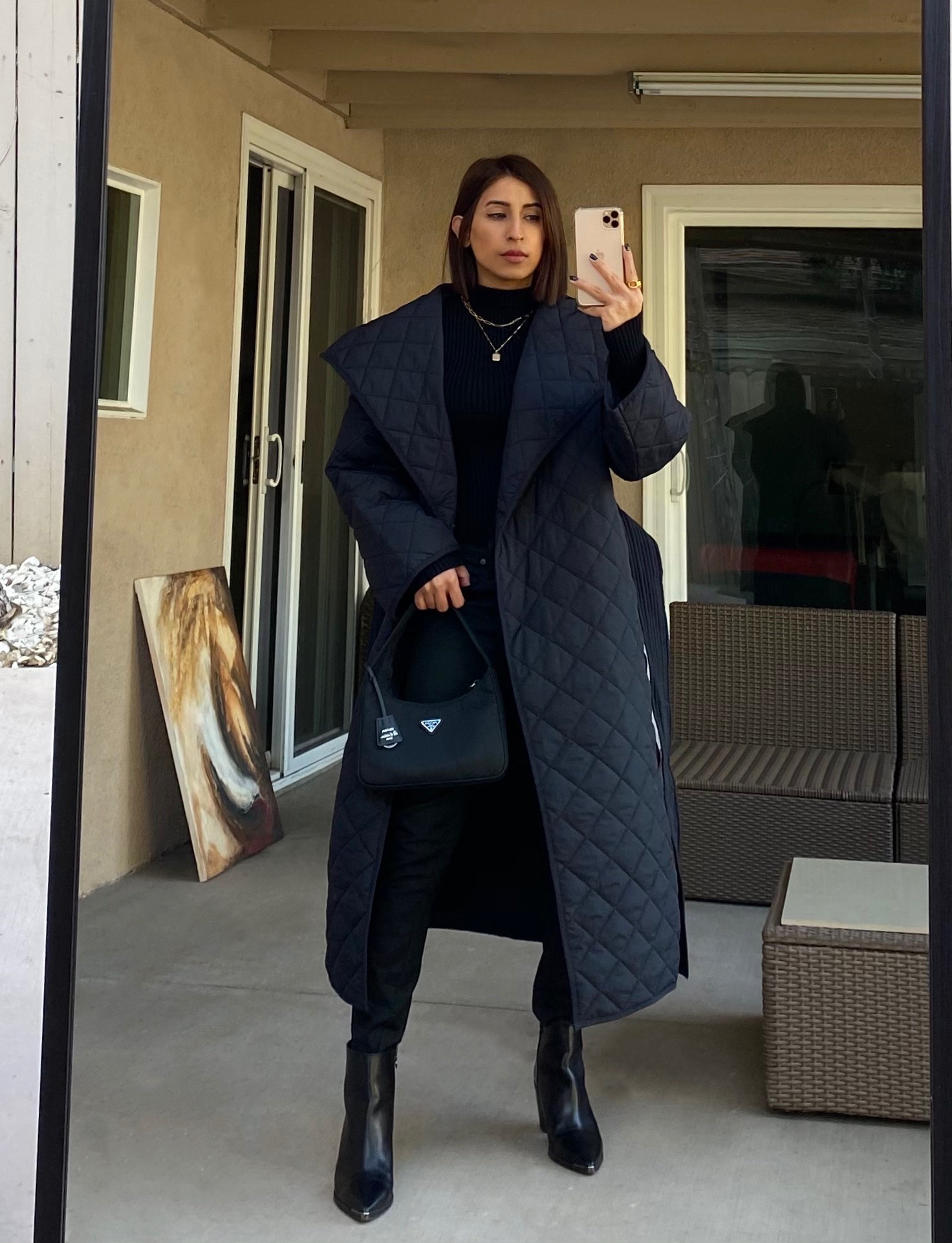 Nordstrom has always been an absolute go-to shopping destination for people who love fashion. And as the world steps into 2021, fashion enthusiasts gear up to upgrade their wardrobe for the cold season. But the real predicament begins when the online retail sites are filled with a slew of fashion items, all of which look astounding, and there's no way of deciding which ones to add to the cart because everything looks equally stylish and practical at the same time.
To help you overcome this shopper's confusion, we have created a list of 25 best selling items on Nordstrom that are guaranteed to be the talk of the town. Keep scrolling for visual inspiration, and if you like something, grab it right away, because these items are a total steal.
Eddie Faux Fur Coat ($140.00) $69.90
This plush coat made of faux fur is a seasonal staple. It will keep you warm and cuddly and it will look super stylish layered over anything in your wardrobe.
Mini Bailey Bow II Genuine Shearling Bootie ($160.00) $119.95
Comfort is crucial when winter fashion is concerned. So our pick is this comfortable boot that is adorable, thanks to the genuine shearling lining, which gives the feeling of walking on clouds. 
Brooke Double Breasted Long Coat ($135.00) $79.00
A winter wardrobe is incomplete without an iconic double-breasted coat. This classic coat gets a modern spin, the credit goes to the denim hue.
Cashmere Lined Leather Touchscreen Gloves ($99.00) $59.40
These gloves, made from leather, and lined with cashmere is the perfect blend of cozy and chic. And trust us, this pair will complement any seasonal ensemble in an instant.  
Darma Sock Bootie ($99.95) $59.90
Sock booties are totally cozy and comfy. We are obsessed with this ribbed number that's easy to slide into.
Faux Shearling Coat ($220.00) $154.00
When it comes to winter coats, we only want three things – coziness, coziness, and coziness. This coat, made from faux shearling, gives us just that – and we are not complaining!
Oshay Pointed Toe Bootie ($189.95) $99.90
This is a classic boot that comes in a simple but structured sihouette and glossy leather – you can never go wrong with this one. 
Hooded Faux Fur Coat ($250.00) $166.90
This faux fur coat comes with a hood. If that's not reason enough to add it to your cart, how about adding a coat to your wardrobe that as soft as marshmallows?
Crewneck Sweater ($59.00) $35.40
A basic sweater is a winter wardrobe essential. Also, you can always use it as the prime piece when you want to opt for layered outfits.
Slick Wool Blend Wrap Coat ($450.00) $225.00
This winter coat comes with a waist-hugging tie that looks good and feels good too. Add to that the exaggerated shawl collar, and you have a coat that's uber-chic.
Roll Crop Sweater ($65.00) $32.50
This sweater is the epitome of style mixed with comfort. So yes, if there's a piece that can turn into your go-to for the season, it's this one.
724™ Ripped High Waist Crop Straight Leg Jeans ($98.00) $58.80
Pair this high waist, straight cut denim with the pullover of your choice and complete your winter attire in the blink of an eye. Truth be told, we are obsessed with this pair of jeans!
Trefoil Essentials Hooded Sweatshirt ($55.00) $33.00
Hoodies are like a warm hug we all need when the temperature dips. This one by Adidas is ideal for lounging around at home or stepping outdoors for an errand.
Colette Ruffle Square Neck Midi Dress ($218.00) $65.00–$153.00
Wear this midi dress with a square neck under all your long coats. This is literally the winter ensemble of your dreams!
Grace Jogger Jacket ($165.00) $75.00
This jacket with a structured silhouette will make you look business ready in an instant. This is an ideal option for your last minute zoom meets.
Teddy Bear Faux Shearling Coat ($230.00) $161.00
This coat, crafted from faux shearling, is a must-have piece for the season. And oh, the color just adds to the chic factor!
Swim Too Deep Turtleneck Sweater ($128.00) $69.90
This oversized turtleneck sweater is so cozy that you will want to live in it. We certainly want to!
Byron Chelsea Boot ($68.00) $40.80
Step out in style with these Chelsea boots that come with block heels. Brave the cold in ease with the right footwear option – and this pair of boots is exactly that.
Adicolor Large Logo Tights ($40.00) $24.00
Workout sessions will feel like a cakewalk in these cool tights that will let you move with ease towards your fitness journey.
Hooded Puffer Coat with Faux Fur Trim ($148.00) $99.90
This puffer coat, enhanced by a faux fur trim, looks cute and feel cozy. We are adding this one to our cart right away! 
Gaiva Turtleneck Long Sleeve Sweater Dress ($79.00) $31.60–$35.55
For those days, when you are indecisive about an outfit, go for a sweater dress. Our pick is this turtleneck number that's downright comfortable.
Wool Blend Coat ($220.00) $149.90
Brown is trending huge this season. So we thought this light brown coat, crafted from wool blend fabric, will be a great addition to the winter wardrobe.
Saturday Morning Thermal Pajamas ($75.00) $45.00
This pair of thermal pajamas is cozy and warm. Trust us, lounging around at home in these pajamas is a luxurious, heavenly feeling, to say the least.
Original Tour Short Gloss Packable Rain Boot ($145.00) $87.00
A sturdy pair of boots will never disappoint you. Our pick is this glossy rain boot that'll shield your feet from unpredictable weather while not sacrificing on style at the same time.
Nascita Gold Vermeil Birthstone Pendant Necklace ($58.00) $43.50
Want to add sparkle to your winter look? Just accessorize your ensemble with this stunning stone pendant necklace.
Westborough Insulated Quilted Jacket ($139.00) $104.25
Quilted jackets get a stylish spin in this dark blue piece that will elevate any basic winter attire in seconds.
Up Next: We can't stop raving about these 15 quilted jackets from Nordstrom, H&M, and Mango