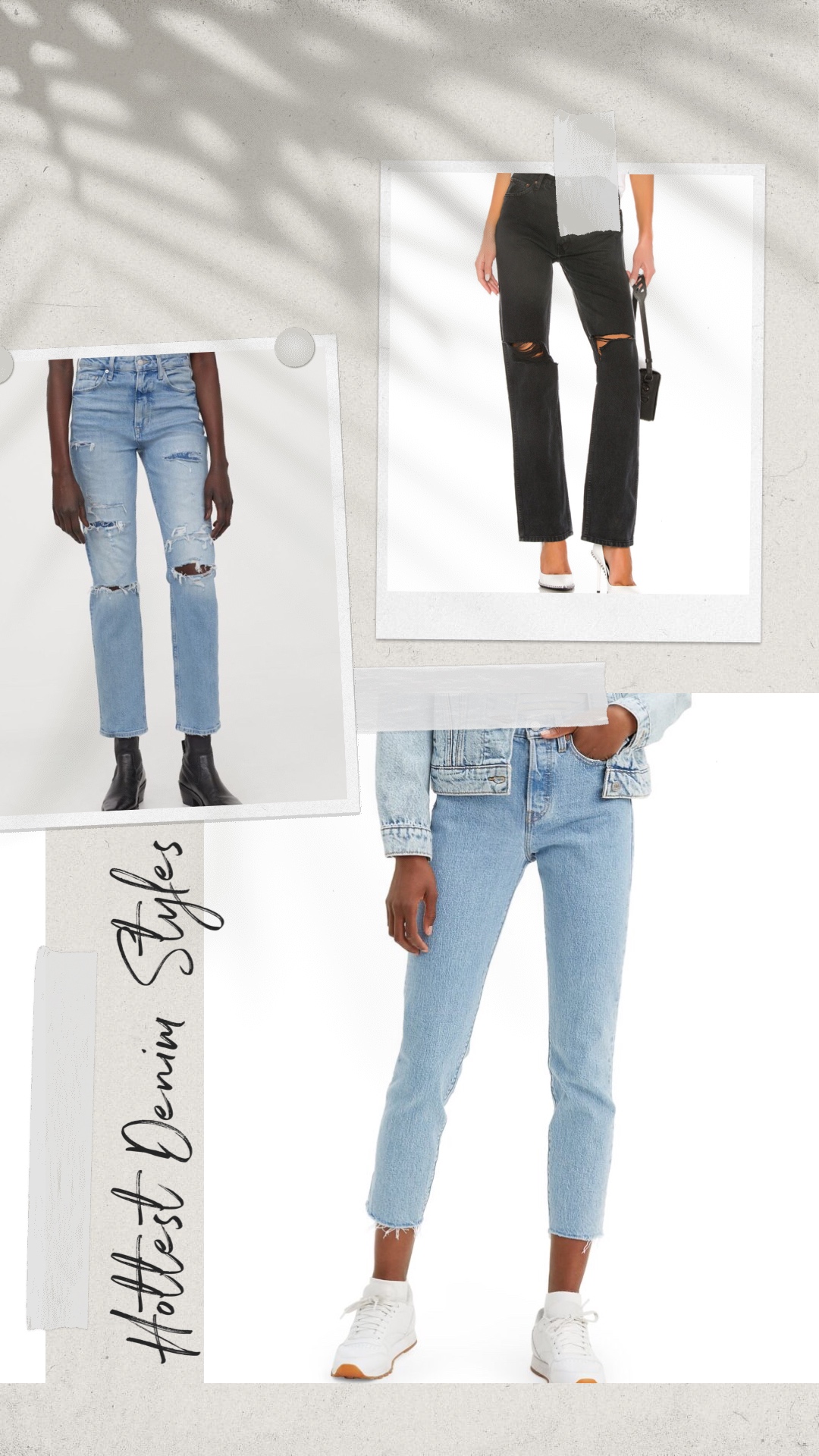 Fashion trends are dynamic and always evolving. Every season there's a brand new trend that you need to jump on. But one piece that has always remained trendy is denim. Denim is undoubtedly one of the most timeless styles you can have in your wardrobe. There are hundreds of styles available, so you can choose what matches your style the best. Jeans that elongate the legs, high rise silhouettes that slenderize the body, rear boosting pairs to perk up your butt; no matter what you need, there's a style that fits you. 
Plus, they're super versatile to wear for any occasion, whether that's a casual hang or dinner at a friend's. So stock up your 2021 wardrobe with these stellar picks if you're obsessed with denim as much as we are. We've chosen the best finds from Nordstrom, H&M, and Revolve. Check them out below.
H&M Curvy High Waist Jeggings ($19.99) $16.99
This pair of high-waist jeggings are so stretchy and comfortable but also look very stylish. They are made with a skinny fit in this deep blue hue that you can pair with your oversized sweaters for winter.
H&M Super Skinny High Jeans ($19.99) $16.99
A pair of classic black jeans is a must in every fashionista's wardrobe. Black denim is by far the most versatile of the lot. They pair really well with anything in your wardrobe. Our pick has a flattering high waist and body-hugging fit.
H&M Mom High Ankle Jeans ($29.99) $25.49
If you aesthetic leans towards retro-chic then this is the pair for you. It has an attractive straight cut with a slight relaxed fit that makes it perfect to pair with turtleneck bodysuits and an accent belt.
H&M Embrace High Ankle Jeans ($39.99) $33.99
Comfy stretch denim for the win! This pair of jeans has a high ankle and skinny fit and looks really attractive on the body. Pair with a graphic tee and your favorite sneakers for an edgy look.
H&M Vintage Slim High Ankle Jeans ($39.99) $33.99
These straight cut jeans fuse rugged style with sleek silhouette beautifully. It has a straight cut that's accented with distressed rips along the thighs and knees. Team it with some combat boots and an oversized button-down for a hip, androgenous look.
LEVI'S New Heritage Trucker in Turn The Tide ($98)
The first motto we learned in fashion is that a denim jacket can save the day. Want to elevate an outfit? Want to make your sweats look presentable? Want to stylishly cover up? Your answer is denim jacket!
Moussy Vintage Kelley Tapered Jean in Light Blue ($325)
Acid washed denim with a vintage vibe and tapered silhouette is an oldie but a goodie. Wear it with your leather jacket and some sleek black boots for a rock 'n roll look.
RE/DONE Originals High Rise Loose in Washed Black With Rips $250
Trendy flared legs and stunning black hue will make this pair a go-to in your wardrobe. Team it with a dressy blouse or skin fit bodysuit.
BLANKNYC Belted Denim Jacket in Like It Like That $128
This chic and trendy denim jacket is truly one of a kind. It is accented with pleats and a flattering fit.
LE JEAN High Rise Valentina Jean in Raven Wash $275
Adorable waist tie adds a stylish flair to these high rise jeans with a trouser-like silhouette. Wear it with a figure-hugging cashmere sweater and some sleek heels to finish the look.
Levi's Wedgie Icon Fit High Waist Raw Hem Ankle Jeans ($98.00) $37.42
This high waist pair exudes an effortlessly chic vibe. Team it with a white tee and white sneakers for a classic denim and white look.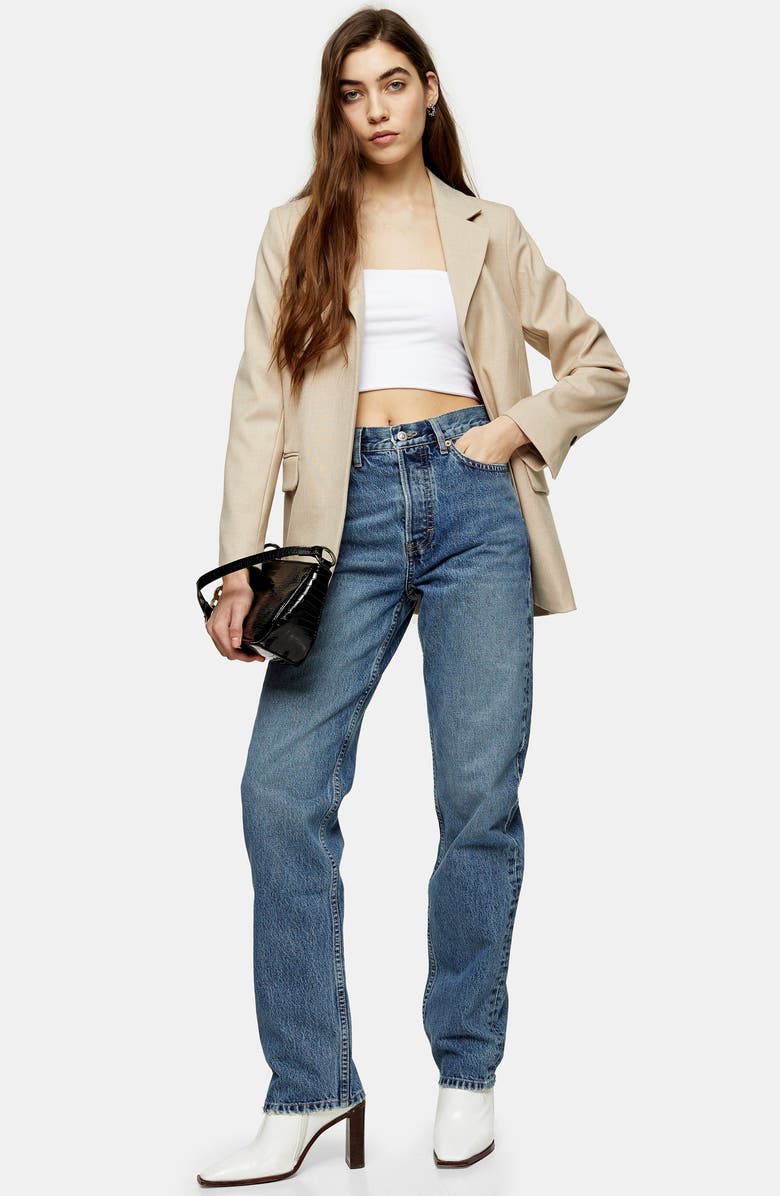 Topshop Straight Leg Dad Jeans ($30.00–$80.00) $75.00–$80.00
It doesn't get more on-trend than this. These dad jeans are so stylish and the next big thing in denim. They have a slouchy fit and tall silhouette that is unparalleled by any other style.
AG The Farrah High Waist Ankle Skinny Jeans ($225) $101.25
Dark-hued ankle jeans with a high waist that you can quickly throw on for any need. Pair it with a grey hoodie for an effortless yet cool vibe.
KUT from the Kloth Diana Fab Ab High Waist Skinny Jeans ($89.50) $40.27
These high waist jeans make the lower abdomen look flatter to give you a desirable shape and accentuate your curves.
NYDJ Marilyn Straight Leg Jeans $119 $71.40
A streamlined silhouette and tall profile will make these jeans a favorite in your wardrobe. Its versatility allows you to wear it for any occasion big or small.