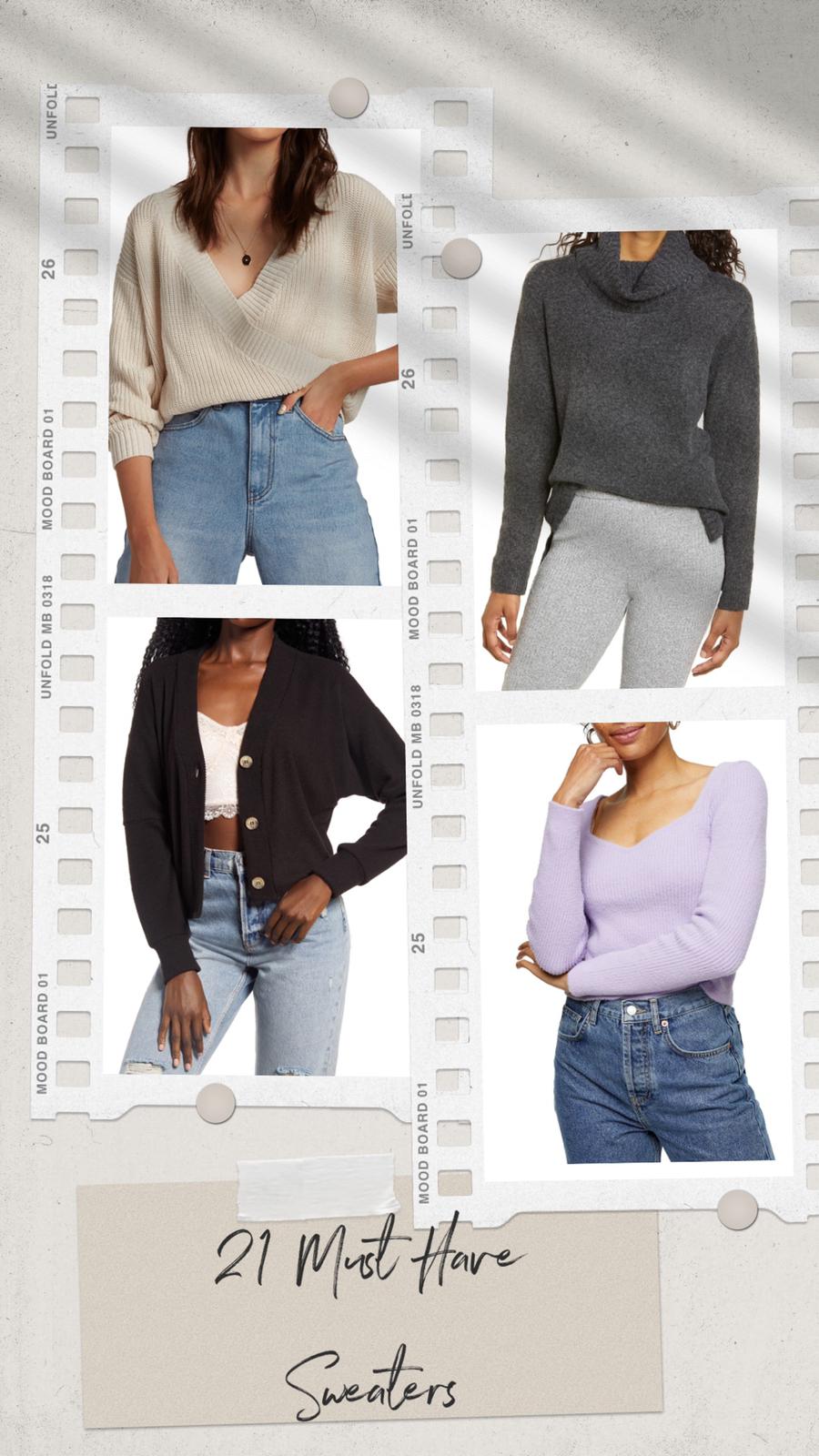 We are in the last days of winter, yet we are not ready to let go of that feeling of plush coziness. And, of course, no one can really forgo the warm vibe that layering your attire with a good sweater exudes. Sweater weather is all about bringing out the cozy sweaters to snuggle right into as the temperature drops. And we know you second us when we say that even though spring is just around the corner, we are not prepared to stash our favorite knit pieces in one corner of the closet. In fact, since the temperature is still not warm enough to shed our sartorial layers, we still feel ourselves gravitating towards a nice sweater when we see one. We also know that you are on the same page as us when it comes to sweaters.
You already know how much we prefer Nordstrom for a good shopping spree since there's so much to choose from. We know sweater weather is almost over, but it's never too late to stock up for the next year, especially when you find them at amazing deals that are incredibly hard to resist. We've added some of our favorites that will make a great addition to your wardrobe, and these will immediately grab anyone's attention. So keep scrolling for some of the best finds you have ever seen.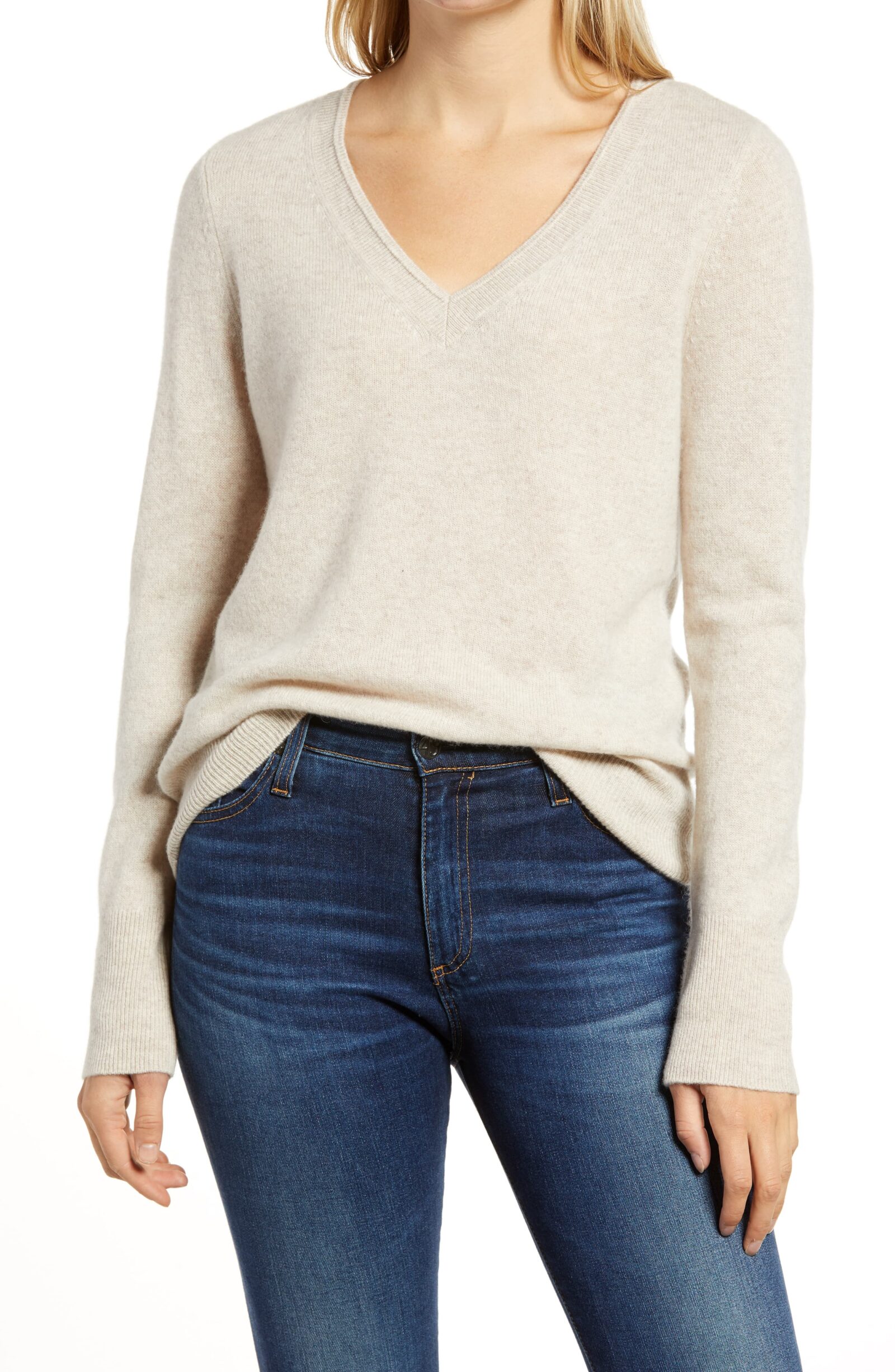 Halogen V-Neck Cashmere Sweater ($98) $39.97-$48.90
The feel of pure cashmere as it touches your skin is nothing short of luxurious. This is a must-have for sweater weather, and the classic V-neck makes it the perfect piece of clothing for layering.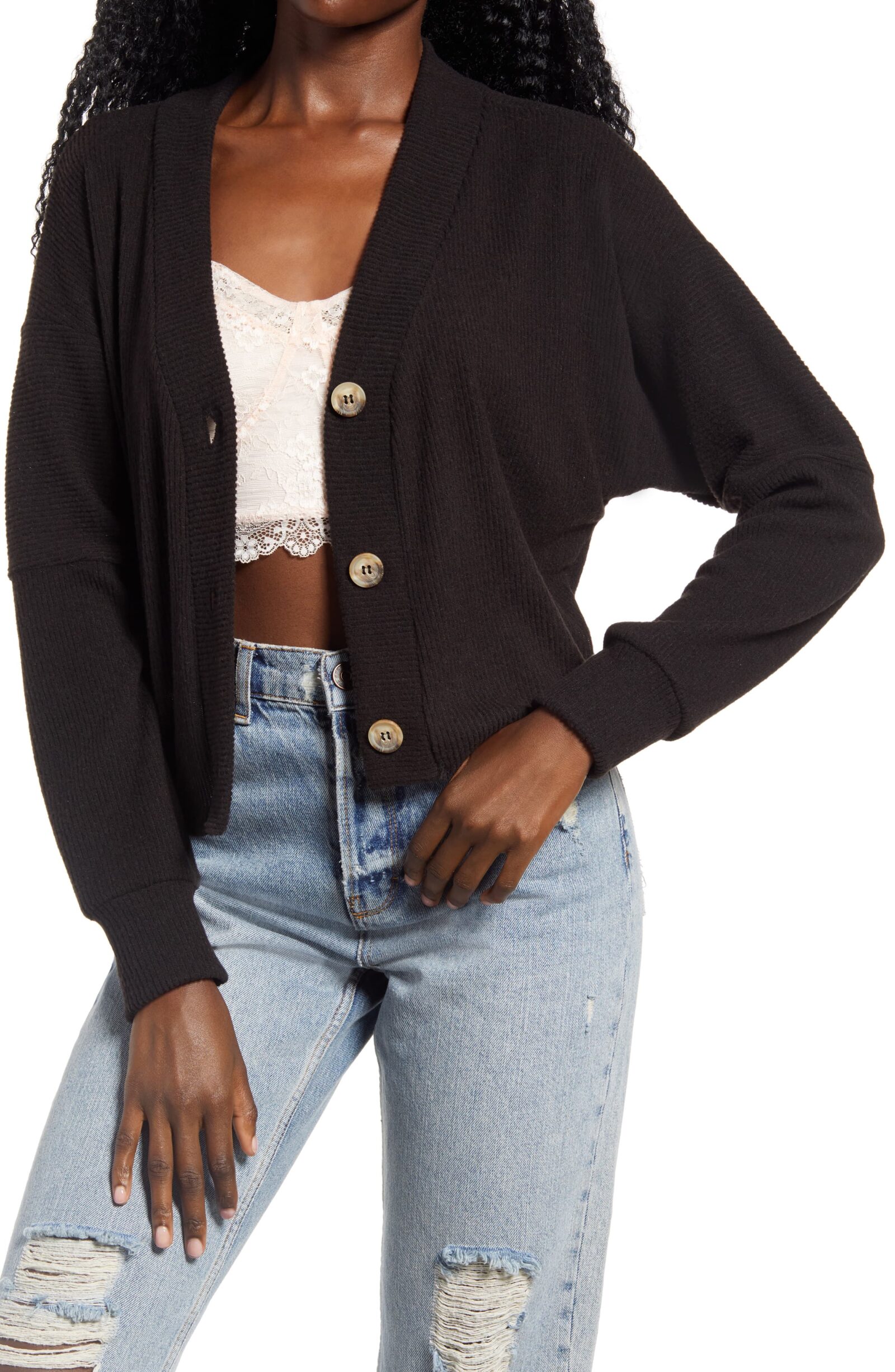 La La Land Creative Co Brushed Cardigan Sweater ($39) $15.60-$23.40
This is an undeniably cute cardigan that is on its way to becoming your favorite piece of clothing ever. Layer it, or button it up, and you're good to go.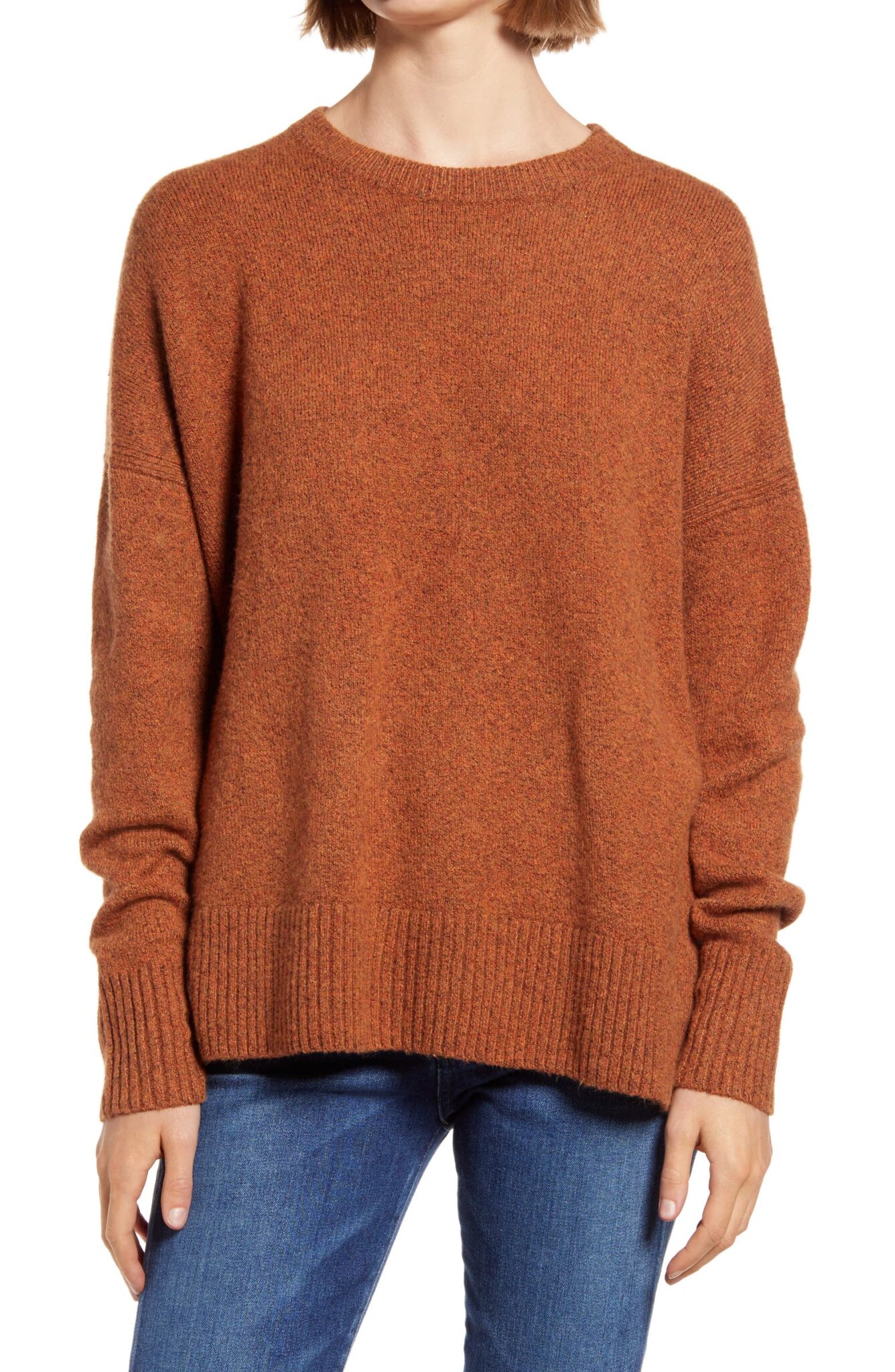 Treasure & Bond Crewneck Pullover ($69) $28.97-$41.40
In a gorgeous rust color, this is the perfect sweater when the leaves start to fall. This is definitely one of those cute sweaters you ought to own and look your absolute best in.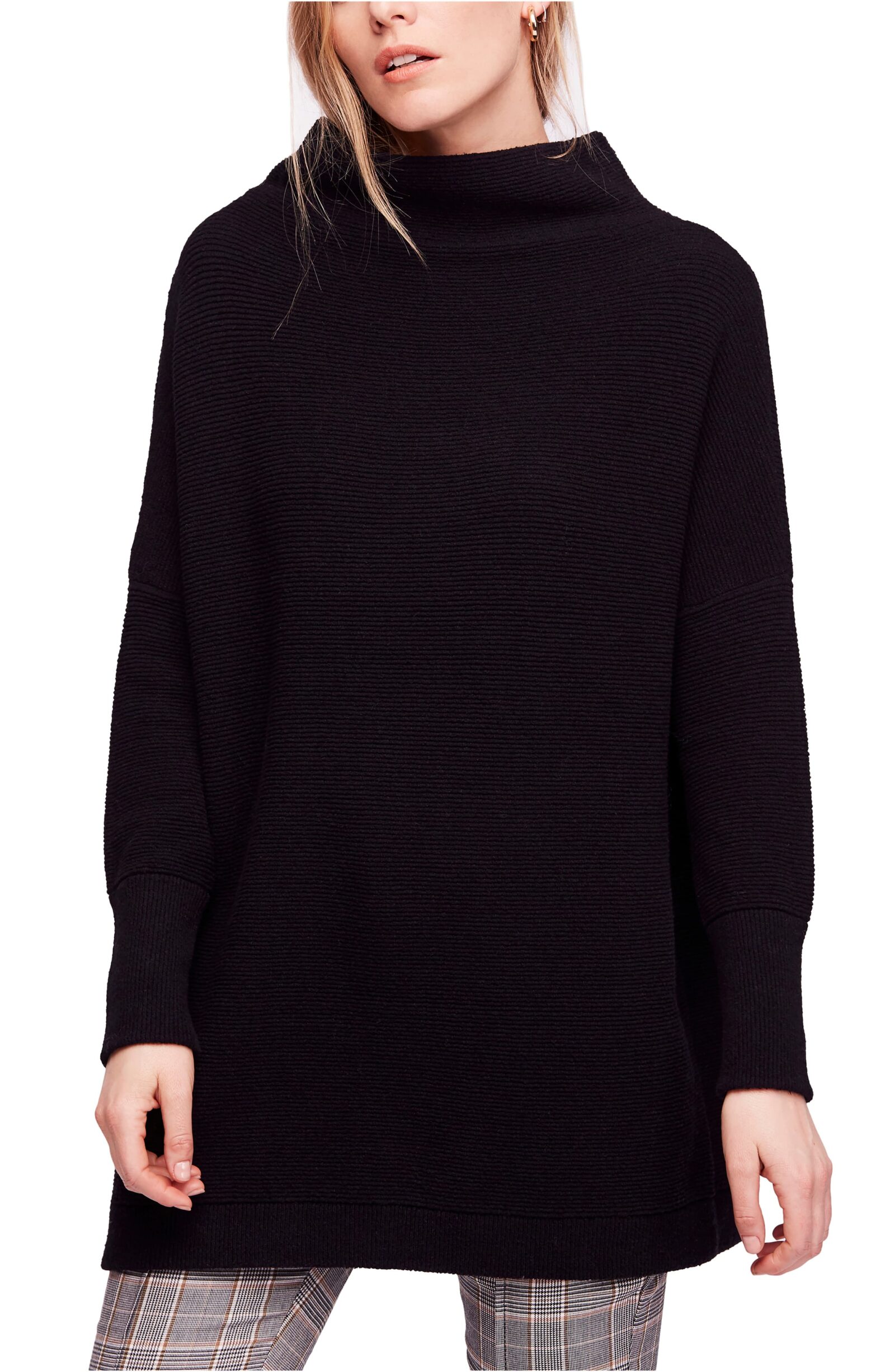 Free People Ottoman Slouchy Tunic ($148)
Cozy oversized sweaters make winters a lot more bearable, even if all we do is sit at home and snuggle up in them. Stitched from a heavily knit ottoman fabric, this one is definitely worth getting cozy in.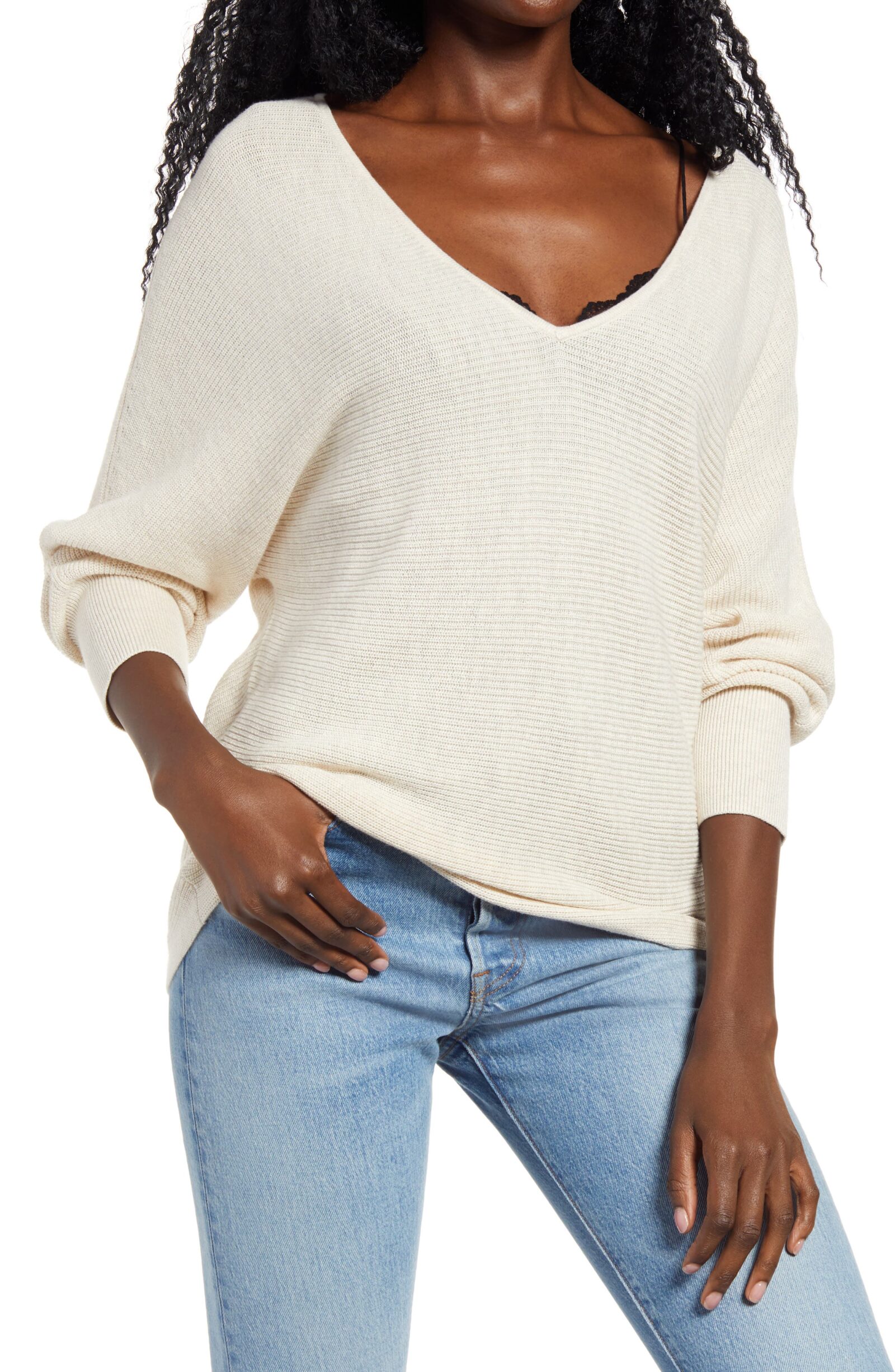 Leith Dolman Sleeve V-Neck Sweater ($49) $19.60-$29.40
Designed in a horizontal ribbed pattern, this V-neck sweater makes layering a piece of cake. The dolman sleeves add some volume to this lightweight pullover.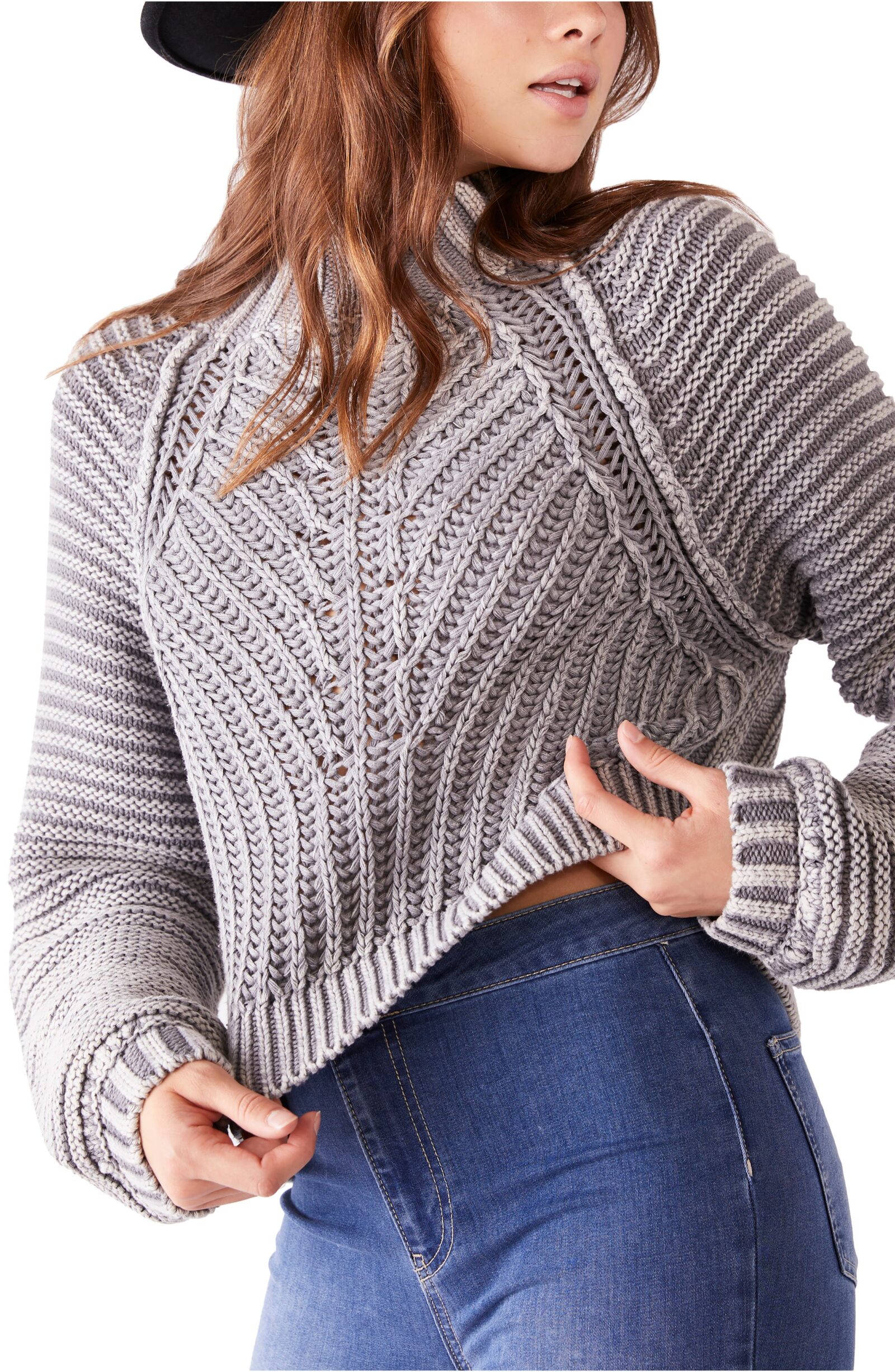 Free People Sweetheart Mock Neck Sweater ($78) $32.97-$78
There's so much to choose from when it comes to women's cozy sweaters, but this timeless favorite will always stand at number one. This chunky knit sweater makes you feel so supremely cozy that getting out of it will feel like a task.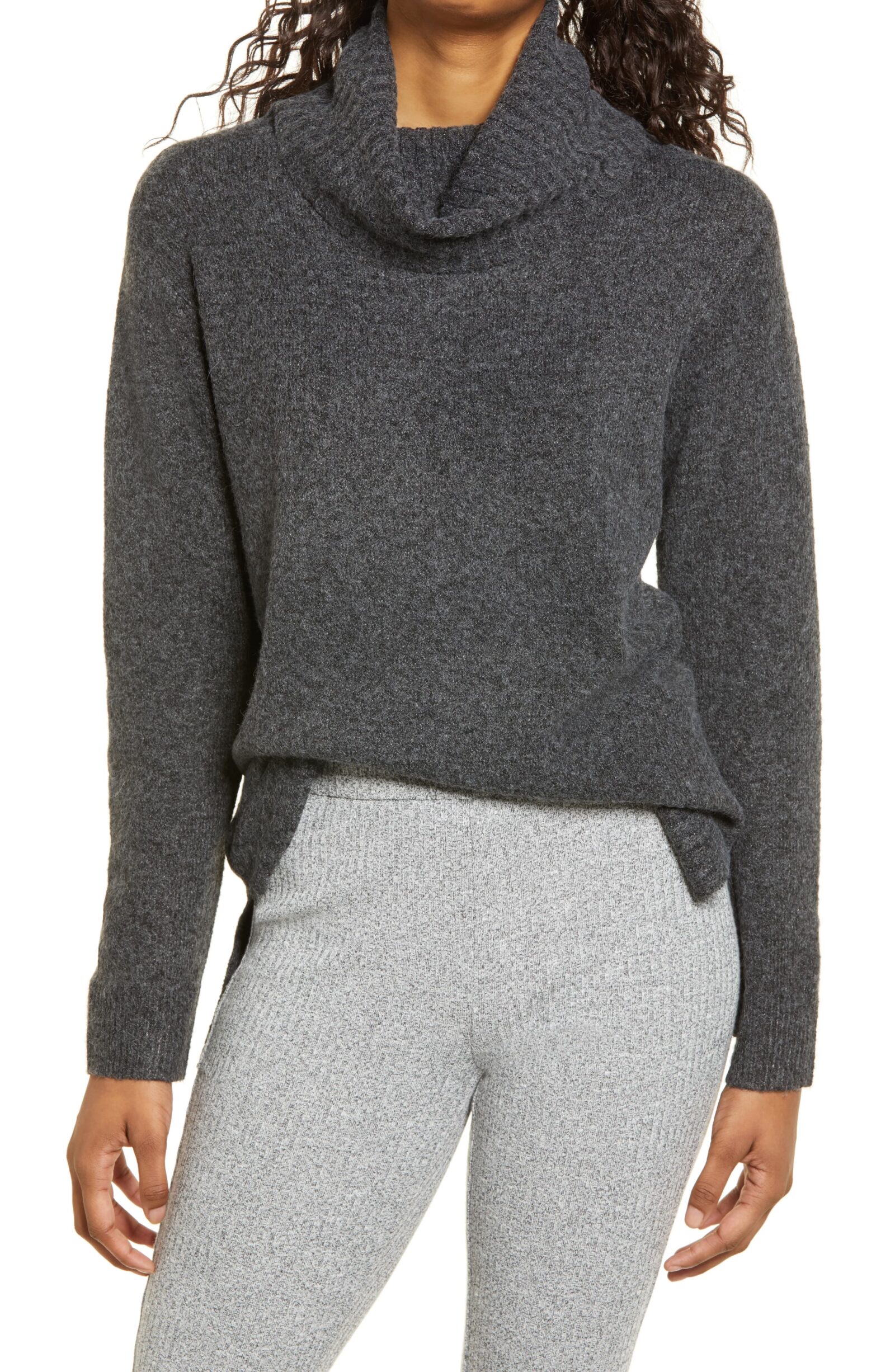 BP. Longline Turtleneck Sweater ($39) $15.60-$21.45
Turtleneck sweaters will always remain an all-time favorite. This longline silhouette definitely gives coziness the perfect meaning and makes winters a lot more appealing.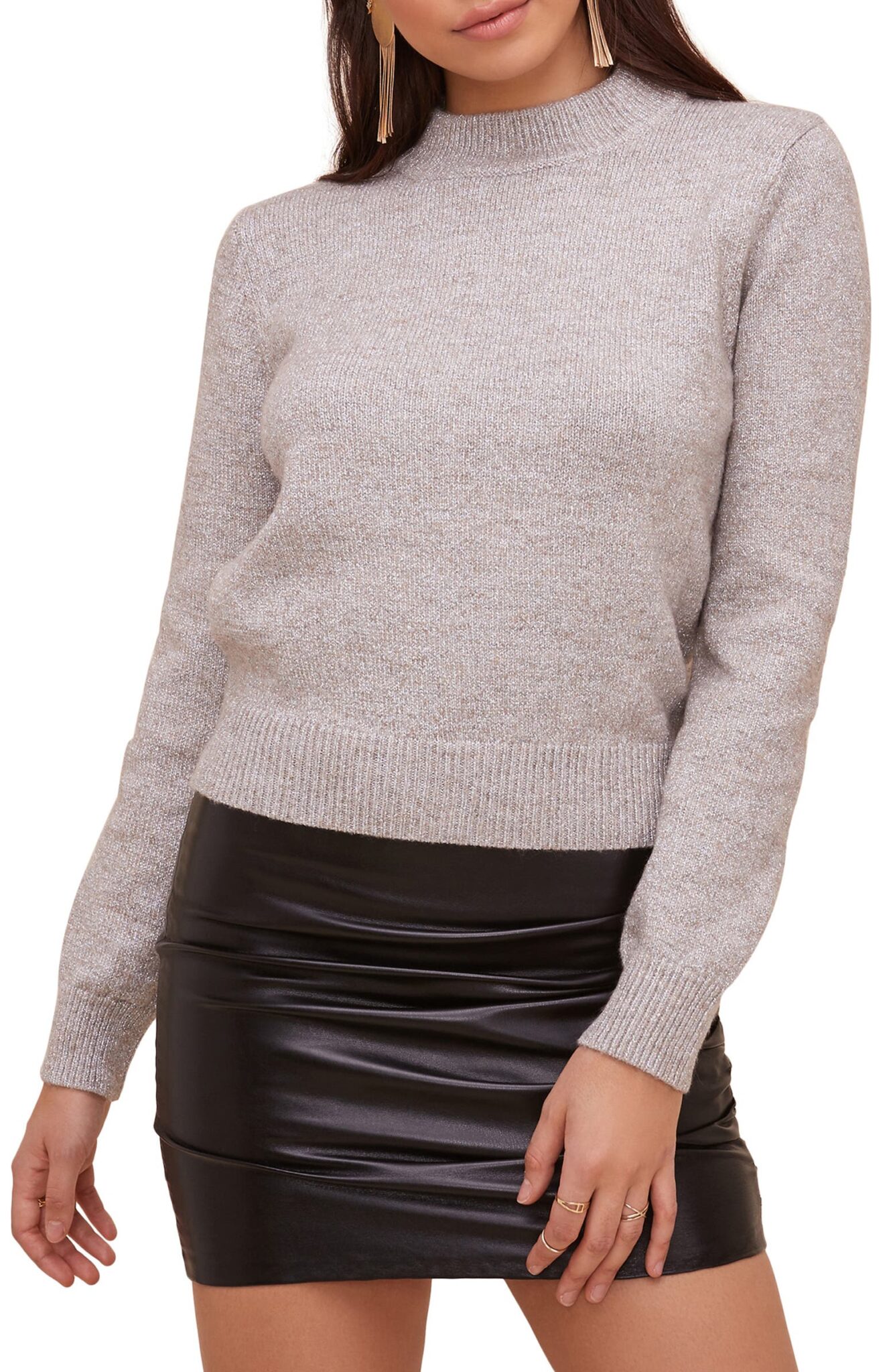 ASTR The Label Cutout Back Sweater ($79) $31.60
Sweater weather doesn't mean walking around looking like an onion with all those layers. You can also look elegant and chic in a piece as gorgeous and shimmery as this one. The back cutout is going to grab everyone's attention as you enjoy your night out.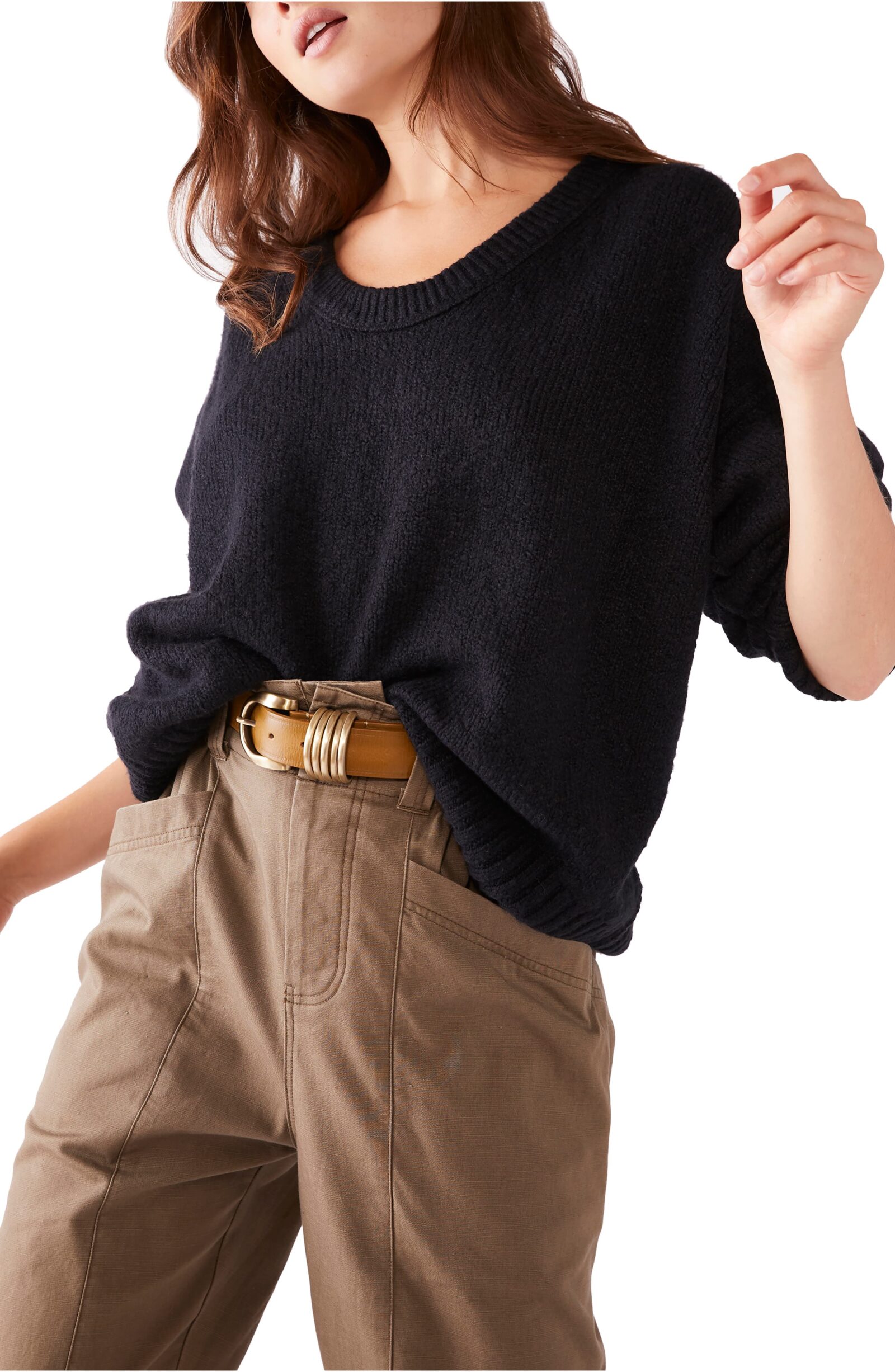 Free People Brookside Sweater ($128) $53.97-$128
If you want to spend the rest of your day in a cozy sweater, you're looking at the right one. And if you need to step out for lunch or an errand, you can do so in this comfy and slouchy number. Yes, it's that versatile!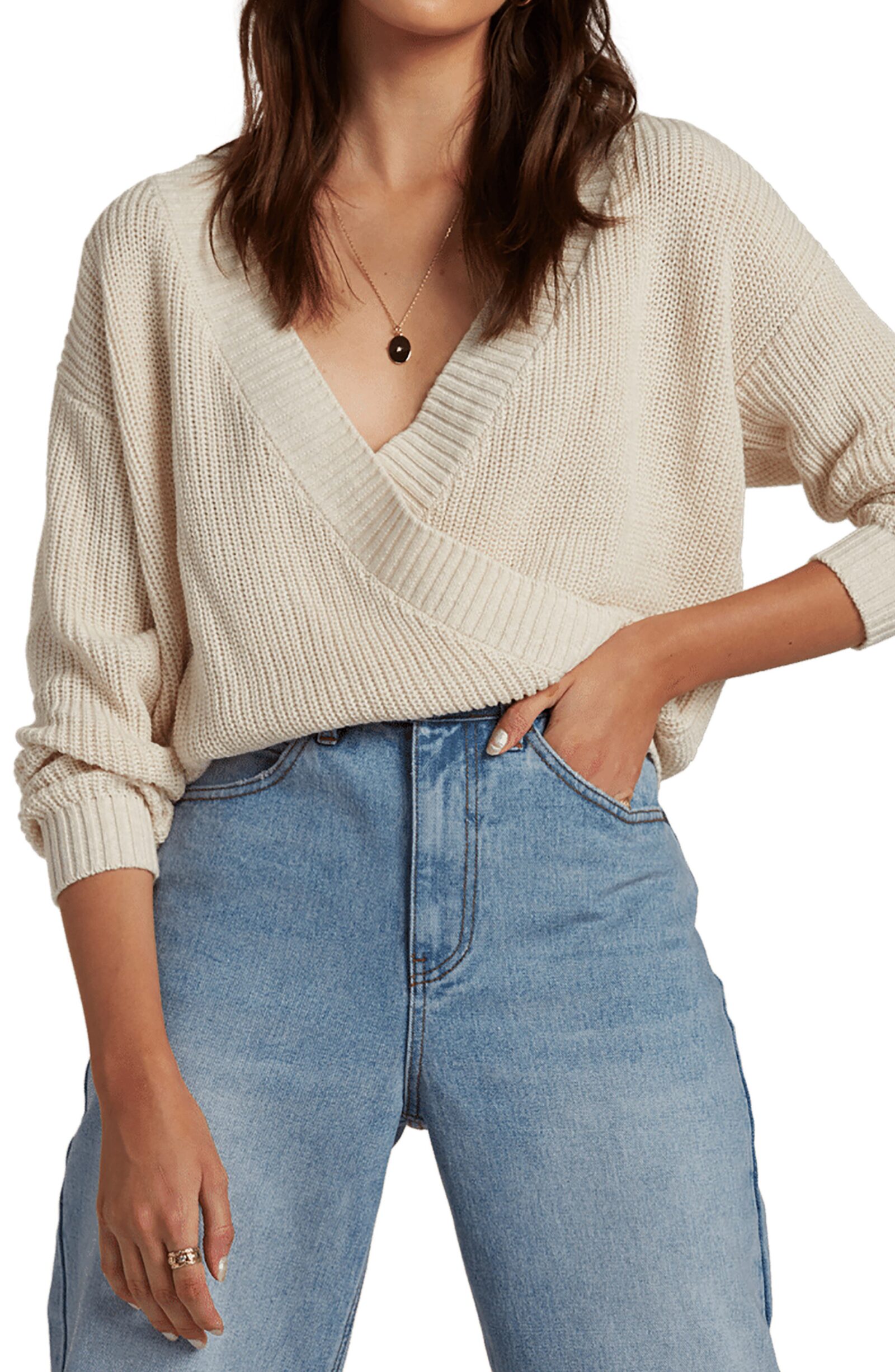 Billabong Bring It Faux Wrap Sweater ($55.95) $33.57
We can assure you that it doesn't get more relaxed and more stylish than this plush faux wrap sweater. Play around with it or add your own personal twist that will make everyone stop and stare.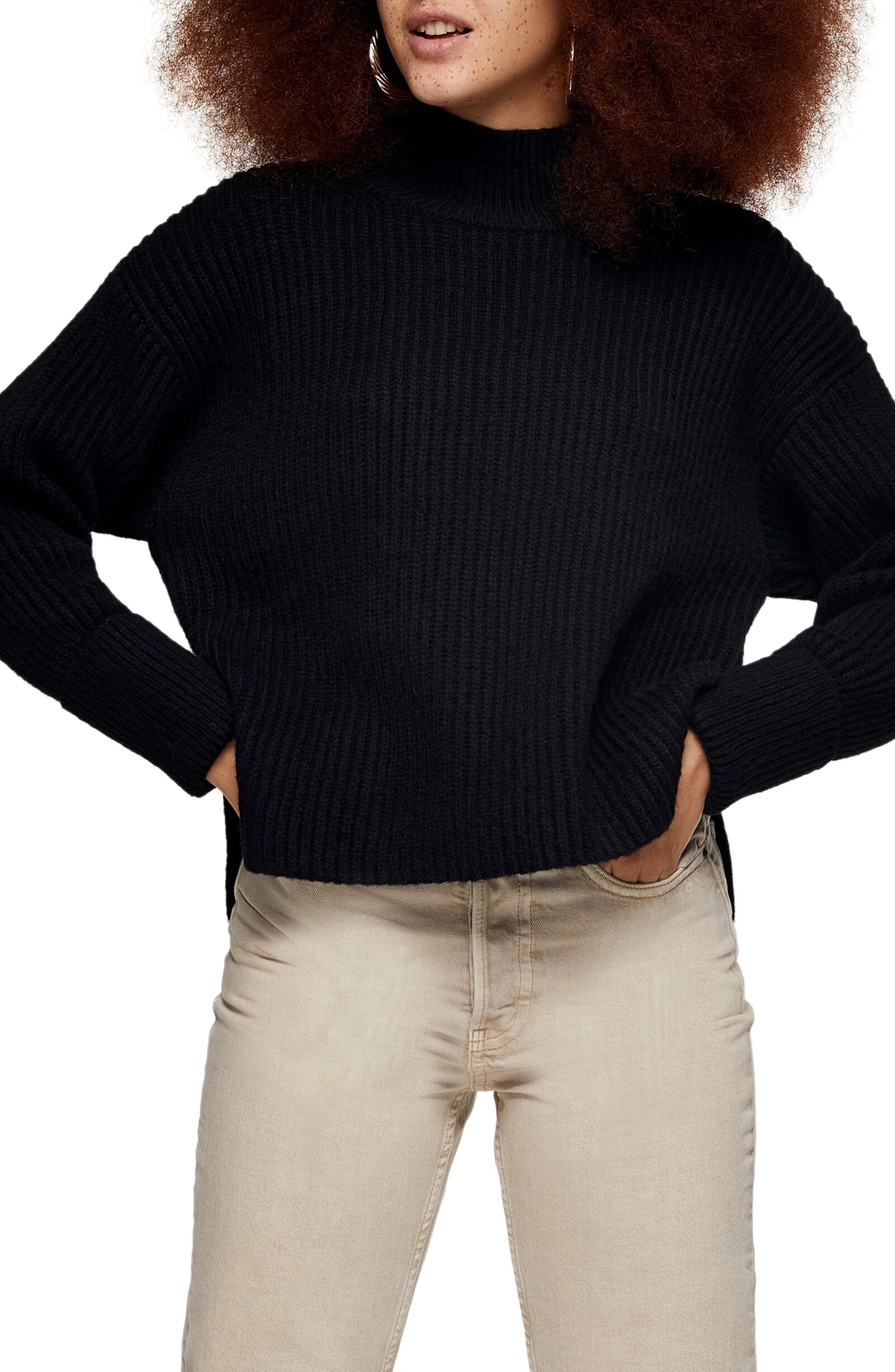 Topshop Mock Neck Crop Sweater ($68) $39.90
The ribbed texture makes this sweater a must-have, and you definitely won't be disappointed. The splits on the sides and the mock neck add a simple and chic finishing touch to this cozy cropped sweater.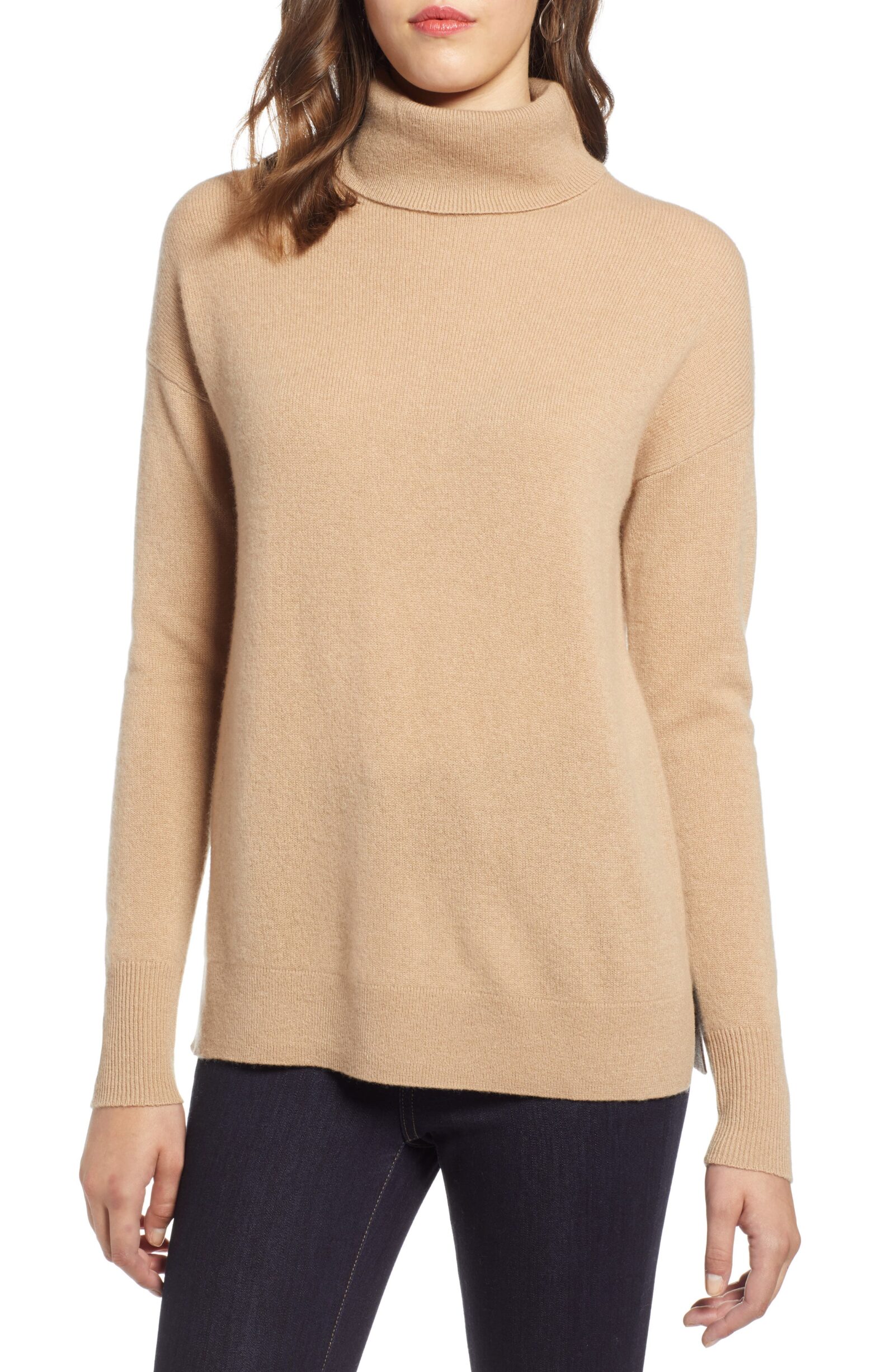 Halogen Cashmere Turtleneck Sweater ($98) $38.97-$48.90
Sinking into the comfort of cashmere could not have been easier with this uber-chic and classic turtleneck. With its plush and decadent softness, this is definitely a seasonal must-have.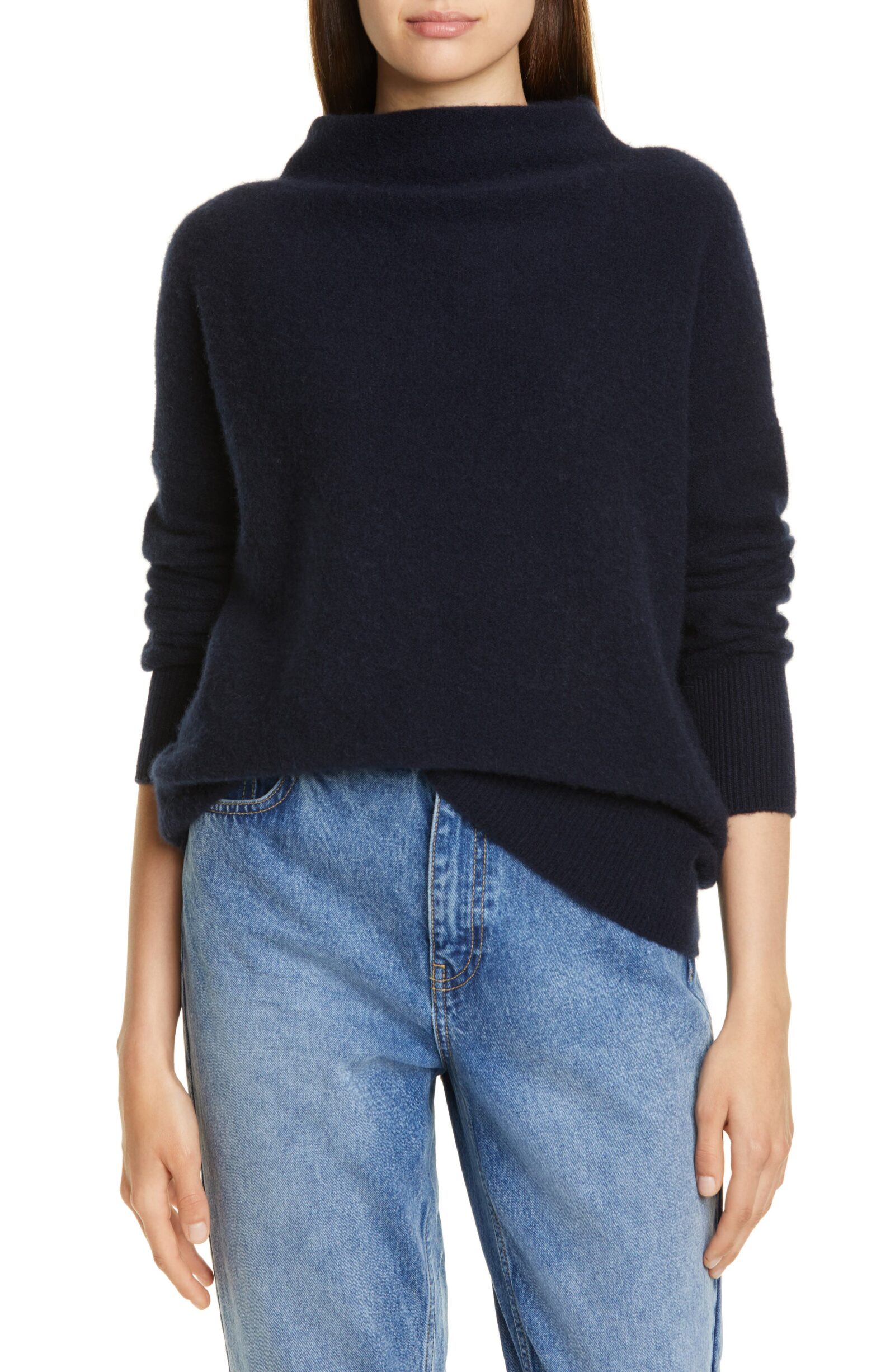 Vince Boiled Cashmere Funnel Neck Pullover ($395) $197.50
We can bet that you've never felt cashmere as soft as this. And this sweater is also designed with a funnel neck and a dropped shoulder silhouette to make it even cozier. We love it.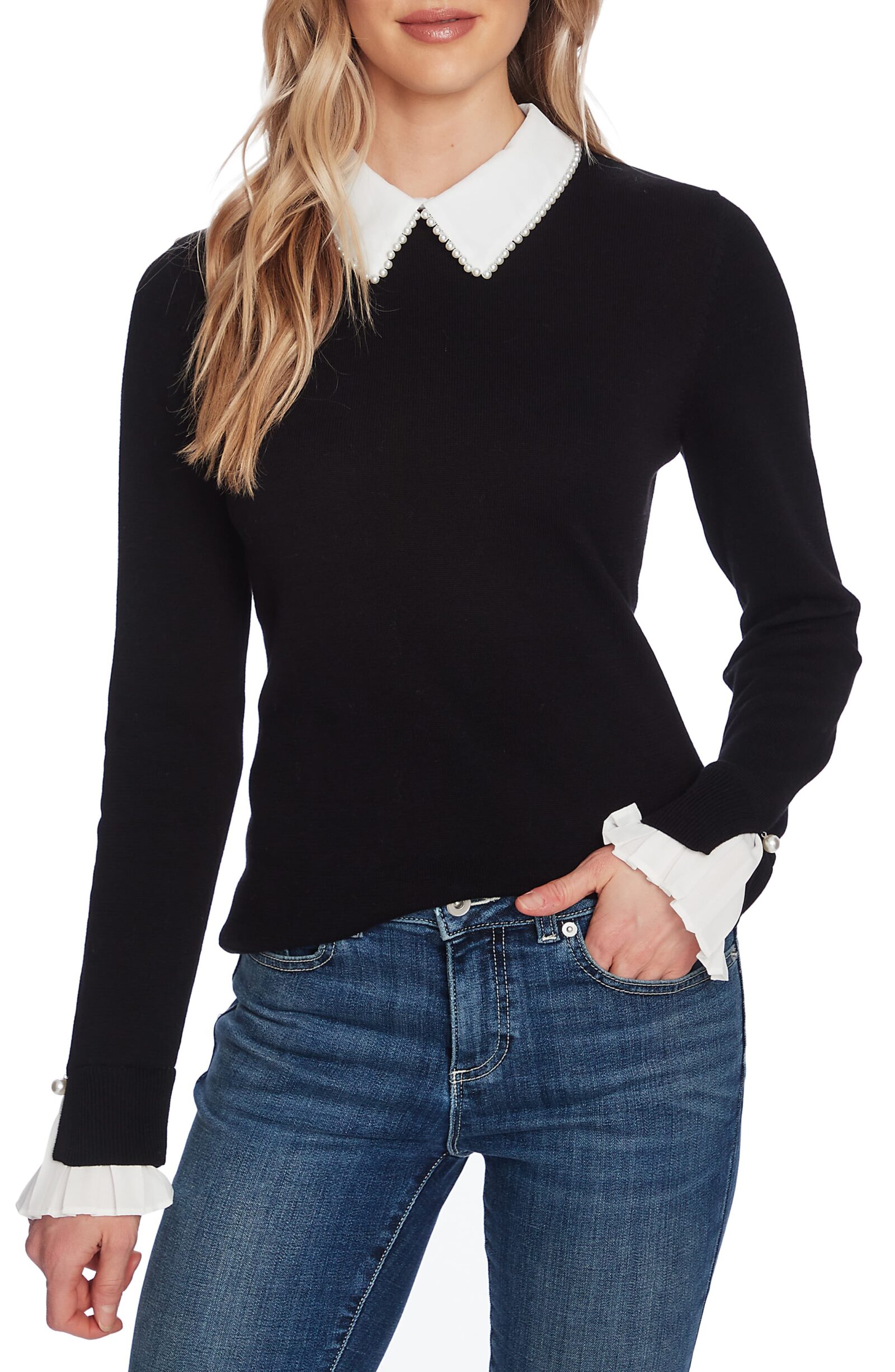 CeCe Imitation Pearl Peter Pan Collar Cotton Sweater ($99)
You'll never have a boring outfit on a chilly day if you have this chic sweater in your closet. With a faux pearl lining on the collar and ruffled sleeve cuffs, you'll definitely be the talk of the town.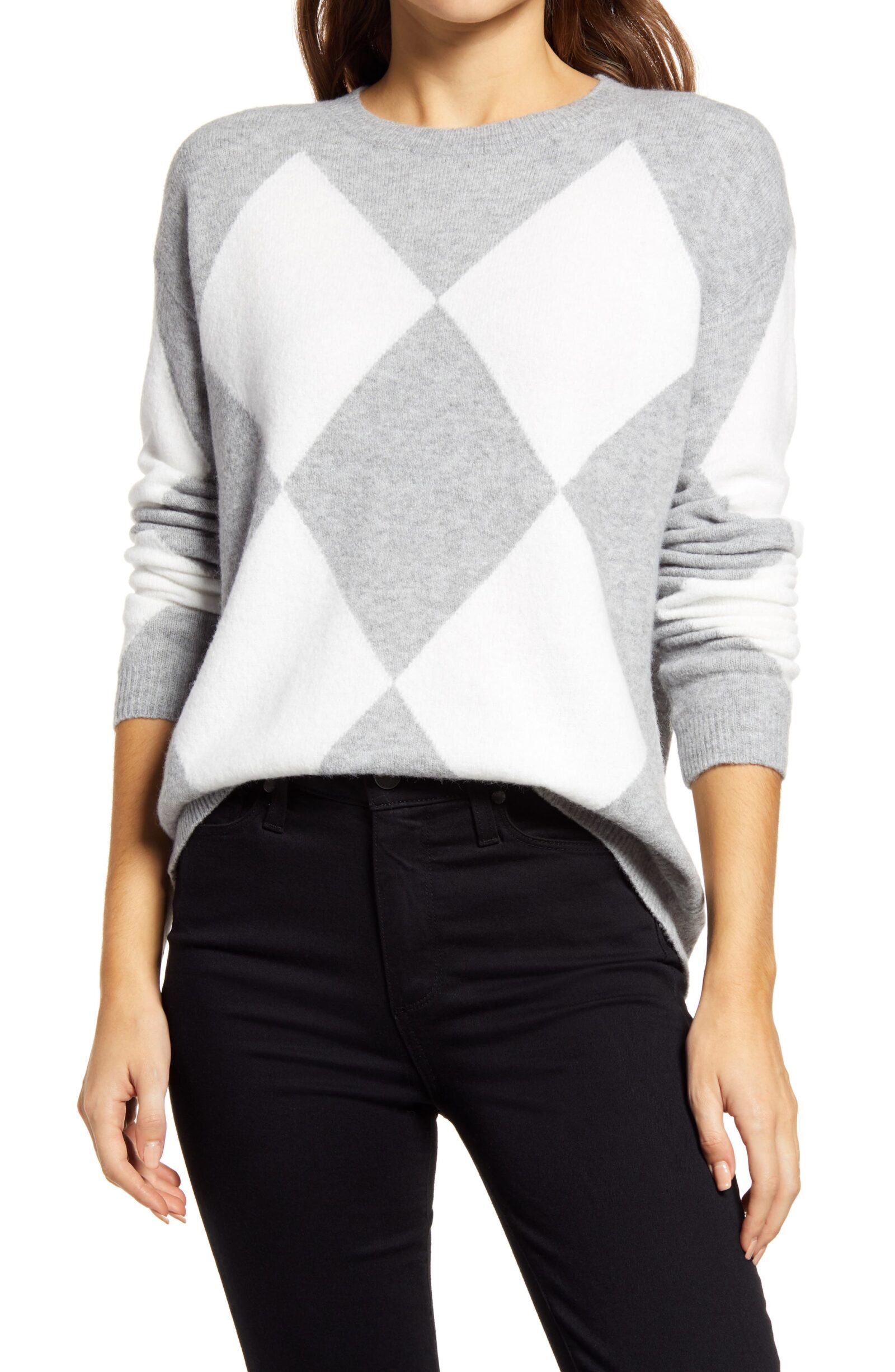 Halogen Argyle Sweater ($69) $31.05-$34.50
With diamond patterns big enough for all to see, this sweater is definitely going to be your new best friend. And it will also keep you snug and warm while you look as stylish as ever.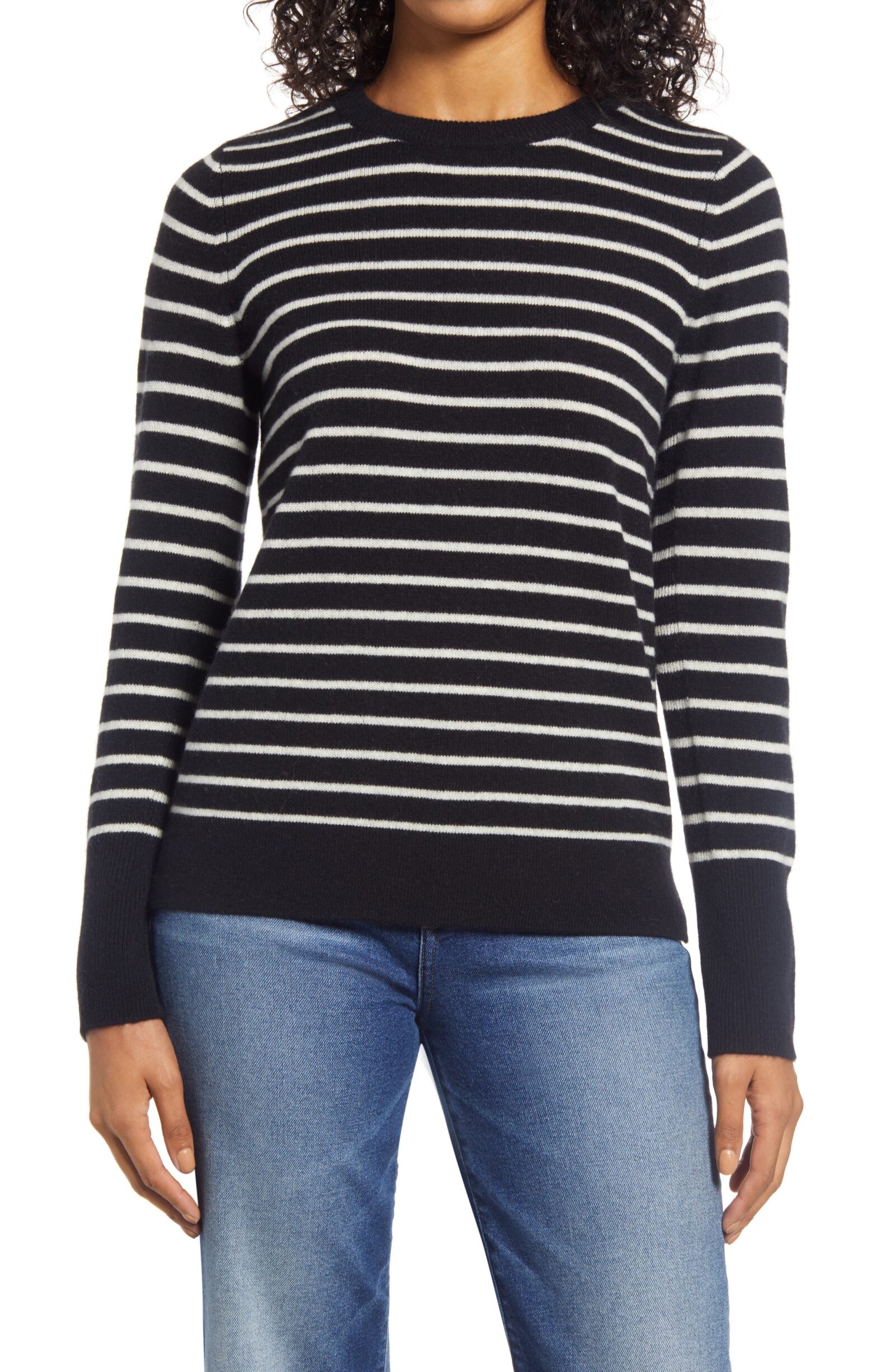 Halogen Crewneck Cashmere Sweater ($98) $39.97-$48.90
Nothing compares to the plush and decadent softness of pure cashmere. Designed in a classic and sophisticated crewneck sweater, winter styling definitely got a lot easier, and you have your choice of colors to choose from as well.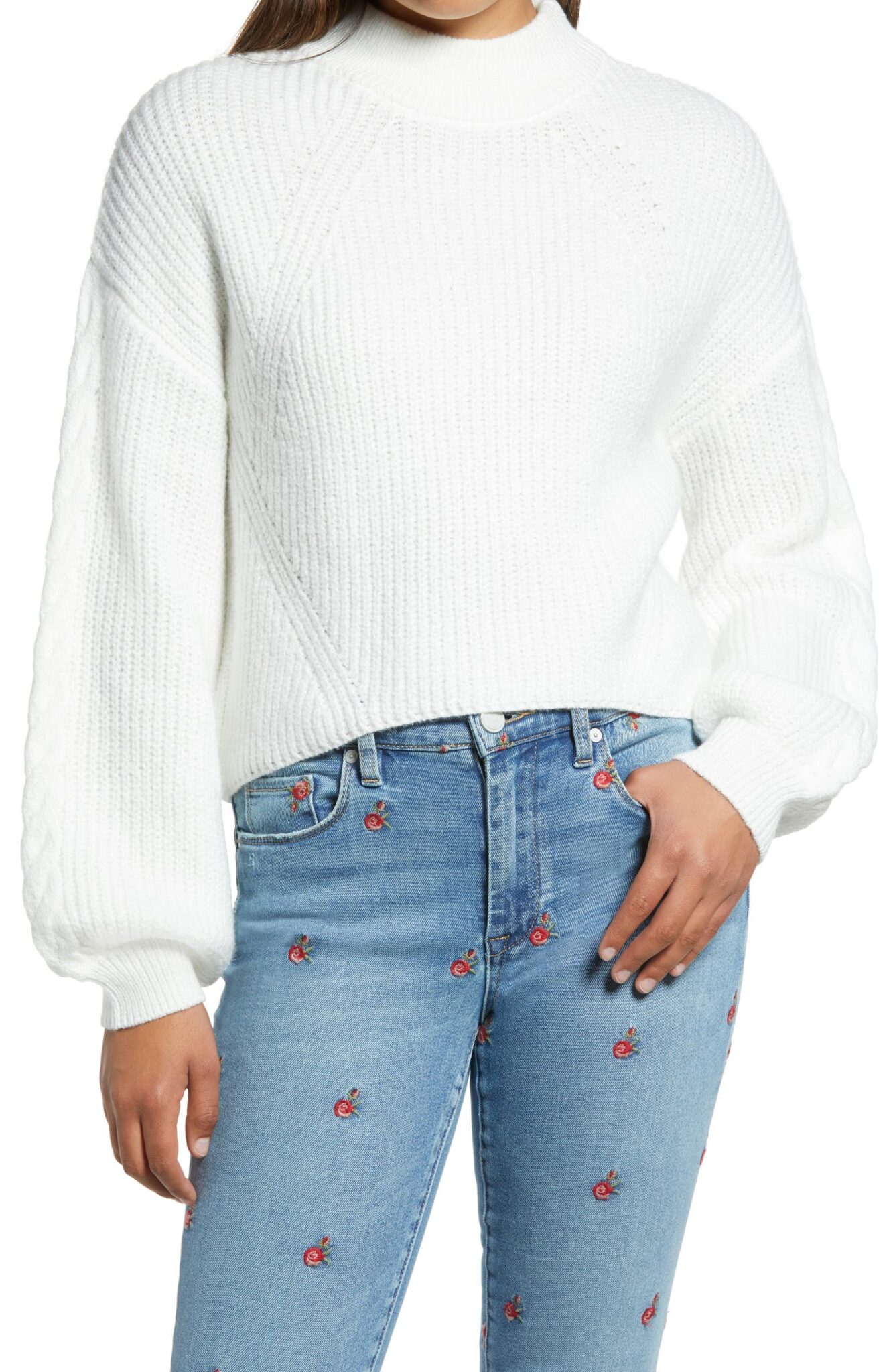 BP. Cable Knit Balloon Sleeve Sweater ($45) $18
Make the ultimate style statement in this chic pullover with balloon sleeves. Stand out from the regular crowd and watch how quickly heads turn as you walk down in this classy and sassy cable-knit sweater.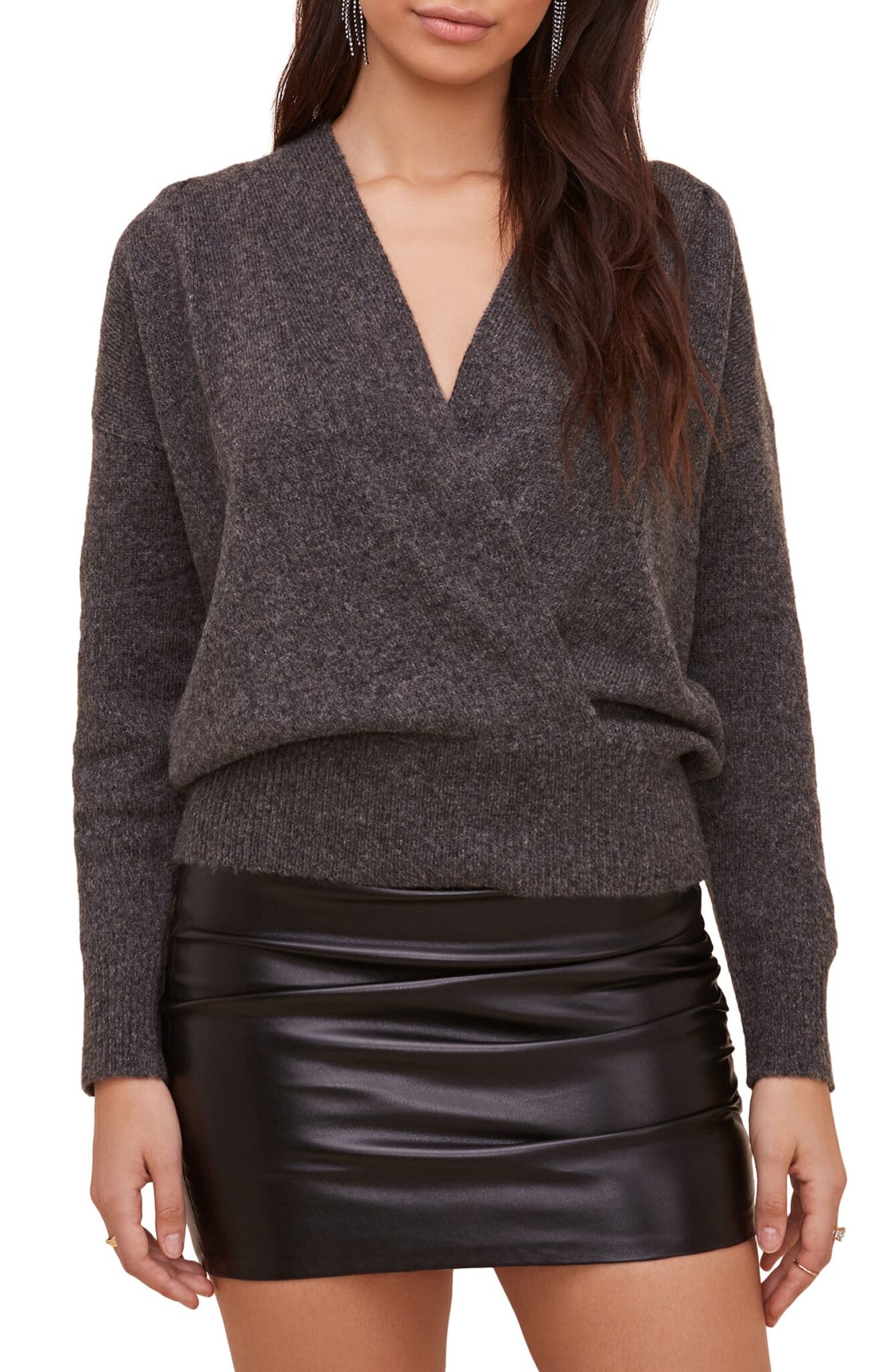 ASTR The Label Pleated Wrap Front Sweater ($65) $26.97-$35.75
A wrap-front sweater like this is equal parts elegant and edgy. This is one of those cozy sweaters that command the right amount of attention with a deep V-neck, and nobody will be shy about showering compliments on you.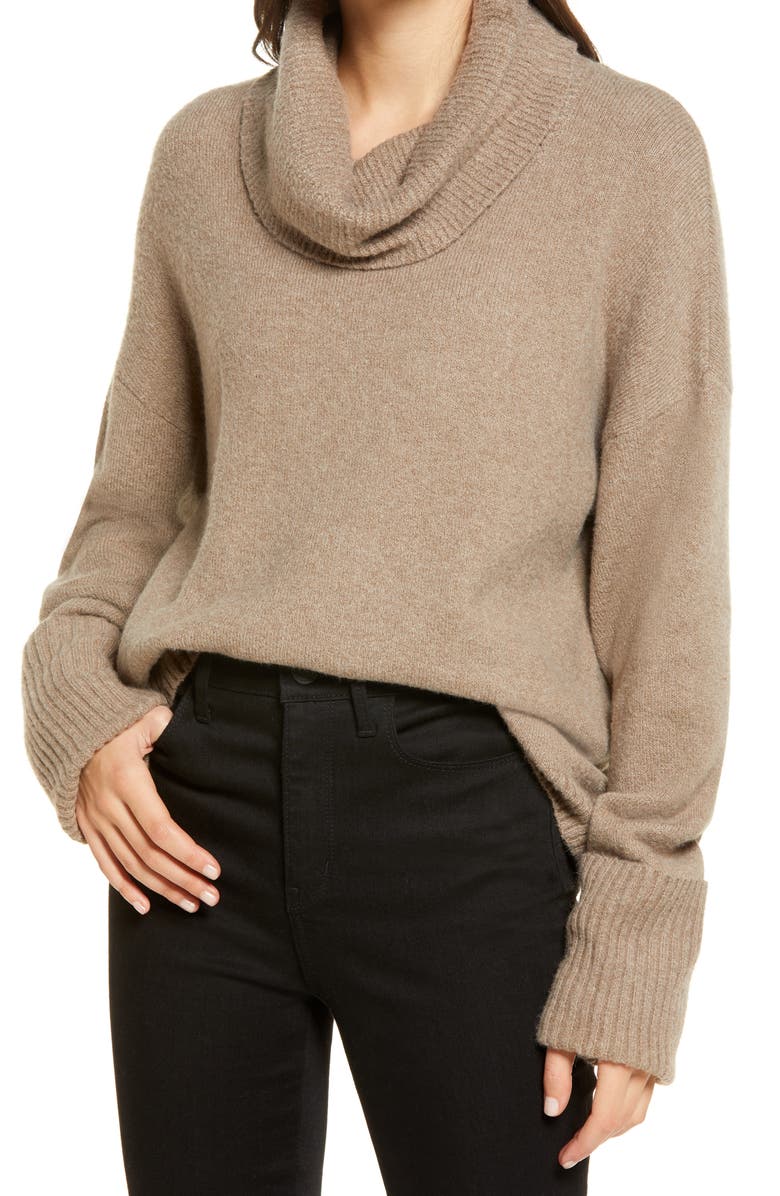 Chelsea28 Cowl Neck Sweater ($69) $28.97
It definitely doesn't get cozier than a cowl neck sweater. The slouchy silhouette makes it irresistible, and when the day is even colder than usual, you'll just want to remain snuggled up in this.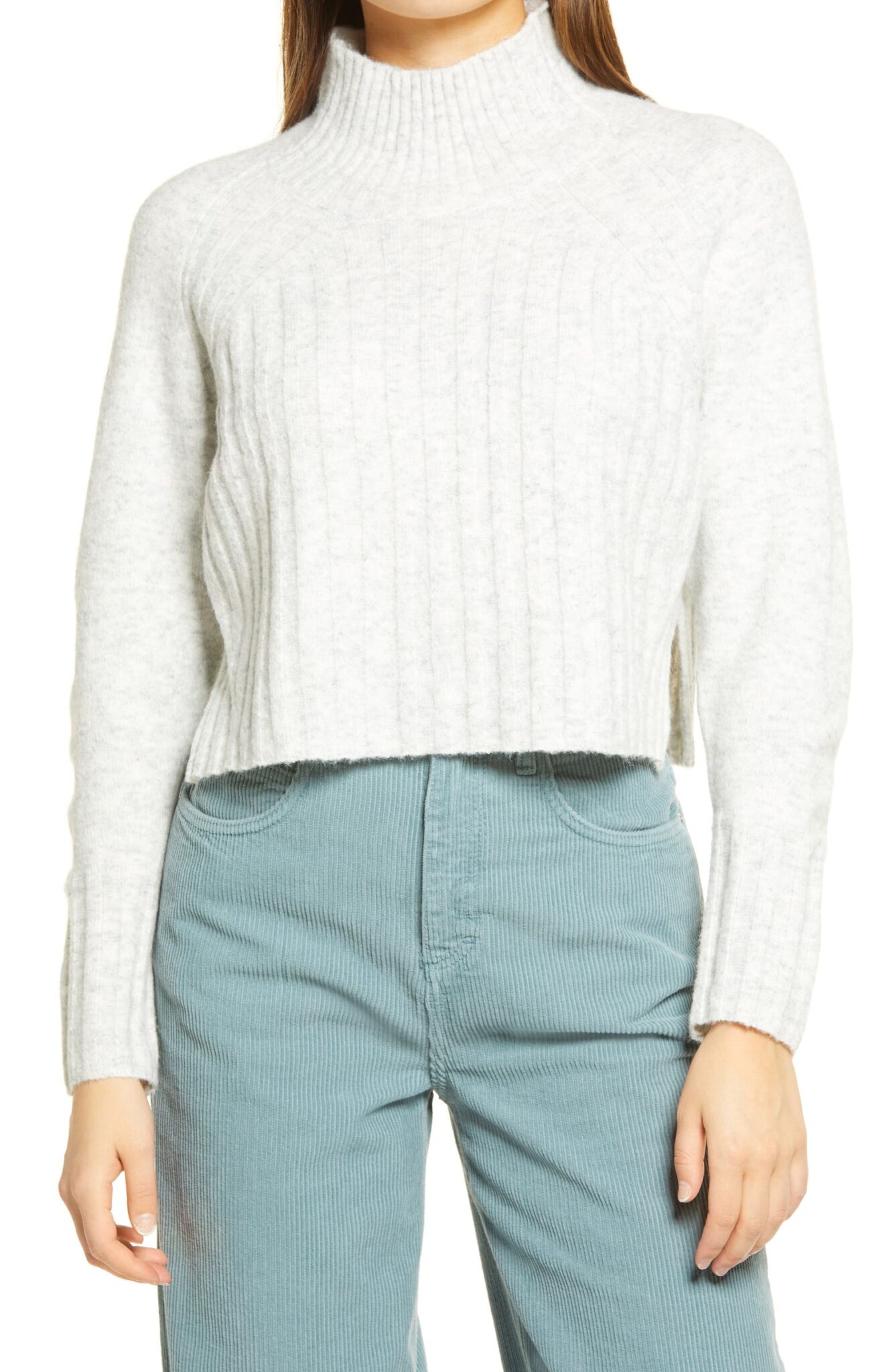 Topshop Rib Crop Turtleneck Sweater ($58) $29
This ribbed pullover will easily become a wardrobe favorite in no time. The boxy silhouette and the cozy turtleneck add a modern twist to one of the most cozy sweaters – and that is definitely worth having in your closet.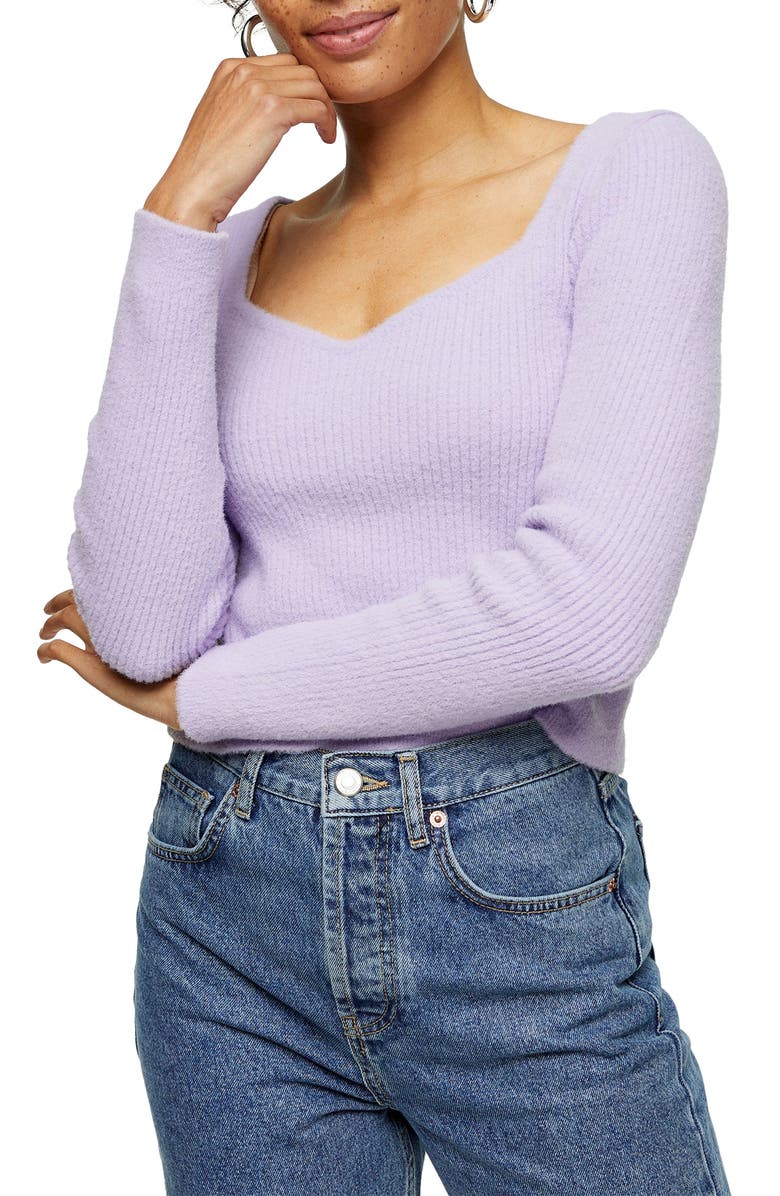 Topshop Sweetheart Neck Fluffy Sweater ($45) $30.15
Kill 'em with your amazing sense of style as you make jaws drop in this chic sweetheart neck sweater. It is irresistibly soft and has a very flattering silhouette.
Up Next: Dress to impress with these 21 amazing finds that are perfect for a date