Gift shopping is an art and a difficult one at that. Throw in a restrictive budget and you've got a huge task on your hands. This year has been chaotic for many of us – not only in terms of mental health and physical health but also financially as the economy almost went for a toss. But setting up a limited budget doesn't mean you won't find a winning gift. It's definitely possible, just slightly harder. Whether you're looking for a secret Santa gift for the office or finding something thoughtful for a loved one, we're sure you'll be happy with our list of 25 gifting products under $25.
Holiday Candle ($16.00 – $68.00)
This limited-edition candle will have your home smelling like the holiday season to lift up your spirits.
Perfect for a day of self-care, this set includes the popular Moroccan oil-infused treatment for the hair and a candle that features the brand's iconic sweet scent.
A mask is an essential that everyone needs to have and our pick is this one made with breathable layers and provides full coverage.
Mini Afterglow Lip Balm Duo ($22.00)
Holiday-themed set of two lip balms in the brand's most popular shades: Fast Lane and Orgasm.
Harmony Fleece Crewneck Pullover ($59.00) $22.12
Cozy up by the fire in this season-perfect crewneck pullover crafted from super soft fleece.
Simple and efficient six-piece set of everyday must-haves that come in a faux-leather pouch, making it easy to carry everywhere.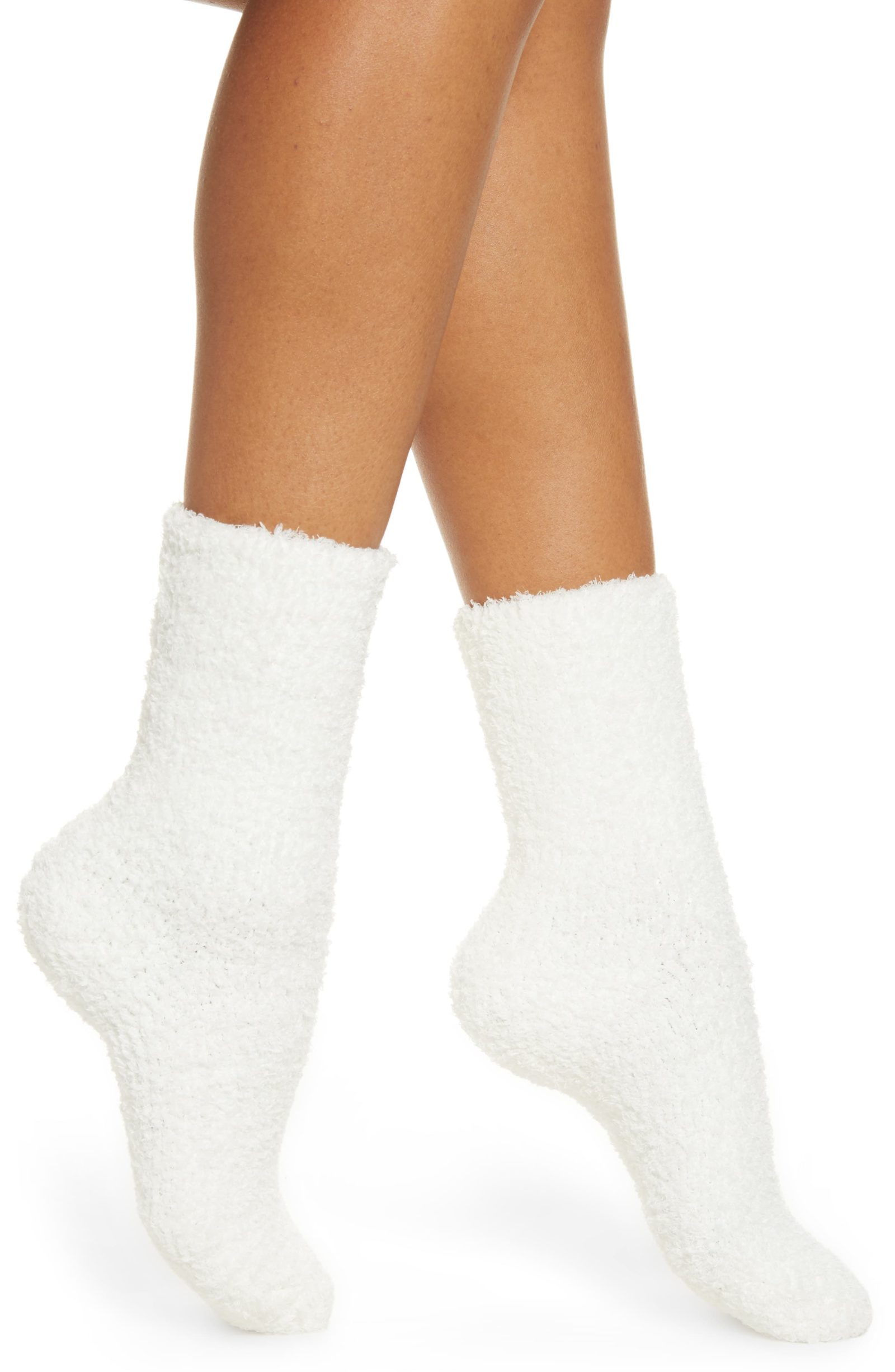 Ultra soft pair of socks with a fluffy pom detail – totally cute and supremely comfortable.
Grab & Go Set of 15 Ponytail Holders ($18.00)
A pack of assorted hair ties that are every woman needs in life.
Adorable portable charger that is available in 4 shapes.
Addison Stretch Bracelet ($30.00 $21.00)
Stunningly sparkly bracelet with crystals set on a bar that makes for an ideal gift.
My Comforting Essentials Shea Butter Ornament Set ($14.00)
Shea butter infused trio in a festive ornament packaging that'll keep your skin super soft.
Crushed Candy Cane Candle ($16.00)
A Christmas edition candle that's presented in a swirl patterned, textured vessel with red and white stripe detailing to mimic candy canes.
5 different cult favorite facial masks in one set that'll make your skincare obsessed friend forever grateful to receive it.
Pack of 10 Silicone Straws & Travel Cases ($25.00)
Stay conscious and responsible by carrying a silicone straw with you everywhere. This pack comes with 10 assorted straws, 4 travel cases and cleaning squeegees.
Truly a must-have for a rejuvenating shower routine, this set contains Milk and Mint Bar Soap, Lavender Moon Soap, and Shea & Olive Lip Balm.
Ghanaian Coconut + Moroccan Almond Butter ($24.00)
Rich body and face moisturizer with Ghanaian Coconut and Moroccan Almond Butter to leave your skin feeling supple.
Travel Size Sugar Lip Moisturizing Trio ($25.00)
Set of sugar lip moisturizers that will keep your lips away from dryness and chapped skin.
2-Piece Zodiac Round Ceramic Trinket Box ($18.00)
Stunning glazed box with with a golden constellation design that's great to store little trinkets and things.
Cocooning Time 3-in-1 Spa Pedicure Set ($20.00)
Relax, unwind and give yourself an at-home pedicure with this 3-in-1 set.
Cutesy face masks with prints on top that's washable and provides full coverage.
Pamper your feet with this blissfully soft slipper that'll make you feel like you're walking on clouds.
Quirky Airpod cases that are absolutely perfect for your younger cousins and friends.
MINO S Bluetooth® Speaker ($19.90)
Bust a move with this compact and durable Bluetooth speaker that is easy to take with you everywhere you go.
The OG in the brow game, this set is sure to impress anyone you gift it to.
Give your cooking-obsessed friends this enamel coated cookwear.
Up Next: 21 Best Makeup and Skin-Care Items on Nordstrom That Are Perfect Gifts For The Holidays