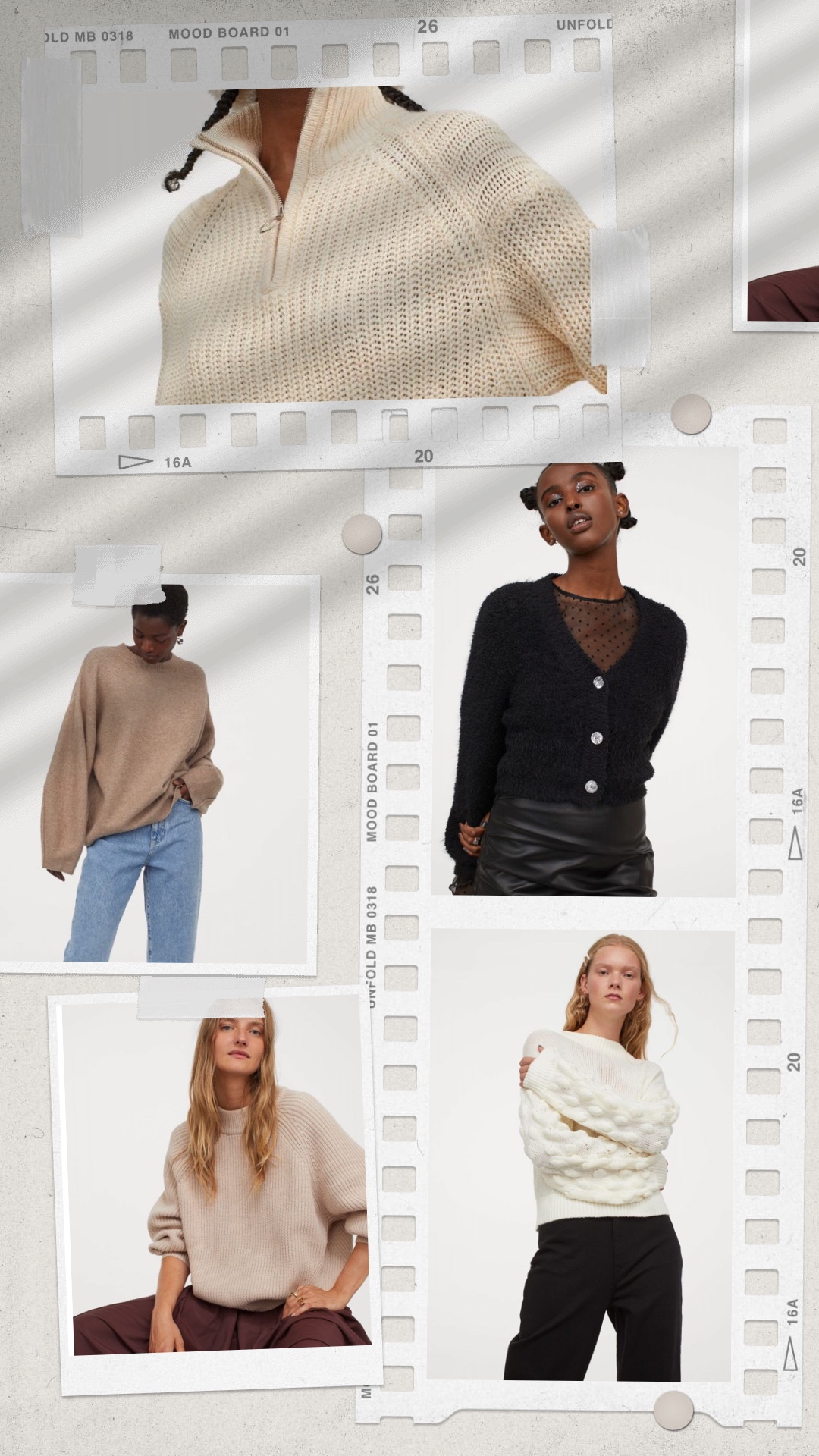 Sweater weather has been upon us for a few weeks now. As the temperature continues to drop, the sweater collection in the wardrobe continues to get cozier and chunkier. But, we know you are tired of the basic silhouettes and hues that these sweaters come in. Thank god for H&M, where a gamut of sweaters in vibrant colors and minimalistic styles are up for grabs. So, whether you are looking for neutral cardigans or timeless knits, this online shopping destination is filled with sophisticated fashion pieces – and when a cozy sweater exudes an opulent vibe, who can turn a blind eye to it? 
Scroll below to check our edit of 21 coziest sweaters for winter on H&M, and if you fall in love with any of them, don't hesitate to add them to your virtual shopping cart!
We love this soft knit sweater with a zip up high collar and drop shoulders in this adorable powder beige hue. 
Knit Mock-turtleneck Sweater $34.99
This boxy style soft knit sweater composed of wool has a mock turtleneck with roomy sleeves.
Gorgeous purple colored knit sweater with a V-neck and raglan sleeves that's accentuated by ribbing at the cuffs, hem and neckline.
Don't you just want to snuggle up in this fluffy knit sweater?
This boxy sweater has a stand-up collar, wide sleeves and heavily dropped shoulder that makes it look effortlessly chic.
Classic cable knit pattern on this soft knit sweater with a relaxed silhouette that is an absolute essential for the season.
Ribbed Turtleneck Sweater $24.99
We're totally obsessed with this dusty rose turtleneck sweater with rolled edges on the neckline, hem, and cuffs.
Balloon-sleeved Sweater $24.99
This soft knit sweater features textured-knit balloons on it's long sleeves that add an element of interest.
Dropped shoulders, wool knit, and boxy silhouette makes this sweater the epitome of comfort.
Glam buttons elevate this scrapped cardigan with a fluffy finish.
Warm and stylish, this textured knit sweater comes in classic white and dark mustard. 
Soft cable knit sweater with intricate patterns all around the fabric that's perfect to lounge around in. 
This fluffy sweater has an interesting collar and wrapover V-neck that's comfy and snazzy.
This neon orange oversized sweater in chunky-knit fabric is sure to garner attention.
Laid back style sweater in a loose knit and straight cut style with slits at the sides that'll pair well with any bottoms and boots.
Rib-knit Wool-blend Sweater $34.99
This boxy fit rib-knit sweater is so versatile!
We cant get enough of this super soft and comfy fine knit sweater with decorative seam and ribbing in a gently oversized fit.
Mock turtleneck sweater with raglan sleeves, ribbing and shaping seams that's perfect for all your autumn activities. 
Ribbed Mock-turtleneck Sweater $24.99
In love with this fitted rib-knit sweater with short slits at the cuffs of its long sleeves. Wear it on it's own for the fall or layer your favorite coat over it for the winter. 
Balloon-sleeved Sweater $17.99
Instagram-worthy bright and eye catching neon green sweater in a cozy double-knit fabric accentuated by balloon sleeves.
V-neck Wool-blend Sweater $29.99
Casual wool-blend sweater with slits on either side that's available in 4 neutral colors to seamlessly fit into your wardrobe.