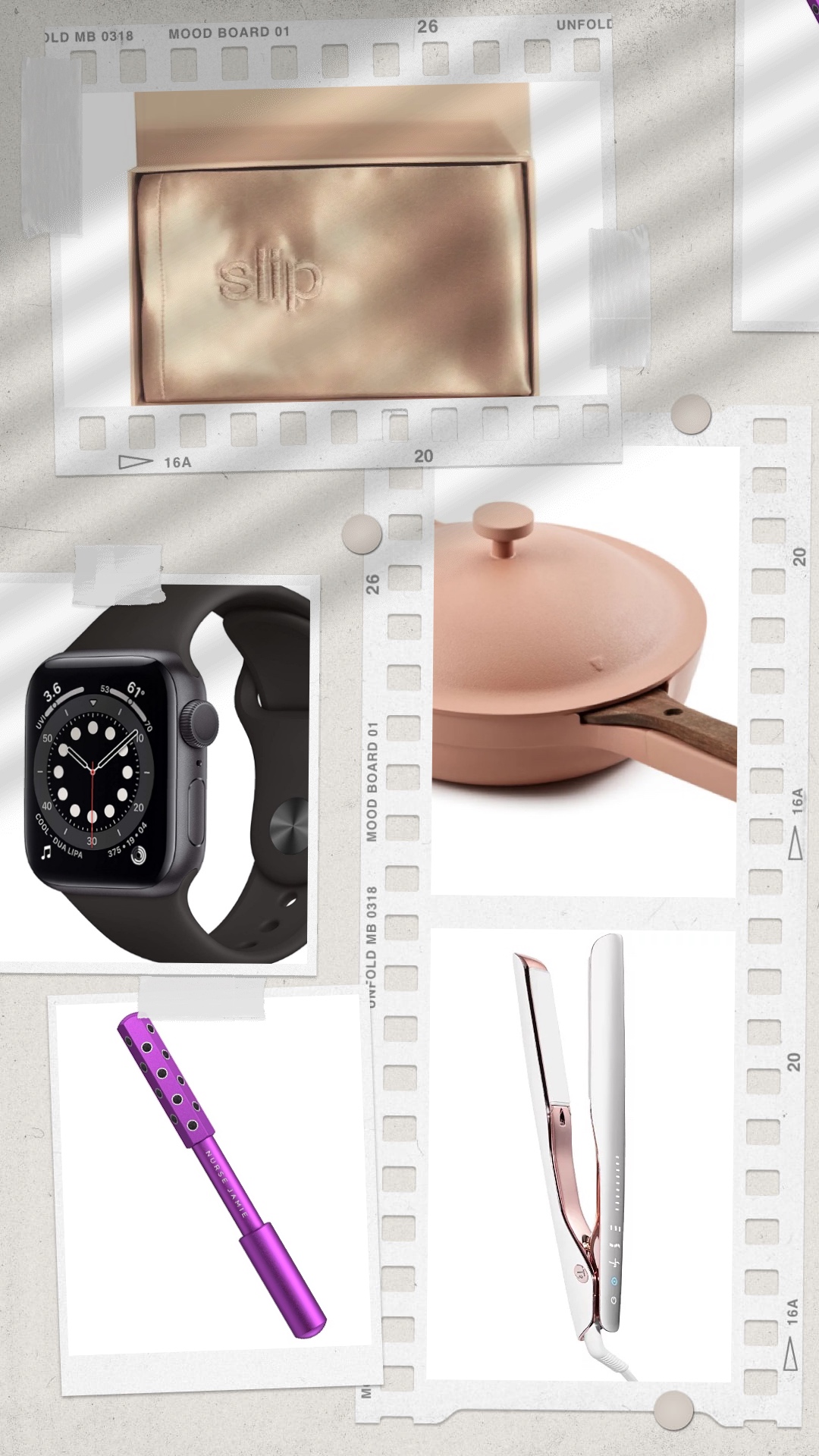 Everyone loves the holiday season, but only until they don't have to pick out gifts for their loved ones. What if we tell you this holiday season, we have picked them out for you. In fact, we didn't just make a list, we have bought the products mentioned in our list! Yes, you heard that right. We have handpicked the top 10 gifts from an array of gifting options on the internet, and we assure you, this list has the perfect gift for everyone you know. After all, we have rounded up all our personal picks. This holiday season, you are going to be the one with the most thoughtful gifts because we have the list of most wanted and highly reviewed items. And FYI, we completely urge you to pick a few of them for yourself as well.
Lucea ID 1" Smart Flat Iron with Touch Interface
The Lucea ID 1" Smart Flat Iron with Touch Interface by T3 is the best thing you can add to your haircare collection. This straightening flat iron instantly gives you smooth and shiny hair without any damage. The best part is, it is a smart iron with a brilliant touch interface. In fact, it is the best professional flat iron that provides an unbelievable styling personalization. Moreover, its heat settings are expertly automatic. It adjusts according to your hair texture, hair length along with color treatments as well. In addition to that, its styled edge design is iconic. You can enjoy its convenience via longer plates, precision control hinge, along with auto world voltage. Moreover, it has a 360 degrees swivel cord and a 2-year warranty as well.
The Clean Routine Discovery Set
This Model Off Duty Beauty Gift Set consists of all the must-have skincare products to give you a complete skincare experience. The Clean Routine Discovery Set is the perfect pick for a healthy glow. It consists of four skincare essentials; namely, the Superfood Skin Glow Mask, the Youth Power + Repair Cream, the Youth Glow Day Serum along with Supercharged Brightening Eye Cream. Everyone needs skincare, that is why this set represents you genuinely care.
New Apple Watch Series 6 (Space Gray)
This smartwatch is the best gift you can gift your loved one. Apple has always outdone itself. This watch is an amazing GPS model that lets you pick up calls and even reply to texts right from your wrist. Along with that, it is capable of instantly measuring your blood oxygen with the help of its brilliant sensor and apps. In fact, you can check your heart rate and rhythm with its inbuilt ECG app. Furthermore, it is almost 20% better than series 5. Track and compare your daily activity on the classic Apple Watch.
Fizzi Sparkling Water Maker (Black) with CO2 and BPA free Bottle
We have all been attracted by sparkling water in hotels and restaurants. But what if we tell you you can make your own sparkling water at home with a click of a button. The Fizzi Sparkling Water Maker comes with a Co2 cylinder, along with a 1-liter reusable bottle. Powered by a Co2 cylinder, this is a very exciting gift pick. The fun part about this water maker is it is compatible with all the soda flavors out there.
Pure Silk Adult Pleated Face Covering
Pure Silk Adult Pleated Face Covering is a washable and reusable face mask that is a suitable gift. It comes with an adjustable nose wire along with adjustable ear straps. This mulberry silk mask is a non-medical mask that facilitates covering your face. This mask has a double-layer fabric that has a 100% cotton lining along with a 100% silk exterior. You can conveniently machine wash and re-use it.
Uplift Facial Massaging Beauty Roller
The Nurse Jamie's UpLift Massaging Beauty Roller is a unique beauty tool you can pick for a gift any day. It is an innovative hexagon shape beauty roller for the face as well as the body. It is formulated with the help of 24 special massaging stones that work tirelessly to energize, revive as well as uplift your precious skin. Morever, it is one of the celebrity favorites as it is super easy to use, portable and instantly effective. Pick this for a renewed and youthful-looking skin.
This Pure Silk Pillowcase by Slip is a comforting pillowcase with anti-aging, anti-bed head, and anti-sleep crease effect, It is the perfect pillowcase for your precious beauty sleep. This pillowcase can transform your sleep into a luxury beauty treatment every night. Moreover, it is made up of pure silk both inside and out. In fact, it is one of the most recommended products by dermatologists, hairdressers, plastic surgeons, as well as beauty experts.
Candles have always been a safe pick when it comes to gifting. This limited-edition candle set by Diptyque features five pleasant candles that are filled with mild fruity as well as floral fragrances. This unique set has five different fragrances – baies scented candle, roses scented candle, figuier scented candle, tubéreuse scented candle, and lys scented candle.
We have been particularly impressed by the Kitchenware collection from Our Place; especially, the brand's Always Pan. It is in fact one of the best-selling products from the brand. Trust us, you can never go wrong with a kitchen essential item as a gift. This pan alone can replace 8 regular cookware pieces. This exclusively good looking, non-toxic, and nonstick pan with a ceramic coating is the perfect gift you can pick.
Midnight Zen Sleeping Face Oil
This Model Off Duty Beauty facial oil can be a grand gesture of care and love. It is a very thoughtful gift because it is the best skincare product out there. Formulated with chamomile and lavender, this product has enormously effective anti aging properties. Apart from the amazing skincare benefits, this product is specially gift-worthy because it is completely natural, vegan, non-toxic, and clean. this also makes it a safe pick beacuse it suits every skin type.
Up Next: 7 Skincare Gems That Are Responsible For Transforming Our Skincare Routine