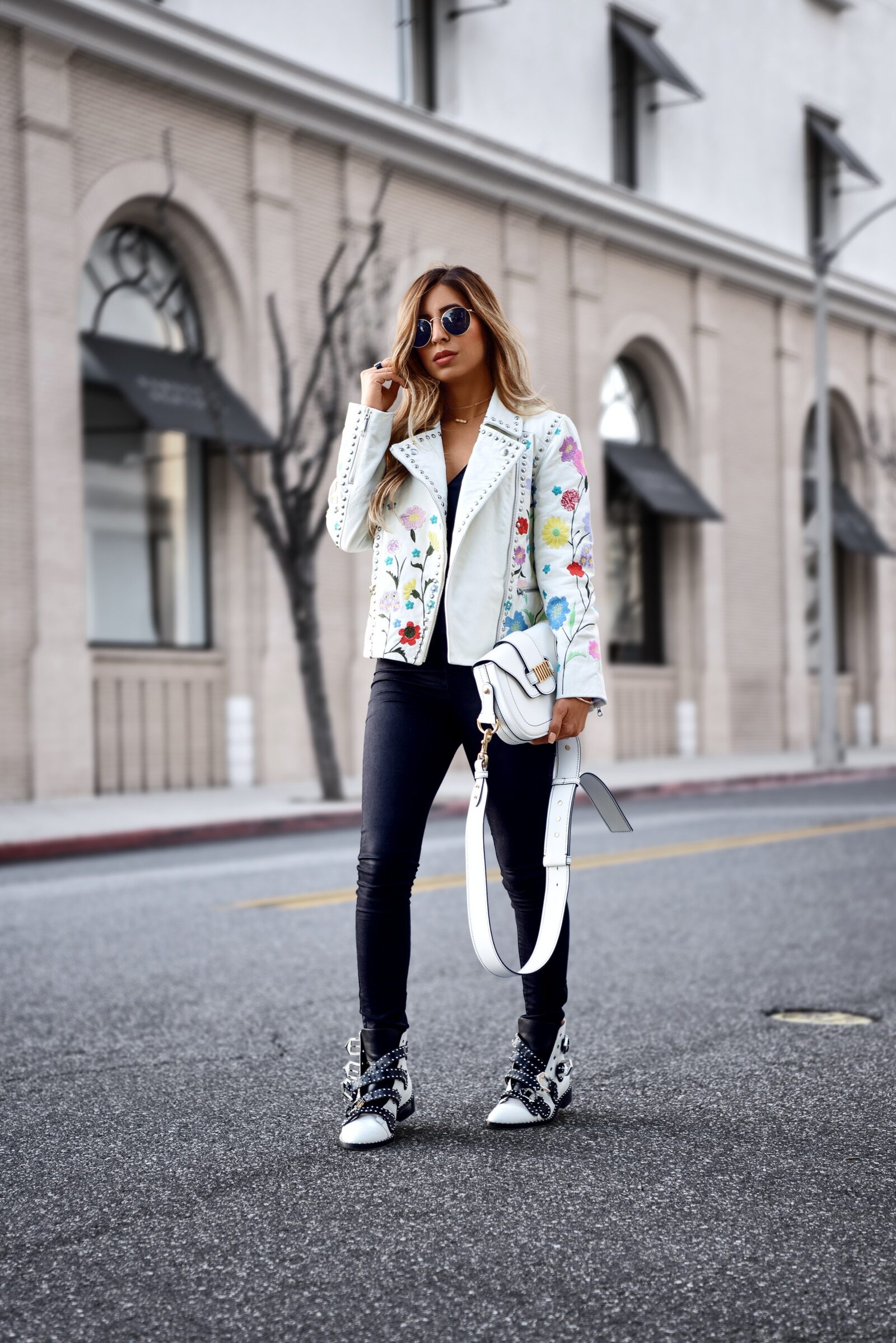 Jacket : ASOS FLORAL EMBROIDERED JACKET   | Boots : GIVENCHY BOOTS  | Jeans : PAIGE TRANSCEND HIGH WAIST SKINNY JEANS  |  Bag : DIOR D-FENCE SADDLE BAG

Of late, the embroidery trend has been making quite a statement and taking over the runway and streets, and I am completely obsessed with it. For me, nothing captures that Spring feeling like the bright colors and creative designs of embroidery. There is something special about the embroidery trend that I can't quite put my finger on. Is it the contrast of the ornate embroidery on the silhouette? Or is it the statement-making colors and unique detailing? Either way, there is nothing I don't love about them. This trend offers a variety of completely different looks to go with anyone's wardrobe whether you are girly or edgy.
EMBROIDERED JACKET
An embroidered jacket can be a stand out piece, and can add the perfect touch to any Spring look. Embroidery adds a feminine side and softens the look of any jacket.
EMBROIDERED JEANS
Denim is a classic piece of clothing, but embroidery can spice it up. They're available in a variety of different styles – ethnic designs and flowers are the most popular.
SHOES / ACCESORIES / BAGS
The embroidered trend can be hard to pull off, especially at work. An embroidered accessory, however, is a subtle way of adding more Spring excitement to your work attire (or in general) this season.
DRESSES
You can find a variety of embroidered dresses. You can go with a full-length embroidered dress or with splendid details on the cuffs, collars, or shoulders. The choice is up to you and how bold of a statement you are willing to make.
TOPS
If you're looking to "ease" into the embroidery trend, before you feel entirely confident in it, you can opt for a blouse or a shirt.
Which one- of the 5 ways would you like to incorporate the embroidery trend this spring/summer?
[show_shopthepost_widget id="2674871"]