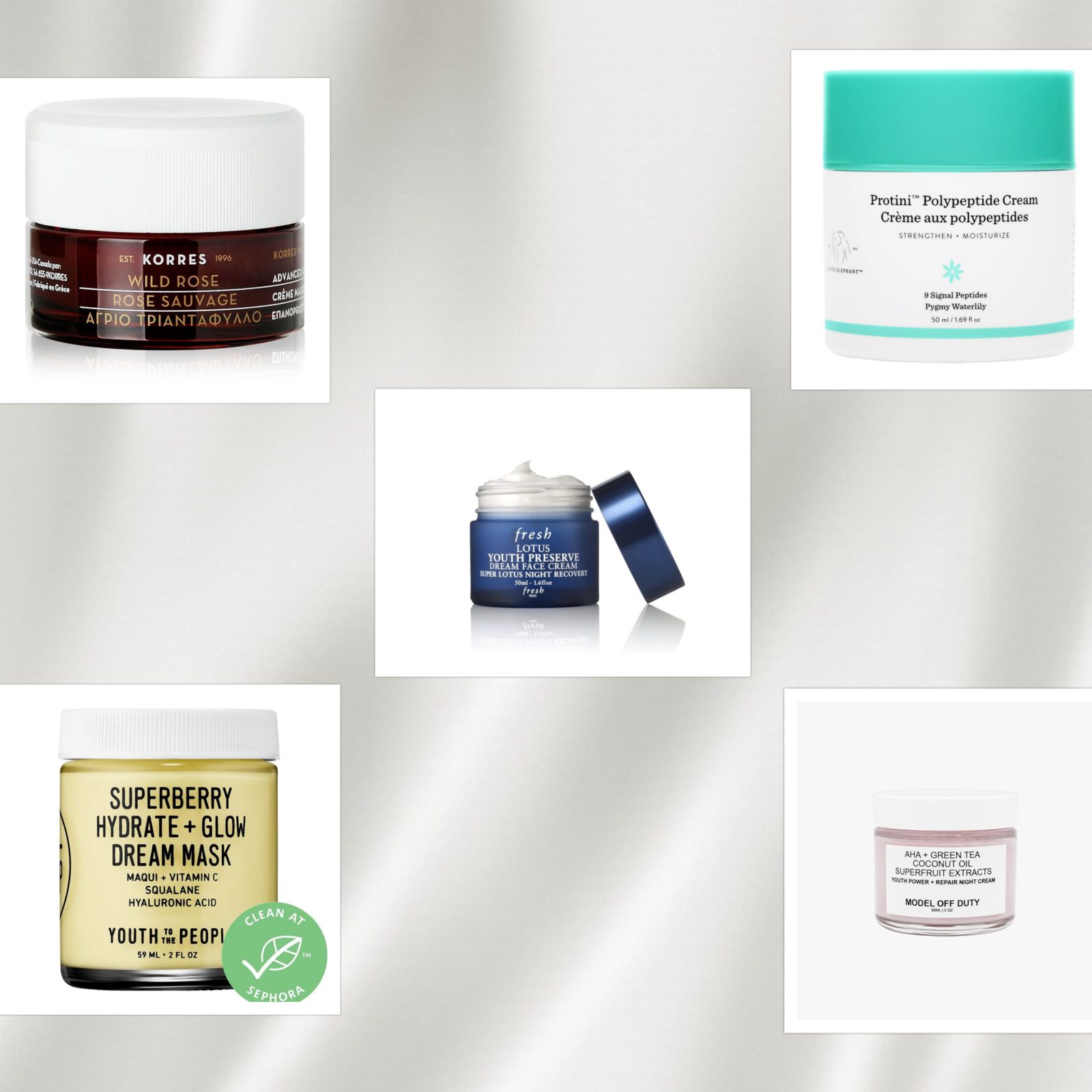 Pollution, stress, sun, and makeup – these are enough to damage your skin every single day. To bring back the lost radiance, effective night cream with amazing ingredients is a must.
The skin doesn't act the same way at night as it does during the day. When you are asleep at night, the skin is active and tries to repair the damage caused during the day to regenerate your skin and make it fresher the next morning. That's the reason why you need the right night cream for your daily skincare routine.
Night creams contribute to healthier skin every day. Hence, they must be chosen with the utmost care by researching the key ingredients. Here are a few night creams that we suggest for a glowing skin every morning.
Youth To The People Superberry Hydrate + Glow Dream Mask ($48)
Youth To The People Superberry Hydrate + Glow Dream Mask with Vitamin C is an overnight mask that thoroughly hydrates, plumps, and brightens your skin, irrespective of the skin type. This is an award-winning overnight treatment powered by squalane, hyaluronic acid, glycerin, and betaine, which makes the skin plump and hydrates the skin by locking in the moisture. Antioxidant-rich super berries and THD ascorbate (Vitamin C) take care of the dullness and uneven skin tone, and you wake up with a brighter and glowing skin the next morning.
Promising review: "I never leave reviews. In fact this is the first review i've left on a product since downloading the sephora app 2 years ago. but this product is INCREDIBLE. I was initially disappointed when I received it in the mail after ordering online and saw how small the jar is, but you can use a very minimal amount to cover your whole face and neck. I've used it every night for the past 2 weeks and barely made a dent in it. It leaves my skin so soft and healthy and glowing in the morning. Will absolutely be repurchasing when i run out" – mcgorts
Fresh Lotus Anti-Aging Night Moisturizer ($48)
Fresh Lotus Anti-Aging Night Moisturizer is a lightweight night cream powered by antioxidant-rich super lotus, which is the main ingredient you need to leave on your skin overnight for a more youthful appearance every morning. The moisturizer leaves the skin visibly refined and firm with an improved bounce. It has peach leaf extract that helps the skin recover from stress, leaving it radiant and youthful.
Promising review: "I can't get enough of this product!! It smells good, feels amazing when I put it on and I feel like it actually helps my skin! I will continue to buy this over and over again! Have always heard lots about this brand and I was excited to try it, not disappointed at all." – SwedishPeaches
Model Of Duty Beauty Youth Power + Repair Night Cream ($58)
If you are looking for a miracle cream that works overnight, go for Model Off Duty Beauty Youth Power + Repair Night Cream. The cream repairs and regenerates skin cells while you sleep and improves the overall skin texture at the same time. The product has a powerful combination of emollient skin superfruit actives, which leave the skin nourished and radiant.  
Promising review: "This is a product that I was really looking forward to trying. I love overnight products. A mask, anything hydrating, I love them. This one is so good! I thought that it was more of an overnight mask but, it's more of a thick moisturizer. It's a beautiful pale pink color. It smells like red wine. I don't know why but, it does and I'm not mad at all. The texture is really cool. It's almost whipped. So- after washing my face at night I like that it gets so deep into the skin. The moisture penetrates deeper than just the outer layer of skin. It makes my skin feel so much softer overall. Not just when it's on but, it does feel better over all. It is a small bottle for the price but, you do not need a lot. Literally a little bit on the finger tip and you're good to go. I am obsessed with it and I hope to have it in my nightly routine for a long time." – Marti
Drunk Elephant Protini™ Polypeptide Moisturizer ($68)
Infused with protein, Drunk Elephant Protini™ Polypeptide Moisturizer combines peptides, growth factors, amino acids, and pygmy waterlily to improve skin tone, texture, and firmness. Suitable for every skin type, this night cream is a guaranteed solution to skin issues like dryness, dullness, uneven texture, as well as loss of firmness and elasticity. With regular use, lines, wrinkles, and sun damage seem to disappear, resulting in a visibly strong and healthy skin.
Promising review: "Writing reviews is not really my thing but omg this is THE best moisturizer EVER. This came as a sample for birthday and no joke the first application made it immediately obvious that this was a game changer. I'm in love love love love loveeeeee. It is 10000% worth the money." – lisapdx
KORRES Wild Rose Night-Brightening Sleeping Facial ($48)
KORRES Wild Rose Night-Brightening Sleeping Facial is an overnight facial that comes in a jar with vitamin C and wild rose extract as main ingredients to improve dull, uneven skin tone and texture for brighter, smoother-looking skin every morning. The unique soufflé texture melts into the skin for intense hydration and brightening while you sleep, and offers a super dose of glow to your skin.
Promising review: "Best moisturizer I have ever used! I was breaking out like crazy and this cleared up my skin within days, got rid of all texture, smoothed out my fine lines and left me glowing. Haven't broken out since and keep getting compliments on how good my skin looks. Will keep repurchasing!" – mtlkim