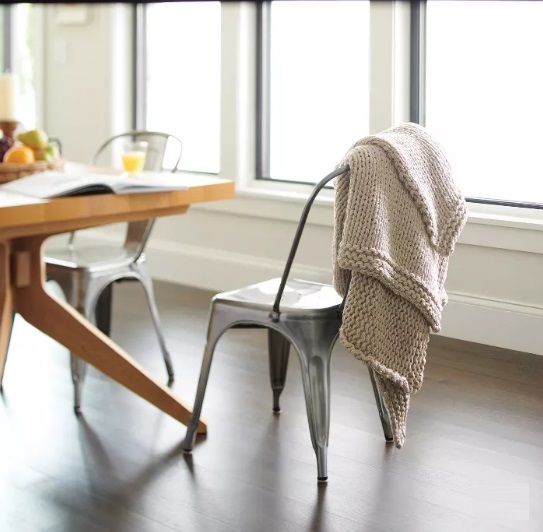 Nothing can beat the feeling of arriving home after a hectic day at work and then curling up in your throw blanket. Throw blankets are ideal for those long cold nights. Not just this, they are warm, snuggly, and also elevate the decor of your abode. The home decor pictures you see on Instagram always have a throw blanket, and that's because they accessorize and complete the home's overall look. Nowadays, most of us are lounging around in our homes, and throw blankets are perfect for making the lounging comfier. From enjoying hot chocolate in bed to watching movies on the couch, a throw blanket is everything you need for a cozy evening.
So, to make fall all about snuggly days and warm nights, here are some top-selling throws. Be it weighted throws for easing the anxiety or chic ones for accessorizing the abode, this list of throws is perfect for everyone. Jump ahead, and check out these cozy top-selling throws to welcome fall with a warm hug.
Whistler Throw Blanket ($98)
This cozy throw blanket is also available in four different colors. The supersoft plush of this throw is guaranteed to give you a peaceful sleep.
Chunky Handknit Throw ($149)
Nothing feels so good as wrapping yourself in this neutral-toned chunky handknit throw.
Chunky Knit Throw Blanket ($49.99)
Thanks to this chunky throw blanket, we don't have to struggle with cold nights anymore.
Chunky Double Knit Handmade Throw Blanket ($69.99)
Accessorize your bedroom by adding this blush colored handmade throw.
Colossal Chunky Hand-Knit Throw ($169) $135
This one is extra stylish, cozy, and will magnify the chicness of your sofa.
Faux Fur Channel Throw ($129) $103
Made up of silky fibers and luxe velvet binding, this throw is worth your attention.
Colossal Handknit Throws ($169) $83.99
The white tone and handknit material of this throw only exudes opulence.
Heathered Boucle Fringe Throws ($49)
Lend a charm to your living room with this fringe throw that will look perfect with every kind of furniture.
Quilted Throw ($30.99) $26.34
Give a new luxurious look to your abode with this quilted throw offering a prewash finish.
Cable Knit Popcorn Stitch Throw ($99.99) $48.97
Enjoy watching your favorite tv shows by wrapping yourself in this cable knitted throw.
Bliss Plush Throw ($39.50)
This plush throw is here only to make your fall nights all comfortable and warm.
Luxury Faux Fur Throw ($18.97)
This one is a lovely addition to any bedroom or living room.
Fabian Faux Fur Throw ($65.99) $47.99
Bid goodbye to anxiety with this weighted fur throw.
Coastline Plush Throw Blanket ($98)
Dial up the coziness factor of your bedroom with plush throw blanket.
Luxe™ Throw ($196)
The touch of satin in this throw makes it a must-have for everyone.
CozyChic™ Loop Fringe Throw Blanket ($180)
Wind up your hectic day by cuddling in this fringe throw blanket that offers dreamy softness.
Firn Faux Fur Throw Blanket ($258)
Made with a plush, faux-fur face and sleek micromink reverse, this throw is wonderful pick.
Pintuck Faux Fur Oversize Throw Blanket ($69)
This beige colored oversized faux fur throw will amplify the cozy look of your abode.
Bliss Fuzzy Throw ($98)
You have got yourself the perfect throw that feels smooth and looks chic.
Jersey Rope Throw Blanket ($99)
A throw with chunky rope stitch that will look chic with every furniture of any room.