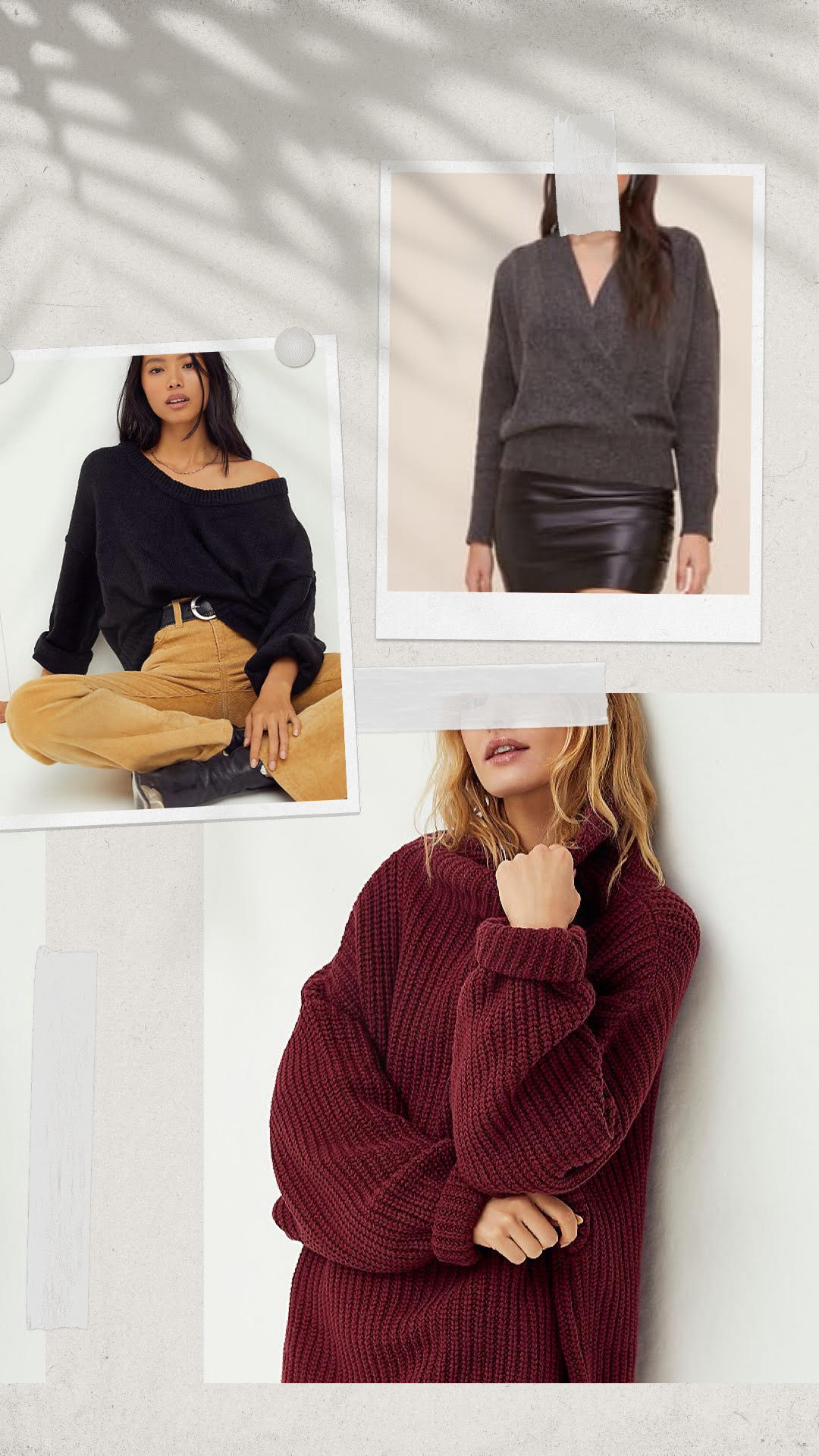 We love this season full of snowfall, fireplaces, and of course, sweaters! Our obsession with the winter and sweaters is just as crazy as yours! You can never have enough chunky and oversized sweaters to cuddle up in when the weather gets freezing cold.
All you need to get through the season in maximum comfort and maximum style is a rich, plush sweater to keep you snug and warm. Amp up your style this season with our top picks of unbelievably cozy sweaters.
1. V-neck Sweater
Leith Dolman V-neck Sweater ($49) $22.04
This lightweight pullover is essential for effortless layering. It features a relaxed neckline and is ideal to pair with a stunning puffer jacket.
2. Cashmere Turtleneck Sweater
Halogen Cashmere Turtleneck Sweater (Regular & Petite) ($98) $36.67
You can't go wrong with a classic black and white stripe pattern. Team with your favorite pair of denim for a laid-back look.
3. V-neck Cashmere Sweater
Halogen V-neck Cashmere Sweater ($98) $36.67
V-neck sweaters are very flattering. Our pick is this dark grey option with wide ribbed trimming at the cuffs and the hem.
4. Mock Neck Sweater
Free People Sweetheart Mock Neck Sweater ($78) $37.42–$78.00
This mock sweater is detailed with beautiful cable knit pattern and looks stunning with any bottoms.
5. One-Shoulder Pullover
Treasure & Bond Ribbed One-Shoulder Pullover ($69) ($51.75–$69.00)
If you're looking for a distinctive option, pick this one-shoulder pullover. Add a pair of sleek black trousers and some boots to complete the look.
6. Brookside Sweater
Free People Brookside Sweater ($128) $56.17
Whether you want to lounge at home or step out for a quick errand, this cozy sweater will have your back.
7. Crewneck Cashmere Sweater
Halogen Crewneck Cashmere Sweater ($98) $36.67
Picking a chic outfit couldn't be simpler with a classic cashmere sweater. The neutral tone lends it sophistication. Match it with a flowy silk skirt and gold jewelry to dine out.
8. V-neck Tunic Sweater
Halogen Cozy V-neck Tunic Sweater ($69) $21.72–$69.00
This tunic has a longer silhouette and will look amazing with faux-leather leggings to keep you cozy on a chilly day.
9. V-neck Top
Socialite V-neck Top ($39) $18.67
For a casual day in, this super soft V-neck top is a must-have. Throw on your cozy sweatpants and you've got the most comfortable outfit.
10. Crewneck Sweater
Caslon Crewneck Sweater ($59) $26.54
This knitted crewneck sweater is a basic essential that you need in your closet. It has a relaxed fit that makes it easy for layering.
11. Cowl Neck Sweater
Free People BFF Cowl Neck Sweater ($98) $37.42
This fuzzy sweater with a cowl-neck is so comfortable that you won't want to take it off. Team it with some white pants and trendy boots and you're set.
12. Pleated Wrap Front Sweater
ASTR the label Pleated Wrap Front Sweater ($65) $26.81
Be the center of attention in this wrap front sweater that you can dress up or down. It's versatile to wear for any occasion.
13. Waffle Weave Sweater
1.STATE Lattice V-Back Waffle Weave Sweater ($59) $22.12
Waffle weave sweaters are so cozy! We love this dark toned option with a cut-out on the back that gives it a more stylish look.
14. V-Neck Blouson Top
GIBSONLOOK V-Neck Blouson Top ($49) $22.04
Pristine white sweater with trendy blouson sleeves that is equally comfy and stylish. Pair with sleek white trousers and white boots for an all white winter look.
15. Turtleneck Sweater
Free People Swim Too Deep Turtleneck Sweater ($128) $52.42
You'll want to live inside this roomy, oversized sweater with a warm turtleneck all day, every day. Tuck the front in a light wash denim for a casual, laid-back vibe.
16. Funnel Neck Wool & Cashmere Sweater
ALLSAINTS Ridley Funnel Neck Wool & Cashmere Sweater ($260)
Luxurious and rich wool & cashmere blend lends this sweater it's impeccably soft texture.
17. Ex-Boyfriend Pullover
Madewell Donegal Jason Ex-Boyfriend Pullover ($78) $23.40
Attractive silhouette and buttery smooth composition will make this pullover a favorite in your wardrobe.
18. Cowl Neck Cocoon Pullover
Free People Cowl Neck Cocoon Pullover ($68) $29.92
Stay in, cuddle up in this cocoon pullover with a slouchy cowl neck with your favorite romcom and relax.