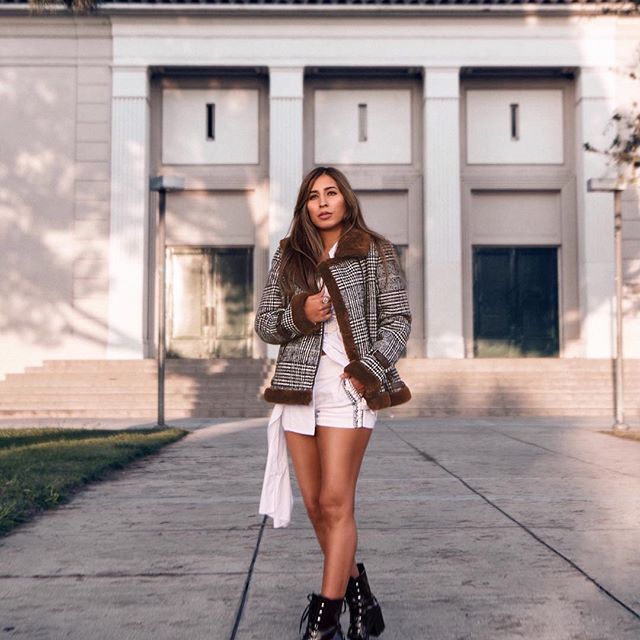 So you've been seeing Instagram girls strutting around in high fashion coats and basic essentials and you probably thought to yourself: "Why can't I ever find pieces like this?". Don't worry, you're not alone. Before we cracked the code on always finding uber-stylish outfits, we faced a similar dilemma. But we have come a long way since then. Knowledge shared is knowledge squared, so we put together a bulletproof list of head-turning pieces that will help you transition from Fall through Winter. They're stylish, comfortable, and of course, wearable. Keep scrolling to see our favorite 15 pieces from Nordstrom and if you find yourself saying, "same here!" while doing so, then get the pieces that caught your attention.
x Mama Malika Sleeveless Jumpsuit ($60.00)
We love this shapely jumpsuit that hugs your curves and can be paired under all your favorite coats.
Cozy Active Jogger Pants ($49.00)
Relaxed joggers made from comfortable stretchy knit fabric to lounge in or to wear for a quick run.
Classic shirt style coat that features large patch pockets, relaxed shoulders and structured collar that'll elevate any outfit underneath.
Halogen Puff Sleeve Sweater ($69.00)
Dramatic balloon sleeves on this trendy cotton-blend sweater makes it an essential for the cold weather.
NW Mesh Long Sleeve Bodysuit ($40.00)
Sleek and sultry bodysuit that fits like second skin and is enhanced by semi-sheer mesh sleeves.
Oversize Long Sleeve Mini Sweater Dress ($75.00)
Gently oversized sweater dress made from super soft knitted wool and yarn blend that's a no brainer option for when you don't know what to wear.
Get the best of both worlds in this trendy denim jacket accented with cozy faux fur that'll easily become your go-to.
Contemporary meets utilitarian style jacket featuring several pockets and a matching belt that'll take your fall/winter looks to the next level.
Monochrome sweater crafted from super soft brushed knit fabric with a roomy silhouette that you will want to live in.
Ottoman Stitch Long Sleeve Wool Dress ($595.00)
Show off your curves in this classy and comfortable wool dress with a deep V neck and stitching details all over.
Retro style cozy fleece coat with a faux leather trim that's perfect for layering with all your favorite pieces of the season.
Take your street style up a notch with these warm joggers in utilitarian design featuring plenty of pockets.
Manhattan Belted Coat ($150.00)
Eye-catchingly sophisticated wool-kissed coat with exquisite tailoring featuring a matching belt.
Simple yet stylish ribbed sweater top that will take your look from the street to the couch
Oregon Bouclé Shirt Jacket $95.00
Take on the cold, chilly nights in this warm and sleek boucle shirt jacket that's bound to become your new favorite.
Up Next: 7 F/W 2020 Runway Styles That Are As Practical As They Are Chic