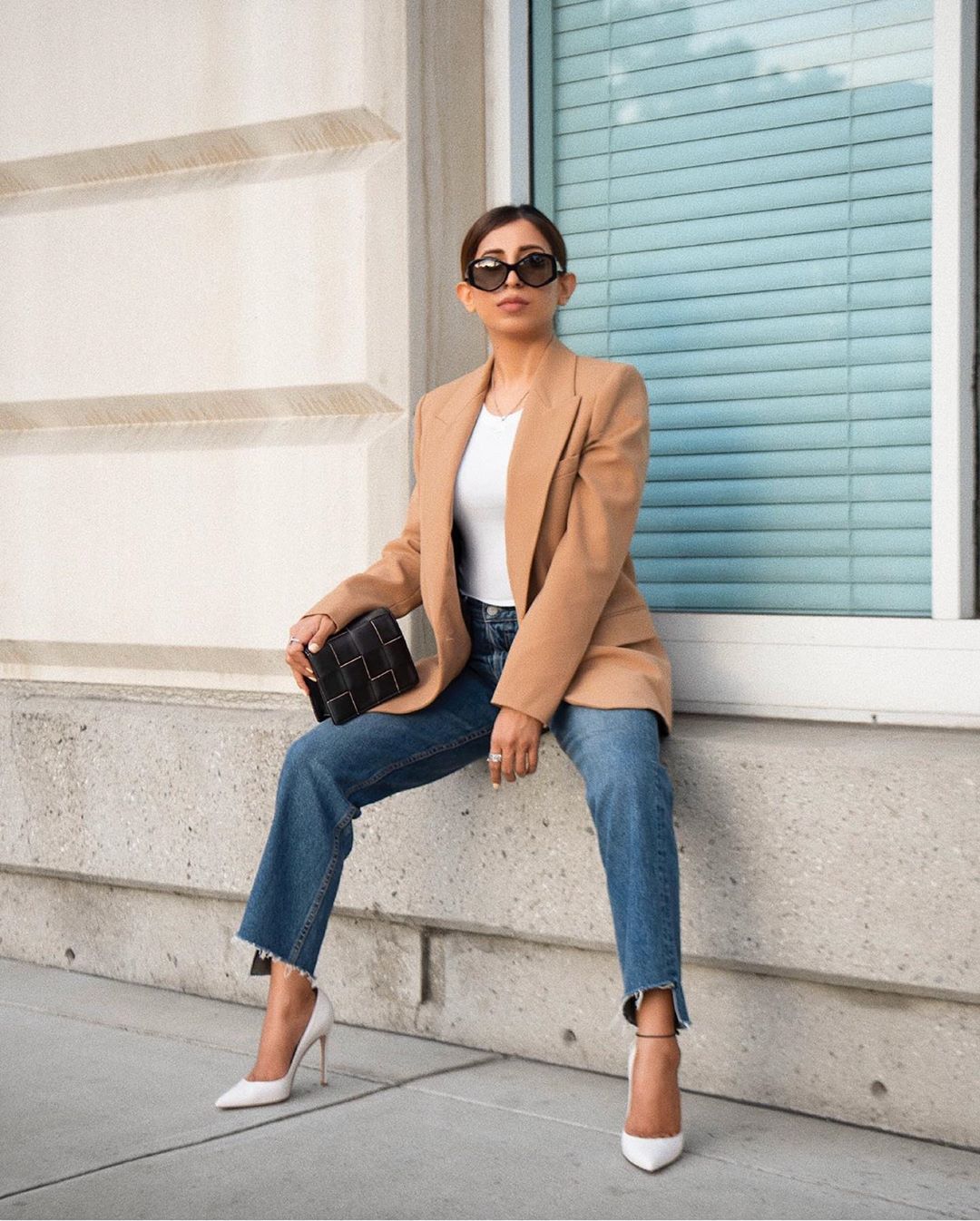 H&M always has an on-trend collection to offer throughout the year. And this Fall, people's favorite fashion brand features the chicest, trendiest products. These items are one-of-a-kind, and they are sure to work for all kinds of occasions. So, bid adieu to unwanted fashion roadblocks because H&M's collection is filled with fashion finds that will dominate your Fall wardrobe.
Be it a neutral-toned ribbed dress, grandma-inspired sweater vest, or plaid jacket, the list we have curated has something for everyone. The sophisticated silhouettes, warm, chunky knits, and stylish dresses in this list will surely win you over with their luxe look and affordable prices. Scroll below to look at 27 unmissable items for Fall on H&M – maybe you'll find the next best item for your wardrobe here!
Long faux Shearling Shacket ($79.99)
Break the iteration of outfits with this shearling shacket that has large front pockets.
Cropped Turtleneck Sweatshirt ($17.99)
This cute cropped sweatshirt can be worn with dresses, skirts, jeans, pant, and everything that is in your wardrobe.
Cable-knit Sweater Vest ($29.99)
Coming straight from grandma's fashion wardrobe, this sweater vest will add a chic vintage vibe to your outfits.
Plaid Shacket ($39.99)
Replace your monotonous and old plaid shirt with this oversized plaid shacket.
Flounced Shirt Dress ($59.99)
This shirt dress will work effortlessly with Chelsea boots.
Straight High Jeans ($49.99)
This straight high-rise jeans with slit hems and light wash tone looks expensive and is totally worth adding in your cart.
Knit Wool Cardigan ($59.99)
This warm and classy cardigan is here to show your fashion deprived days the front door with its balloon sleeves and deep V neck.
Long Faux Shearling Shacket ($79.99)
Because shearling will be one of the most loved trends of the season, you can't really miss out on this shacket.
Flared Pants ($39.99)
Flaunt your style sense in this warm and elegant pair of white flared pants.
Draped Mesh Dress ($39.99)
This draped dress with mesh and subtle hues has its own charm and will also look great with a longline coat.
Voluminous Chiffon Dress ($59.99)
The plunging neck, balloon sleeves, and the voluminous silhouette – what's not to love about this dress?
Oversized Shirt ($49.99)
Be it a plain blue skin jeans or relaxed fit trousers, this white oversized shirt will always infuse cool laid-back vibes into your ensemble.
Ankle-length Twill Pants ($24.99)
These ankle length twill pants are so sophisticated and versatile that you can wear them everyday and still won't get tired of them.
Rib-knit Wool-blend Sweater ($59.99)
This cute rib-knit sweater not only looks good but also feels cozy.
Rib-knit Wool-blend Cardigan ($49.99)
Give your fall wardrobe a chic addition with this cardigan.
Faux Leather Skirt ($59.99)
This faux pleated skirt spells luxe fashion at its finest.
Long-sleeved Turtleneck Top ($34.99)
Give your ordinary pants a stylish spin with this turtleneck top.
Wide-cut Pants ($49.99)
Wide-cut pants with exaggerated fit will turn heads every time you wear them.
Oversized Wool-blend Sweater ($69.99)
This oversized wool blend sweater with ribbed cuff and deep V neck looks so classy.
Puff-sleeved T-shirt ($24.99)
This shirt offers a 'unique' vibe due to its puffed sleeve – and to be honest, it looks elegant.
Cropped Top ($17.99)
Enhance the fashion quotient of your leather jacket by pairing it with this warm cropped top.
Rib-knit Sweater ($49.99)
With bell sleeves and semi V neck design, this sweater has permanently caught our attention.
Hooded Sweatshirt Dress ($24.99)
From lounging around the house to going out on casual outings, this sweatshirt dress will work effortlessly for every occasion.
Plus Pants ($34.99)
Look 'oh-my-god' stylish in these leather pants.
Wide-collared Shirt ($24.99)
Make some space in your wardrobe for one of the biggest seasonal trends – oversized peter pan collars.
Rib-knit Dress ($34.99)
From coat to leather jacket to on its own, this dress will look great – no matter how you style it.
Long Shacket ($59.99)
Redefine elegance and style with this long shacket.