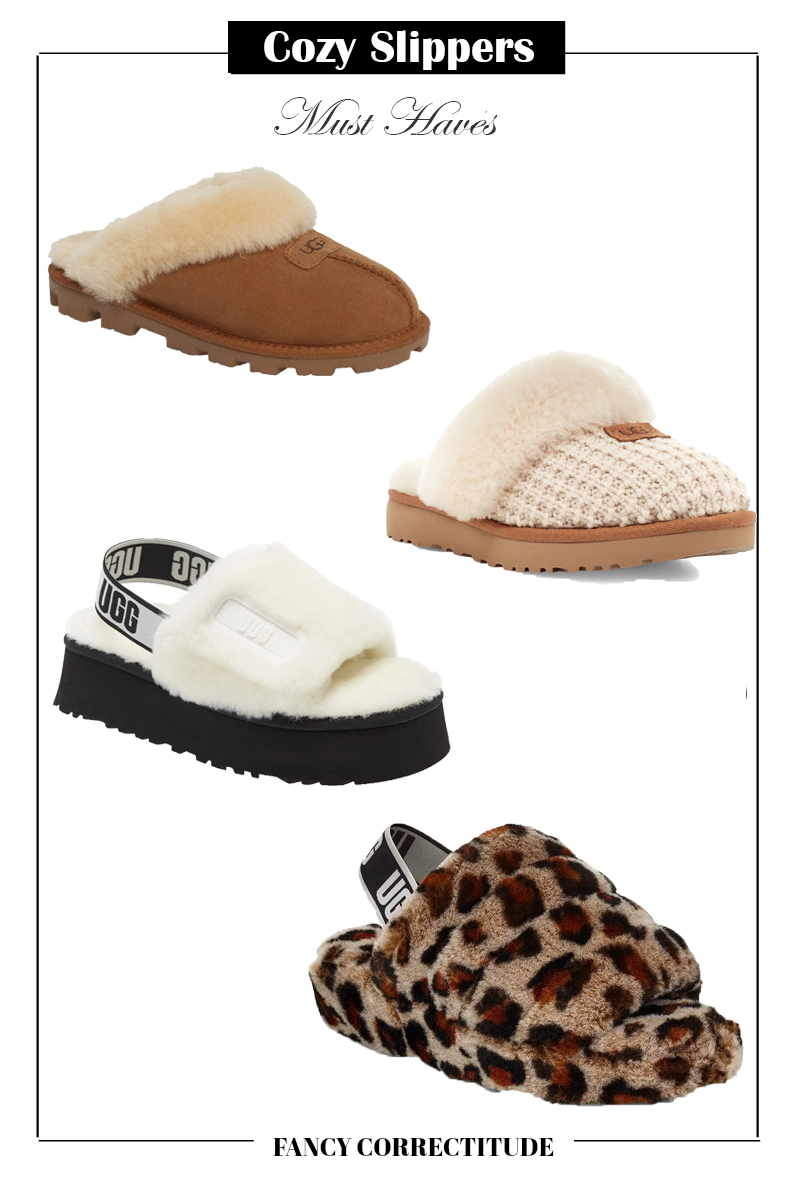 Cozy slippers for a cozy fall!
It is surprising how our favorite dazzling outfits and footwear collections are now being replaced with loungewear and slippers that speak comfort. Who thought slippers would be a new style trend? Thanks to the pandemic, we have a new definition of fashion that revolves around comfort. The temperature will be dropping soon, and staying cozy in our homes will be the topmost priority. All we need is a few pairs of cute and cozy slippers. It's pretty much about styling and lounging around our abodes.
To pamper your feet and to protect them from the cold weather, UGG slippers are everything you need. They will keep your feet comfortable and warm; plus these slippers also look chic. So, without further ado, here are 10 cozy slippers that will soon become your trusted allies this season. From slingback to knit, check out our choicest picks of UGG slippers.
Fluffita Genuine Shearling Slipper ($100)
These shearling slippers are undoubtedly warm, comforting, and super soft to wear.
Scuffette II Slipper ($89.95–$99.95)
This water resistant slipper with genuine shearling has earned a place in our fashion world.
Genuine Shearling Slipper ($119.95–$129.95)
These slippers not only look great but they are also cozy enough to keep your toes warm for entire season.
Fuzzette Genuine Shearling Slipper ($89.95)
The crisscross straps and shearling makes this pair so cute that you won't be able to stop dreaming about it until you buy it.
Fluff Yeah Genuine Shearling Slingback Sandal ($99.95–$109.95)
Not just for lounging around at home, you can also wear these for grocery shopping.
Cozy Knit Genuine Shearling Slipper ($119.95)
The combination of shearling and knit makes this pair of slippers so adorable.
Disco Genuine Shearling Slingback Slipper ($99.95)
Wear black joggers and matching sweatshirt with these, go ahead and click some cute mirror selfies.
Oh Yeah Genuine Shearling Slingback Slipper ($99.95)
The black color and slingback style with comfort is everything you need in a pair of fall slippers
Cozette Genuine Shearling Slipper ($79.95)
The color, the sole, the design – everything about these slippers is so perfect.
Cozette Genuine Shearling Slipper ($89.95)
Cute is written all over these slippers featuring backless design and textile made from wool.