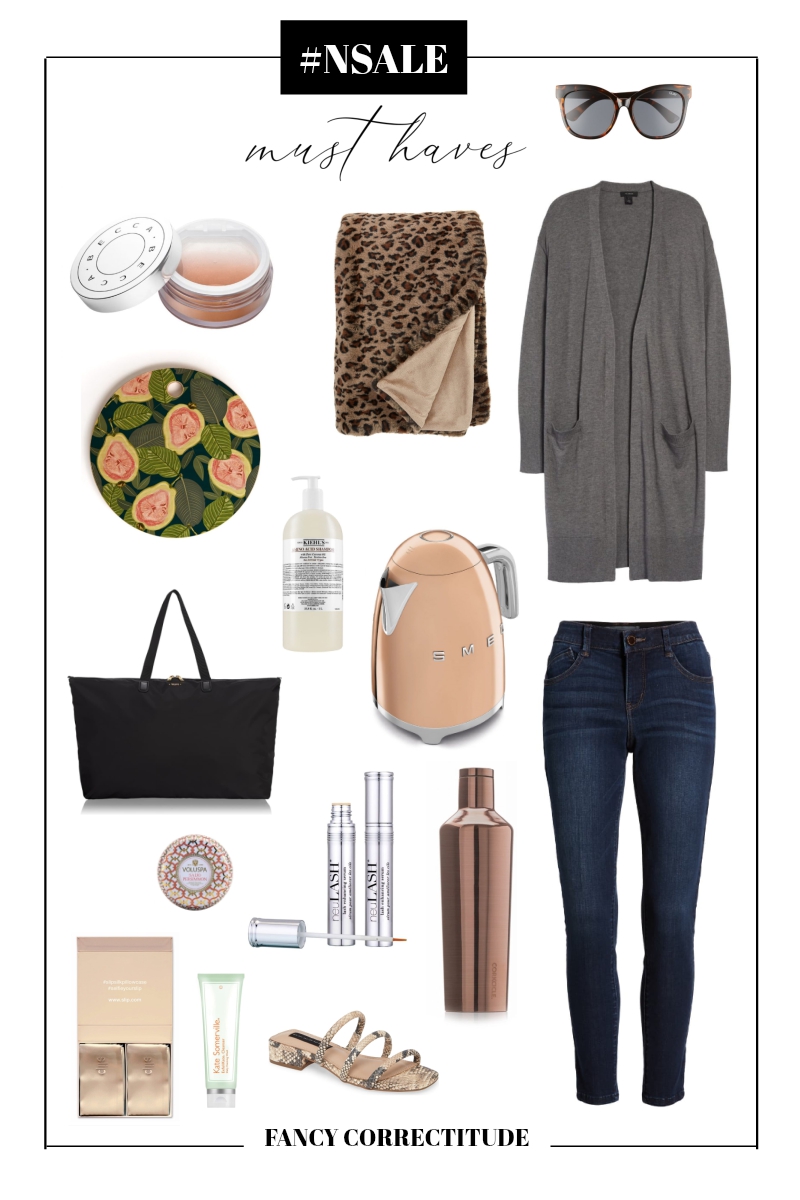 Nordstrom is a website we all head to if we want to do some serious shopping. Right from trendy clothes to amazing beauty products, and from essential accessories to luxury items – Nordstrom has it all under one roof.
Don't believe us? Here's our compilation of 20 things from Nordstrom Anniversary Sale that people can't stop raving about. These items are brilliant, fashionable, practical & functional.
Let's check them out.
This pair of skinny jeans can help you elevate your fashion game on of those days when sweats aren't enough for you (even at home!).
Rave Review: These jeans are soooo comfortable. They feel firm but not constricting, flexible when I bend and they stay up in back – I don't have to keep pulling them up. More like this. – Eleeen
Here's a silk pillow cover duo, that can help you defeat aging signs, bed head and creasing. Also, it's silk, so it's super soft and super sophisticated!
Rave Review: There is just something about a high quality silk pillowcase. Feels amazing on the skin. Supposed to keep hair frizz-free too. I love it. – Jammiecat
Practical. Stylish. Functional. Beautiful. This is the backpack of our dreams!
Raving Review: Absolutely love it! Shiny and stylish and incredibly light. I was thinking about becoming Patagonia customer for a while before purchasing this backpack. I'm glad I finally did! – vikM
On wintry, chilly nights, this throw blanket is just the comfort that you crave. Nordstrom gets it!
Rave Review: Great modern fun blanket. Super soft, great size and good alternative to other more expensive brands! Keeper. – JKMcG
An underwire contour bra for all the times when you want to dress up and feel good while owning the ground you walk on like a fashion diva!
Rave Review: This is the most comfortable AND sexy bra I have ever owned! It fits very nicely with soft lace, minimal cup for good shape, coverage and support without feeling too bulky. This bra even not on sale is worth every penny! I would recommend this bra to every woman! – CKirchner
Love your lashes? Here's a serum that acts as a conditioner for your eyes lashes, making them more soft, more voluminous and more beautiful!
Rave Review: Longer and thicker lashes in 3 weeks! Formula doesn't irritate skin. My natural lashes are short and sparse. Now I don't feel the need to wear mascara daily.- HighSurf
A retro style electric kettle for all those days when a cup of hot tea is the only thing that can make your day!
Rave Review: I got this electric kettle after seeing it in my daughter's home. She had the kettle and toaster. It is very stylish and retro at the same time. It's a standout piece in my newly upgraded kitchen. And it works perfectly too. Highly recommend.. – catlabrador
Looking for a transitional item at the Nordstrom Anniversary Sale? Check out this cashmere cardigan – it's lightweight, sleek, and comfortable at the same time. With this, you don't have to worry about changes in the weather forecast anymore!
Raving Review: Love this sweater. It is a great material – fine gauge and thin but elegant. It falls beautifully. A keeper. – colbymom
This pair of Steven New York sandals are the best for all those days when you crave comfort-first fashion, but do not want to say goodbye to style as well!
Rave Review: Love these sandals in the snake print. Super versatile and comfortable; straps were supportive/ snug enough for narrow B size. – Mjaxty
Your work-out best friend – this pair of leggings will not let sweat get in the way. Also, they look really cool (no wonder everyone's so obsessed with them!)
Rave Review: These are my absolute favorite gym leggings! I've tried every brand and nothing compares. They are thick, so you can't see through them while working out, but not hot. The high waist is so comfortable and is perfect when I wear my belt. Simply amazing. This is my second pair of Zella and I'm buying more. – ProteinShake
Cutting board made of Birchwood on the front side, a colorful printed display piece on the back side – here's a kitchen appliance that doubles as an attractive show piece!
Rave Review: For some reason, when I first saw this online, it caught my eye immediately! I think the reason is because I had just had some delicious guava cheesecake ice cream the night before. I bought it without a second thought and was so pleasantly surprised when I received it. It's beautiful in person, painted lovely with bright colors and glittery accents, but not in a gaudy way. I hung it on the wall because I think it's too beautiful to actually use. – StarTripping
A jumbo bottle of amazing shampoo that helps keep every type of hair clean and healthy – just what you need at least once a week for your hair health!
Rave Review: I'm super picky about shampoos and this one is amazing! Leaves my hair soft, shiny, silky and never weighed down. Highly recommend! – GreatTie
This stainless steel flask will keep you hydrated all day long, so that you can carry on with your adventures – in the wild and even in life!
Rave Review: The size is great and with the shape it's easy to hold and not an uncomfortable awkward grip. The cap screws on perfectly and it doesn't leak at all. My ice cubes fit without having to melt them down any like I did my other water bottle. Everything stays cold all day for me it works perfect and clean up is a breeze with a bottle brush. – teel00
A chic pair of glasses that lets you see everything clearly, even when the sun's blazing bright all around you. The perfect glasses anyone can ask for!
Rave Review: My all time favorite glasses! The fit is exquisite! Not to mention the quality! Highly recommend! I bought two pairs that's how great they are! – nannii
A foaming wash for that VERY calming, VERY relaxing and VERY satisfying skin cleanse at the end of a tiring day!
Rave Review: Holy grail cleanser!! It's beautifully brightening for my oily, mid-30s skin. A little goes a long way. I've replaced both my morning AND evening cleansers with this one!! – lindseylek
Here's a product from Nordstrom you thought you didn't need, until you use it, and realize that you can't live without it now! A setting powder that holds your makeup in place all day long. Need we say anything more?
Rave Review: I just bought this last week whilst on holiday and it is flipping amazing! My make up always flakes away but this keeps it set all night! Even in Spain when it was boiling hot this kept my make up on! When you apply it its so soft and cooling, it doesnt leave any marks to your face, just sets and hydrates perfectly! – Kirsty90
A great pair of pants when it's so hot outside you just want to wear sweats, but you can't sacrifice your style streak either!
Rave Review: The Zella Live In Jogger Pants are super comfy, and have been a welcome addition to my casual wardrobe, so I'm not wearing leggings 24/7. Love the pockets, drawstring waist, and cinched ankle. Would buy again in another color if/when available. – PrettySmartLady
Ever wanted a tote bag that's as stylish as it's spacious? Well, this is the bag that is exactly what you look for!
Rave Review: I really like this bag. The burgundy color is gorg! The bag is roomy, durable, love the carrying case, nice zipper and I can't wait to take a trip to carry it! – ShopDropAndShop
A high waist leggings WITH pockets (because who doesn't want one?!)
Rave Review: These are the best leggings I have owned. High-quality fabric. The high waist stays put, the pockets are awesome, and the length is perfection! I ordered a second pair right away. I don't want to wear any other leggings. They are fabulous. – LindaeE
A candle with rich packaging and rich aroma for all those stressful days when you want a fragrance to carry you to a tranquil world.