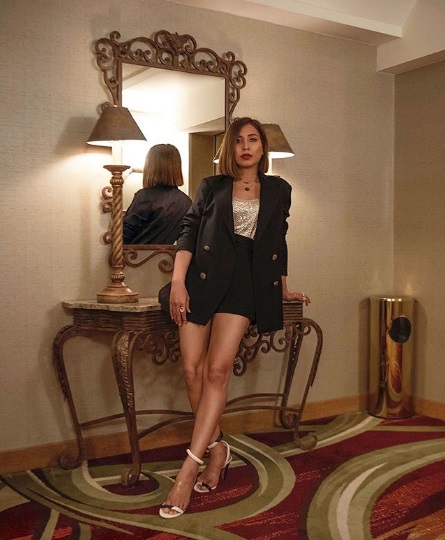 Being a fashion enthusiast doesn't always mean that you have to lavishly spend on building your wardrobe. You can always buy items at good deals that will last a long time. That's why we have picked 51 articles of clothing under $50 from Amazon Fashion. You can now buy many pieces and satisfy the shopaholic in you instead of putting all you have into one item.
A sturdy winter coat for the chilly months that looks as good as it feels is a must.
This oversized button down is so versatile, it can be worn as a shirt dress or paired with cute shorts.
Scarves as tops is our favorite new trend.
Poplin dresses are super adorable as it is. Combine that with this vibrant green color and it's gone up a whole level.
A little sexy, a little cutesy, a little beachy!
Live your rich French woman at the beach fantasy with this big brim hat.
Is there anything that doesn't pair well with midi skirts?
Switch out your old outerwear for this pearl embellished star print denim jacket. A classic piece with a touch of uniqueness.
Feeling Luxurious in this glossy satin pants.
Feeling Luxurious in this glossy satin pants.
Sweet flowers for the summer.
A must-have fur coat.
Shine bright in this shiny metallic pleated skirt.
Major cotton candy vibes in this pink and white assymetrical tie-dye skirt.
When in doubt, pick a jumpsuit!
A fun pom-pom twist to a regular sweater.
Ready to disco? You will be in these sequined pants.
White boots but make it glam!
Everyone needs a sexy bodycon white dress.
19. Puff Sleeve Blouse
2020 is all about dramatic sleeves and we love this sheer number.
A comfy dress with tie detailing at the waist to show off your curves.
This girly & flirty fuchsia crop top is a mood.
A classic white blazer that can be dressed up or down.
Love ourselves a wrap dress.
Doing pants at the beach the right way.
A vintage twist to any outfit.
This mustard colored pleated dress can brighten any room.
Boho-chic anyone?
Pin-up style backless bathing suit to fulfill our Marilyn Monroe dreams.
So ready for an elegant high tea in this tiered blush dress.
Getting quirky in this fun lemon clutch.
Down for a wild girl's night in this one shoulder party dress.
Sweet and ditzy peplum top in this adorable baby pink.
Runway feels in this high fashion lace dress.
If you've been meaning to get into the viral straw trend, this is the perfect place to start.
Easy breezy striped jumpsuit.
Working out in style with these colorful leggings.
Leopard printed satin skirt. Need we say more?
Ready for cocktails in the Bahamas in this sundress.
A trusty pair of mules to show them who's boss.
Don't need a valentine to feel the love in this romantic red velvet maxi dress.
41. Long Wrap Dress
Got out twirling gear out and it's this flowy wrap dress.
The perfect option for when you can't decide what to wear.
The lovely mint clouds on this one are such a showstopper.
A total essential in your summer closet.
For you denim heads out there!
Can't decide between sandals and heels? Why not both?
A summer without tie-dye isn't really summer.
A true femininity icon – the cat eye!
Happiness is shimmying in this flowy boho number.
Effortless black blouse that looks like the night sky.
Feeling like Carrie Bradshaw in this girly tulle skirt.