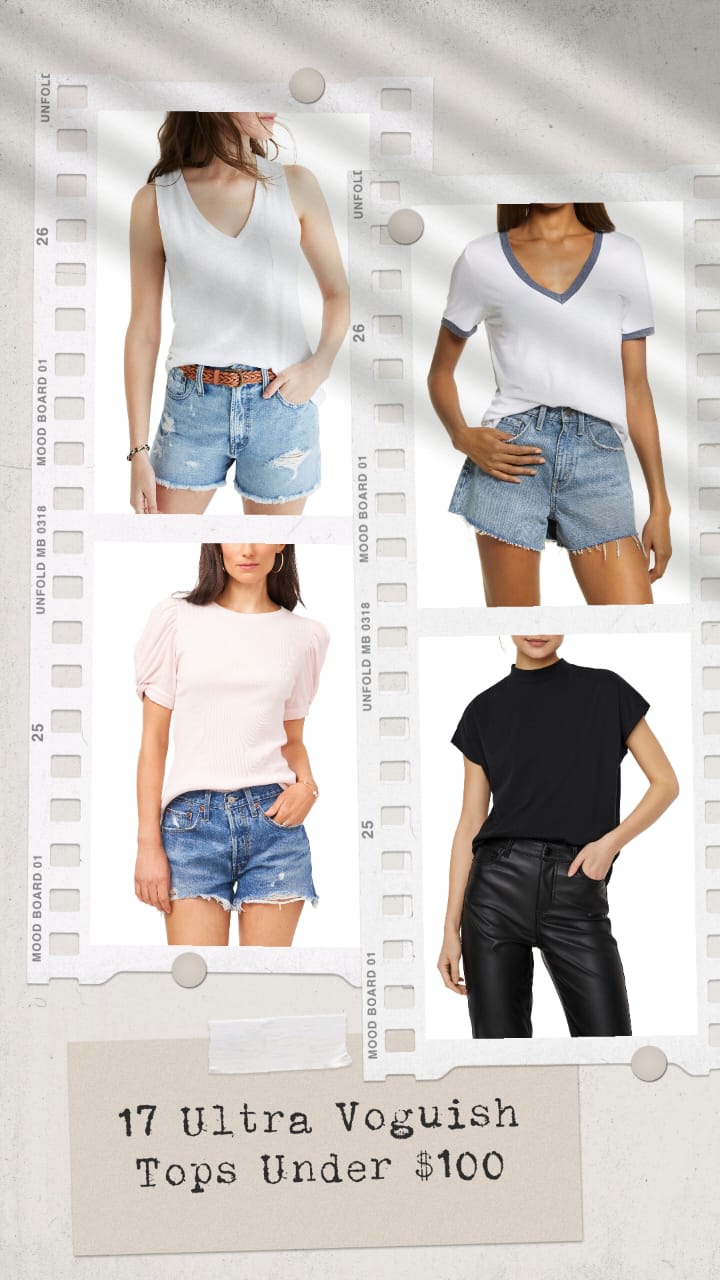 Since the pandemic crept into our lives, tops have become the prominent centerpiece of daily wear as well as occasional wardrobe. Be it for WFH zoom meetings or rare weekend outings, we all end up relying on tops (so sorry, dresses)! So, if you are looking for women's spring clothing that'll update your spring wardrobe, start by adding chic tops. But hey, wait, we already curated the chicest tops from Nordstrom within $100. Now you get to be fashionable and trendy without burdening your wallet.
There's a versatile, glamorous, yet casually chic list of women's spring clothing waiting ahead. From an elegant chiffon blouse to a classy tee for all your denim, these fashion finds will make you the new Instagram IT girl, and that too without affecting your budget. So, take your shopping cart out for a spin at Nordstrom, and you can thank us later!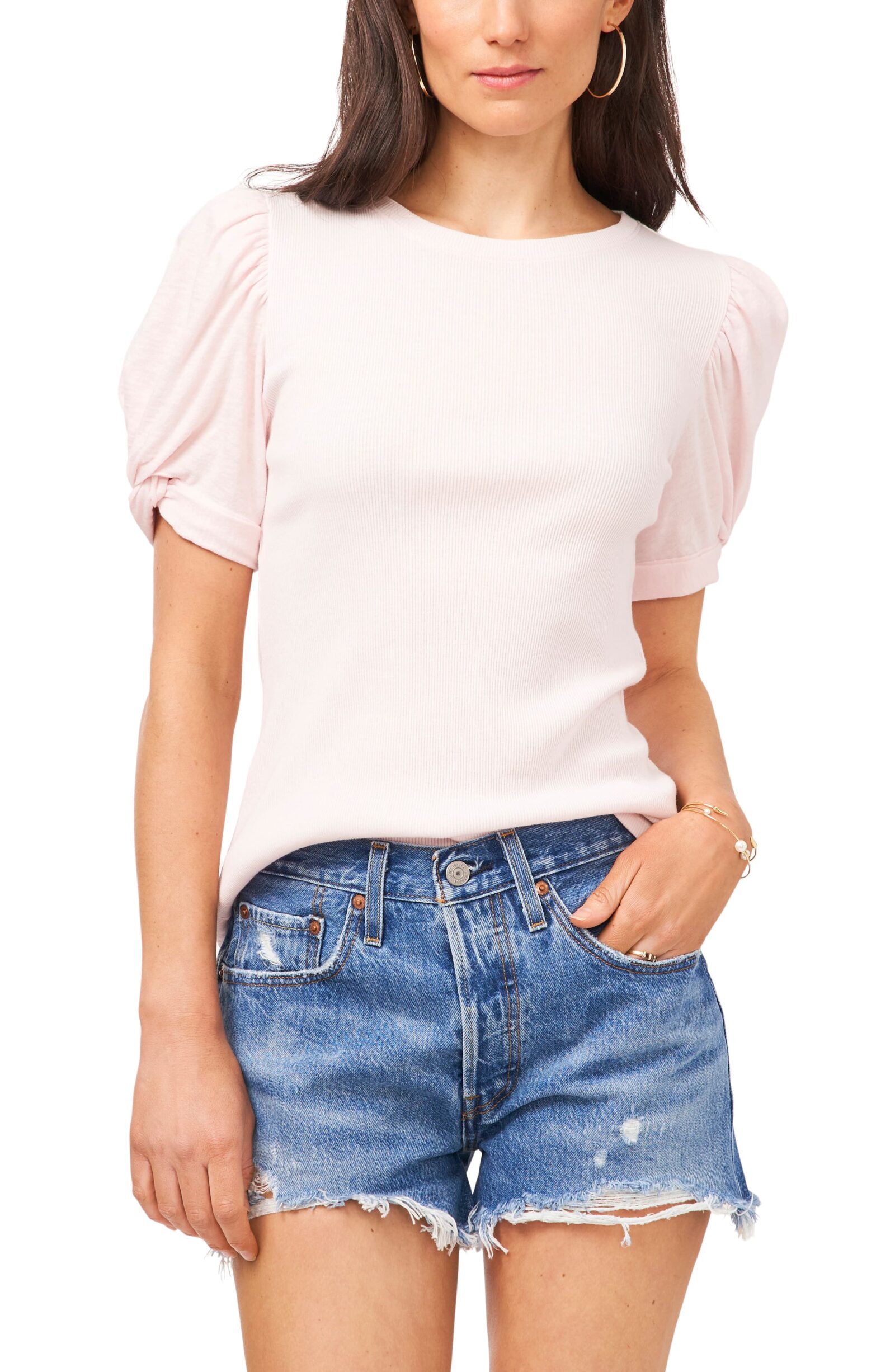 1.State Puff Sleeve Rib Knit T-Shirt ($54)
For days when you want to show off your feminine side in the most stylish way, opt for this puff sleeve top. The ribbed knit and mellow pink tone of this top will feed all your shopping urges at once.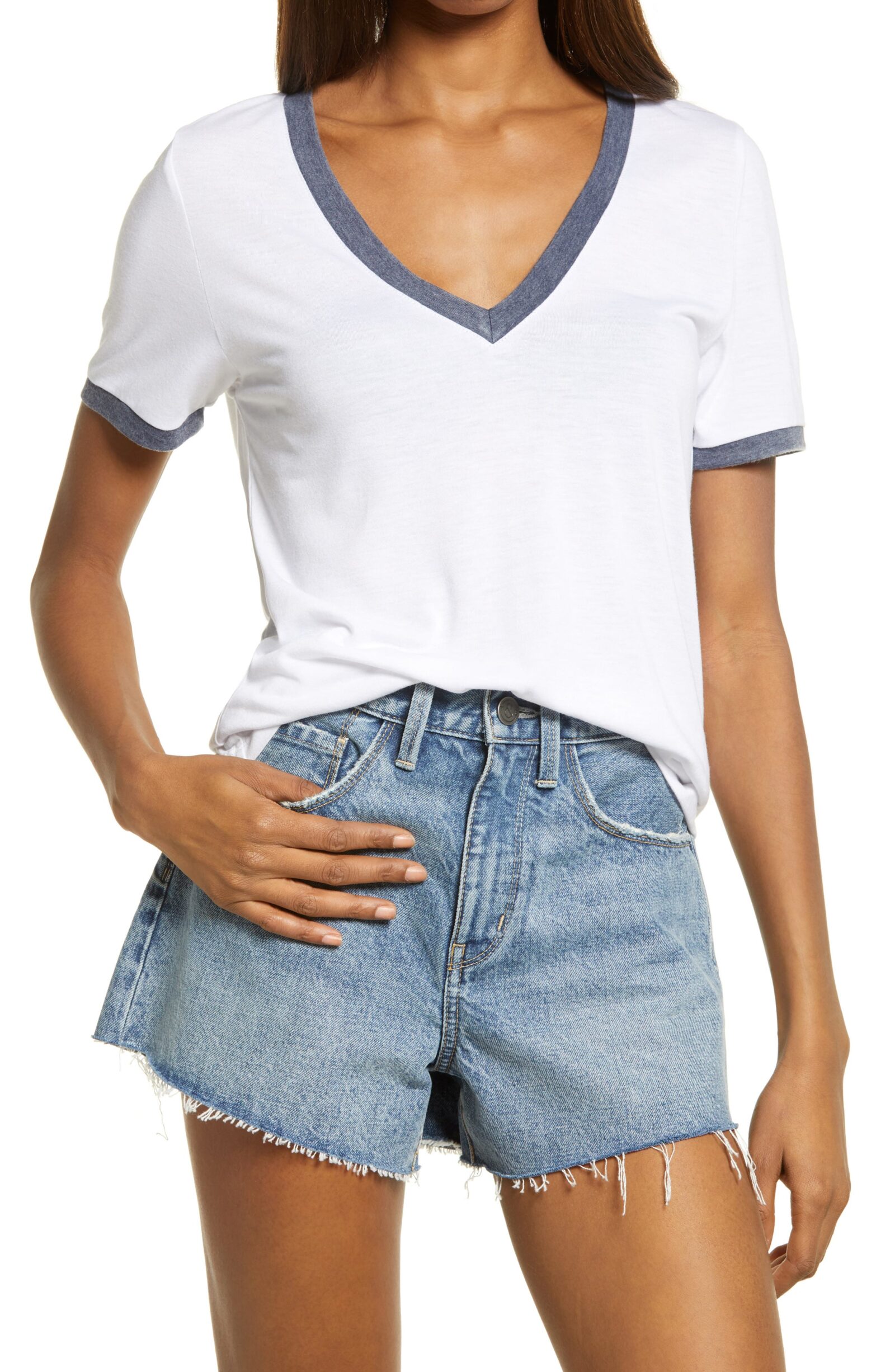 Treasure & Bond Ringer V-Neck T-Shirt ($39) 
We have never added anything to the cart so fast like this t-shirt. The versatile and timeless charm of this tee will make your everyday dress easy-peasy and more fun. The contrast blue neckline and white color fabric give off a chic sporty vibe.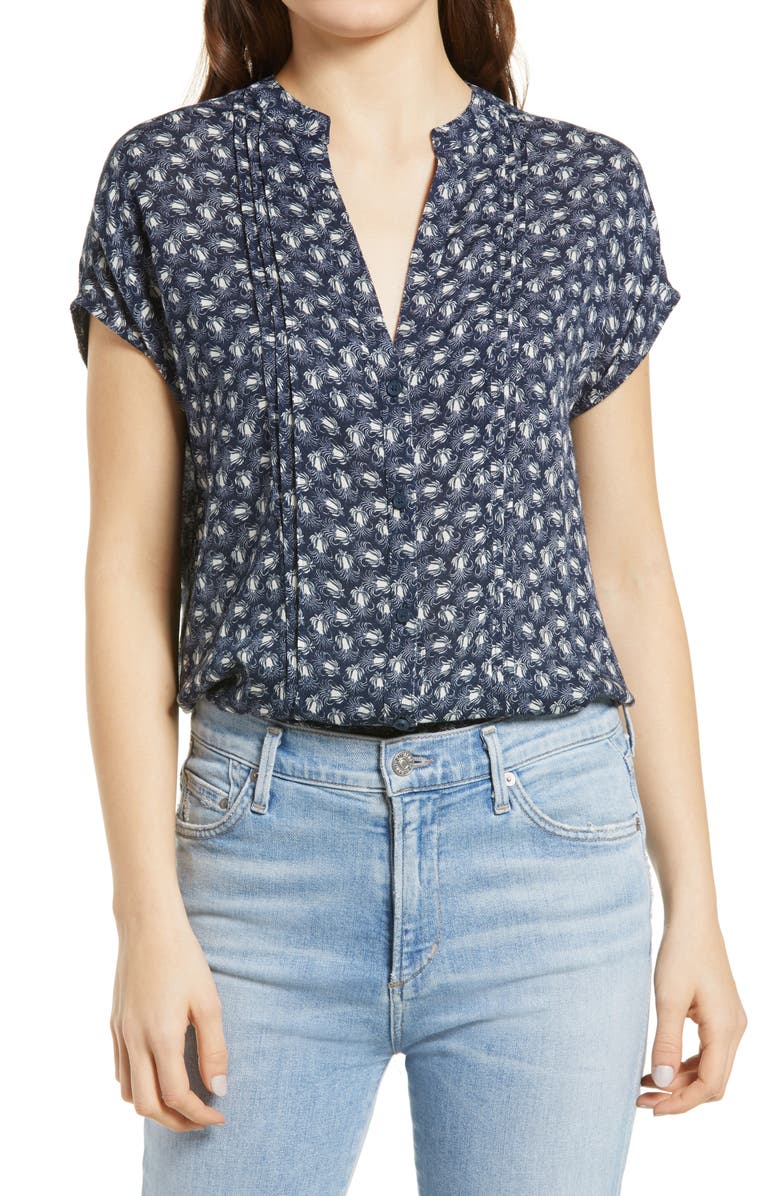 Treasure & Bond Allover Print Short Sleeve Top ($49) 
You can wear this gorgeous top with high waist pants, jeans, and long skirts as well. The relaxed fit, short sleeves, and dainty prints together speak of a failproof cute top that you can't afford to miss.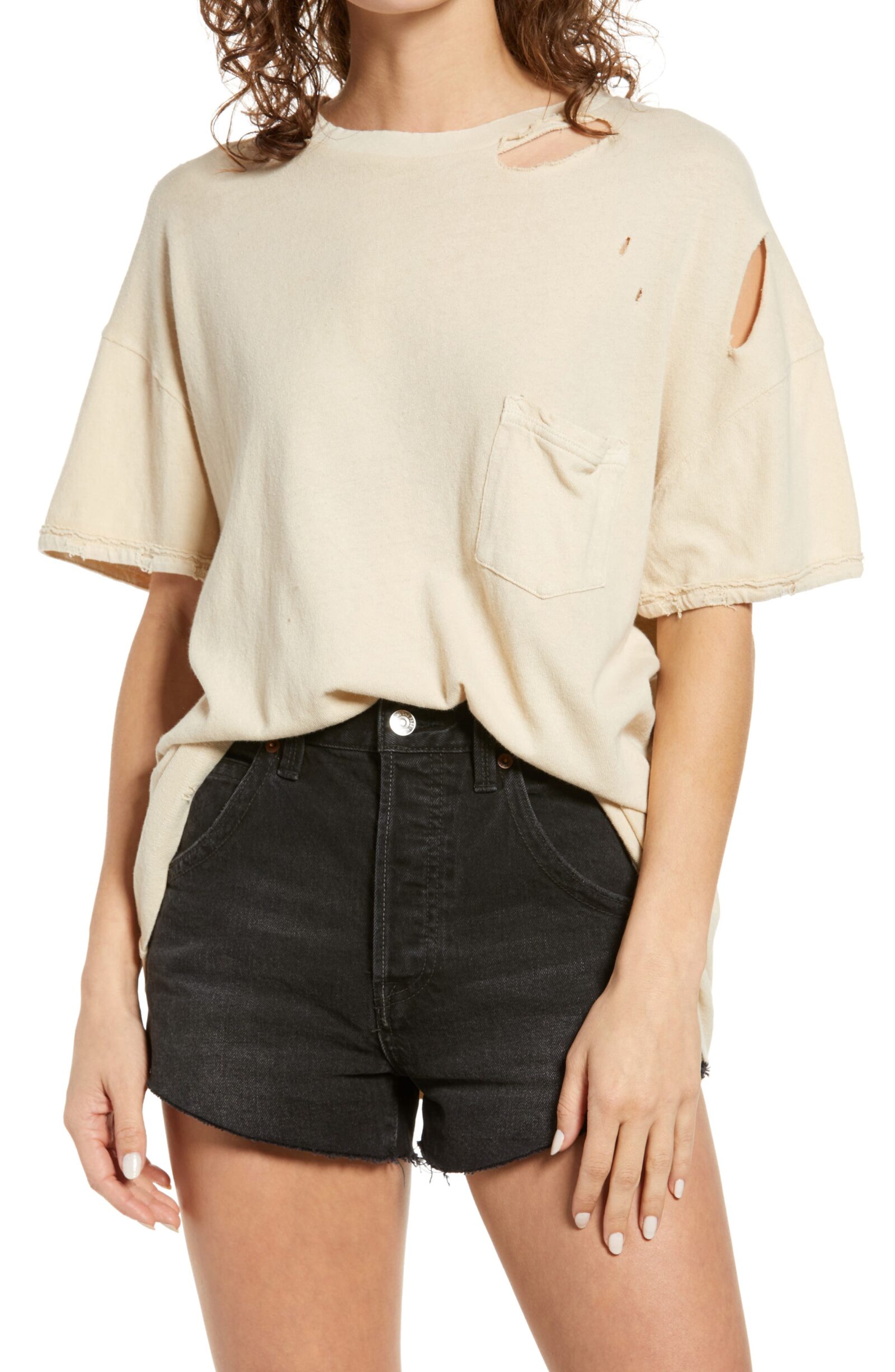 Free People Rubi Ripped Pocket T-Shirt ($58) 
Enjoy the cool and laid-back vibe of this tee because that's exactly what your wardrobe needs right now. The subtle sand hue, distressed look, and slouchy fit will give extra brownie styling points to your outfit.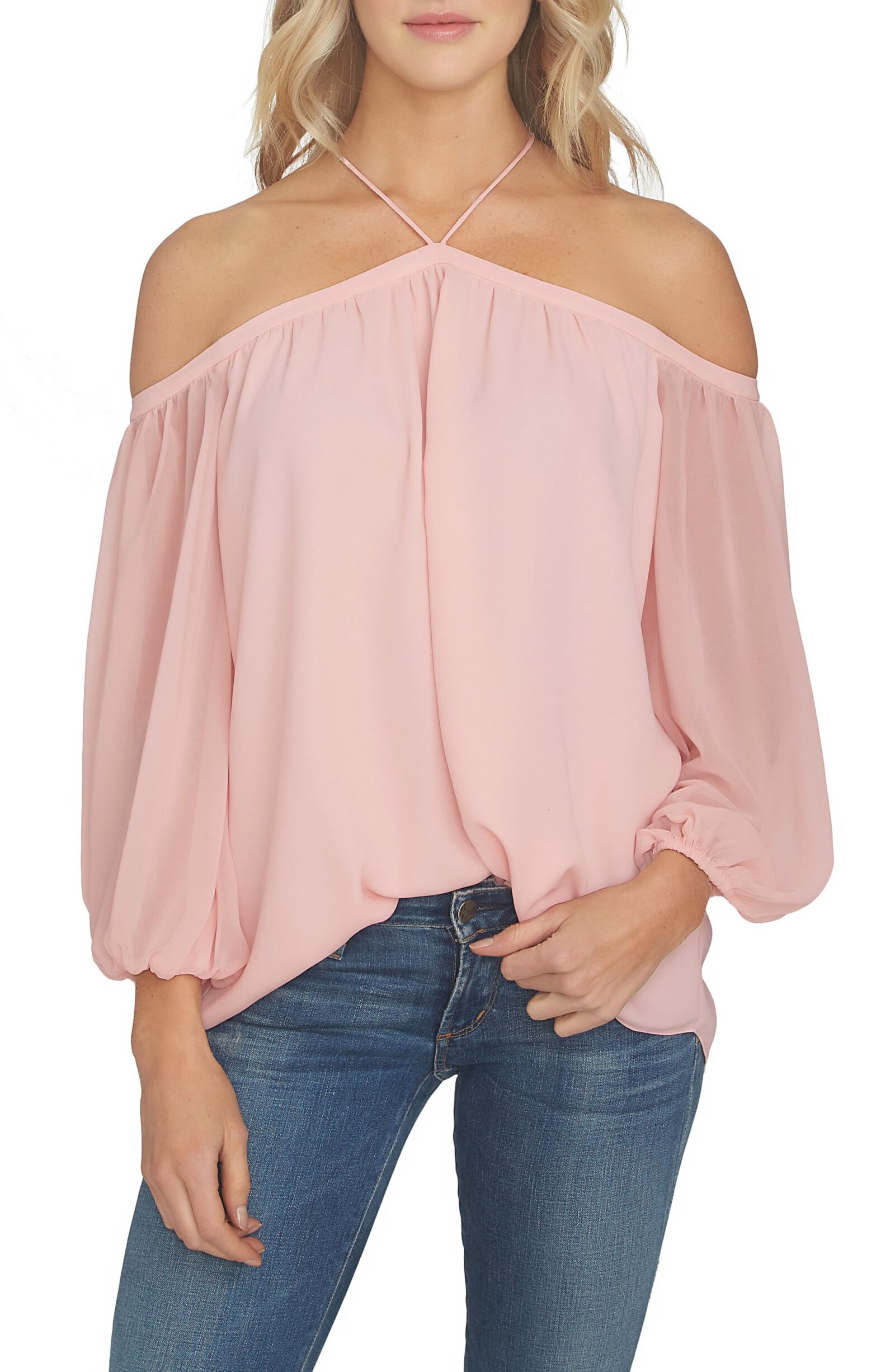 1.State Off the Shoulder Sheer Chiffon Blouse ($79) $47.40
This top deserves a special place in your wardrobe; credit goes to the adorable slender straps, flowy silhouette, and exposed shoulder. The cutesy charm and sheer chiffon fabric of this blouse will jazz up your whole look.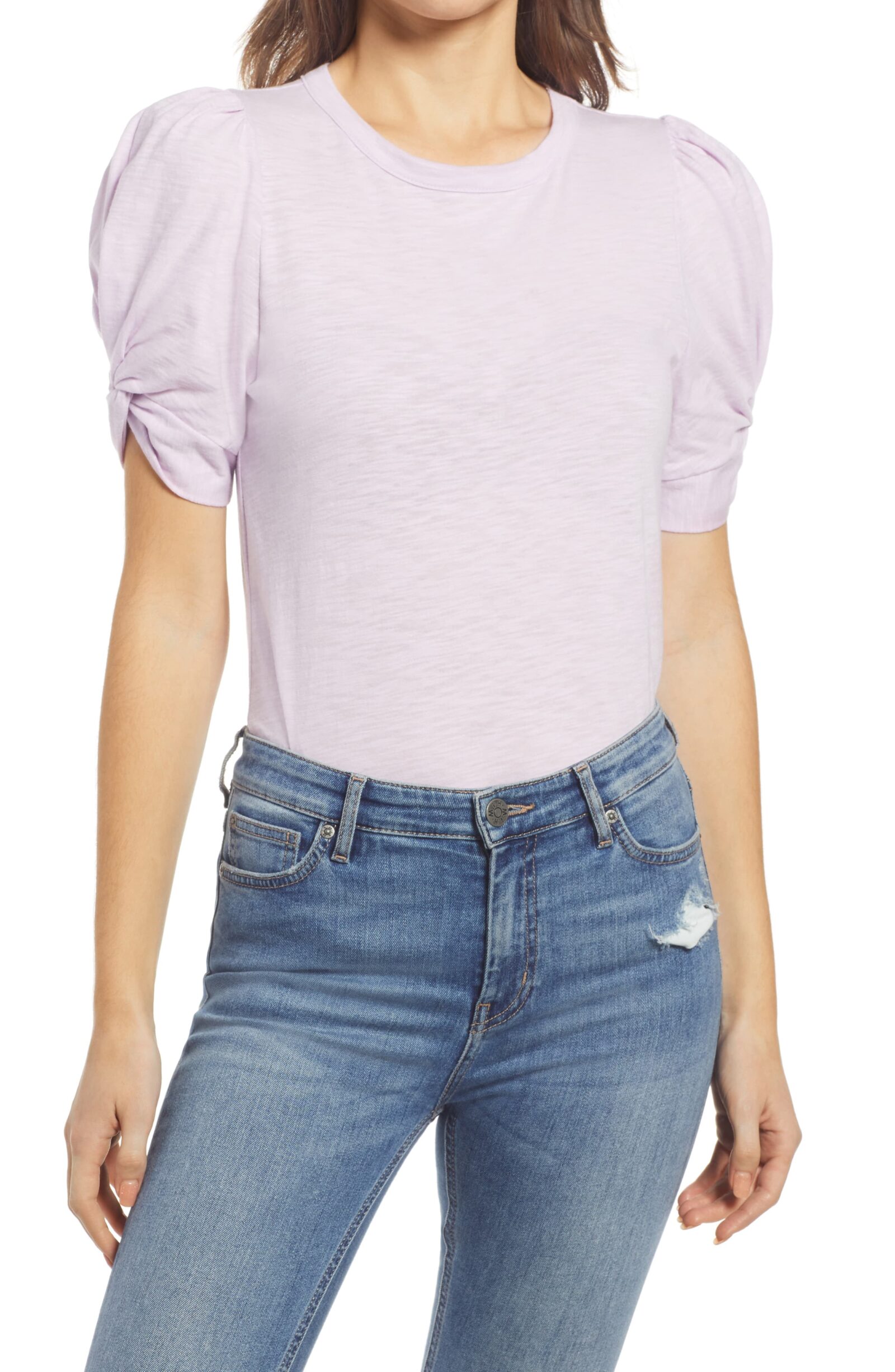 Everleigh Knot Sleeve T-Shirt ($39) 
Finally, you have got yourself the perfect tee that's dripping elegance and style. The gorgeous puffed sleeves and easy-fit will make this top the forever go-to option of your wardrobe.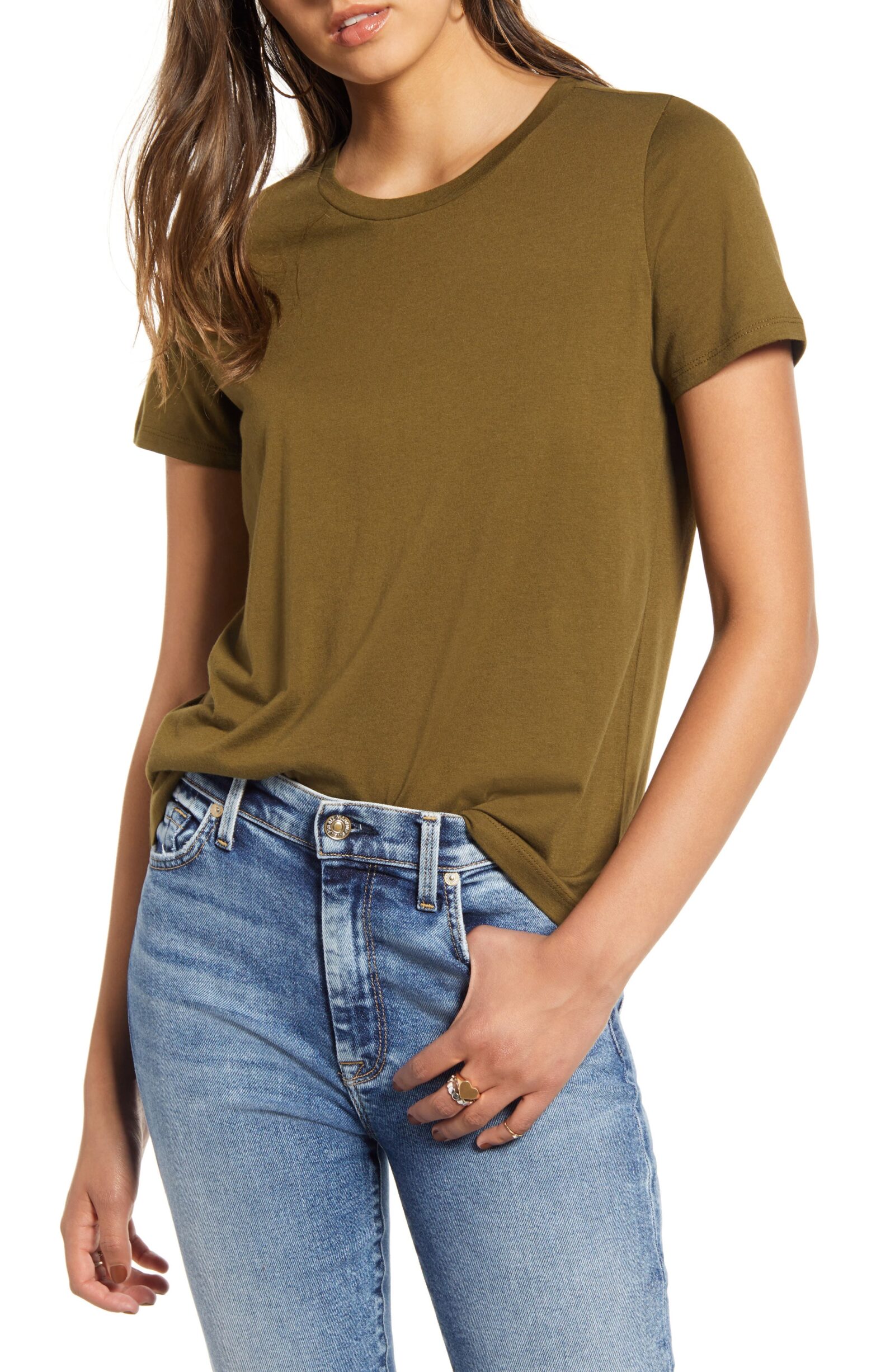 BP. Crewneck T-Shirt ($12) 
This is a must-have t-shirt that every fashionista owns in her closet. The dark olive tone, soft fabric, and casually chic look of this tee will work with all your clothing items, accessories, footwear, and what not!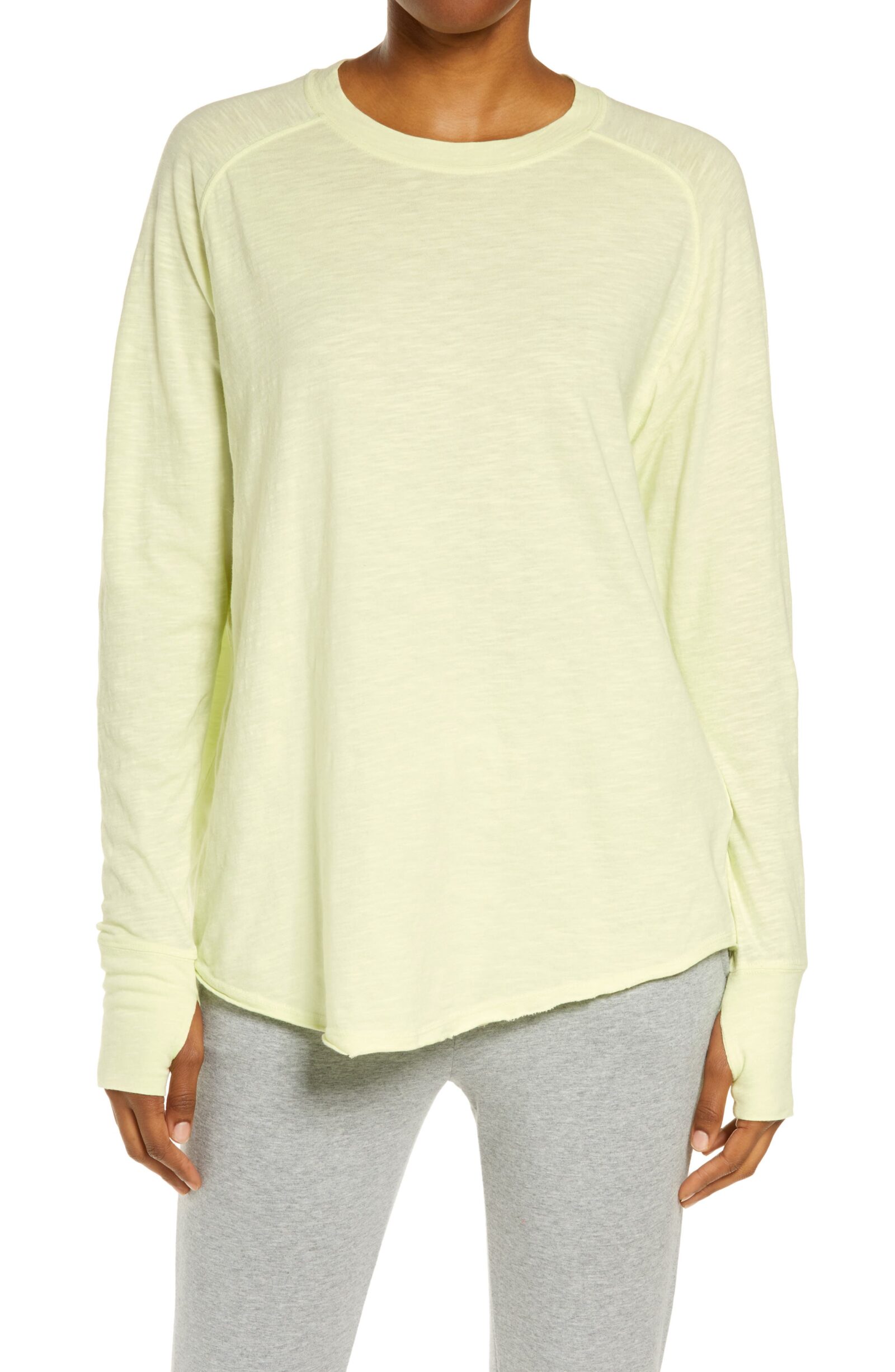 Zella Relaxed Long Sleeve T-Shirt ($45)
Picture yourself in this mellow-yellow full sleeves t-shirt tucked in distressed high waist shorts, stunning, isn't it? Well, that's the beauty of this t-shirt, you can wear it for lounging around at home or for the gym as well.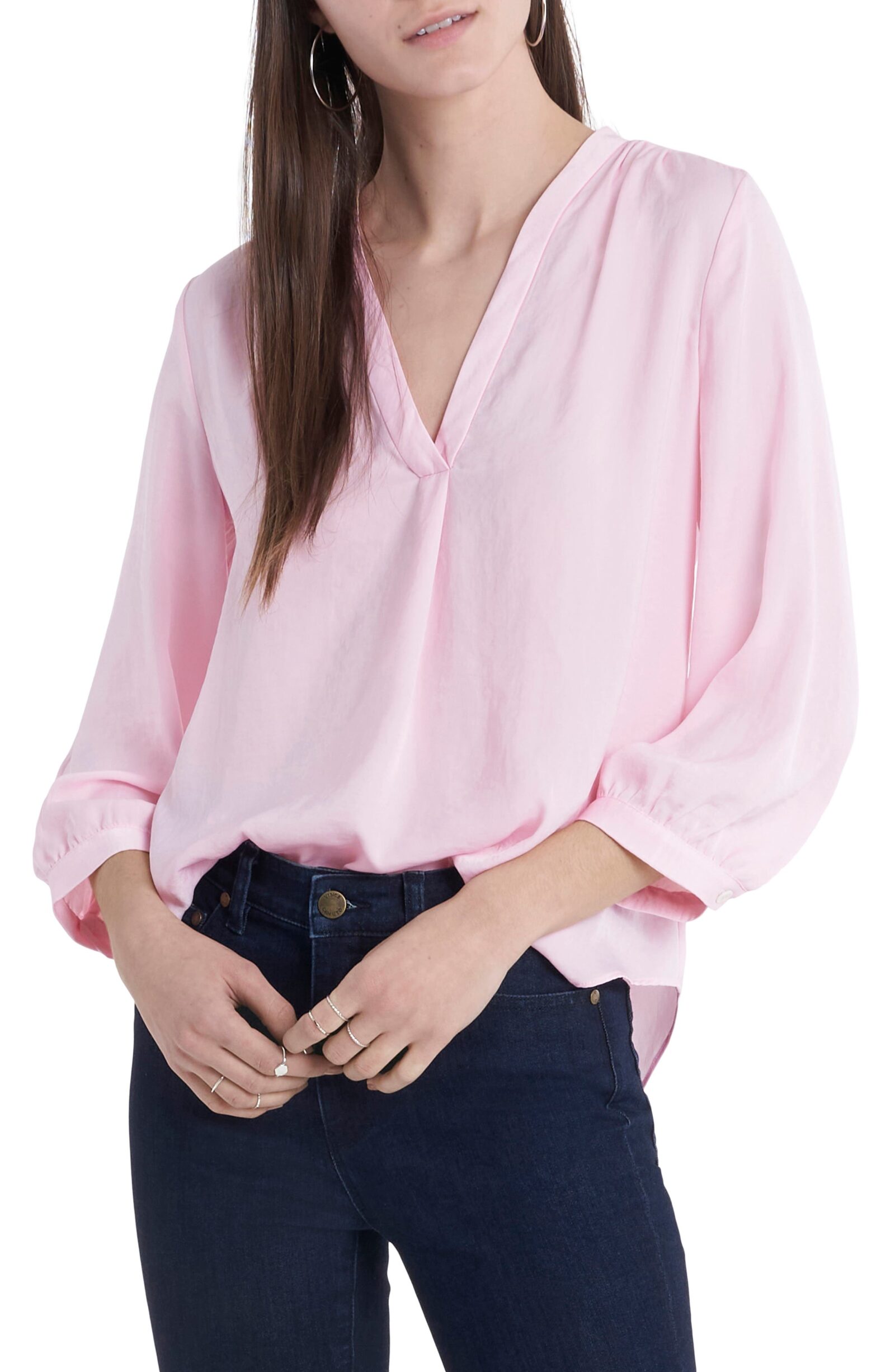 Vince Camuto Rumple Fabric Blouse ($74) 
This top will take you from AM to PM, work to shopping, there's no limit to where this top can take you. The easy-pull on silhouette and plunging neckline makes it a stellar piece for every fashion girl.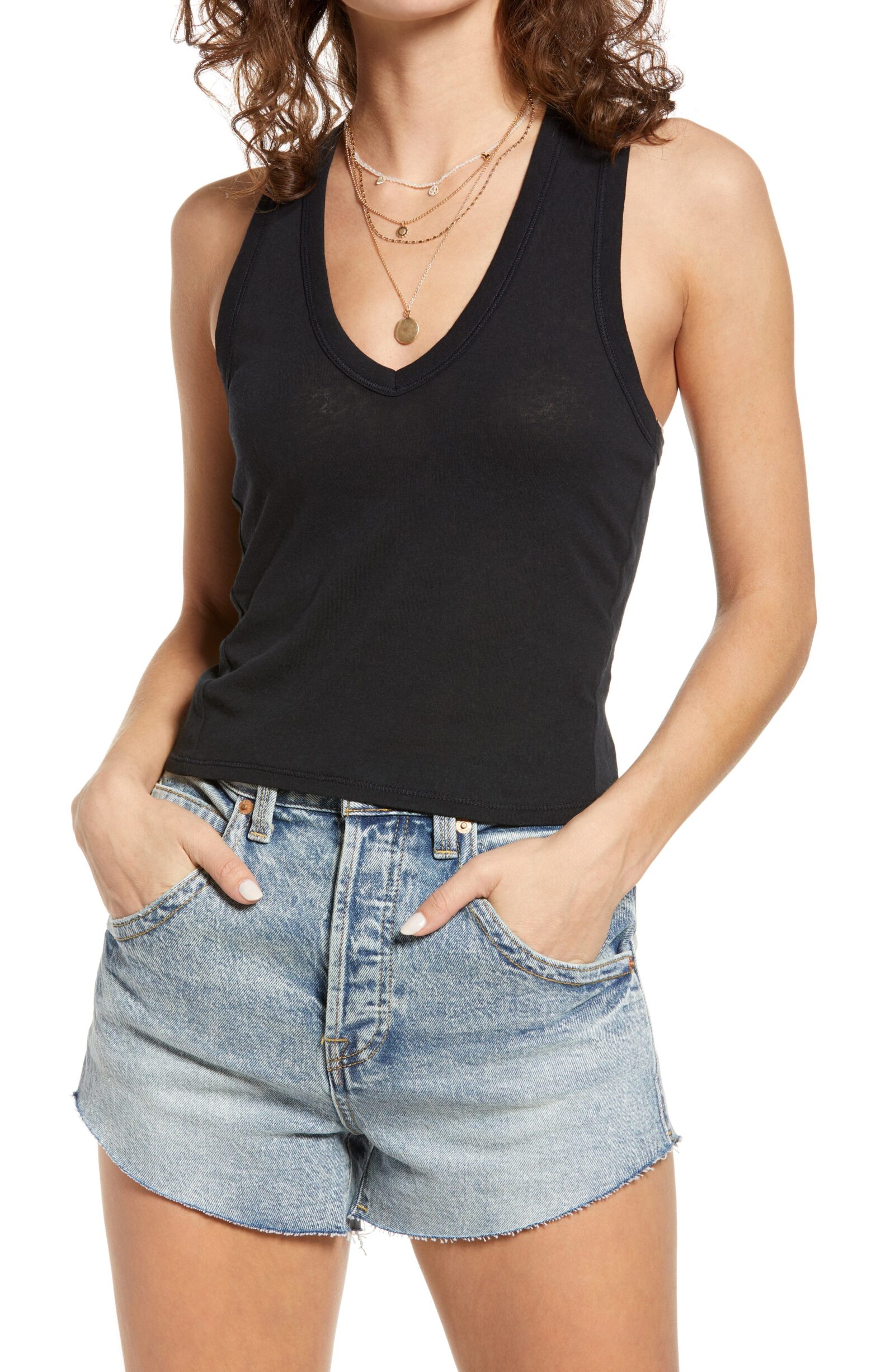 Free People Hailey V-Neck Baby Tank ($20) 
This tank top will transit you into spring and summer in the most voguish manner. With the deep V neck, semi-sheer look, and body-accentuating fit, everything is so fashionably thick about this tank top.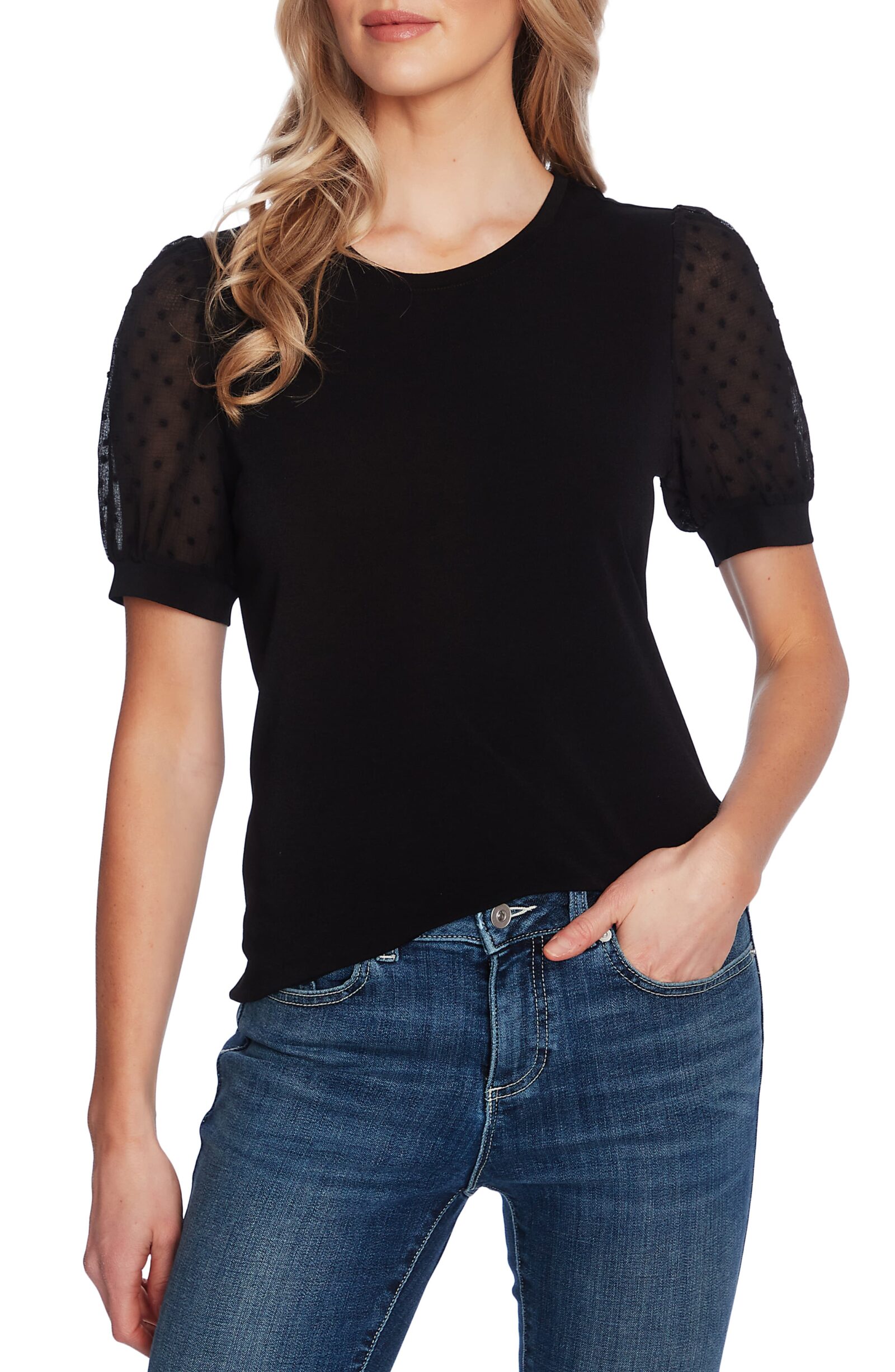 CeCe Puff Sleeve Mixed Media Top ($49)
Give an instant boost to your fashion aesthetic with this puff sleeve top. The flocked dots on the sleeves and slim fit infuses an elegant look quite effortlessly.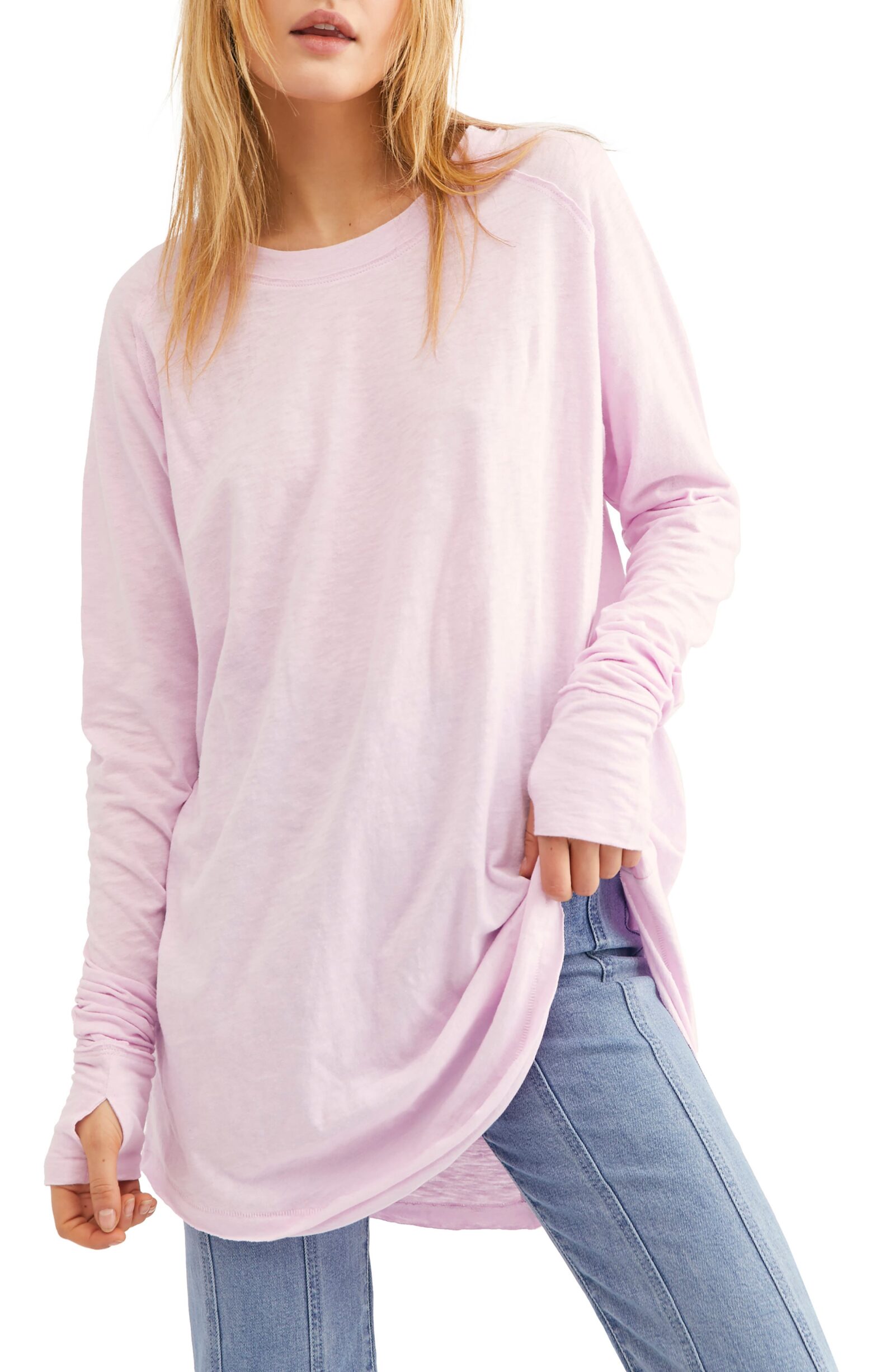 Free People Arden Extra Long Cotton Top ($58)
Are you ready to turn heads of the fashionistas around you? Because we can't wait to see you slay in this effortlessly cool long cotton top. The subtle pink hue and the easy fit are what we love the most about this top.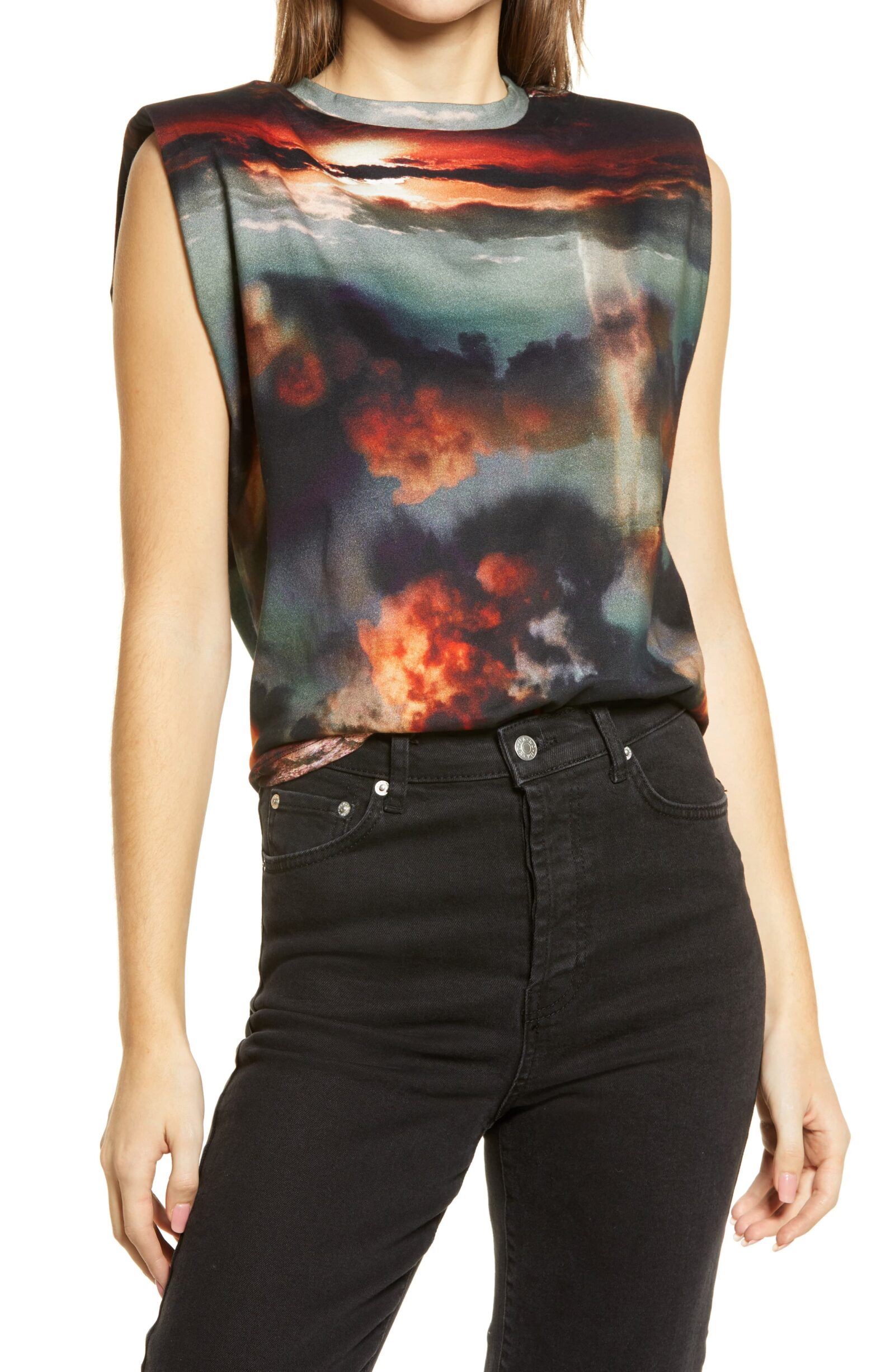 Allsaints Epiphany Coni Shoulder Pad Tank ($75) $41.40
Give your outfits a splash of cool and high-voltage versatility with this shoulder pad tank. The vibrant graphics printed on the tank top makes it captivating and edgy at the same time.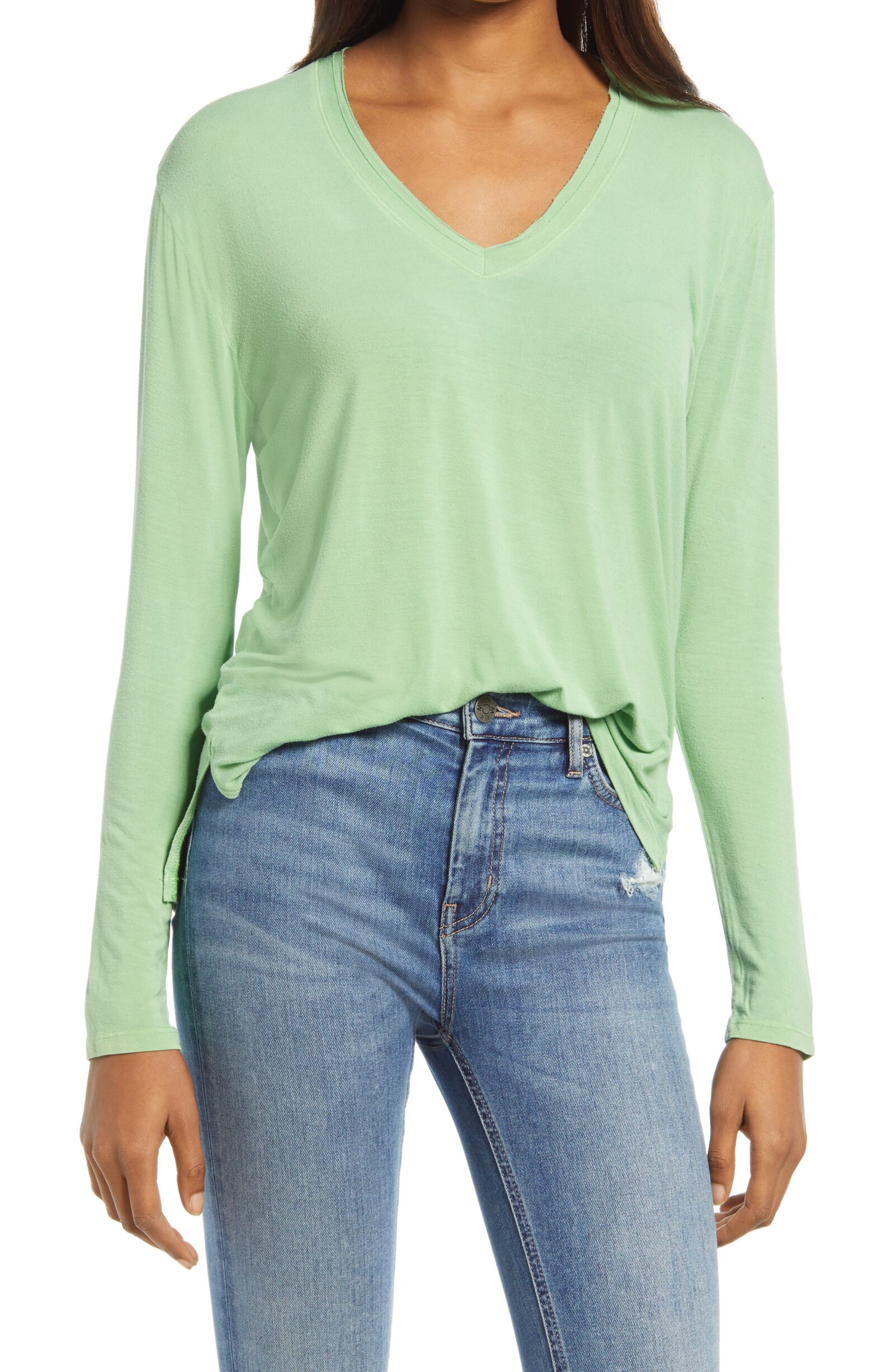 Treasure & Bond Mineral Wash Long Sleeve T-Shirt ($39) $15.97–$39
Throw this t-shirt on anything, and we bet it'll end up creating a modish outfit. The retro touch of this t-shirt will work great, specifically with high-rise straight-leg jeans.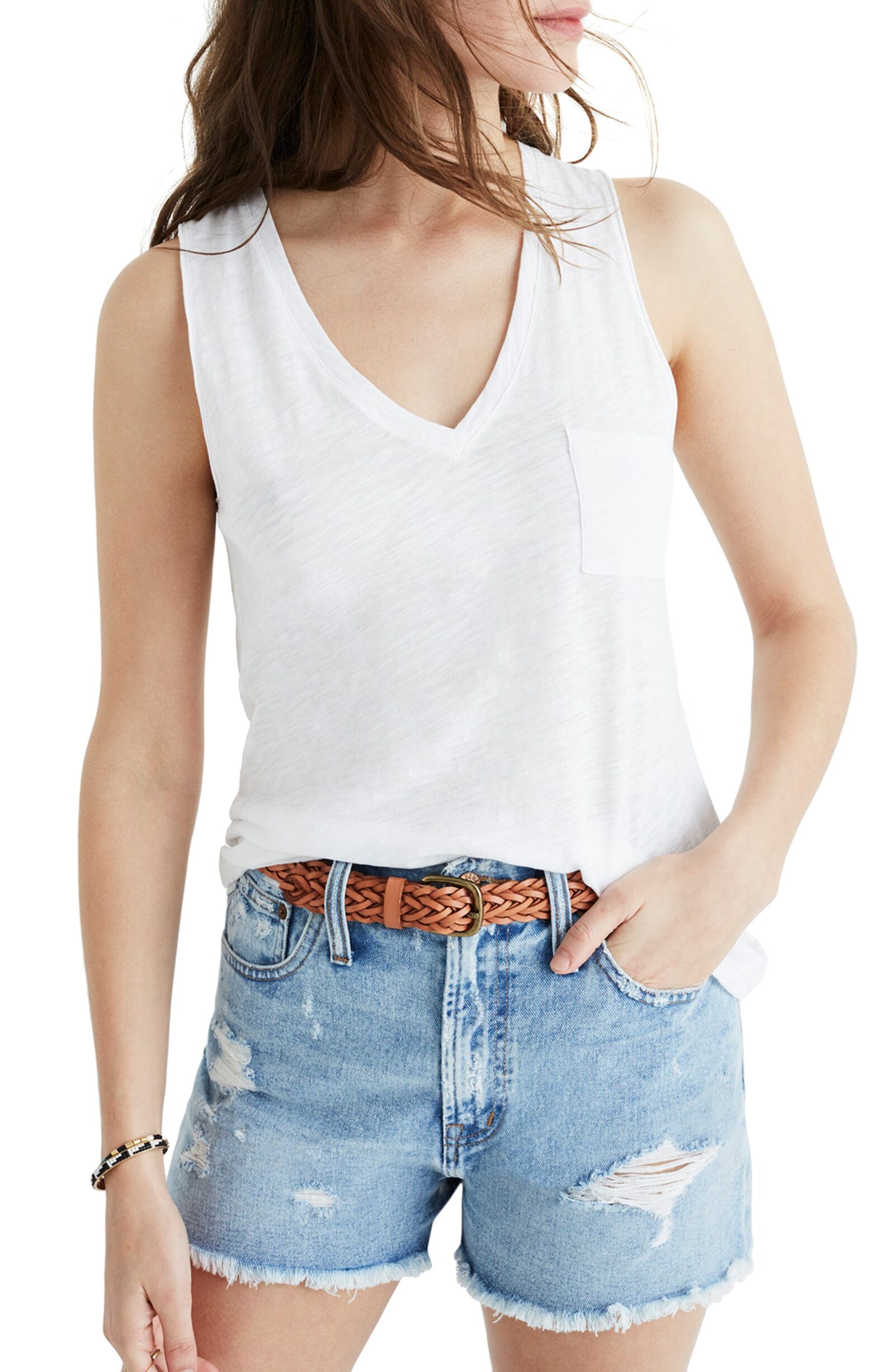 Madewell Whisper Cotton V-Neck Tank ($18.50) $15
For extreme hot summer days, this V-neck tank top is your new fashion savior. This lightweight, soft, and adorable tank top can be worn for a number of casual occasions to create a gamut of vibes.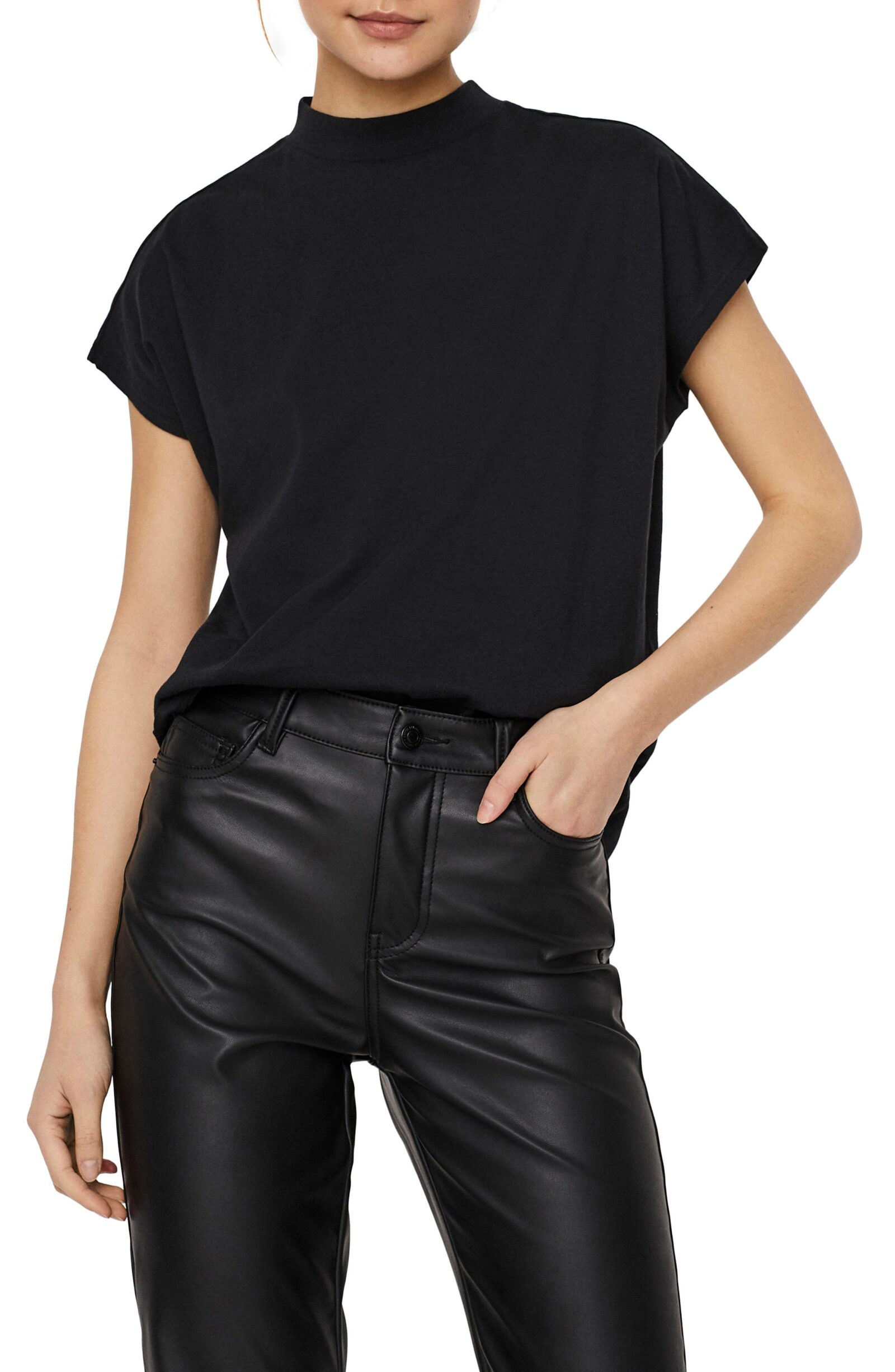 Vero Moda Mock Neck Top ($25) 
Can't find the perfect top for your leather pants? Look no more, and add this mock neck top to your cart. The classic look of this top with short sleeves will never let you down.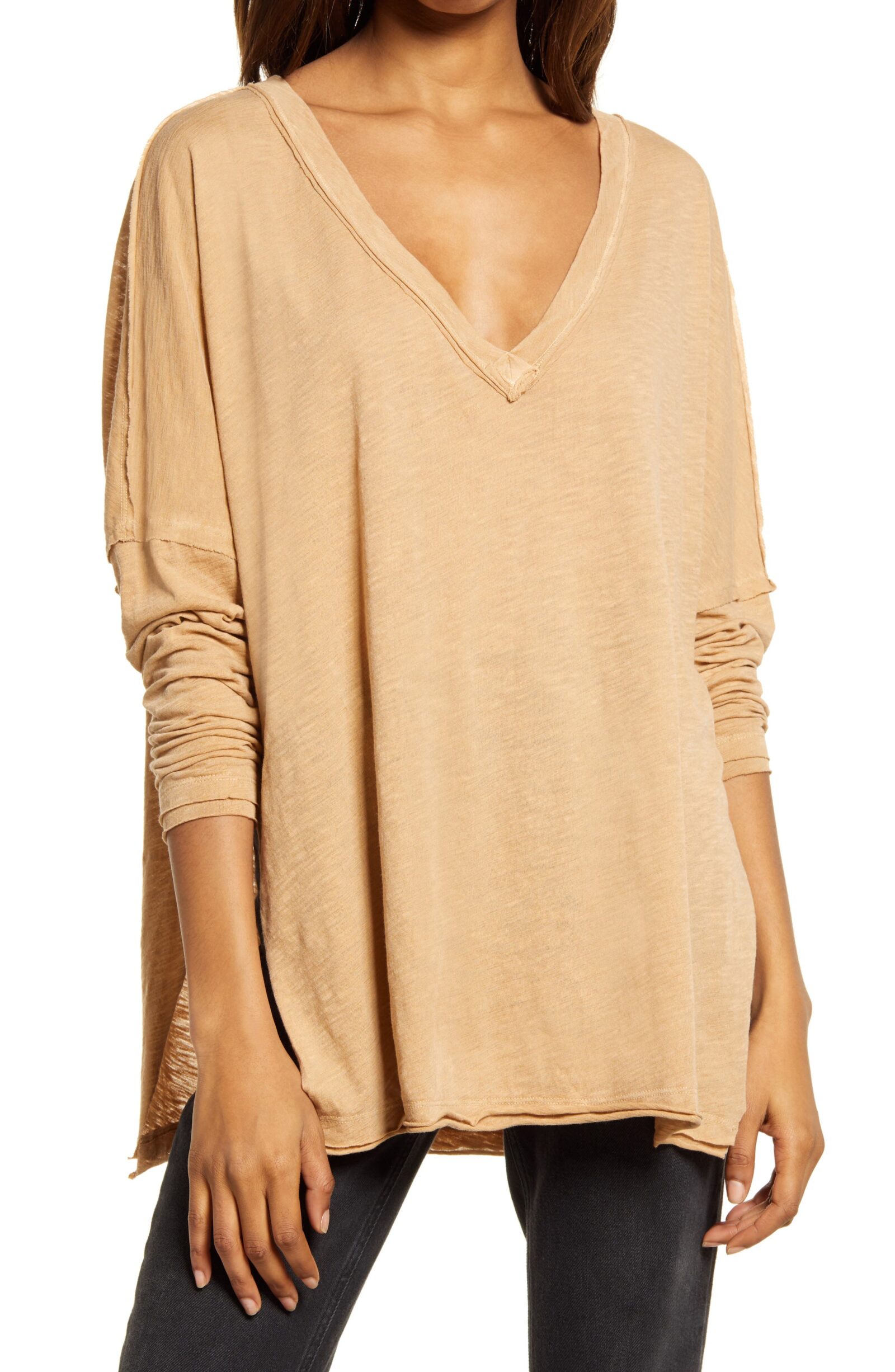 Free People On My Mind V-Neck Shirt ($38) 
This extremely soft and raw top is incredibly chic. The loose-fitting and V neck of the tee exudes a laid-back yet swanky look that even our editors are obsessed with, so what are you waiting for?
Up Next: 15 stunning shoes that are perfect for spring/summer 2021