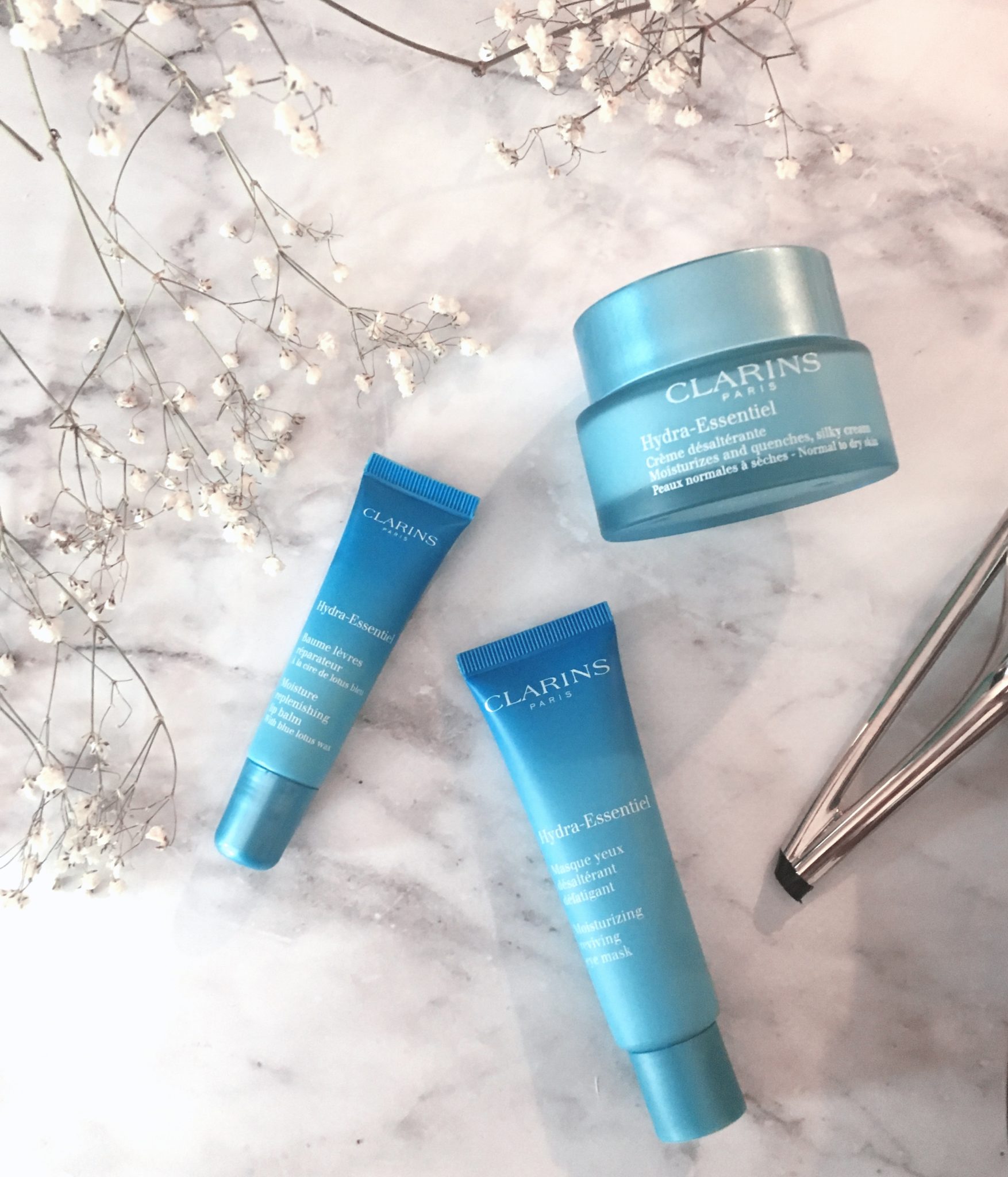 Can't believe its Spring already 🙂 Taking care of my skin comes under the list of – most important things in my life. When Clarins sent me their new Hydra-Essentiel Replenishing Lip Balm & Hydra-Essentiel Moisturizing Reviving Eye Mask I was excited to try them & share the results with you all.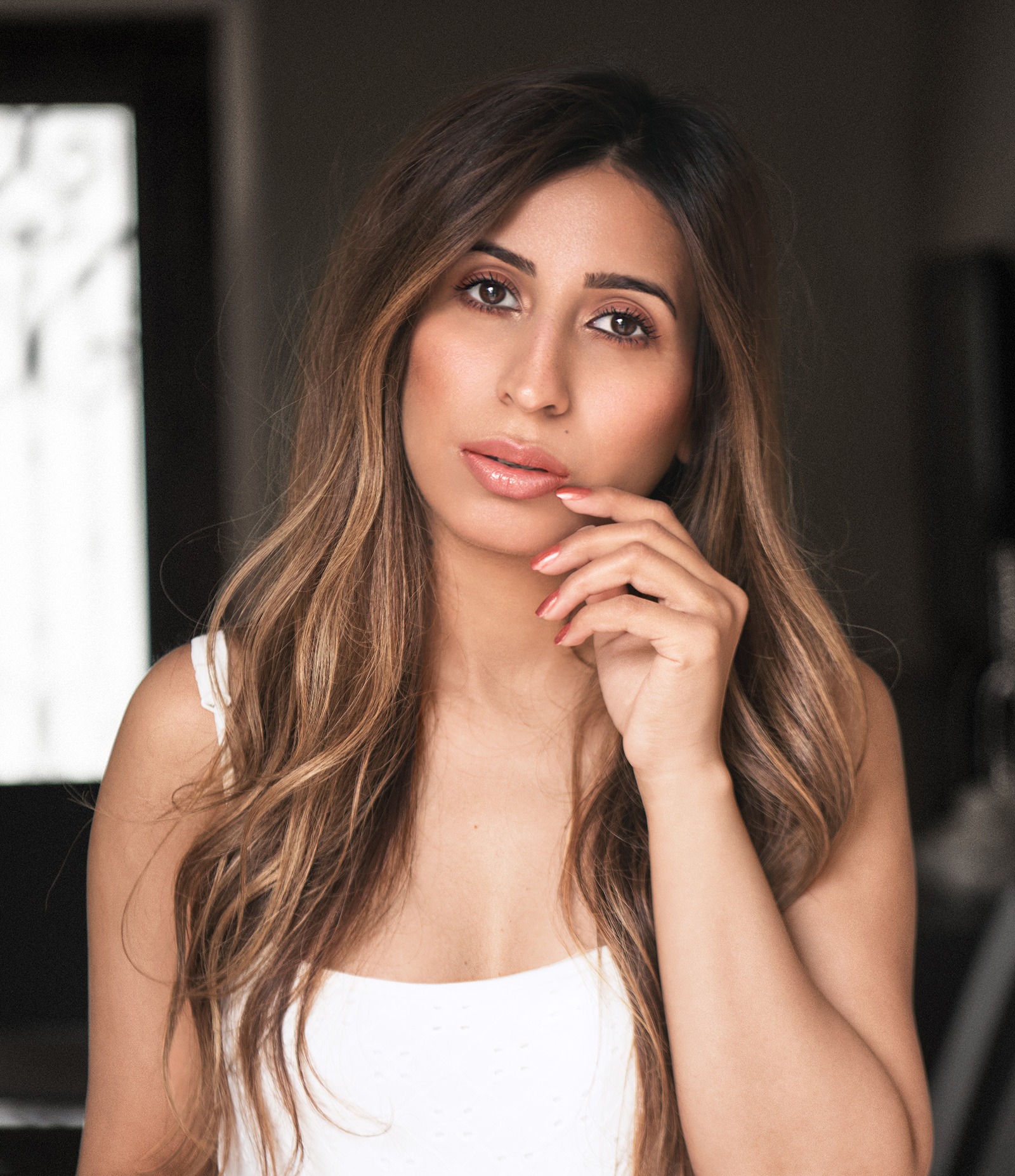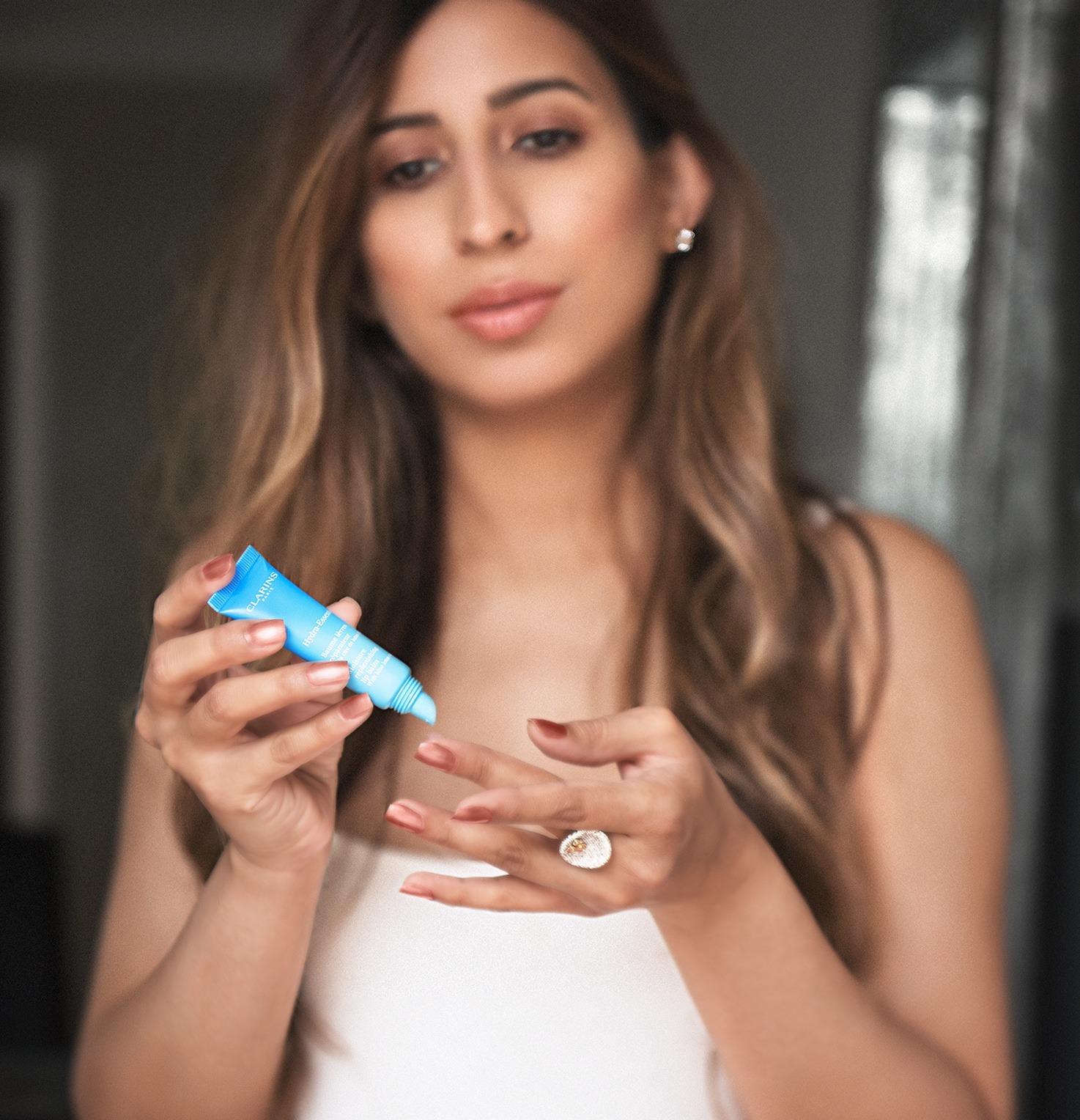 At this point, you might be asking yourself whether you really need a lip moisturizer at all. The answer to that is YES. For one thing, the skin on your lips is very thin. Your lips don't contain any oil glands, so they don't produce any natural oils like the rest of your skin does.  As a result, lips tend to become dehydrated and chapped more quickly than the rest of your skin would.
Clarins Hydra-Essential Lip Balm nourishes, moisturizes, and protects lips in all environments. Unlike other lip balms its not sticky! So no hair on your lips sticking problem with this lip balm:) Also I love that the delicate pink texture of the lip balm is very rich, yet goes on light & it enhances lips radiance, leaving them with a natural glow. Lips are visibly plumper and brighter, feeling soft, smooth, and kissable. Four important reasons why I love the Clarins Hydra-Essential Lip Balm & recommend using it.
1. Lipstick goes on smoothly and looks way better
2. You avoid the embarrassing chapped  lip look
3. You appear younger
4. Your skin heals faster
Tip-
I like to apply it on my finger tip and dab it on to my lips.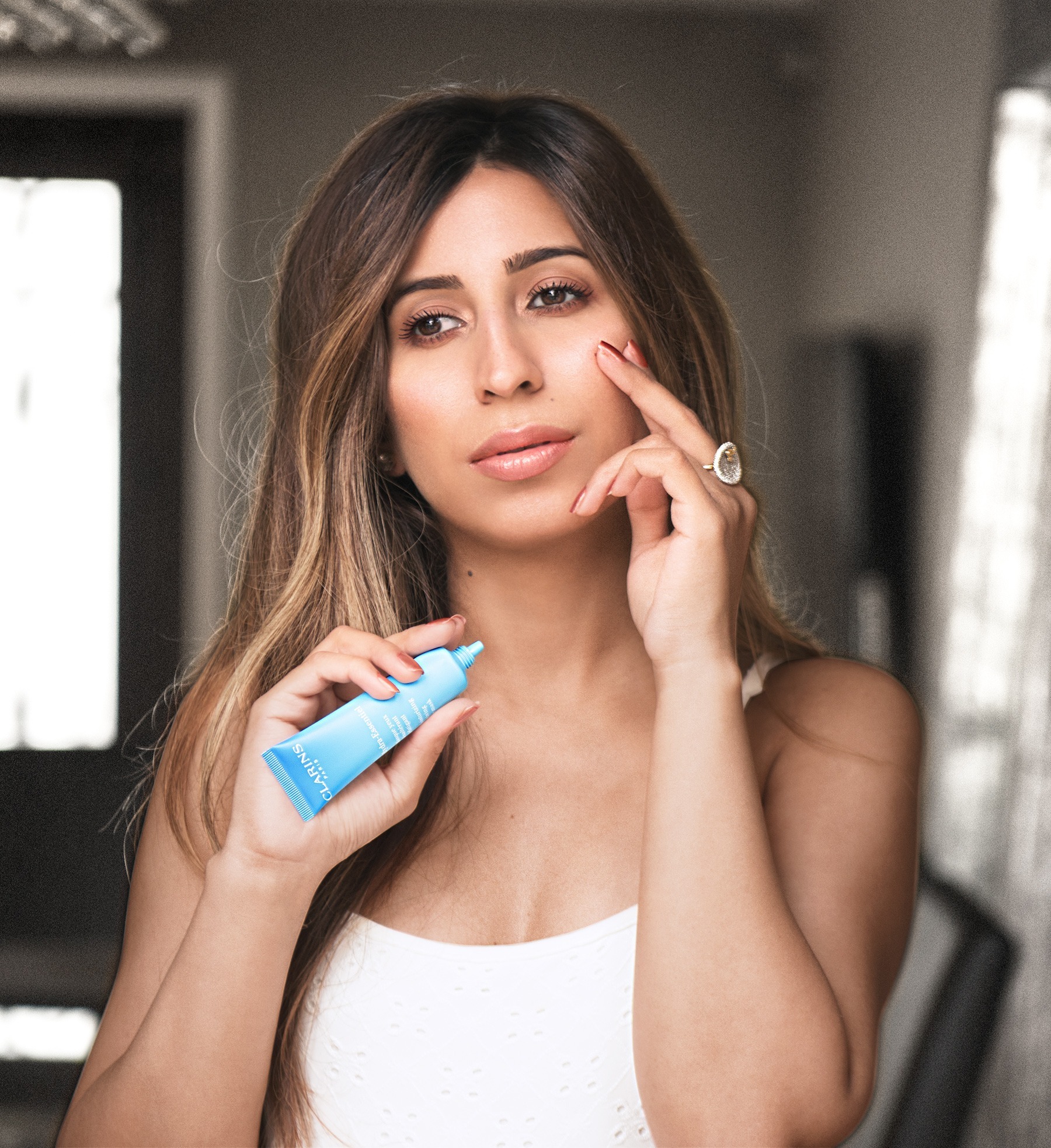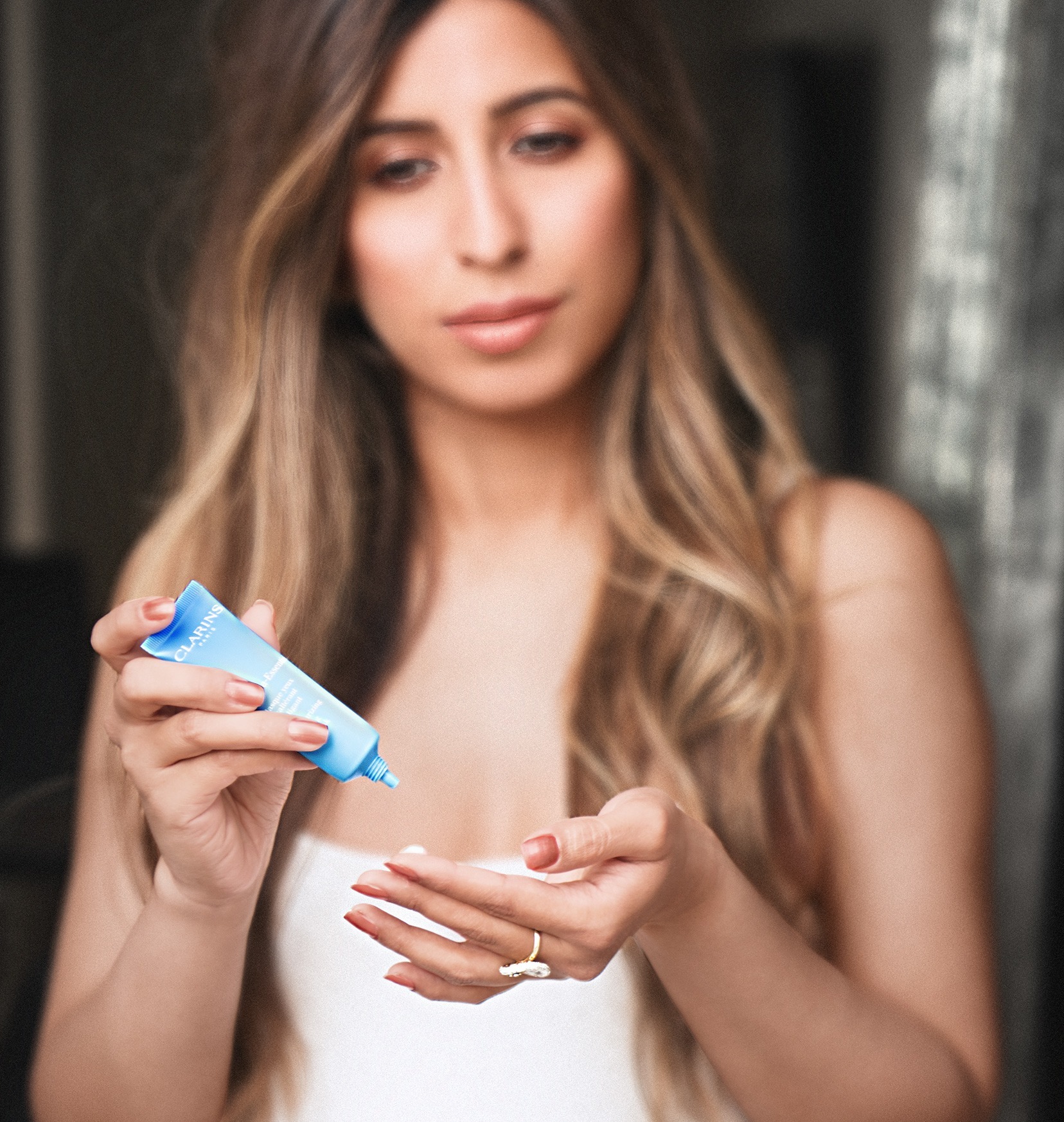 It's no secret that we all have one foot out the door & getting 8 hours of sleep everyday may seem like a far fetched dream. Our hectic lifestyle & lack of sleep can take a toll on the appearance of our eyes.  The skin around the eyes is very delicate & prone to wrinkles, dark circles, puffiness etc. I am a huge fan of masks, so I was intrigued to try the Clarins new Hydra-Essential Moisturizing Reviving Eye Mask specifically designed to be used under your eyes. It visibly minimizes signs of fatigues, wrinkles, dark circles, puffiness, and fine dehydration lines.
I love the 2 in 1 use of this Clarins Eye mask i.e. on weekdays when I am running tight on schedule, I can apply it for 10 mins for instant reviving action or on the weekends give my eyes a deep hydrating treatment by leaving a thick layer of mask all night long.
The mask is simple to apply and smells so refreshing and light! The result every time I use it is- brighter under eye area & fresh well rested look. It's like I have been getting my full 8 hours of sleep everyday 🙂  I can also see the difference in some fine lines around the eyes.
Tip-
I like to store it in the fridge for few hours before, for that instant cooling effect when you apply it.
On the weekends I like to Multi mask and use this under eye mask along with Clarins SOS masks (you can read my detailed review on SOS MASKS here) for a spa like treatment at home and my skin has a natural glow that I always wanted.
Don't forget to share with me if you already have or get inspired to try them!
Adi xx
In collaboration with Clarins & all opinions are my own