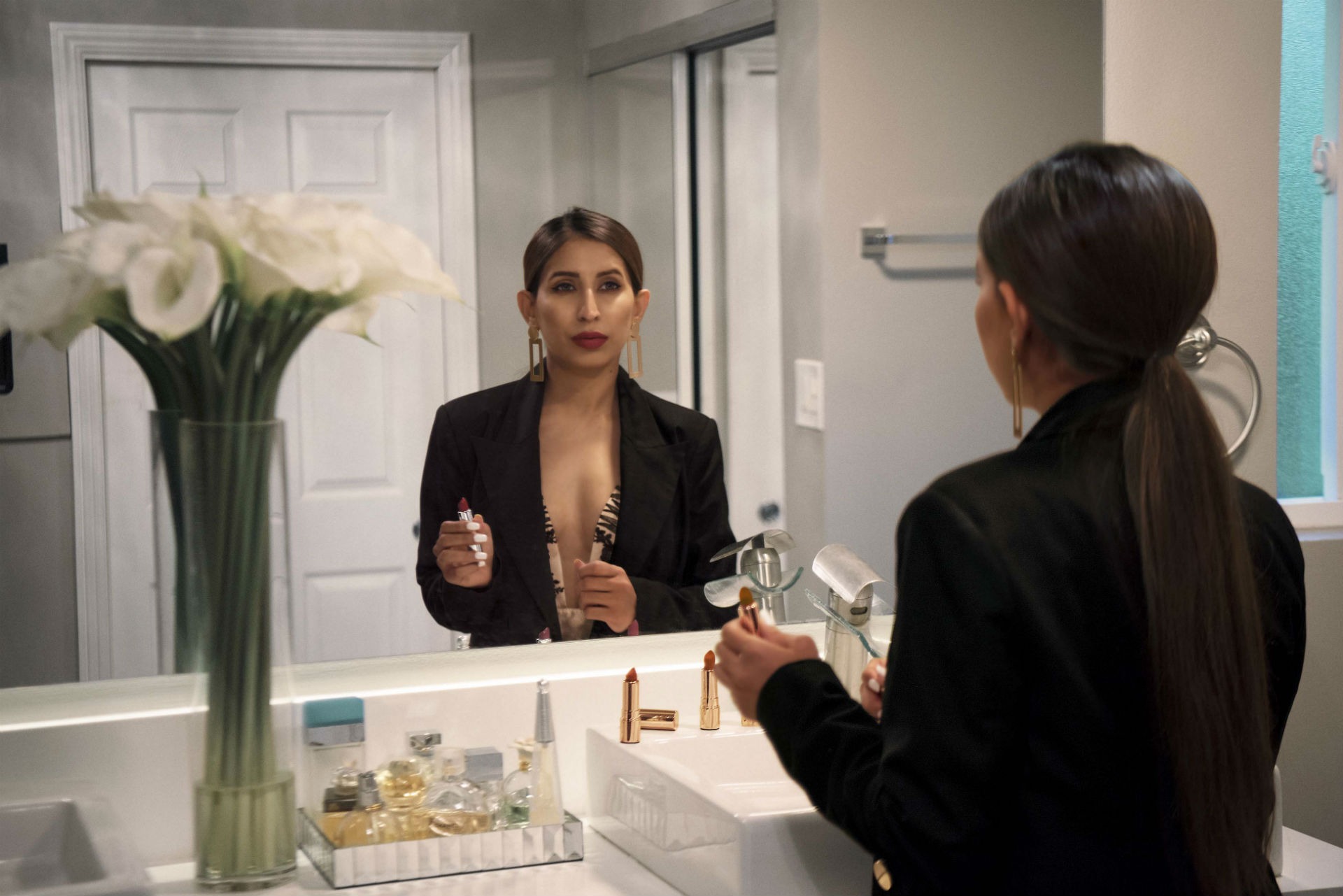 Wearing Spicy Cinnamon shade in Velvet finish
Hi everyone! I can't believe its Fall already and I am looking forward to the holiday season that is not too far. I feel that the right Lipstick can not only help elevate your style but also your mood. When it comes to lipsticks I prefer something sheer during the day and love wearing matte lip colors for a night look. It is so important to understand that one finish doesn't fit all.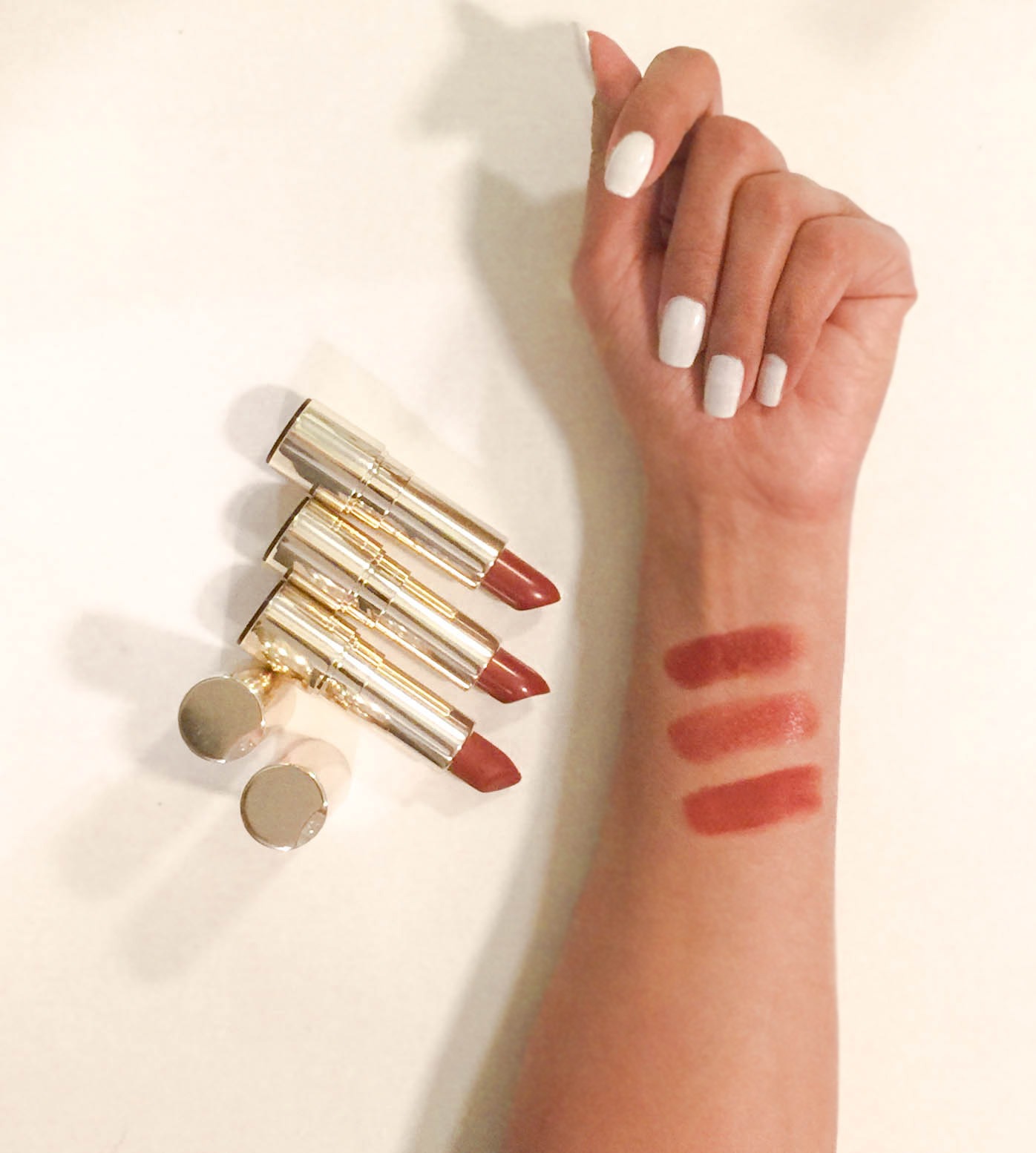 3 different finishes for Spicy Cinammon shade- (Top to bottom)
1. Joli Rouge – Satin finish | 2. Joli Rouge Brillant – Shiny & Sheer finish | 3. Joli Rouge Velvet – Matte finish
I am so excited that Clarins took their cult-classic Joli Rouge lippie that I am obsessed with & added a whole bunch of beautiful new shades that they created in 3 distinct, pout-perfecting finishes for every mood : Shiny & Sheer, Satin and Matte. Each finish is available in 20 shades & all the Joli Rouge lippies also contain Organic Marsh Samphire extract that hydrates, softens, comforts, and moisturizes lips for 6 full hours.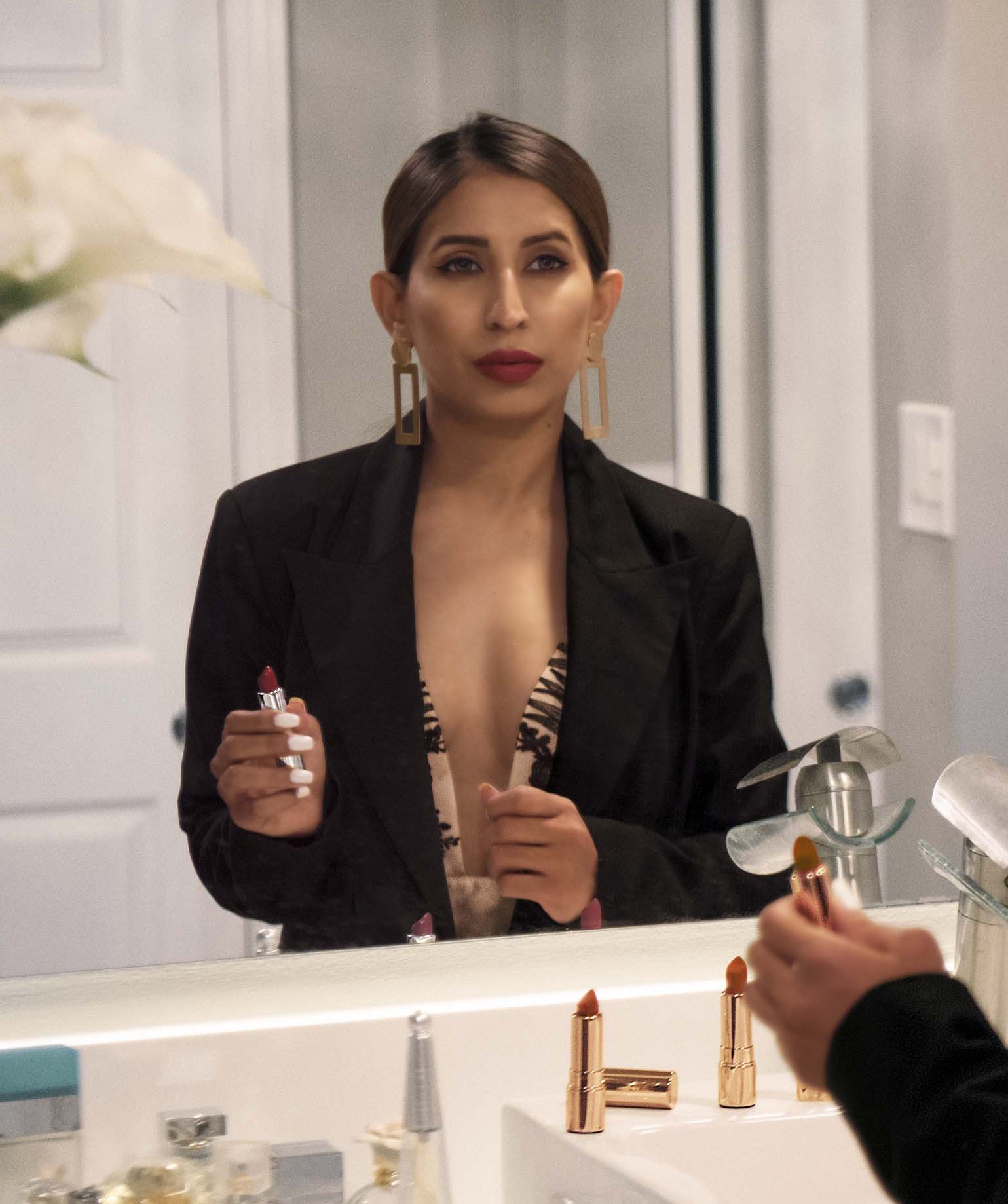 Joli Rouge – Satin finish
The classic Joli Rouge lipstick, has a beautiful creamy, moisture-rich formula. It provides intense color with a delicate Satin finish. Its in between sheer and matte finish and has generous color payoff. It has Mango oil and Organic Marsh Samphire extract that provides 6 hours of long-lasting hydration and hours of long-wearing, flawless color. Its my go to finish when I need something to take me from day to night.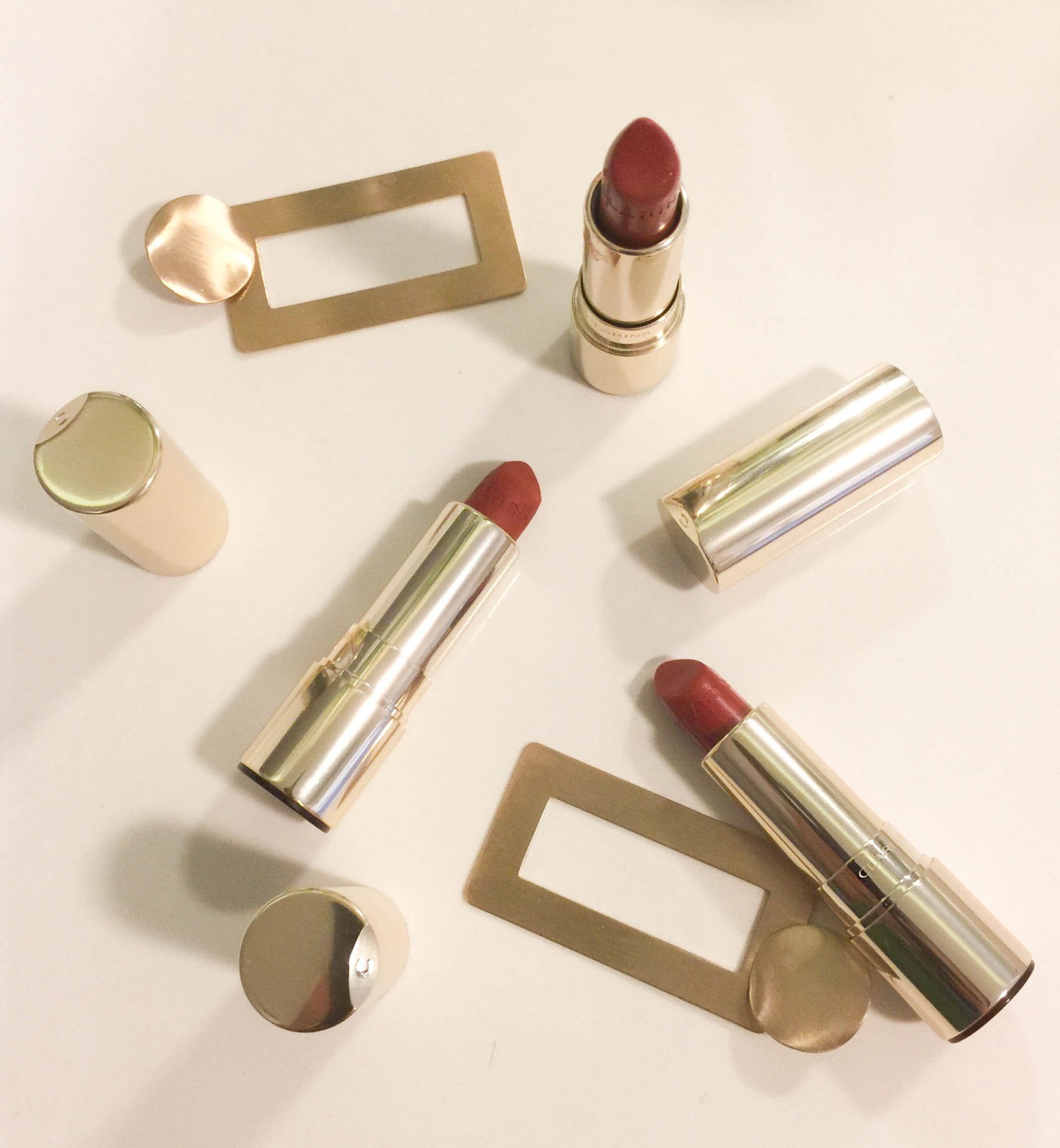 Joli Rouge Brillant – Shiny & Sheer finish
Perfect for when you need that extra shine. Sparkling color with a sheer finish. Also available in 20 different shades like other finishes. It is enriched with Clarins exclusive Booster Complex that leaves lips luminous and luscious. It is super hydrating and provides 6 hours of non-stop moisture. It also consists of Mango oil along with Organic Marsh Samphire extract that nourishes, hydrates and protect lips.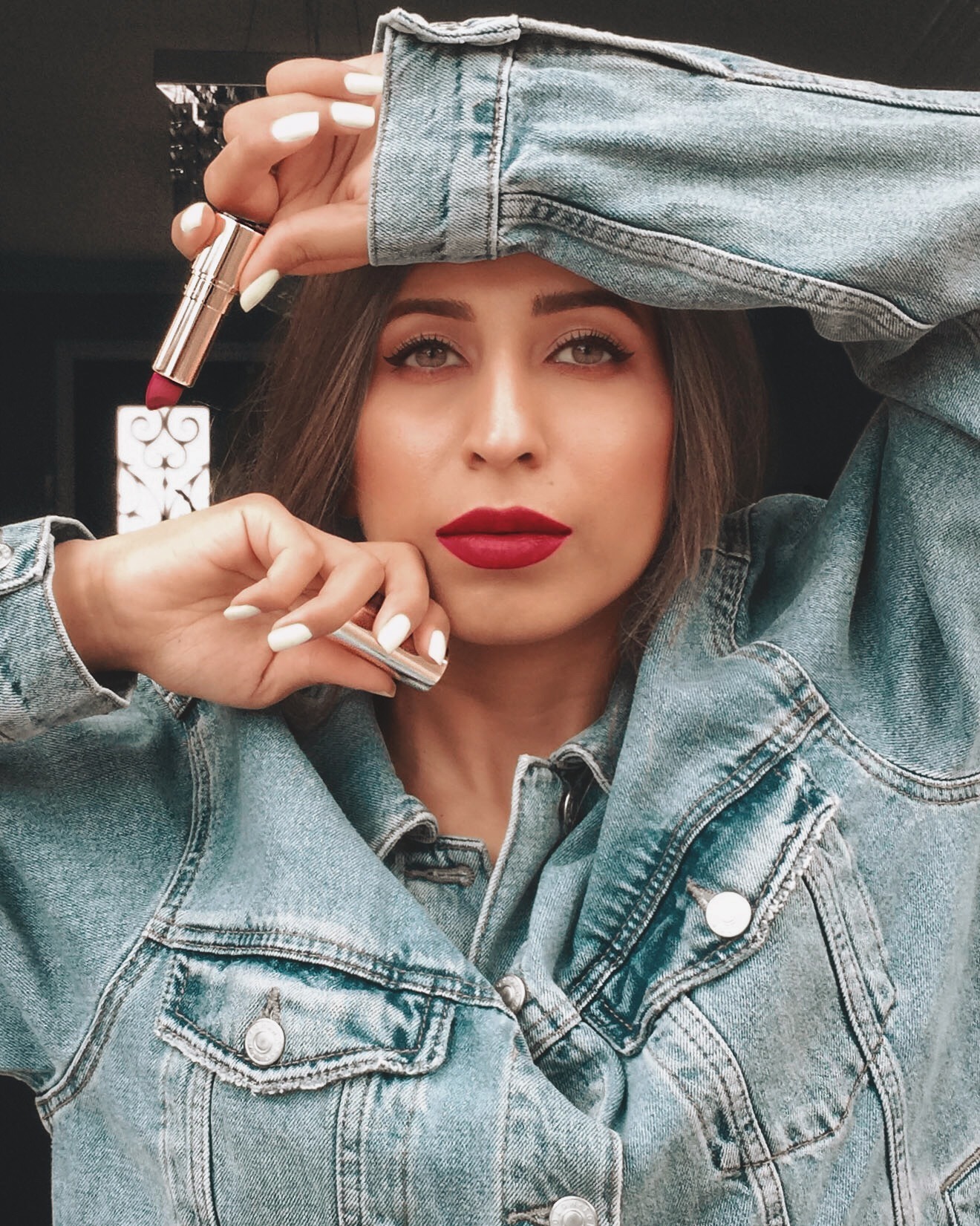 Joli Rouge Velvet – Matte finish
Last, but definitely not least, their newest lipstick that I can't get enough of.  When you need to add a bit of an edge to your look. Its the matte color that's a fresh take on a classic lipstick that is so rich in color. Velvet Booster+ Complext creates a creamy, lightweight texture that delivers long-wearing, luminous color. The best thing about their matte lipstick is it does not dry up your lips because it has Organic Apricot oil that helps in nourishing the lips. The color I am wearing is Spicy Cinnamon in Velvet finish and I mixed it with Spicy Cinnamon Satin finish. The rich satin finish accentuated and the matte texture of matte finish created a beautiful look for a date night with Dino.
Can't wait to get my hands on some other colors in different finishes from Clarins Joli Rouge family! Which finish is your personal favorite- Satin, Sheer or Matte?
Adi xx
In collaboration with Clarins, all opinions are my own.