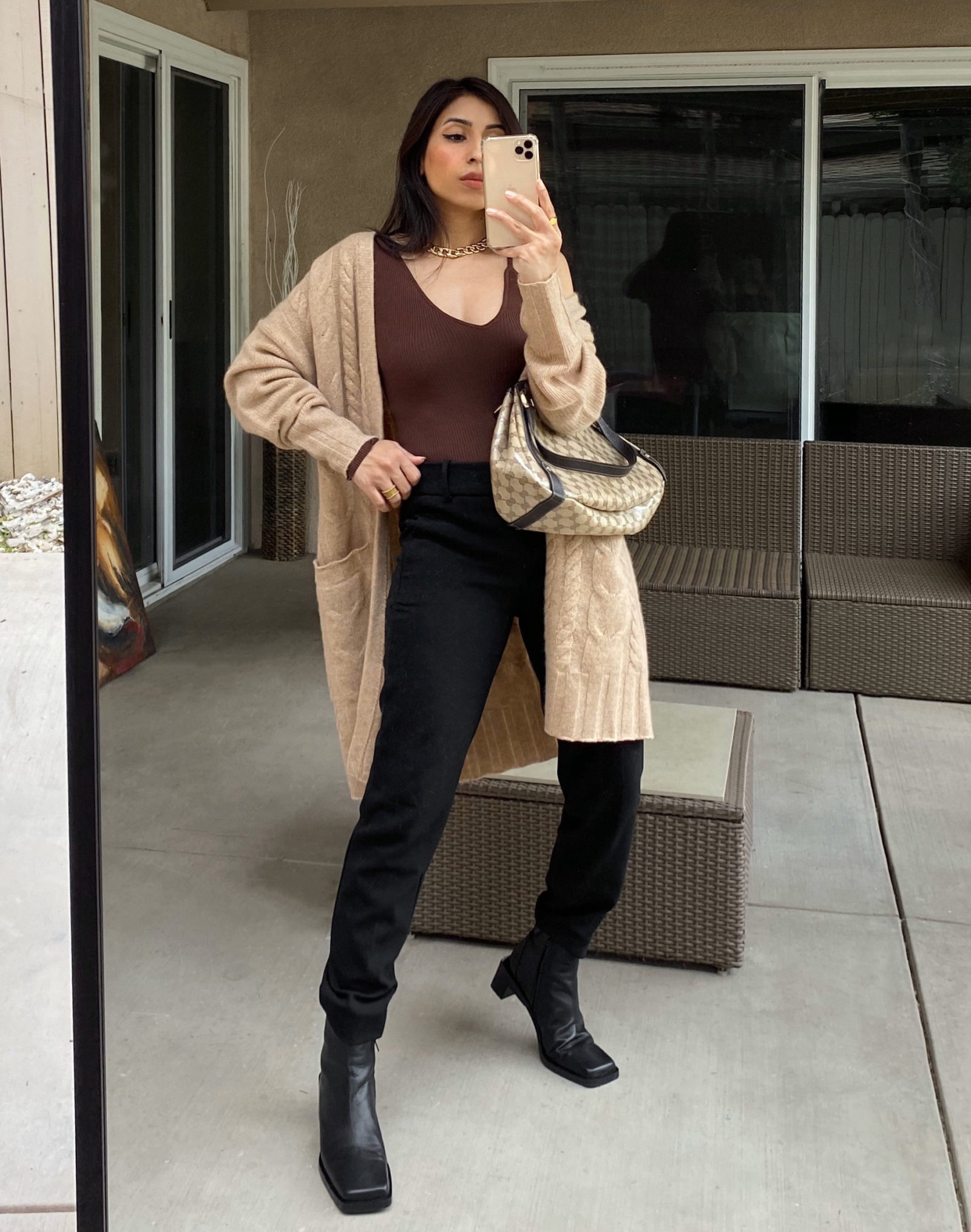 If chunky sweaters and layered outerwear is your jam, we are sure that you'll be utterly happy that winter is approaching. However, when it comes to wearing those snuggly, warm, and thick knits, most of us end up looking like a fluffy teddy (not in a good way). That's when you can count on the French girls for fashion cues. French-style enthusiasts have a knack for embracing the cold weather in the most voguish way! They sure know how to rock the season in chunky, cute knits.
So, here are the 5 best ways of wearing/styling sweaters (Ft. the French girls). Be it a sweater with a skirt or a cropped cardigan; you can take a serious sweater styling note. Don't wait a second more – keep scrolling to find out how to wear a sweater in 5 different, stylish ways.
1. Cropped Cardigans 
What's a better way of staying warm and stylish than to wear a cropped cardigan? You can wear baggy boyfriend jeans, a midi skirt, and even flared trousers with cropped cardigans. The feminine allure of this clothing item will keep you ahead in the fashion crowd.
Crop Polo Cardigan ($65)
Ribbed Jersey Cardigan ($14.99)
Anastasia Cropped Cardigan ($92)
2. Embellished knits 
A little detail or subtle embellishment on the knit is everything you need to stay stylish. You can opt for small cable knit patterns to try this French-approved trend!
Button Knit Cardigan ($59.99)
Basket Weave Stitch Sweater ($69.95)
Polo Style Sweater ($59.99)
3. Belt On Sweater 
French-style enthusiasts are redefining the typical sweater by teaming it with a belt. The luxe vibe of this look is what you'll be in love with.
Waist Belt ($17.99)
Interwoven Sash Belt ($29.99)
Acetate Buckle Belt ($150)
4. Sweater With Short Skirt 
This cold weather, you don't entirely have to give up on your mini skirts. Instead, elevate the ensemble by employing the skirt with thick cozy sweaters.
Mock Neck Sweater ($49)
Vegan Leather Too Late Miniskirt ($79)
Cable-Knit Sweater ($39.99)
Check Tweed Miniskirt ($59.99)
5. Backward Cardigans 
When it comes to improvising fashion, French girls are always one step ahead. One of the biggest Fall trends that Parisian influencers are flaunting is wearing the cardigans backward that is designed in a way to show off the back with cute detailing.
Fill.sweater ($345)
Sweater Cardigan With Pleated Sleeve ($74.95)
Ivory Cozy Crop Cardigan ($89)