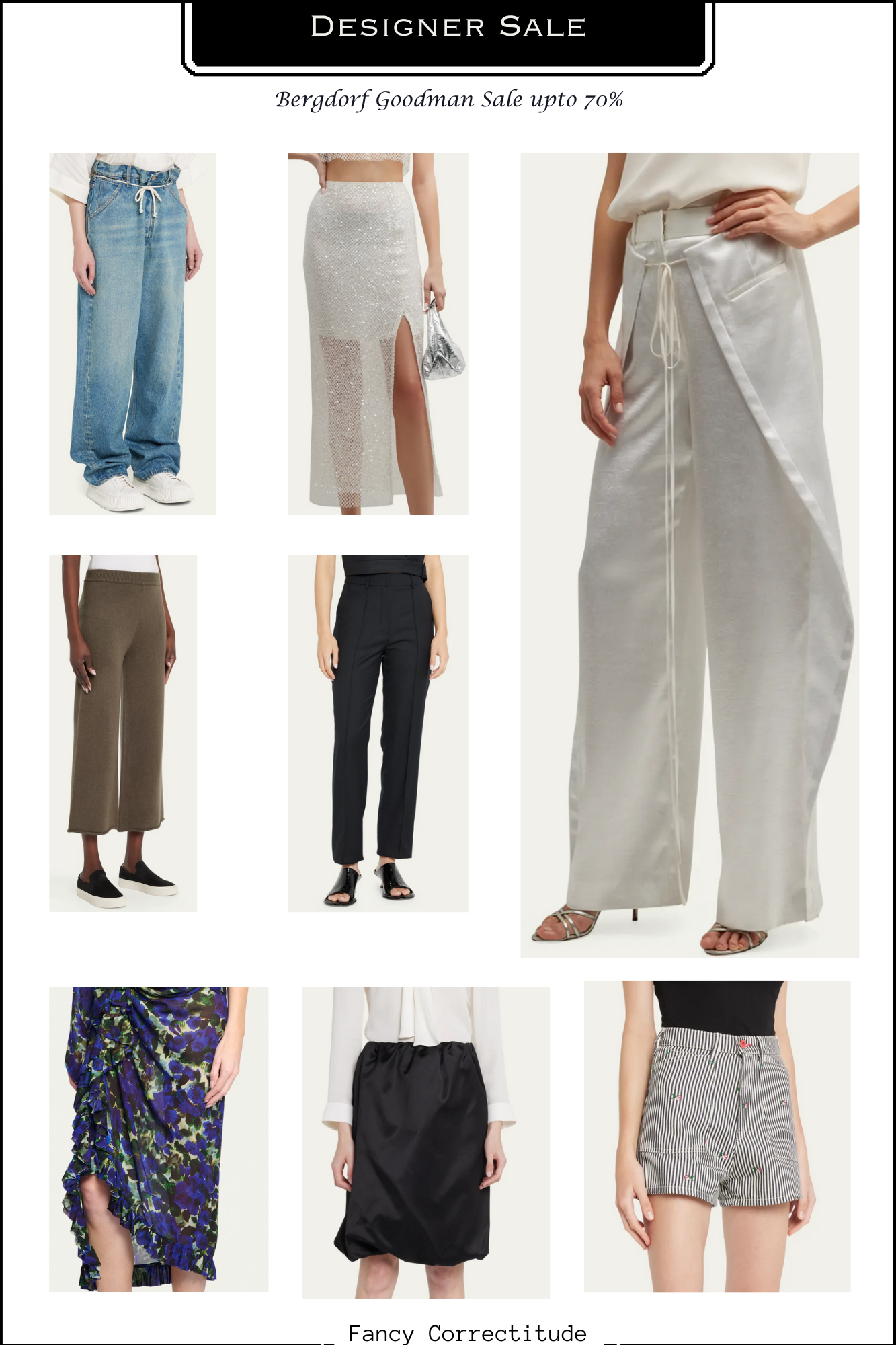 Even your finest top requires a perfect pair of trousers or a gracefully flowing skirt to complete your look. Whether it's an office day in formal attire or a casual brunch with your friends, you need bottom wear that complements any occasion. And guess what? There's always some extra space in the wardrobe for a few more pieces.
Fortunately, the Bergdorf Goodman Designer Sale is currently offering an exquisite high-end collection at discounts of up to 70% and more. In case you are running a little late, no worries – we've got your back and have carefully selected the 25 most perfect bottom wear options for you, including denim pieces, chic shorts, and elegant skirts. Just scroll down and grab whatever catches your eye the most.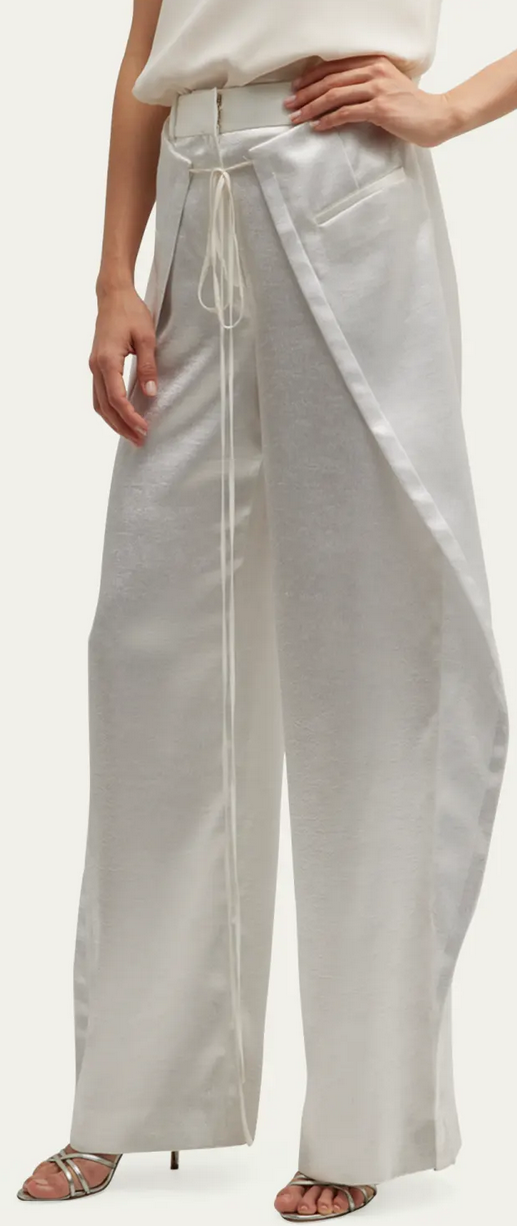 Metallic Front-Flap Wide-Leg Crepe Pants($1,595.00) $510.40
Casual wide-leg metallic shine crepe pants featuring front flaps and self-tie waist detail.
2. MERYLL RODGE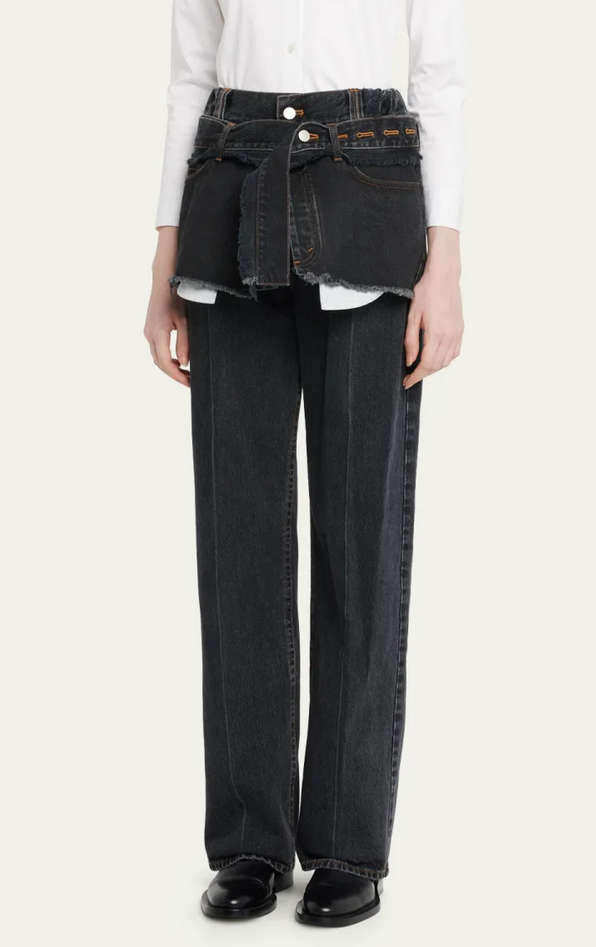 Straight-Leg Denim Pants with Waistpiece($1,496.00) $358.40
Buy these denim pants with waist piece and belt detail available in such an offer.
3. THE ATTICO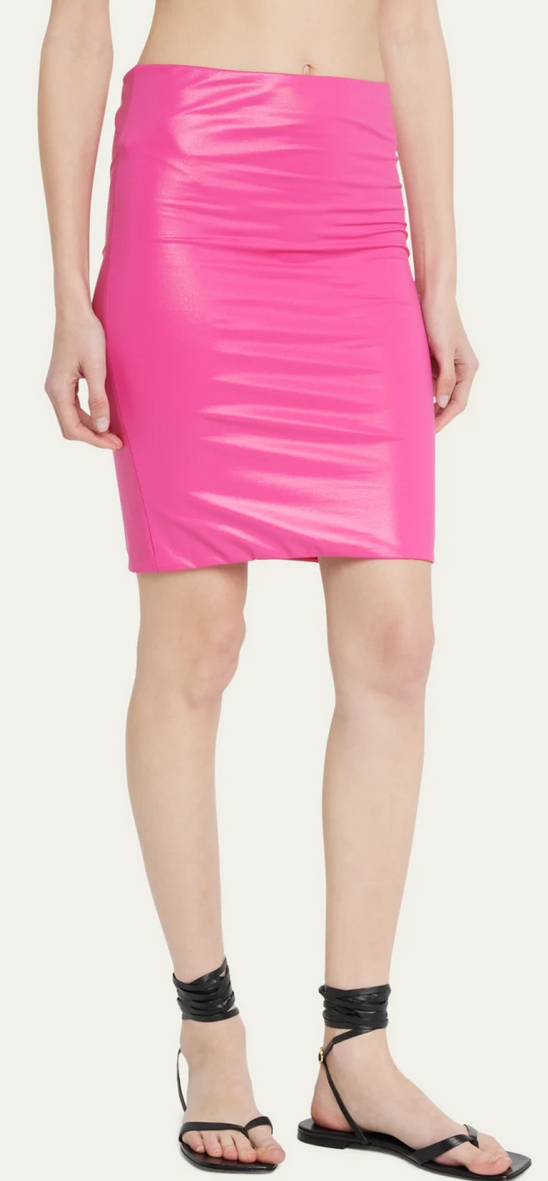 Ruched Mini Skirt($310.00) $124.00
Pencil-style skirt in a bold pink hue that sits at the natural waist.
4. KENZO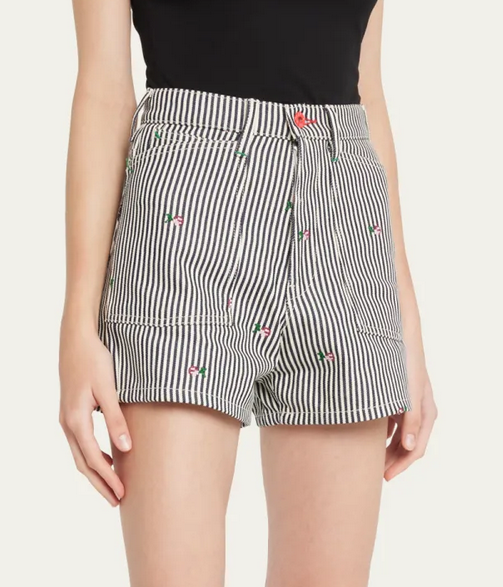 Rinse Striped Denim Shorts($475.00) $94.40
Wear these straight-fit striped denim shorts featuring embroidered flowers throughout with front and back patch pockets at extremely affordable prices.
5. FRAME
Wide Relaxed Trousers($348.00) $83.20
Slay your formal days in these baggy-fit wide-leg trousers with side slip pockets; back welt pockets.
6. DARKPARK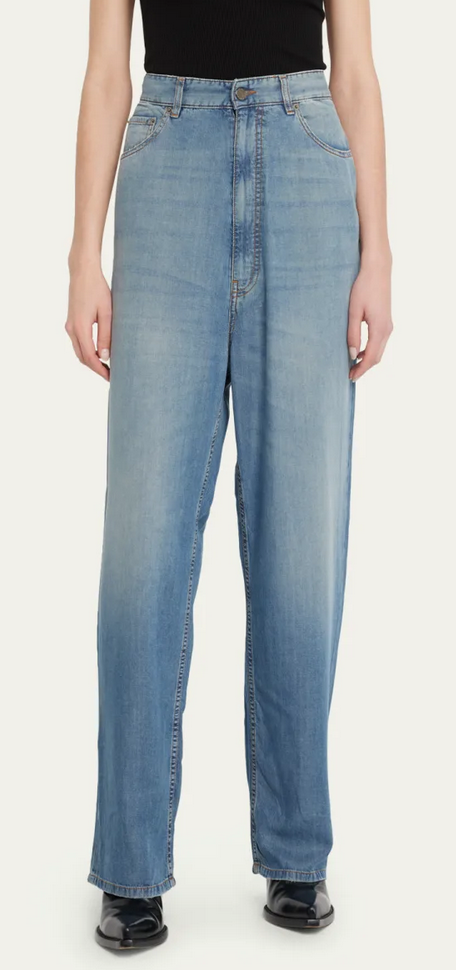 Alice Straight-Leg Relaxed Fluid Jeans($490.00) $117.60
Straight-leg high-rise jeans in faded fabric in medium-wash texture with a five-pocket style.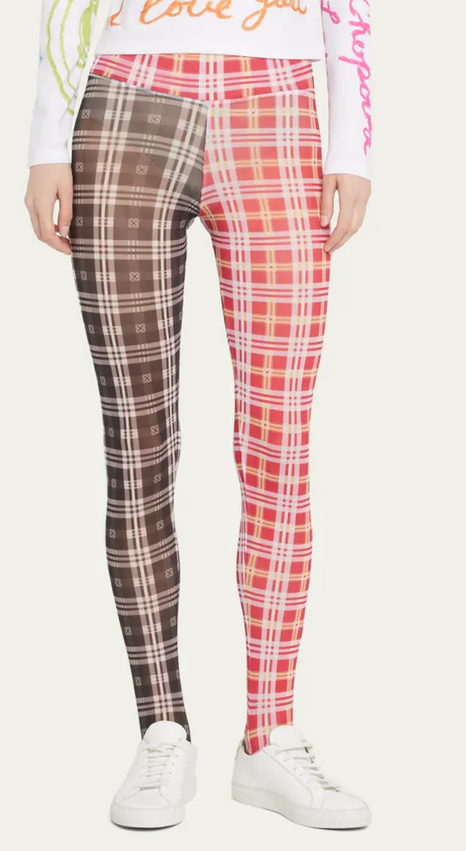 Split Tartan Mesh Stirrup Leggings($165.00) $39.20
Wear these artistic mesh stirrup leggings with split tartan skinny fittings.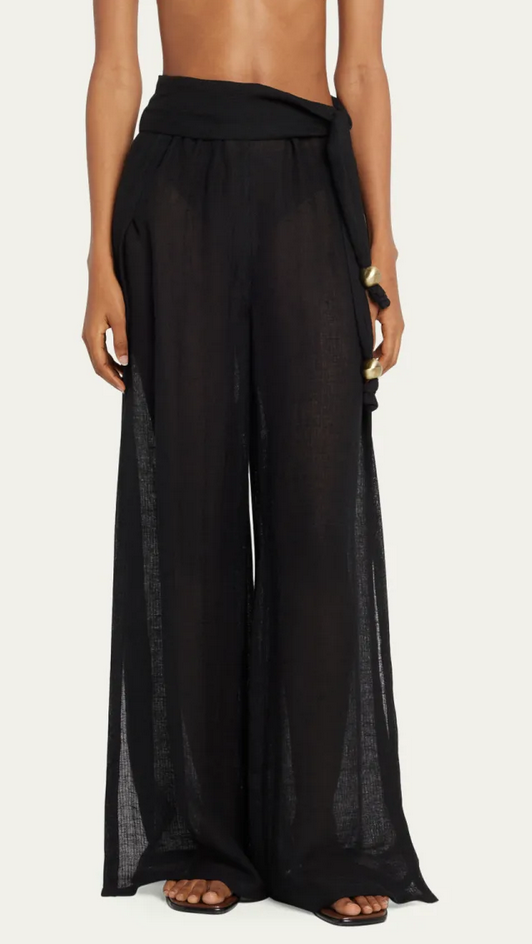 Cotton-Gauze Open-Side Pants($695.00) $277.60
These skirt-like cotton-gauze wide-leg pants feature side slits and waist tie detail.
9. Kassl

Soft Leather Trouser Pants with Pleated Front($1,040.00) $332.80
Comfortable and soft leather trouser pants feature pleated details at the front for office days.
10. Emporio Sirenus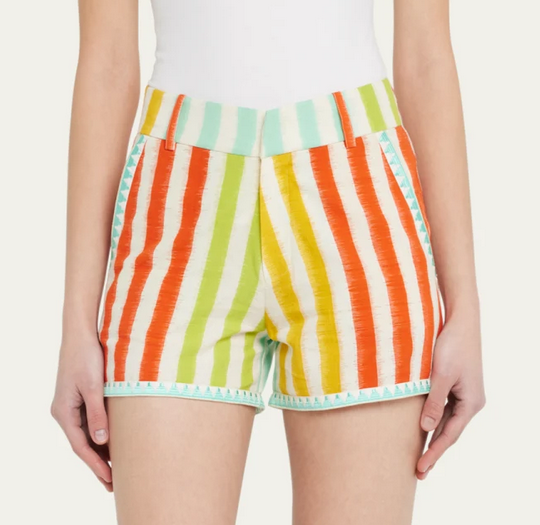 Ikat Striped Multicolor Shorts($735.00) $176.00
Featuring multicolor ikat stripes throughout and a mid-rise fitting with side slip pockets these shorts give the perfect holiday mood.
11. ALICE + OLIVIA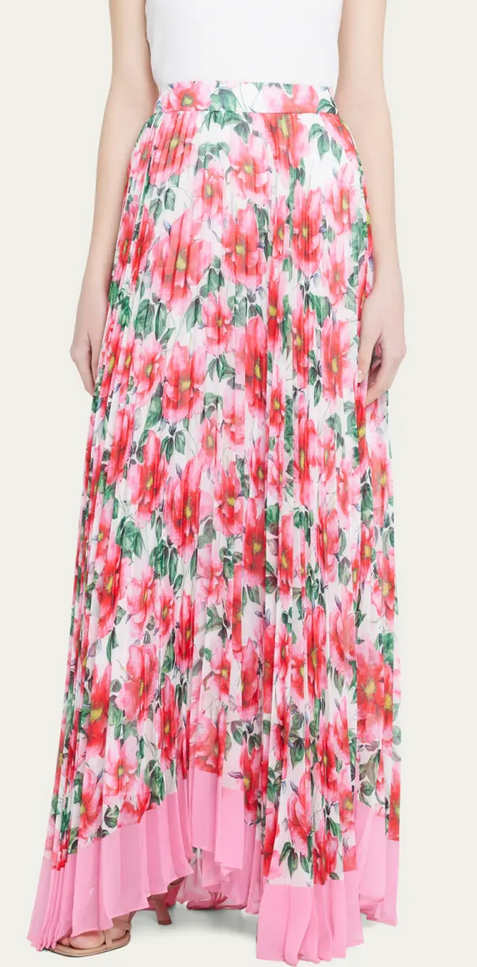 Katz Sunburst Pleated Maxi Skirt($495.00) $158.40
A beautiful flirty skirt in a floral print that features tiny accordion pleating.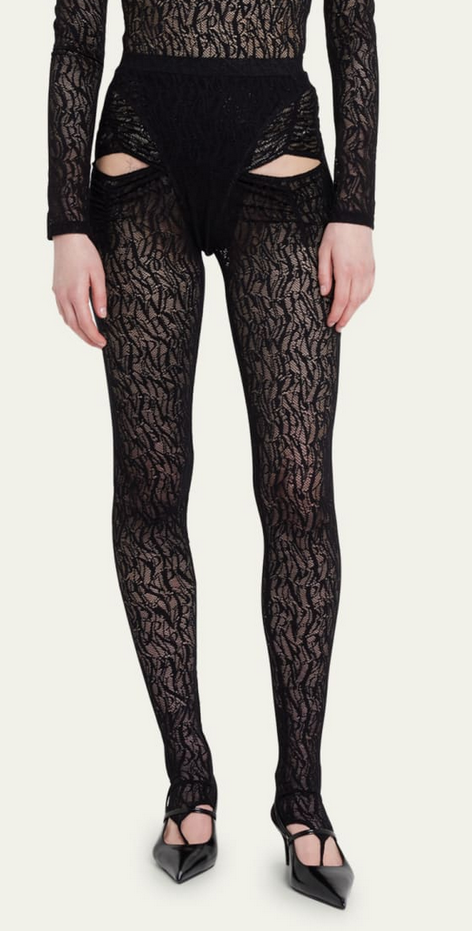 Logo Lace Cutout Stirrup Leggings($395.00) $94.40
Style up your wardrobe with these allover logo lace stirrup leggings with cutout detail.
13. NSF Clothing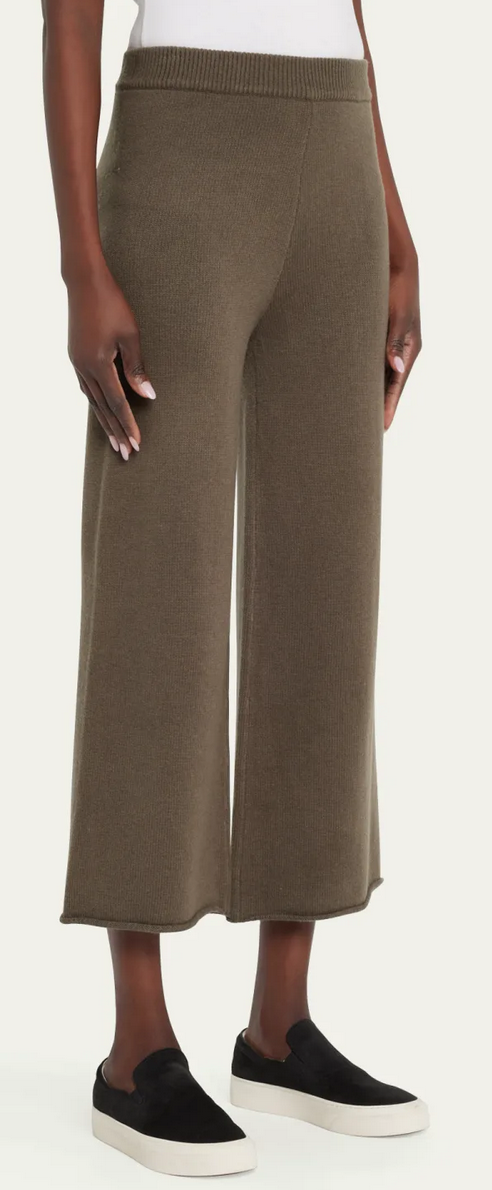 Amika Knit Wide-Leg Crop Pants($495.00) $118.40
Casual high-rise ribbed-knit wide-leg pants and elastic waistband.
14. KHAITE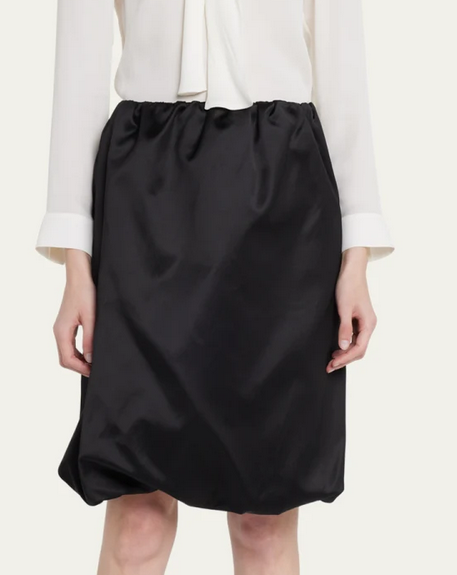 Raya Bubble-Hem Skirt($1,600.00) $384.00
Classy satin skirt with a high waist in a straight silhouette design.
15. Kobi Halperin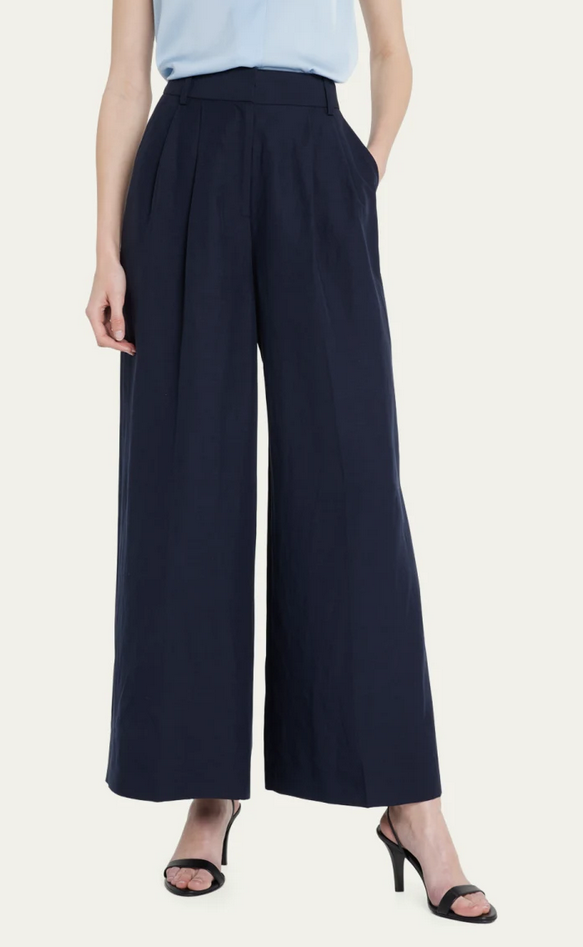 Elaine Pleated Wide-Leg Linen Pants($348.00) $166.40
Wide-leg pleated pants in mid-rise sit high on the hip and side seam pockets.
16. Anna Quan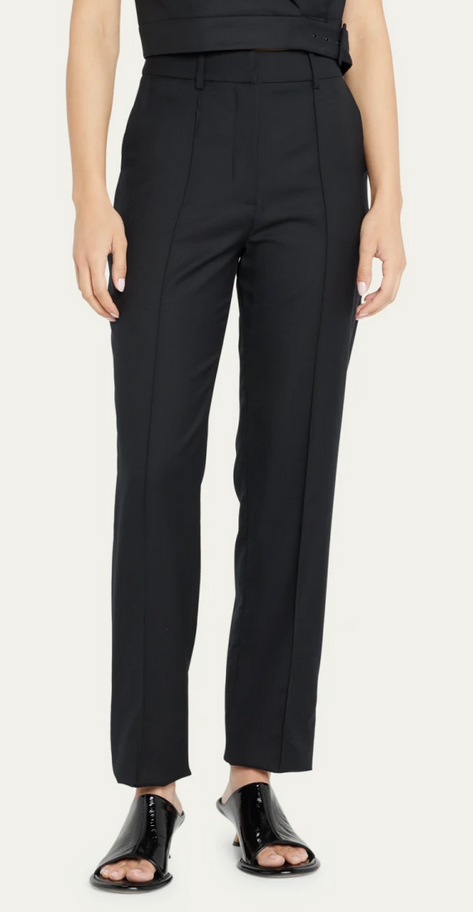 Ravi Tailored Pintuck Pants($495.00) $98.40
Perfect formal outfit straight-leg pants with pintuck dealing.
17. LOVESHACKFANCY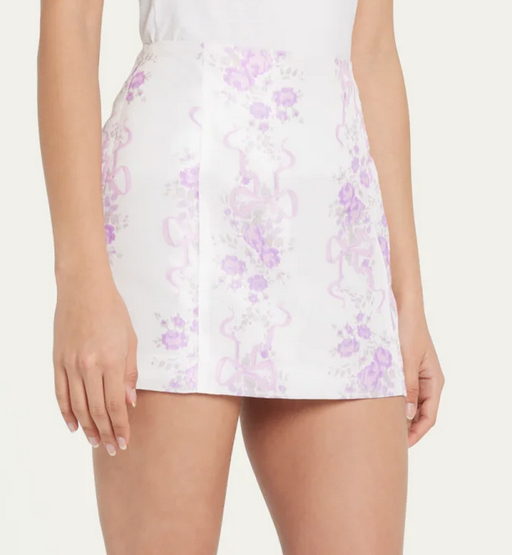 Charma Floral Mini Skirt($295.00) $94.40
Flirtatious floral pencil skirt features soft paint.
18. DARKPARK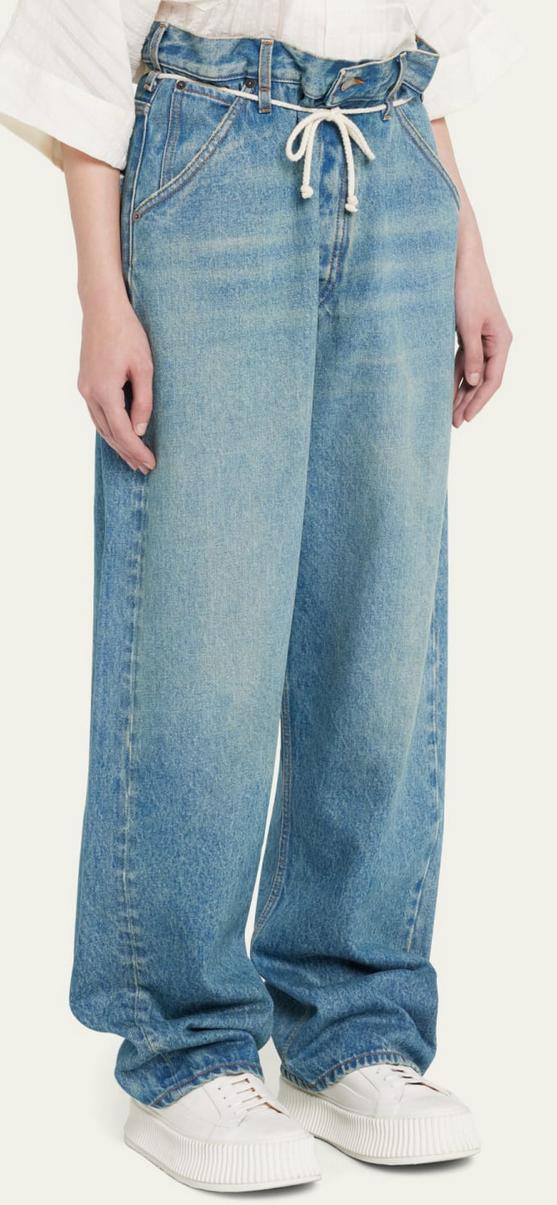 Iris Baggy Oversized Jeans($665.00) $159.20
Comfy baggy jeans for casual day outs.
19. FRAME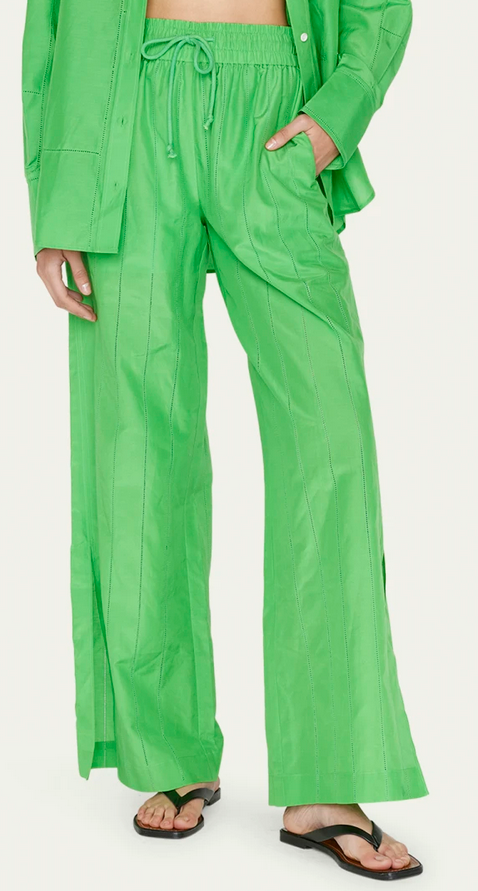 Drawstring Lounge Pants($388.00) $92.80
Relax in these lounge pants with open-work stitching and split hem.
20. INTERIOR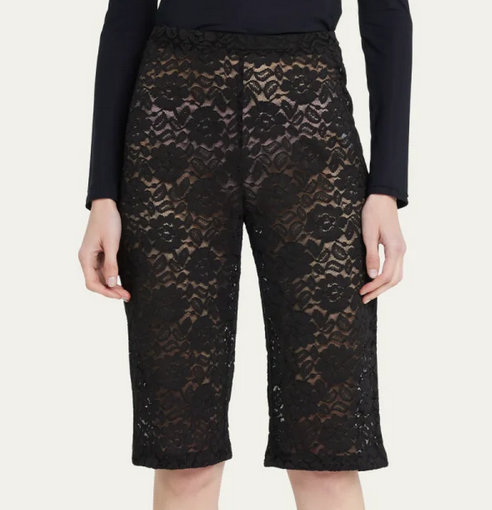 Carrie Fitted Lace Shorts($550.00) $132.00
Enjoy your breezy day in these Bermuda shorts in all-over semi-sheer lace.
21. ZANKOV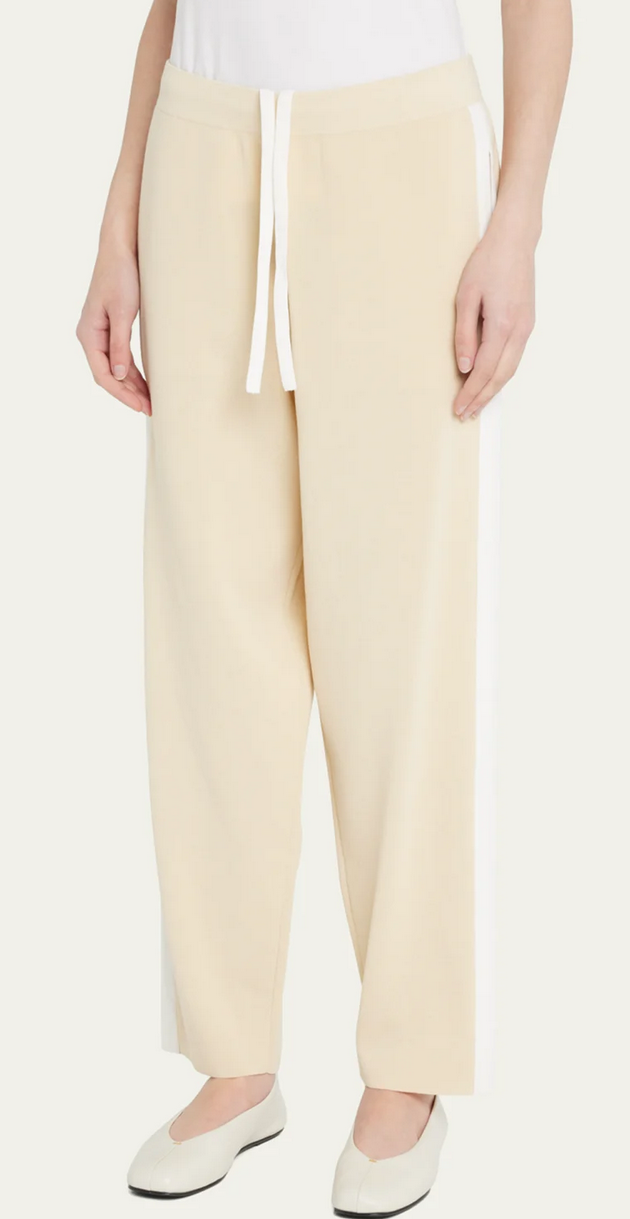 Alberto Knit Side Stripe Lounge Pants($585.00) $116.80
High-rise fine pleated knit lounge pants with geometric digitally printed side stripe.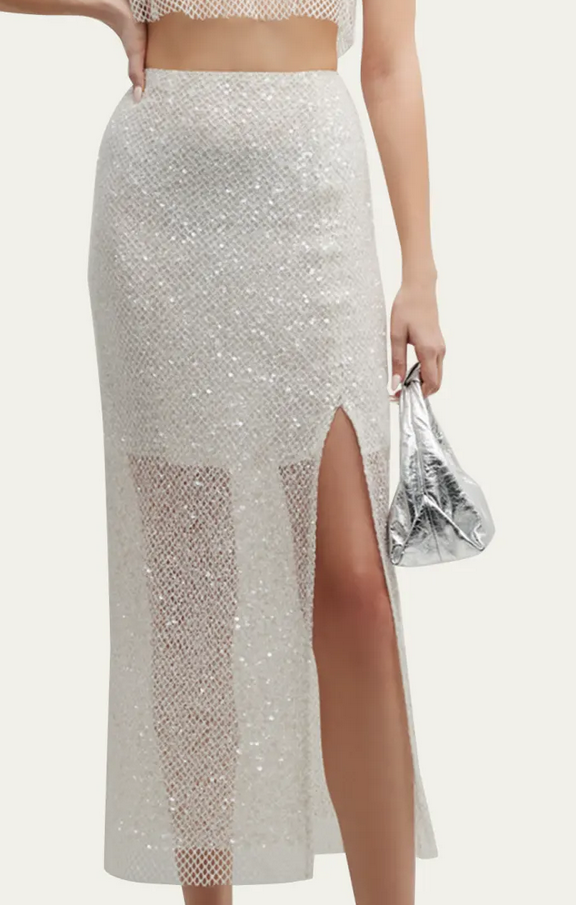 Open Net Beaded Skirt with Slit($2,590.00) $828.80
Flaunt your inner fashionista in this gorgeous open net skirt featuring all-over beaded and sequin embellishments.
23. Dries Van Noten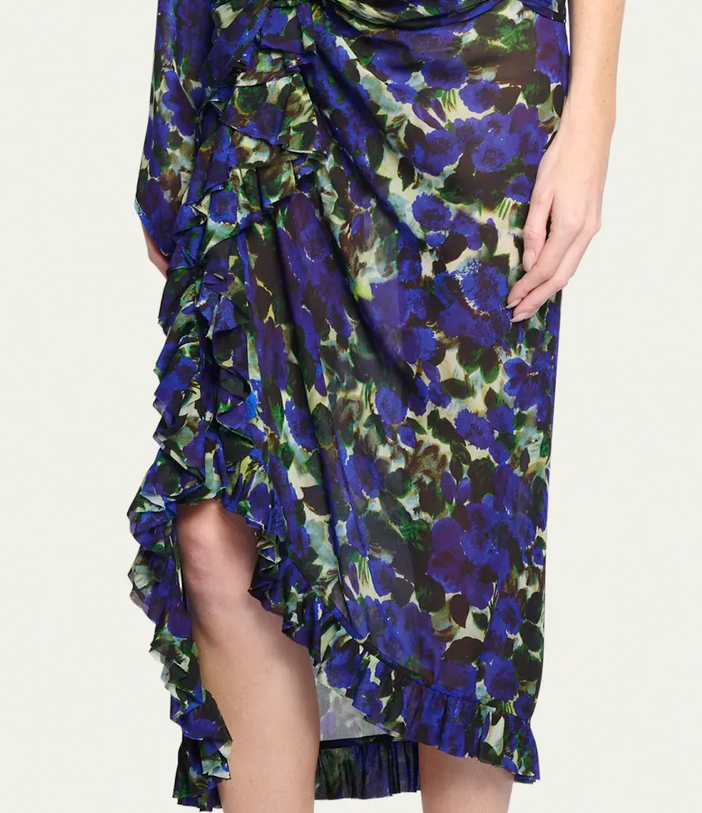 Sina Floral Midi Ruffle Tulip Skirt($930.00) $465.00
This smoothly designed sarong-style skirt features an illustrated floral print and cascading ruffle.
24. Kiton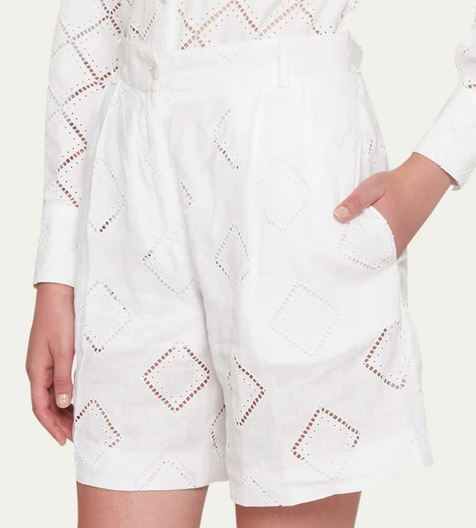 Diamond Eyelet Embroidered Linen Shorts($1,335.00) $533.60
Ultra comforting embroidered linen-made shorts.
25. Quira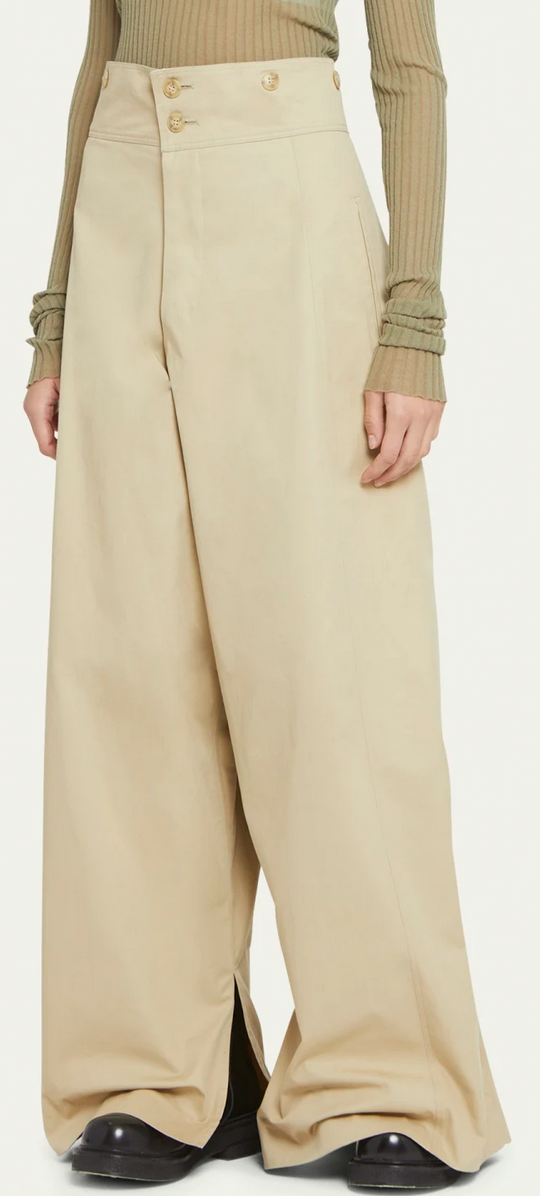 High-Waist Baggy Trousers($970.00) $232.80
A proper mix of formal and casualness is present in these high-waist baggy trousers.