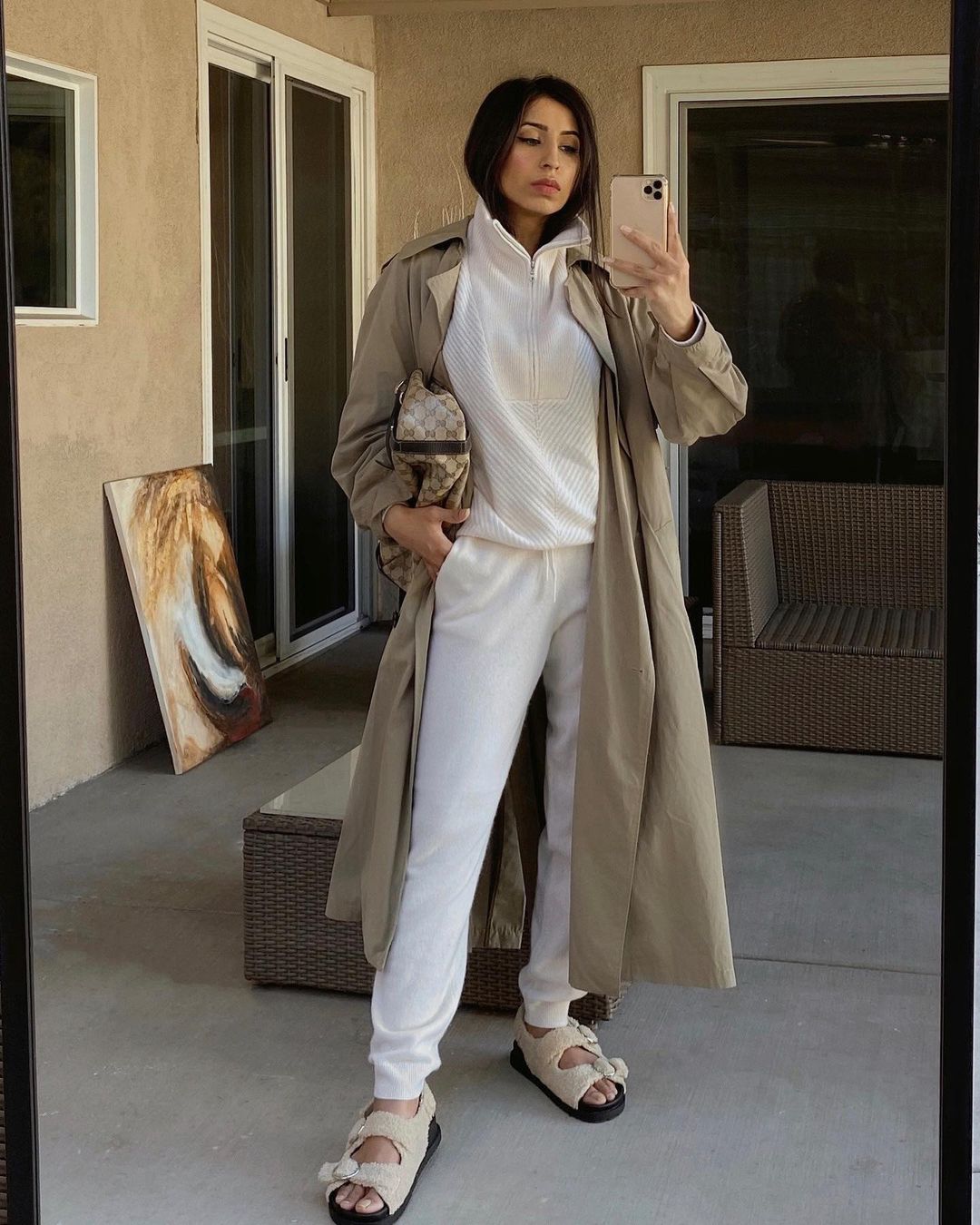 Yes, heels had their fair share of fame. Since 2020 has been about working from home and social distant outings, comfy footwear has replaced everyone's favorite heels. Wells, that's what the new normal looks like. So, if you too can't give up on comfy footwear and you're looking for chic ones to add to your closet, UGGs and Birkenstocks have your back. These cult-favorite brands gained the most fame in 2020, thanks to comfort being the priority. After all, the thought of feet touching furry, soft, and warm footwear is always a great deal.
So, to add a comfy yet chic potion to your wardrobe, here are the best 15 footwear from UGG and Birkenstock. Be it boots, slippers, or clogs; all these cute finds will soon be your favorite. Bets are that these finds will consistently appear in your weekly rotations and will be your best pick for lounging around at home too! So, don't wait up and keep scrolling for these adorable footwear styles.
UGGs
Scuffette II Slipper ($89.95–$99.95)
The combination of animal print and white fur makes it so adorable.
Cozette Genuine Shearling Slipper ($79.95) 
The slight chunky sole and black shearling is what makes it so unmissable.
Bailey Button II Boot ($179.95)
Pamper your feet and keep them warm in these neutral-toned boots.
Fluff Yeah Genuine Shearling Slingback Sandal ($99.95)
These compliment-grabbing sandals are failproof.
Markstrum Waterproof Chelsea Boot ($149.95)
Step up your shoe game with these waterproof chelsea boots.
Classic Short II Metallic Trim Boot ($169.95)
The color, the texture, and the warm lining, everything is top-notch about this boot.
Classic Femme Toggle Wedge Boot ($179.95) $119.90
Want to wear heels without making it obvious? These wedge boots are the perfect option for you.
Classic Mini II Genuine Shearling Lined Boot ($149.95–$159.95)
The snowy allure of this boot can never disappoint you.
Birkenstocks
Zermatt Shearling Flats ($99.95)
The vibrant yet cool tone of these flats will be your new favorite.
Arizona EVA Sandals ($44.95)
These waterproof sandals undoubtedly deserve your attention.
Arizona Big Buckle Sandals ($150.00)
From breezy white dress to black trousers, these sandals will work with almost everything.
Women's Arizona Plaid Shearling Sandals ($125.00)
The plaid and fur, what is not to like about these?
Boston Big Buckle ($180.00)
The camel neutral tone of these make them versatile and timeless.
Boston Soft Footbed Clog ($144.95)
Need a footwear that goes with all your bottom wear? This is the one you are looking for.
Arizona Shearling Sandals ($150.00)
The brown sole and black fur will add a cute touch to your outfits.
Up Next: Adorable shoes from Amazon that'll make your outfits look expensive