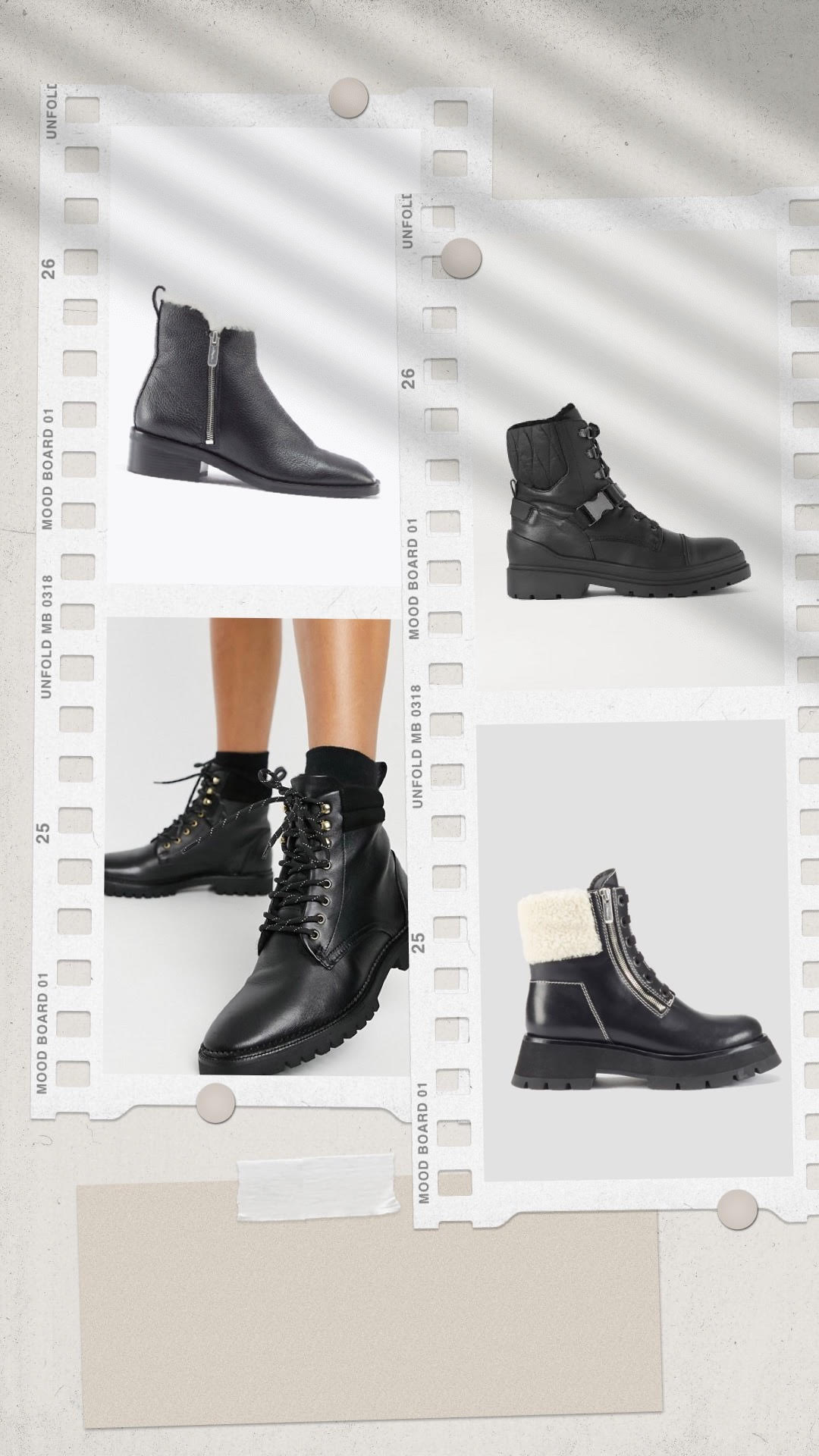 We all have childhood memories of spending the winter season sipping on hot chocolate, going ice- skating, and sitting by the warm fireplace. But there's one necessary yet underrated item that has taken us through the past winters – boots! This piece of footwear, without which we cannot brave the cold, is functional yet chic. It has the power to make or break our holiday look.
Being an evergreen fashion item, it is essential to invest in a sturdy yet fashionable pair of boots. Don't look far because we have found the most stylish pairs of the season. From lace-up to buckled boots, ankle-length to knee-high ones, suede to leather, platforms, printed boots… the list goes on. Scroll down to get shopping insights.
Shearling and leather-trimmed suede ankle boots ($551.51)
Hiking boots are hot this cold season. Get your feet dirty with this suede pair from See By Chloe.
Izzie Genuine Shearling Lace-Up Boot ($249.95) 
Nothing beats a classic black genuine-leather platform boots like this one. A lugged sole and a genuine shearling trim adds a chic element to the pair, which no fashionista can resist.
St. Moritz shearling-lined leather and quilted shell ankle boots ($604.39)
Made for snowy terrains, this buckled all-black boot is going to be a pleasure to step into. Lined with shearling and topped with quilts, this pair of ankle boots is a winner.
Lennox Lace-Up Boot with Genuine Shearling Trim ($199.95)
Every brand seems to be coming up white shearling boots this season. Get your hands on this pair to keep up with the trend.
Faux Shearling-lined Boots ($24.99)
These thick-soled beige boots are going to be a breath of fresh air from the everyday dark ones. Let the soft shearling lining and faux suede fabric make you feel like you're walking on clouds.
leather lace-up shearling lined boots in black ($199)
This real leather all-black pair will be your go-to boot this winter. The lugged sole makes it all the more irresistible.
Mini Bailey Bow II Genuine Shearling Bootie ($160) $119.95
Shop this bowed bootie before it vanishes off shelves. Because with a genuine shearling lining, this one will sell off in the blink of an eye.
Kate Lug Sole Double Zip Shearling Boot ($1,078)
This calf leather boot with contrast topstitching is literally going to take you places. The double zip adds a rocker-chic look to the pair that every street-style obsessed person is going to fall in love with.
FF Gingham Sock Lace Up Boot ($1,100)
Exude vintage vibes with this hybrid plaid and Sherpa boots. The contrast silhouette makes it totally unmissable.
Original Roll Top Sherpa Boots ($135)
This sherpa lined boot is guaranteed to keep you warm during those unbearably cold nights. We are definitely getting our hands on this pair right away.
Kesey Waterproof Boot ($159.95) $99.98
Get adventure ready with these waterproof beauties. The combat-inspired pair of boots come with an ankle strap so that your feet can find the comfort they deserve and you can step out in style as well.
Tommy Bootie ($99.95) $39.98
When it comes to quality, Steve Madden doesn't compromise. That is why you need to shop these booties right away!
Flashtrek faux shearling-trimmed suede, leather and printed coated-canvas boots ($1,390) 
Embrace the hiking boot trend with these leather Guccis and look like a million bucks!
Alexa 40mm Shearling Boots ($675)
Look chic and minimal in these natural lamb shearling boots.
Tristan Water Repellent Bootie ($179.95) $108
A thermal sock lining makes this heeled water repellent boots a snug pair.
Ranger Acadia Water Repellent Hiking Boot ($119.95)
Coming in various tones of tan, this water-repellent boot is guaranteed to make you look opulent.
Jacquie 2 Faux Shearling Bootie ($150) $60
This sturdy pair from lined from shearling is a head-turner.
Trois Vallées lace-up faux fur-lined snow boots ($259)
Sumptuous is the word to describe this glossy black pair crafted in Italy.
Clara Shearling Lined Boots ($550)
The silver glittery laces and gorgeous shearling makes this pair difficult to forgo.
Keilah Lace-Up Boot ($188.95) $75.20
The faux fur makes this pair too stunning to do without.
Kartini Boot ($275)
This chunky heeled Jeffrey Campbell boots is perfect for a day out with girls.
GrandExpløre Genuine Shearling Trim Waterproof Hiker Boot ($200) $149.90
This tan pair is ideal to keep your feet warm and toasty, thanks to the genuine shearling lining.
Rainier Platform Bootie ($149.95)
These studded boots paired with a flowy black dress can make you look ravishing.
100 faux fur-trimmed leather platform ankle boots ($1,295) 
Come shopping trips or brunch dates, this glam pair will save your day!
Sundance II Revival Short Boot ($219.95) 
This fan-favorite product is hot property this season as it is guaranteed to keep you cozy and fashionable.