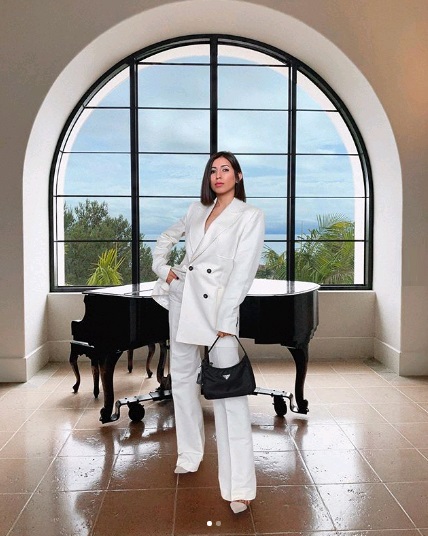 Time to make ultra chic outfits your core staples
We think it's time when we update the definition of ultra chic outfits. Contrary to the popular belief that bland outfits look inexpensive, we now believe that simple and easy-going looks are going to be the new face of fall fashion. Can a white cardigan and straight denim go wrong? Never! That's how we know that the outfits tagged as boring are actually timeless and makes us look opulent.
No matter where the trend leads us, we would still go for neutrals and minimalist outfits this fall. It's not just us who are obsessed with the minimalistic touch even the Instagram's IT girls are drawn to looks that are black, white, or neutral-toned. Here we are talking about the white blazer, beige sweater, and much more that will always save us from the buyer's remorse. So, in case you want to pull a luxe look while keeping it simple, check out our list below.
Vanilla Bermuda Shorts ($112)
The decent design and subtle color of the shorts look way more expensive than its original price.
Double breasted trench ($119.99)
Meet the trench coat that will always offer an ultra-chic look.
The Scrapper Cuff Ankle Fray Jeans ($208)
This one brings major joy to us and our fall wardrobe.
Cardigan Top ($99) $59.40
Like we said, a white cardigan will always have your back!
Oversized Wool Blend Tailored Blazer ($179)
Here we introduce our new obsession and it's neutral-toned blazer.
Ribbed-knit open-back jumper ($345)
This one is for days when you want to look snazzy and feel cozy.
Palazzo pants ($79.99)
Wide leg pants are surely leading the fashion game this season.
Slip Skirt ($265)
Slinky slip skirt, cozy sweater, and leather handbag, this is the fall look that everyone's going to rely on.
Short-sleeved Jacket ($49.99)
Meet the belted jacket that goes with everything.
Single Wool Coat ($200)
Wear this brown cool coat and exude high-end appeal.
Dropped Shoulder Oversized Blazer ($149)
A blazer that is chic, timeless, and minimalist? We found one!
Straight-Leg Overalls in Tile White ($148) $110
Cute and wow is written all over this outfit.
Poplin Shirt Dress ($184)
The only poplin shirt dress that's worth your attention.
Zebra-print round neck jumper ($159)
Zebra-print jumper for your impeccably expensive look.
Oversized Cotton Shirt ($24.99)
We are completing our wardrobe of ultra chic outfits by adding this oversized white shirt.