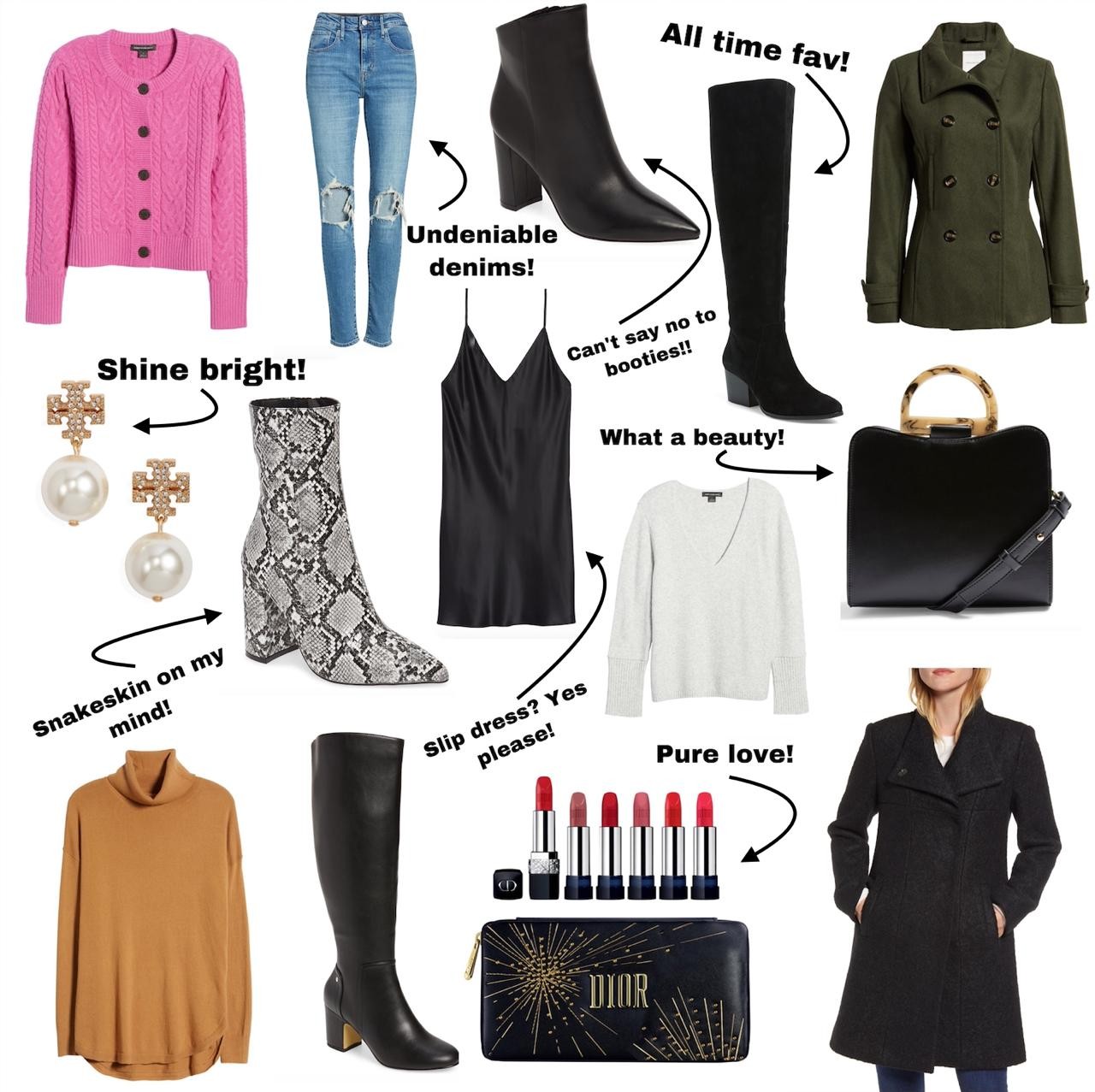 The much-awaited 'Nordstrom Fall Sale' is finally here and it's getting really hard for me to sort pieces (everything's just so pretty)! From classic trench coats to trendy booties, you can get all the fantastic pieces at an amazing price! If you haven't checked it out yet, here are some of my top picks from the Nordstrom Fall Sale!
This one's a wardrobe staple for sure! Chic, cropped and classic, this cardigan is something your closet needs this season. The color caught my eye while I was just scrolling through the pieces and thank god it did! Love it completely!!
Denims are my best friends during the fall and this high-waisted beauty is truly a classic! This rugged pair fits incredibly and tends to elongate the legs which is why I love it so much!
These booties are my go-to pair for the season! The contemporary chic look, pointed toe design and the classic leather finish makes it a complete must-have! What I love about them is they are so versatile and chic that I can actually wear them anywhere, without a second thought!
I'm a big fan of knee-high boots and this pair is more than just a wardrobe essential! The polished studs at its heel, classic leather finish and chic yet sophisticated style makes it an absolute favorite for the season! I love 'em so much that I literally feel like stocking up on these.
This is what I'd love to call 'a classic'. You can layer it under a stylish trench or wear it alone to get that urban chic look! The deep V-neck and pronounced ribbing at the sleeves got me crushin' over this one!!
So much perfection in just one piece? From tortoiseshell-patterned buttons to sophisticated double-breasted style, this coat has everything it takes for a piece to become a 'fall essential'!
These iconic sparkling earrings from Tony Burch would add a great amount of charm to your ensemble and your jewelry box too! One of my absolute favorites from The Nordstrom Fall Sale!!
This statement piece from Topshop is my favorite accessory for the season! The swirly acrylic handles impart a chic upgrade to this sleek beauty!
Classic, simple and essential, this pair is one of my most essential pieces for the season. I love the soft pointed toe design and block heels make it extremely comfortable!
A high-slit swingy sundress is good for summers and impeccable for fall! Layer it under a trendy outerwear piece and add some extra elegance with those stylish booties!
I can't explain my love for animal print accessories and clothes. These snakeskin booties are everything you need to elevate an ordinary look! I love them so much because they are comfortable and I can wear 'em all day!
A little black slip dress is something I just can't ignore and so I got this one too! An ultimate chic piece to layer under any coat, this one's a total classic! One of my 5-star items from the sale!!
I've literally stocked up this couture collection from my favorite brand, Dior! This is so far, one of my best lip kits ever!
This turtleneck sweater from the brand is my current obsession! This is a great piece and I can wear it alone or under any outerwear piece (it'd still get noticed). Adorable it is!!
A warm, sophisticated and classic piece you can spend all your winters in! I love the rich wool texture and the fact that I can layer it over anything without even thinking a bit! Such beauty!
My Top Picks
1.Jeffrey Campbell Siren Bootie
2.Reformation Inka Floral Print Sundress
3.Tony Burch Imitation Pearl Drop Earrings
4.Natori Satin Elements Chemise
5.Kenneth Cole Wool-Blend Bouclé Coat
Which piece do you like the most? Do not forget to share with me!
xx
Aditi