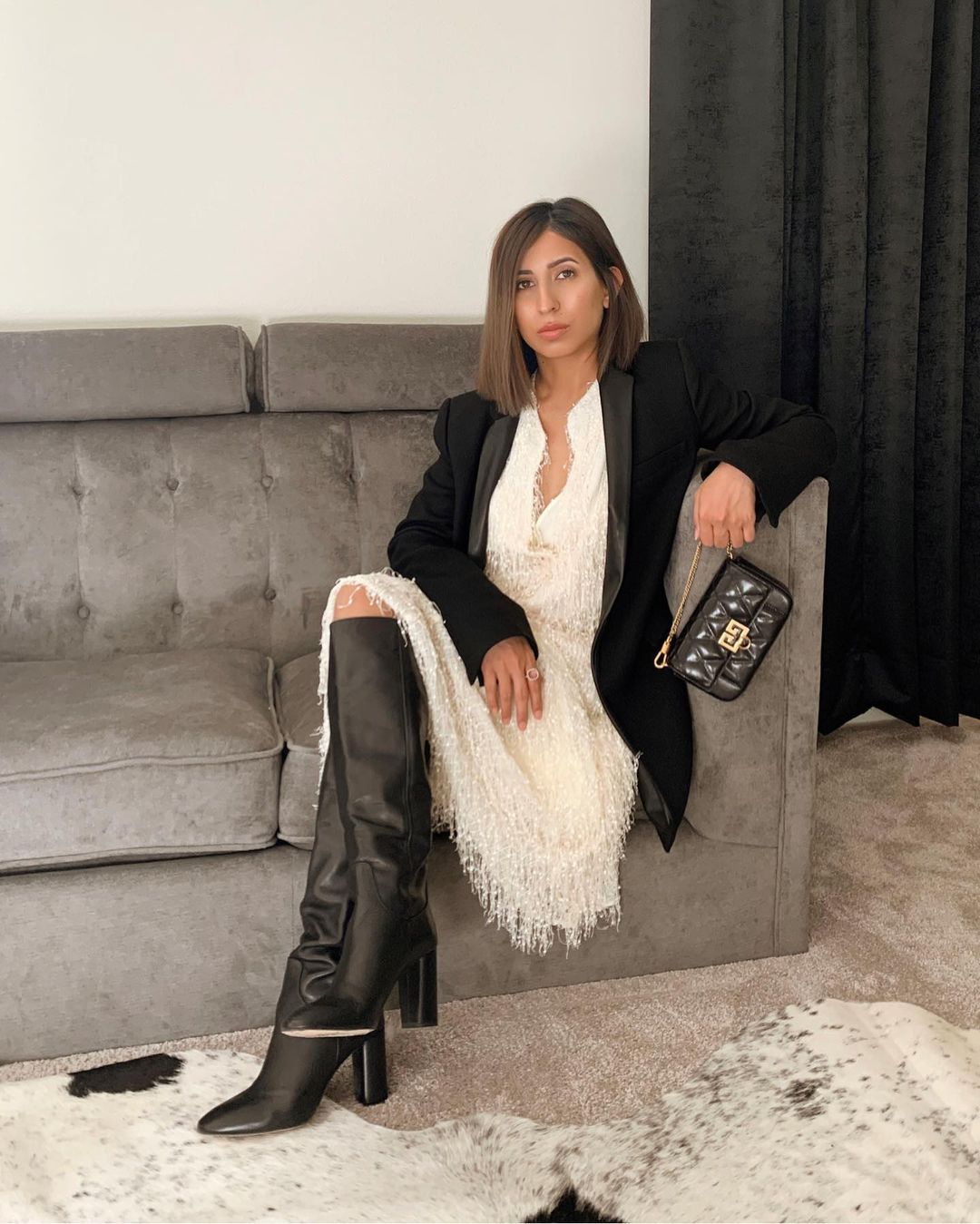 Fall is all about stylish ensembles. But a Fall attire is incomplete without a head-turning pair of stylish, sturdy, and functional boots. This season, there are a plethora of must-try boot trends. However, in particular, there's one boot style that is becoming the 'It' boot at a good pace. It's the track-sole boot! Designer brands like Bottega Veneta and The Row elevated Chelsea boot's look with thick and sturdy soles, giving way to the track-sole boot trend to enter the fashion world. After all, there's an unspoken fact in the fashion world at the moment – when it comes to Chelsea boots, the chunkier it gets, the better it gets!
And now, guess what? Brands like Arket, & Other Stories, and Mango are embracing this trend in full-blown style as well. The vintage grunge vibe of track-sole boots is what the fashion crowd is obsessed with. Be it floral Fall dresses, midi skirts with cardigans, or ankle jeans with puffer jackets – track-sole boots will look effortlessly modish! So, go ahead and check out our list of the most coveted track-sole boots that deserve a place in your wardrobe.
Alpha Platform Chelsea Boot ($180)
The glossy croc finishing of the boot is the modern update your wardrobe needs right now.
Bv Tire Waved-Sole Leather Boots ($1,150)
Made in Italy, these boots feature smooth leather and wavy brown-rubber sole.
Chelsea Boot ($445)
Try some unconventional style with these boots offering contrast seams.
Bv Tire Leather Chelsea Boots ($1,100)
The vegetable-tanned leather and transparent rubber tread sole will lend you an impeccably stylish look.
Biz Chelsea Boot ($129.95)
The textured sole enhances the classic look of the Chelsea boots.
Rubber-trimmed leather Chelsea boots ($650)
The toothy lugged sole of the boots is what makes it unmissable.
Shaye Lug Sole Chelsea Boot ($525)
Give your look a dash of attitude with this pair of boots.
Bead-Embellished Cashmere-Trimmed Croc-Effect Leather Chelsea Boots ($1,395)
The subtle croc-effect and rich brown color will magnify the style factor of every outfit.
Pirro Chelsea Boot ($198.95)
The white seaming and smooth leather will make these boots your new core footwear staple.
Leather Chelsea Boots ($755)
Pair this with a white long coat and mini ribbed dress for a jaw-dropping look!
Cosmo 2.0 Chelsea Boot ($194.95)
If there is one boot that is going to be here for ages to come, this is the one.
Emilie Vegetarian Leather Platform Chelsea Boots ($975)
Coming straight from the runway, these boots are utterly 'out-of-the-box'!
Markstrum Waterproof Chelsea Boot ($149.95)
These waterproof Chelsea boots are soon going to be your new favorite.
Platform Boots With Tall Leg ($129.99)
Give your floral dress an elegant twist with these tall leg boots.
Chubby Black Leather Chelsea Boots ($‌545)
The glossy leather and chubby sole of the boot are here to help you escape fashion faux pas.
Leather High-Leg Boots ($149.99)
This is a stellar pick, thanks to its sleek look and rich dark tone.
Gaia Leather Chelsea Boots ($1,350)
The caramel brown leather combined with black sole is simply breathtaking!
50 Blush Leather Ankle Boots ($‌925)
Looking for a cute pair of boots? This boot with toothy sole and blush tone is everything you need.
Chunky Recycled-Rubber Chelsea Boots ($245)
Time to pull a rough-tough look with these recycled Chelsea boots.
Tara Chelsea Boot ($179.95)
This elegant boot will pair great with a neutral-toned puffer jacket and blue straight leg jeans.
Up Next: Top Selling 13 Designer Boots On Nordstrom – Worth The Investment