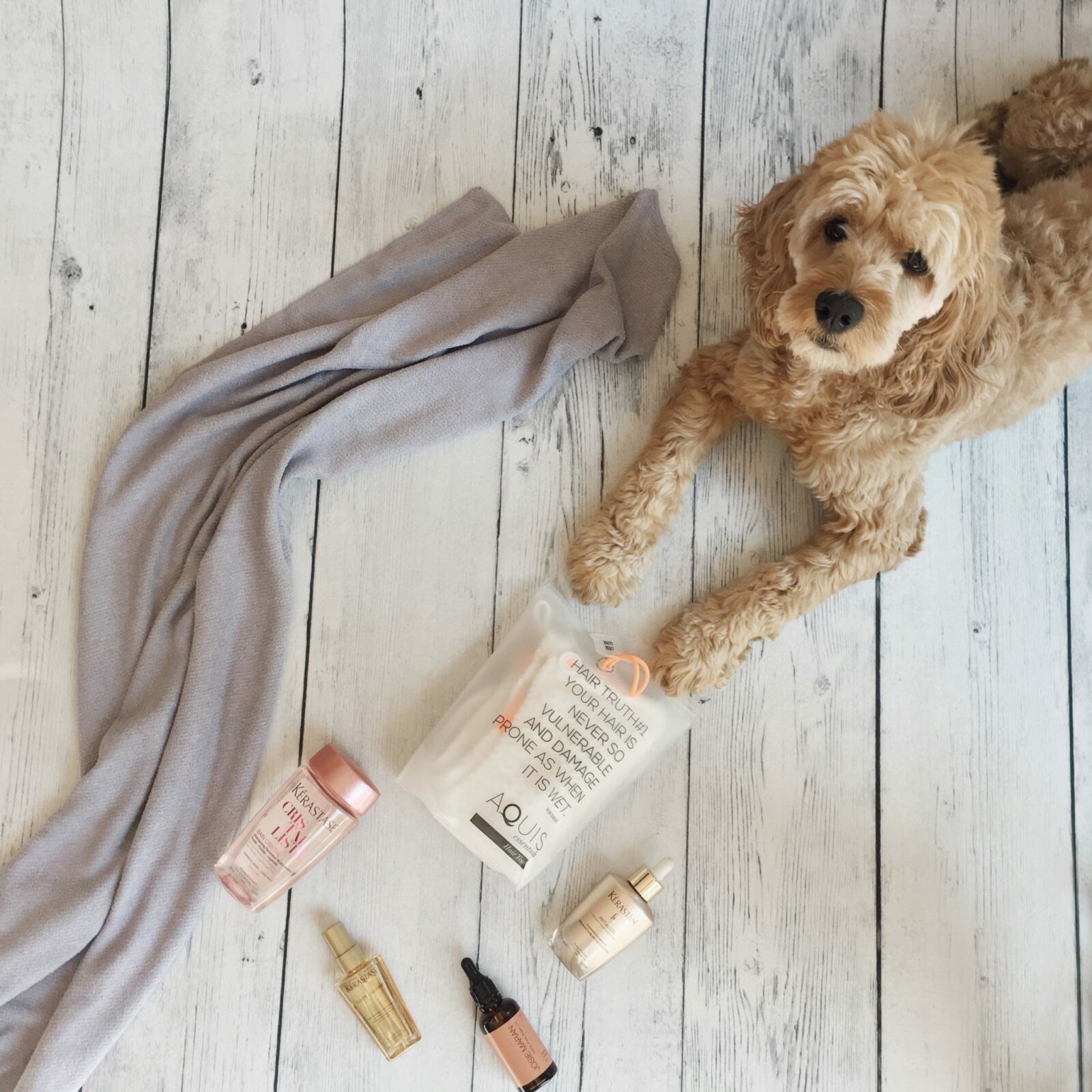 I got a lot of you asking me to share my hair care regimen, so here it is. Yes, Taro decided to be a part of the flatlay as well 🙂 We all use so many heat tools, get our hair colored and what not! A consistent daily hair care routine for your hair is really important. Some general points that I will discuss that will help you regardless of what hair type you have.
Firstly the biggest mistake we all tend to make is, drying our hair right when we come out of the shower with the regular towel which causes more frizz.  I came across this product Aquis hair turban and instantly fell in love with it. After only using it one time I saw a tremendous difference in Frizz. It is made of a lightweight, absorbent aquitex fabric featuring a new woven texture that dries hair gently and efficiently with no heat needed. It is available at Sephora.
I use Kerastase Cristalliste shampoo for straight hair since my hair is naturally straight! Using a good shampoo specific to your hair type is super important. Using a good serum on moist hair there after is equally important as well. I use Kerastase Elixir serum every other day when I wash my hair. It's a versatile nourishing oil that provides ultimate softness and shine. I have recently started using Kerastese Initialiste once in a week as it helps in strengthening the hair and is applied to your scalp. Both of these serums work on all hair types.
I use Josie Maran Argan oil just on the ends of my hair once in a week as my hair is straight so I don't have to do it that often but if your hair is curly or dry you can definately use it after everytime you wash your hair.

$500 SEPHORA GIFT CARD GIVEAWAY
Just wanted to share with you guys there's also a contest going on right now through July 31st where if you buy a towel from Sephora.com and email the receipt to Aquis, you're entered to win $500 to Sephora.
Thanks for stopping by!
Stay Fancy
Adi xx
In collaboration with @Aquis @Sephora but all opinions are my own!