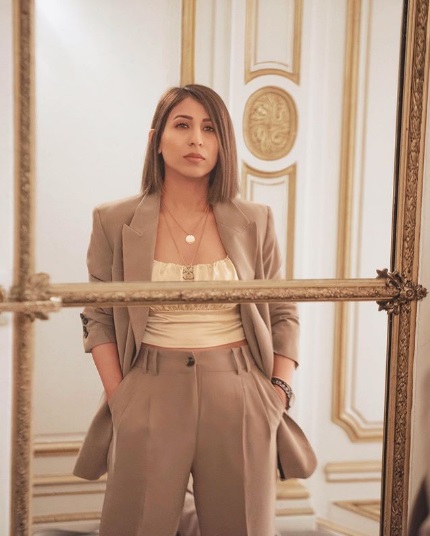 This might be your chance to slay casual fall looks
One of the best things about wearing jewelry is that it can enhance the look of any outfit quite effortlessly. You can wear it every day, and you still won't get tired of it. Every season brings a new set of jewelry trends that take the fashion world by storm. This season the jewelry trends are here to magnify the chicness of casual fall outfits. These days you can't go more than 10 minutes on Instagram without seeing influencers flaunting jewelry with their casual outfits.
Fall jewelry trends are so versatile that they can be worn be to work, casual outings, and are also perfect for lounging around at home. So, if you want to add a wow touch to your everyday fall outfits, here we picked a few jewelry pieces that are edgy and will stay with us for a long time. From chunky necklaces to wear with sweatshirts to stacked rings that'll go with almost everything, the list is full of amazing fall jewelry trends
1. Personalized name necklaces
This trend was made a must-have years ago by Carrie Bradshaw and we are happy that it's back in trend. There's no restriction when it comes to experimenting with this jewelry piece. You can flaunt your name, wear a phrase that's close to your heart or also the name of loved ones.
Personalized Gothic Nameplate Choker ($148)
Bespoke Plate Necklace (Gold) ($65)
Sterling Silver Infinity Name Necklace ($46.50)
2. Cocktail rings
Nothing can dress up your hands like a cocktail ring does. It's an oversized ring embellished with stones, colors and what not! We love to call it hand candy, because it's so pretty look at. Just wear one cocktail ring and you won't need any other thing to exude chicness.
Under Earth Cocktail Ring ($287)
Verde Signet Ring ($55)
White Gold Fireworks Small Butterfly Ring ($2600)
3. Mismatched Layered Necklaces
This one can work for casual as well as formally elegant fall looks. The jewelry is an amalgamation of different pieces like, pendant, chain, etc. Though it demands layering of different jewelries to create one, it still manages to look sophisticated and stylish.
Large Pave Diamond Initial Charm Necklace ($325)
Malachite and Diamond Necklace ($375)
Pearl Box Chain Pendant Necklace ($220)
4. Piled up rings
You'll be seeing this trend all time, everywhere and for next six months. These stacked rings help in adding an personality to casual fall looks. They are eye-catchy yet not tacky and that's why we are thankful for this trend.
Maro Ring Kit of 2 ($48)
Mixed Material Stacked Rings ($98)
Double Dare to Love Dome Ring ($680)
5. Face Mask Chains
Safety and fashion can go hand in hand in this pandemic if you have this face mask chain with you. It is functional, cute, and what better way can we ever find to wear a mask. So, toss away your basic way of wearing face masks with this jewelry trend.
Face Mask Pearl-Chain Holder ($24.90)
Long Link Sunglass Chain ($85)
Face Mask Cross-Chain Holder ($29.90)
6. Chunky Hoops
Were you not expecting this one? The thick hoop earrings are irresistibly charming! The lustrous tones and the flattering look of these earrings will look good on everyone and all casual fall looks.
Mini Grazia Gold-Tone Hoop Earrings ($100)
Medium Modernist Hoops ($340)
Sharon Curve Mini Hoops ($95)
7. Thick Bold Necklaces
This jewelry will add wow to any of your look. The bold vibes and chunky design of the necklace sets it apart from the normie ones. From Kim Kardashian to Miley Cyrus, even celebrities are loving this jewelry style.
Calle Gold-Plated Necklace ($200)
Pearly Two Toned Chain Necklace ($476)
Chunky Chain Necklace ($14.00)